Edit AI
Global fitness community with personalized insights.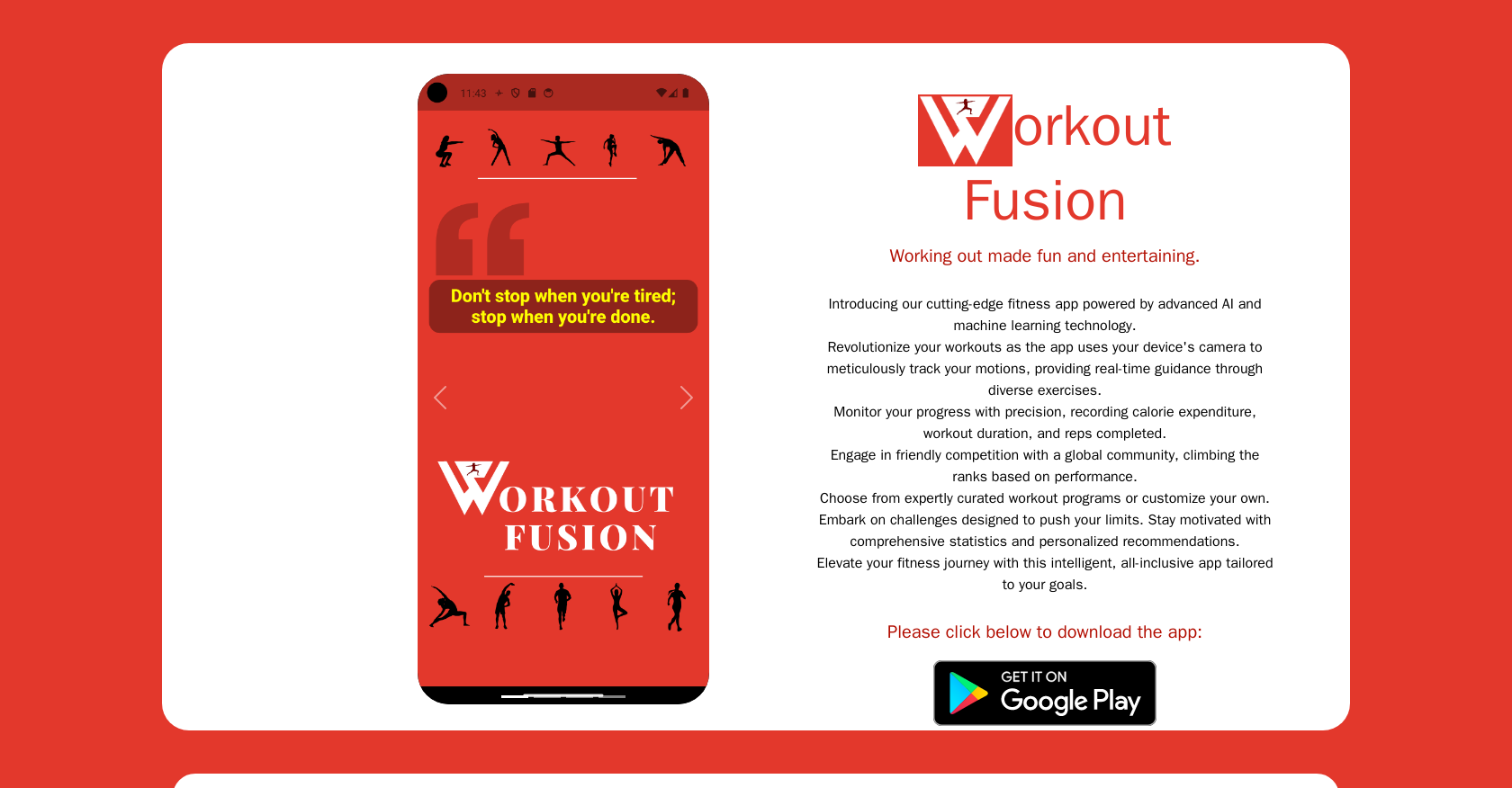 Generated by ChatGPT
Workout Fusion is a fitness app that uses advanced AI and machine learning technology to revolutionize your workouts. By utilizing your device's camera, the app meticulously tracks your motions in real-time, providing guidance through a variety of exercises.
It also records calorie expenditure, workout duration, and completed reps for precise progress monitoring. Engage in friendly competition with a global community of fitness enthusiasts and climb the ranks based on your performance.
Whether you prefer expertly curated workout programs or customizing your own, Workout Fusion has got you covered. Embark on challenges designed to push your limits and stay motivated with comprehensive statistics and personalized recommendations.One of the key features of this app is its ability to deliver personalized insights and recommendations tailored to your fitness goals.
Whether you want to lose weight, build muscle, or improve your overall fitness, Workout Fusion will provide you with the guidance you need.Additionally, the app sends timely reminders and updates to ensure that your fitness journey never skips a beat.
With Workout Fusion, you can elevate your fitness experience and achieve your goals with the help of intelligent technology.Note: The above description has been written based on the information provided in the text.
It is important to refer to the official website or app store for the most up-to-date and accurate information about the tool.
Featured
Workout Fusion was manually vetted by our editorial team and was first featured on November 18th 2023.

Would you recommend Workout Fusion?
Help other people by letting them know if this AI was useful.
41 alternatives to Workout Fusion for Fitness
Personalized fitness planning with personalization.

118

1.1

Analysis and coaching for pushup form.

49

Optimized workout routines for maximizing muscle gain.

39

5.0

Personalized fitness training with progress tracking.

10

5.0

Custom workout planning for iOS devices.

7

Generate personalized workout plans from user input.

7

Tracked fitness program planning.

6

Fitness progress tracking and counting of workouts.

4

Custom fitness coaching with tracking and gamification.

3

Personalized fitness coaching for workouts

2

Generated personalized fitness and meal plans.

1

Custom fitness plans and meal suggestions.

1
If you liked Workout Fusion
People also searched
Help
⌘ + D bookmark this site for future reference
⌘ + ↑/↓ go to top/bottom
⌘ + ←/→ sort chronologically/alphabetically
↑↓←→ navigation
Enter open selected entry in new tab
⇧ + Enter open selected entry in new tab
⇧ + ↑/↓ expand/collapse list
/ focus search
Esc remove focus from search
A-Z go to letter (when A-Z sorting is enabled)
+ submit an entry
? toggle help menu
x
Sign in to continue (100% free)
To prevent spam, some actions require being signed in. It's free and takes a few seconds.
Sign in with Google