Edit AI
Personalized fitness coaching for workouts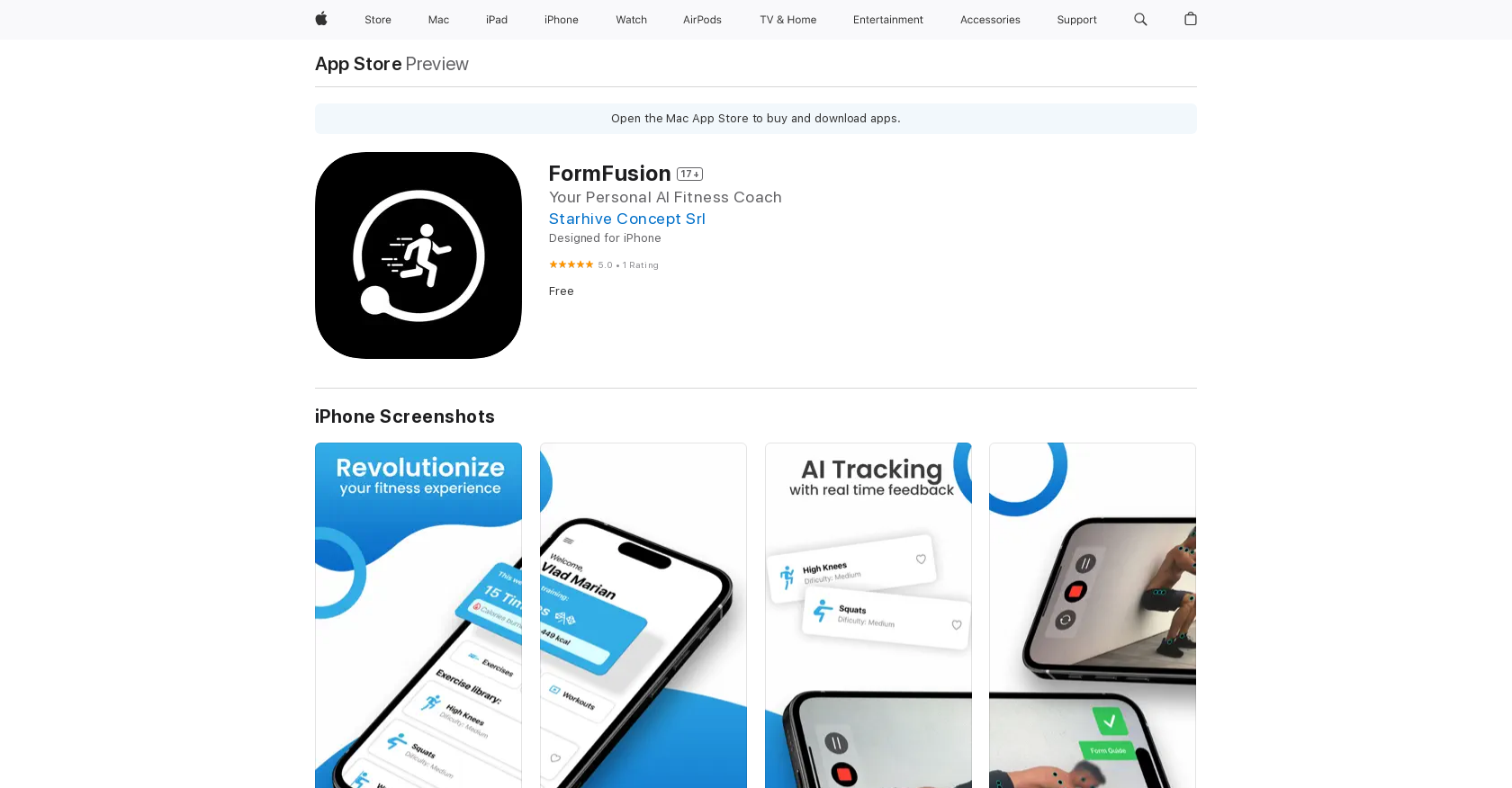 Generated by ChatGPT
FormFusion is an app available on the Apple App Store. The page description provides limited information about FormFusion. The text emphasizes the availability of the app on the iPhone, iPad, and iPod touch.
However, there is no direct information on what the tool does or its specific features and functionalities.Based solely on the information provided, it is not possible to determine the exact purpose or functionality of FormFusion.
It is likely that FormFusion serves as a utility or productivity application, given its availability on the App Store. To obtain more precise information about the tool and its use cases, it would be necessary to access additional sources such as reviews, screenshots, or any other supplementary material available on the app's page.Please note that without further information, it is difficult to provide a comprehensive and accurate description of FormFusion's capabilities.
It is recommended to explore additional sources or contact the app developer for a more detailed understanding of the tool's functionality.
Featured
FormFusion was manually vetted by our editorial team and was first featured on November 8th 2023.

Would you recommend FormFusion?
Help other people by letting them know if this AI was useful.
41 alternatives to FormFusion for Fitness
Personalized fitness planning with personalization.

118

1.1

Analysis and coaching for pushup form.

50

Optimized workout routines for maximizing muscle gain.

39

5.0

Global fitness community with personalized insights.

14

Personalized fitness training with progress tracking.

10

5.0

Custom workout planning for iOS devices.

7

Generate personalized workout plans from user input.

7

Tracked fitness program planning.

6

Fitness progress tracking and counting of workouts.

4

Custom fitness coaching with tracking and gamification.

3

Generated personalized fitness and meal plans.

1

Custom fitness plans and meal suggestions.

1
Pros and Cons
Pros
Available across Apple devices
Real-time technique feedback
Voice guidance for posture
Customizable workout plans
Pre-set workout plans
Performance tracking and analytics
Full app customization options
Unlinked data collection
Personalized workout experience
Adapts to user's needs
Vocal feedback in sessions
Maintain proper form guidance
Helps prevent exercise injuries
Expert-led workout sessions
Comprehensive workout experience
Workout session history tracking
Cons
Only available on Apple devices
Limited language support (English only)
Requires iOS 17.0 or later
Requires macOS 14.0 or later
Requires Apple M1 chip or later
Data privacy concerns
Lacks detailed feature description
Unclear user support structure
No version for Android
No browser-based version
Q&A
What is FormFusion?
FormFusion is an AI-powered fitness coaching app designed for iPhone, iPad, and Mac devices. The app serves as the user's personal trainer, offering real-time feedback on perform exercises to ensure they are done correctly. It provides both custom and pre-made workouts, vocal feedback, and performance tracking for fitness progress. It also allows users to customize the app appearance to suit their preferences.
How does FormFusion use artificial intelligence?
FormFusion employs advanced artificial intelligence to analyze user's workout performance via camera integration in real-time. It acts as a personal trainer, detecting errors and providing immediate corrections to ensure proper form and effectiveness of each exercise.
How does FormFusion ensure correct exercise form?
FormFusion uses its AI-powered camera analysis feature to provide real-time feedback. It monitors the user's form during exercises and instantly spots errors. Voice cues are given to help the user correct their posture, alignment, and technique, ensuring proper form to prevent injuries.
What devices is FormFusion compatible with?
FormFusion is designed for iPhone and requires iOS 17.0 or later to function. It is also compatible with Mac devices that run macOS 14.0 or later and equipped with the Apple M1 chip or later.
How does FormFusion's voice feedback work?
FormFusion's voice feedback is an interactive feature which provides instant vocal cues when it spots errors in the user's exercise form. It offers guidance for posture corrections, alignment, and technique improvements to make sure users get the most out of every exercise.
Can I customize workouts on FormFusion?
Yes, FormFusion allows users to create, save, and schedule custom workouts based on their fitness goals and preferences. It aims to adapt to the user's needs, whether they're a beginner or an expert.
What are the pre-made workouts on FormFusion?
FormFusion offers pre-made workouts led by a virtual fitness instructor. Users simply follow along with the demonstrated exercises, while FormFusion provides real-time feedback to keep users in sync for a comprehensive workout experience.
How does FormFusion track my progress?
FormFusion tracks progress through detailed analytics. It allows users to see how their performance improves over time and helps them stay motivated to achieve their fitness goals.
Can I customize the appearance of FormFusion app?
Yes, apart from customizing workouts, FormFusion also allows users to personalize the appearance of the app itself. Users have the control to fully customize the app's appearance, down to changing its color.
Is FormFusion free to use?
FormFusion is free to download and use. However, the app's page on the App Store doesn't specify if it contains in-app purchases or premium features that require payment.
How can FormFusion help prevent exercise injuries?
FormFusion helps prevent exercise injuries by monitoring the user's form during workouts. Its AI-powered camera analysis provides real-time feedback and voice cues to correct posture, alignment, and technique. This helps users maintain proper form, thereby minimizing the risk of injurious movements.
How is my data used in FormFusion?
FormFusion's usage of data is not linked to the user's identity. The data collected may include health and fitness information, identifiers, usage data, and diagnostics. The app's privacy practices may vary based on features used or user's age.
Who is the developer of FormFusion?
FormFusion is developed by Starhive Concept Srl, a developer known for creating useful utility and lifestyle apps for iOS devices.
How is FormFusion different from other fitness apps?
FormFusion distinguishes itself from other fitness apps through its integration of artificial intelligence right on the device. Its unique features include real-time feedback on exercise form, voice cues for instant correction, customizable workouts, and an option to customize the app's appearance. It aims to offer a fitness experience that is more accessible, engaging, and effective.
Can I schedule workouts with FormFusion?
Yes, FormFusion allows users to schedule workouts that align with their routines, helping them stay consistent with their fitness journey and work towards their fitness goals effectively.
Which languages is FormFusion available in?
FormFusion is currently available in English language only.
What is the size of FormFusion app?
FormFusion has a size of 210.2 MB, making it a medium-sized app that should fit comfortably on most devices without taking up too much storage space.
Does FormFusion offer analytics for tracking performance?
Yes, FormFusion offers detailed analytics for tracking user's performance in their workouts. It helps users see how their performance improves over time, providing motivation to continue achieving fitness goals.
What age rating does FormFusion have?
FormFusion is rated 17+, which indicates that the app is appropriate for users who are at least 17 years old.
How frequently does FormFusion get updates?
The app's version history shows periodic updates. The most recent update (version 1.20) occurred on October 15, 2023, this update brought vocal feedback available in workout sessions and minor bug fixes.
If you liked FormFusion
Help
⌘ + D bookmark this site for future reference
⌘ + ↑/↓ go to top/bottom
⌘ + ←/→ sort chronologically/alphabetically
↑↓←→ navigation
Enter open selected entry in new tab
⇧ + Enter open selected entry in new tab
⇧ + ↑/↓ expand/collapse list
/ focus search
Esc remove focus from search
A-Z go to letter (when A-Z sorting is enabled)
+ submit an entry
? toggle help menu
x
Sign in to continue (100% free)
To prevent spam, some actions require being signed in. It's free and takes a few seconds.
Sign in with Google