Edit AI
CapCut Online Creative Suite
4.9
Video and graphic creation suite.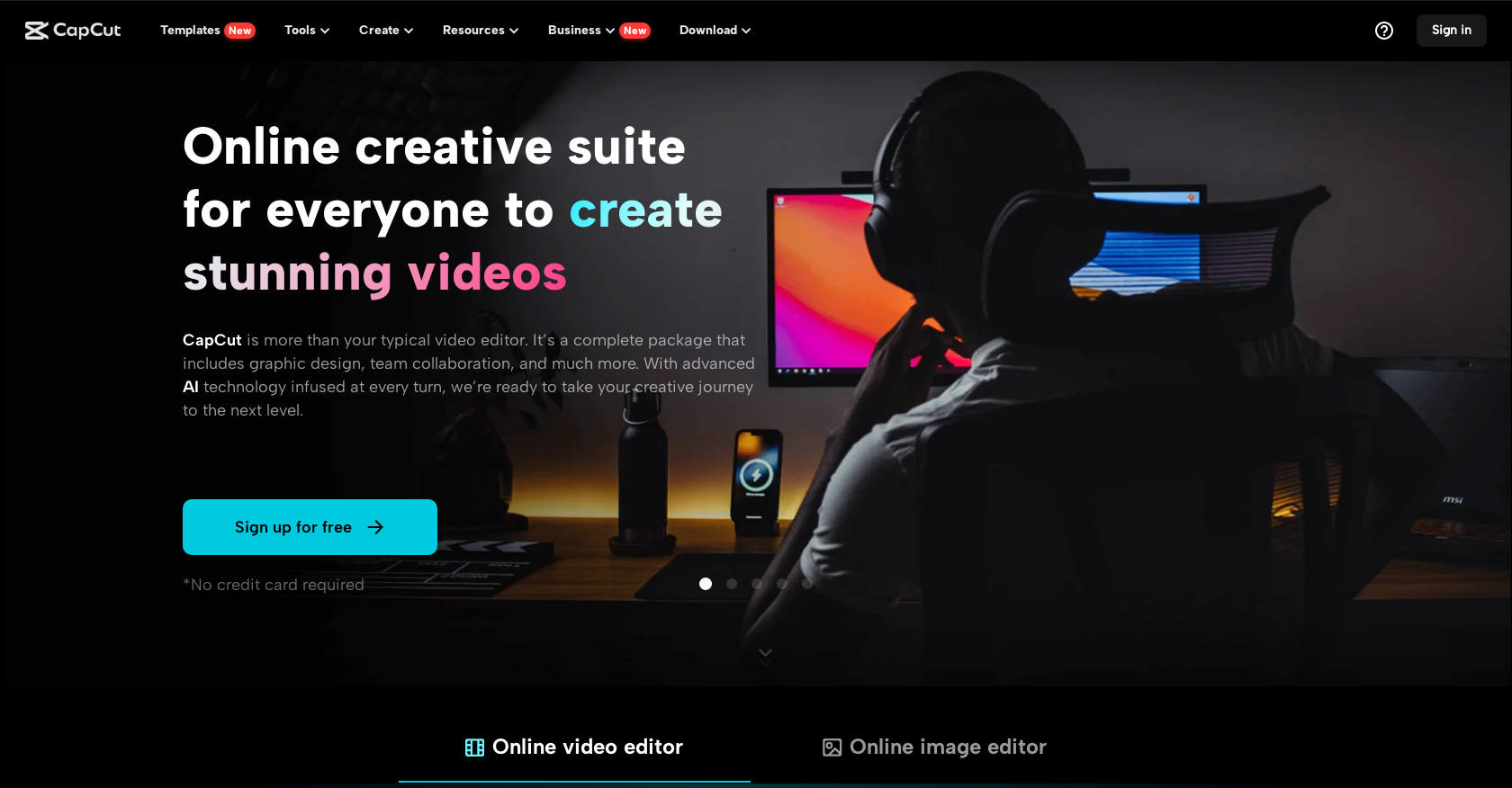 Generated by ChatGPT
CapCut is a comprehensive online creative suite designed to cater to a wide range of video and image editing needs. It offers tools for both personal and commercial purposes, enabling users to create high-quality visual content using a variety of features. The platform is equipped with an array of functionalities, including video and photo editing, audio adjustment, and text integration.
For video editing, CapCut provides a robust set of tools. Users can access stock videos, video effects and filters, keyframe animation, speed curves, and more advanced features like transcript-based editing, video stabilization, and upscaling. The audio capabilities include text-to-speech conversion, adding music or sound effects, and noise reduction. The platform also supports splitting audio tracks and integrating audio with video content.
CapCut excels in text management, offering services like video transcription, subtitle addition, speech-to-text conversion, and the conversion of scripts into videos. Additionally, users can generate ad scripts and easily add text to both videos and images.
The image editing tools include an image upscaler, portrait generator, color correction features, a photo colorizer, and more. Users can also remove or generate backgrounds and resize images with ease.
Social media content creators find CapCut particularly useful, with specialized tools tailored for platforms like TikTok, YouTube, Instagram, and Facebook. It offers specific features that make editing TikTok videos, creating YouTube intros, and producing Instagram reels straightforward and fast.
Business users benefit from features tailored for commercial video creation, including ad scripts for various platforms. CapCut also provides a range of marketing tools like batch editing, video and image resizing, product photo enhancement, AI model integration, and more.
The suite is enhanced with AI technology, facilitating creative processes and simplifying workflows. CapCut offers versatile accessibility across various devices. Whether editing online or through our apps, you can effortlessly manage your projects using the same account. CapCut places a strong emphasis on facilitating online team collaboration. It offers robust cloud backup and team collaboration features, enabling seamless sharing of materials and joint review of video projects, all within a unified platform.
CapCut's user-friendly interface and broad functionality make it an adaptable tool for a diverse range of users, including content creators, social media managers, small business owners, and hobbyists.
Featured
CapCut Online Creative Suite was manually vetted by our editorial team and was first featured on November 19th 2023.

Would you recommend CapCut Online Creative Suite?
Help other people by letting them know if this AI was useful.
42 alternatives to CapCut Online Creative Suite for Video editing
Simplifies video production and enhances quality.

567

3.0

Video editing for YouTube creators.

202

5.0

Simplified video editing and creation.

127

1.0

Improved video quality with temporal filters.

105

Quick video editing for social media content.

101

Edit photos, videos and design via various templates.

97

5.0

Efficient video search with video editing and logging.

95

3.0

Automated guidance for online video editing.

89

4.0

Improve YouTube video performance & generate ideas.

61

Repurpose content for platforms, incl. video and social.

58

5.0

Localized and edited videos.

45

5.0

Simplified and optimized video editing.

44

Platform for customizable video content creation.

43

4.0

Enhanced cloud video for media experts.

40

Automated video editing software for course creators.

37

A creative app for editing and enhancing videos.

36

35

Customizable video dialogue creation.

35

Rapid text-based video editing for social media content.

33

5.0

Generates premium online videos with varied editing.

32

4.0

Automatic video content creation from long-form media.

29

Automated creation of Twitch stream highlight reels.

25

Chat-driven interactive video editing.

25

Video editing for speech and podcast content.

24

Optimized video creation via web-based automation.

21

3.0

Online platform for editing videos.

19

Optimized social media video creation with automation.

18

Video editing and management for marketing teams.

18

Automation of media content processing.

18

Platform creates business videos for online marketing.

11

Silence & repetition detection for video editing.

8

Efficient video editing with smart search.

7

5.0

Enhanced video editing for creators and managers.

7

5.0

Enhanced professional video editing.

6

Collaborative video editing with enhanced features.

5

Video editing for content and marketing teams.

5

Video editing workflow streamlined.

4

Advanced video editing for easy, pro-quality edits.

3

Enhance videos by removing silence for content creators.

2

Enhances video editing with alignment and voice fitting.

2
If you liked CapCut Online Creative Suite
People also searched
Help
⌘ + D bookmark this site for future reference
⌘ + ↑/↓ go to top/bottom
⌘ + ←/→ sort chronologically/alphabetically
↑↓←→ navigation
Enter open selected entry in new tab
⇧ + Enter open selected entry in new tab
⇧ + ↑/↓ expand/collapse list
/ focus search
Esc remove focus from search
A-Z go to letter (when A-Z sorting is enabled)
+ submit an entry
? toggle help menu
x
Sign in to continue (100% free)
To prevent spam, some actions require being signed in. It's free and takes a few seconds.
Sign in with Google