Edit AI
Personalized tutoring & skill development companion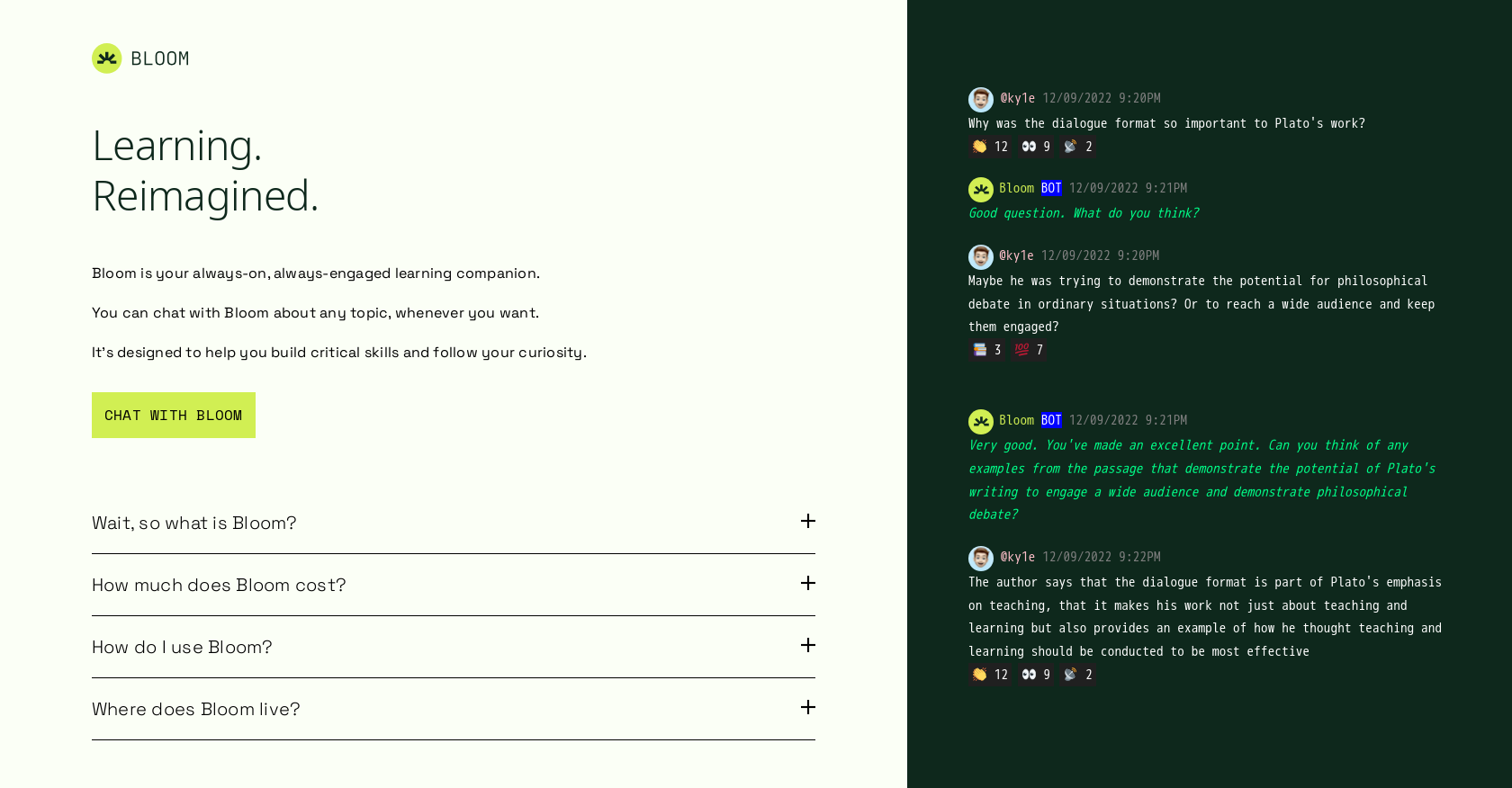 Generated by ChatGPT
Bloom is an AI tool designed to enhance learning experiences and promote critical skill development. It is an always-on and always-engaged learning companion that can be accessed through the group messaging app Discord.
Bloom acts as a theory-of-mind-optimized Socratic interlocutor, providing personalized tutoring in various subjects. It utilizes generative language models, with the current version being GPT-4, to create unique conversations that offer novel insights.The tool is free to use and can be accessed on the dedicated server hosted on Discord.
Users can engage with Bloom through direct messaging, ensuring privacy in conversations. It can be used for 1:1 tutoring, group study, or classroom activities at any time for an unlimited duration.Bloom's engineering was developed by a team with expertise in artificial intelligence, machine learning, and classroom teaching.
It combines pedagogical principles such as Aristotelian tutoring, Socratic dialectics, and student-centered pedagogy to offer an effective learning experience.
The creators, Plastic Labs, are committed to making educational services accessible to all learners and aim to provide each student with a unique personal learning companion.With a focus on native language fluency and personalized education, Bloom aims to replicate the teaching methods of an Aristotelian tutor.
It encourages learners to master written language and believes in the importance of individual tutors for every student. The tool also employs measures for learner safety, including moderation of harmful speech and the presence of human moderators within the Bloom server.Overall, Bloom is an AI learning tool that combines language models with teaching methods to provide personalized tutoring and promote critical skills in a safe and accessible manner.
Featured
Bloom was manually vetted by our editorial team and was first featured on August 23rd 2023.

Would you recommend Bloom?
Help other people by letting them know if this AI was useful.
73 alternatives to Bloom for Learning
Pros and Cons
Pros
Personalized tutoring
Accessible on Discord
24/7 availability
Direct messaging
Can be used for group study
Can be used for classroom activities
Unlimited usage
Free to use
Pedagogical principles applied
Encourages mastery of written language
Moderation for safety
Elimination of harmful speech
Human moderators presence
Native language fluency focus
Supports critical thinking skills
Custom solutions for classrooms
Aristotelian tutoring methodology
Socratic dialectics application
Generative language models utilization
Student-centered pedagogy
Individual tutors for everyone
Offers unique conversations
Helps develop research skills
Guided steps for getting started
Cons
Lacks subject variety
Can promote cheating
Strict dependency on Discord
Requires strong internet connection
No voice support
Lacks concrete knowledge assessment
Potential inappropriate dialogues
Reliant on generative model
Lacks human touch
Not ideal for visual learners
Q&A
What is Bloom?
Bloom is a theory-of-mind-optimized Socratic interlocutor integrated into Discord. This AI tool is designed to boost learning experiences and foster core skill development. It acts as a committed learning partner that can deliver personalized tutoring in a broad spectrum of subjects.
What specific principles does Bloom implement in its pedagogical approach?
Bloom utilizes a blend of pedagogical principles including Aristotelian tutoring, Socratic dialectics, and student-centric pedagogy for an efficient learning experience. It combines these principles with the latest in artificial intelligence, specifically the use of generative language models.
Is Bloom only useful for individual-based learning or can it also assist with group studies or classroom activities?
Bloom is flexible and versatile. It can be used for 1:1 tutoring, group study, or classroom activities, underscoring its adaptability to both individual and collective learning dynamics.
What AI model does Bloom use for its system?
Bloom uses the most recent generative language models, specifically GPT-4, to facilitate unique conversations and generate new insights.
How can I access Bloom?
Bloom is accessible via the group messaging application Discord. It resides in a specially dedicated server hosted by Plastic Labs, and users can engage with Bloom by joining this Discord server.
How expensive is it to use Bloom?
Bloom is absolutely free to use for everyone, making it a highly accessible educational tool.
What steps were taken to ensure the safety of learners using Bloom?
Several measures are taken to ensure the safety of learners. These include moderating harmful speech using OpenAI's moderation API, exploiting Discord's community moderation toolkit for regulating human behavior in the Bloom digital campus, and employing teacher-trained human moderators from the Bloom team.
Who are the creators of Bloom?
Bloom is the brainchild of Plastic Labs, a team of technologists and educators with profound experience not only in artificial intelligence and machine learning but also in high-touch classroom teaching and 1:1 tutoring.
How do I chat privately with Bloom?
Users can step into private conversations with Bloom by direct messaging the AI on the Discord platform. This capability ensures a confidential and secure learning experience.
How does Bloom personalize my learning experience?
Bloom personalizes your learning experience by engaging you in a dialogue emulating the Socratic method. It conducts adaptive conversations tailored to your response inputs and offers unique insights to enhance your learning outcomes.
What topics or subjects can Bloom assist me with?
Bloom does not restrict any specific subject or topic. It has been trained to assist you with any topic, aiming to boost your critical skills and satisfy your curiosity.
Is Bloom available 24/7?
Yes, Bloom is available 24/7, making it an always-on, always-engaged learning companion.
How does Bloom emulate the Socratic method in its system?
Bloom emulates the Socratic method by carrying on a conversation that promotes critical thinking and self-learning. The AI prompts inquiry, stimulates thought, and invites users to explore and expand their understanding of the subject matter.
What platform is Bloom hosted on?
Bloom is hosted on Discord, a popular group messaging app.
Does Bloom provide a unique conversation for every single user?
Yes, every dialogue with Bloom is unique and tailored to individual learning needs due to the use of the latest generative language models, GPT-4, which allows it to derive novel insights in each conversation.
Are there any prerequisites or requirements to use Bloom?
No prerequisites or requirements are needed to use Bloom. It's free and accessible to all, with the objective to make educational services available for all learners.
What's the teaching philosophy behind Bloom?
The teaching philosophy behind Bloom centres on native language fluency as a key learning component. Additionally, Bloom believes in the power of personalized education and 1:1 tutoring for achieving superior academic results.
Who are the intended users for Bloom?
Bloom aims to cater to all learners, including students and professionals from various disciplines. It is also a resourceful tool for educators and researchers.
How does Bloom handle potential cases of harmful speech?
Bloom handles cases of harmful speech through OpenAI's moderation API. Every output created by Bloom is filtered through this moderation API, swiftly eliminating any harmful speech.
Is there any interaction with human operators or moderators when using Bloom?
Yes, there is an interaction with human moderators within the Bloom server on Discord. These moderators are teacher-trained individuals ready to enhance the learning experience when required.
Help
⌘ + D bookmark this site for future reference
⌘ + ↑/↓ go to top/bottom
⌘ + ←/→ sort chronologically/alphabetically
↑↓←→ navigation
Enter open selected entry in new tab
⇧ + Enter open selected entry in new tab
⇧ + ↑/↓ expand/collapse list
/ focus search
Esc remove focus from search
A-Z go to letter (when A-Z sorting is enabled)
+ submit an entry
? toggle help menu
x
Sign in to continue (100% free)
To prevent spam, some actions require being signed in. It's free and takes a few seconds.
Sign in with Google