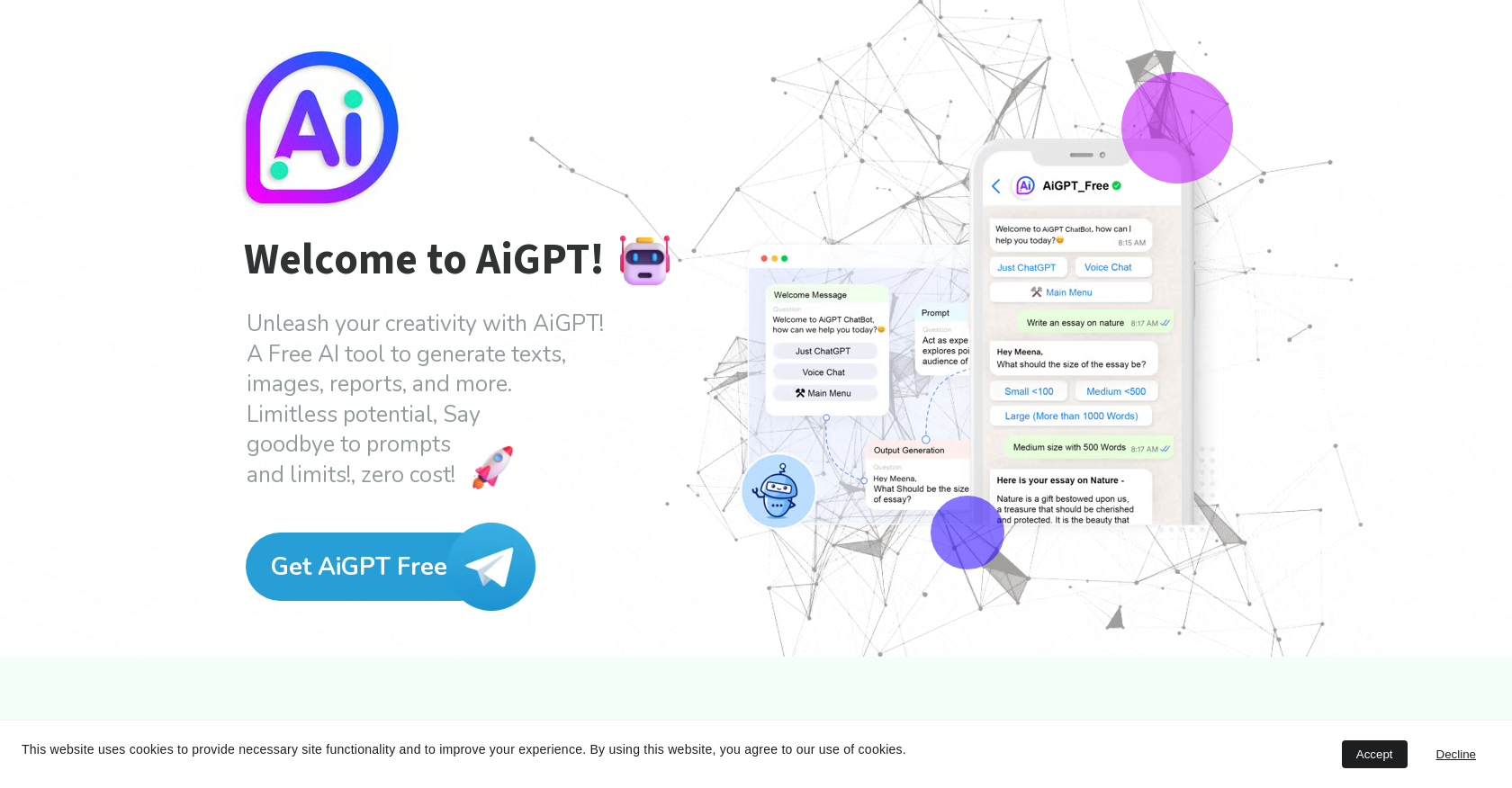 Generated by ChatGPT
Welcome to AiGPT, the world's most user-friendly AI platform! Get ready to unleash your creativity with this free AI tool that offers limitless potential for generating texts, images, reports, and more. Say goodbye to complicated prompts, usage limits, and costly installations. AiGPT is here to simplify your life.
Tired of memorizing AI prompts? AiGPT's intelligent system understands your needs and delivers accurate results without complex prompts. Juggling between multiple tools for different tasks? AiGPT is your one-stop solution, whether you need text, images, or reports. And the best part? It's all free!
Creating emails has never been easier! With AiGPT, simply answer a few easy questions, and our magical AI will generate perfect emails for any occasion. No more worries about tone, structure, or content. It's email writing made fun and efficient!
But that's not all! AiGPT also offers voice chat, allowing you to communicate with our AI through voice memos. No more typing needed! And when it comes to generating text, AiGPT's Magic Prompt uses its rich database to match your specific style, eliminating writer's block.
Ready to take your creativity to the next level? Describe a scene, and AiGPT will paint it for you using advanced Dalle-2 or Stable Diffusion technology. From quick sketches to high-quality pictures, AiGPT is your artist!
Join over 125,000 satisfied users globally who have generated over 7,50,000 chats, 42,000 images, and 8,00,000 prompts using AiGPT. Backed by industry experts, AiGPT sets the standard for AI-generated content and innovation.
Using AiGPT is a breeze! Just click the link to our Telegram Ai bot, and you're ready to chat and create. No hidden fees, no restrictions – just pure, unlimited AI power!
With AiGPT, you have access to a complete toolbox of AI wonders, all in one place. From quick grammar fixes to generating images, it's like having a super-smart friend in your pocket. So, why wait? Click, create, and conquer with AiGPT – the superhero of AI!
Featured
AIGPT was manually vetted by our editorial team and was first featured on August 4th 2023.

Would you recommend AIGPT?
Help other people by letting them know if this AI was useful.
Pros and Cons
Pros
Personalized recommendations
Pricing suggestions
Direct communication with manufacturers
Targets elderly and time-constrained individuals
Generates texts, images, reports
No complex prompts required
One-stop solution for content generation
Unlimited usage
Easy setup and use
Email writing assistance
Speech-to-text functionality
Advanced Dalle-2 or Stable Diffusion imaging
Expert-backed platform
Global user satisfaction
Much more than a chatbot
Telegram bot for convenience
Offers image generation
Supports voice communication
Database of prompts
Generates images from descriptions
Chat, fix grammar, generate reports
Personal and business utility
Completely free
Quick grammar fix option
Quick email/message generation
Effective prompt generation
Report generation
PDF/web summary capability
Social media assistance
Regular updates planned
Cons
Only accessible through Telegram
Limited to text generation
No API access
Depends on active internet connection
Can't handle multiple requests concurrently
Limited language support
No direct integration with ecommerce platforms
No data export/import functionality
Doesn't offer real-time support
No offline functionality
Q&A
What is SAai (Shopping Assistant AI)?
SAai (Shopping Assistant AI) is an AI-powered personal shopping assistant designed to revolutionize the online shopping experience. It has been created specifically for the elderly and for individuals with limited time. It provides users with personalized shopping recommendations, pricing suggestions, and the ability to directly communicate with manufacturers.
How does SAai help the elderly and individuals with limited time?
SAai assists those with limited time and the elderly by providing a personalized online shopping experience. It provides the users with tailored recommendations based on their specific preferences and needs, saving their time and effort by directing them to the most relevant products. In addition to this, it also gives pricing suggestions by analyzing pricing data and providing insights on the best value for money deals. Direct communication with manufacturers is also facilitated for speedy and effective customer service.
In what ways does SAai personalize the online shopping experience?
SAai personalizes the online shopping experience in several ways. It offers to users personalized recommendations based on individual preferences and needs, thus saving them a significant amount of time and effort. Moreover, it provides pricing suggestions by leveraging AI algorithms to analyze pricing data and show the best possible deals. By enabling users to directly communicate with manufacturers, the assistant ensures that specific inquiries or concerns about a particular product can be addressed effectively.
How does SAai offer pricing suggestions?
SAai leverages AI algorithms to offer pricing suggestions. It analyzes pricing data to provide users with insights on the best deals and value for money, helping users make well-informed buying decisions.
What AI technology or algorithms does SAai employ?
The information in the data does not specify which specific AI technology or algorithms are used by SAai. However, it mentions that SAai does use AI technology to aid in its functionalities such as offering personalized recommendations and pricing suggestions, and to facilitate direct communication with manufacturers.
What is AiGPT and how is it utilized by SAai?
AiGPT is a free AI-powered tool used to generate text, images, reports and more. It's designed to provide an easy and user-friendly solution for a variety of tasks without the need for complicated setups or installations. While the data does not provide a direct correlation with SAai, both tools utilize AI technology to streamline processes and enhance user experience.
How does AiGPT generate text or images?
AiGPT generates text or images through advanced technologies like Dalle-2 and Stable Diffusion. To create images, users can simply describe the scene and AiGPT will use these technologies to convert the descriptions into images. For text generation, AiGPT uses its intelligent system and a rich database of prompts to create clear, precise, and engaging content.
What does it mean when you say AiGPT is user-friendly?
AiGPT is termed 'user-friendly' due to its ease of use and accessibility. It simplifies tasks and processes such as image and text generation, email or message composition, report generation, and even voice chat functionalities. The AI tools are readily accessible after a single click, and no complex setups or official installations are necessary. Moreover, AiGPT operates within widely used platforms like Telegram, increasing its accessibility to a wide range of users.
How can one communicate with manufacturers through SAai?
The provided information does not elaborate on the specific mechanism employed by SAai for communicating with manufacturers. However, it does mention that direct communication with manufacturers is one of the key features offered by SAai, suggesting that it has integrated systems that facilitate such interactions.
How does the voice chat feature work in AiGPT?
AiGPT's voice chat feature allows users to send their queries through voice memos and receive replies in the same way. It eliminates the need for typing, making it convenient for users occupied with other tasks or those not comfortable with typing.
Can AiGPT help with writing emails or messages?
Yes, AiGPT assists with writing emails or messages. By answering a few simple questions, AiGPT can generate an email or message that addresses the intended recipient appropriately. It removes concerns about tone, structure, or content making it a hassle-free solution for creating emails or messages.
How does AiGPT handle prompt generation?
AiGPT handles prompt generation through its 'Magic Prompt' feature. Despite vague instructions, AiGPT can generate clear, precise, and engaging content using its rich database of prompts. This eliminates the complex task of remembering precise prompts and allows users to focus on their core tasks.
What is meant by 'Magic Prompts' in AiGPT?
'Magic Prompts' in AiGPT refers to a feature that generates perfect words from vague user instructions. It leverages an extensive database of prompts to accurately interpret user needs and deliver results. This feature aids in bringing about precise writing, thus helping to overcome challenges such as writer's block.
How does the image generation feature in AiGPT work?
The image generation feature in AiGPT works using advanced Dalle-2 or Stable Diffusion technologies. When the user describes a scene, AiGPT employs these technologies to create images matching the description. For quick sketches, it uses Dalle-2, whereas for high-quality pictures, Stable diffusion is employed.
How does the 'Quick Email/Message' feature of AiGPT function?
The 'Quick Email/Message' feature of AiGPT works like chatting with a friend. Users answer a few simple questions and AiGPT generates an appropriate email or message based on these responses, effectively easing the concerns related to tone, structure, and content of the communication.
How does AiGPT 'Reply Assistant' help with responses to messages or emails?
AiGPT's 'Reply Assistant' helps with responses by providing quick and suitable replies to emails, messages, or tweets. The AI technology of AiGPT collaborates with the Reply Assistant feature to provide timely responses, enhancing overall productivity and communication.
What kind of assistance does AiGPT provide for social media posts?
AiGPT provides assistance for creating social media posts by generating creative captions for Instagram pictures or writing cool posts for platforms like Facebook and Twitter. Users can leverage AiGPT to improve their social media content and engagement.
How can AiGPT help me generate reports?
AiGPT aids in report generation by helping users create comprehensive reports such as homework, essays, or business plans. This function enables users to collate, format, and present their information professionally, turning complex data into cohesive and engaging reports.
How can I use AiGPT if I don't have the Telegram app?
If you don't have the Telegram app, AIgpt has a provision to join a waitlist for AI Bot access on other popular platforms such as WhatsApp, Instagram, and Facebook Messenger. Thus, it provides users with a wider range of platform compatibility.
How can I access all the features of AiGPT for free?
You access all features of AiGPT for free by directly interfacing with their AI tools via the Telegram AiGPT bot. There are no limitations or restrictions to the use and it is absolutely free for all users. The platform also keeps adding new features to its arsenal, enhancing the users' experience with the passing of time.
If you liked AIGPT
Help
⌘ + D bookmark this site for future reference
⌘ + ↑/↓ go to top/bottom
⌘ + ←/→ sort chronologically/alphabetically
↑↓←→ navigation
Enter open selected entry in new tab
⇧ + Enter open selected entry in new tab
⇧ + ↑/↓ expand/collapse list
/ focus search
Esc remove focus from search
A-Z go to letter (when A-Z sorting is enabled)
+ submit an entry
? toggle help menu
x
Sign in to continue (100% free)
To prevent spam, some actions require being signed in. It's free and takes a few seconds.
Sign in with Google