Edit AI
Enhancing images with famous artistic styles.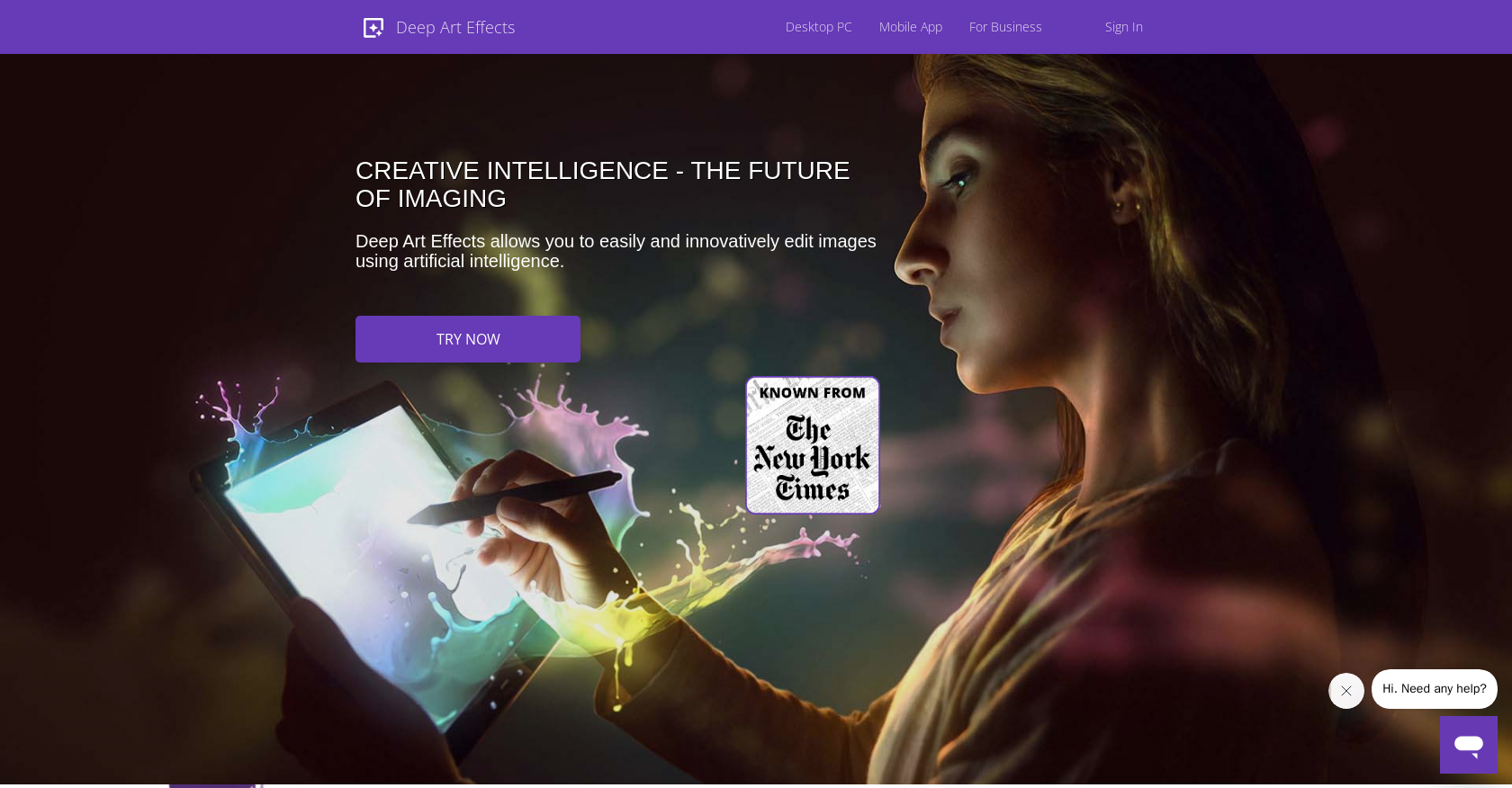 Generated by ChatGPT
Deep Art Effects is an AI-powered tool that allows users to effortlessly transform their photos and videos into stunning works of art. With the use of artistic style transfer techniques, the tool applies the styles of famous artists to user-submitted images, resulting in unique and visually striking compositions.
Deep Art Effects offers both a desktop software and a mobile app, catering to users' preference for editing on-the-go or on a larger screen.The tool boasts powerful image processing capabilities, all thanks to artificial intelligence algorithms.
Users can expect features such as automatic colorization of grayscale images, intelligent image scaling up to four times the original size without loss of quality, optimization and color enhancements, automatic background removal, and even mimicry of expensive SLR cameras.One noteworthy aspect of Deep Art Effects is its commitment to privacy and data protection.
The desktop software handles all image processing locally, ensuring that users' images remain secure and do not get sent to the cloud. The tool also emphasizes accessibility, aiming to make intelligent image technology easily accessible to users of all skill levels.Deep Art Effects offers a range of predefined art filters that can be individually adjusted, allowing users to personalize their artwork.
Whether users are looking for a professional tool for demanding imaging projects or simply want to bring old photos back to life, Deep Art Effects provides a user-friendly experience with its intuitive interface and diverse possibilities for artistic expression.
Featured
Deep Art Effects was manually vetted by our editorial team and was first featured on October 6th 2023.

Would you recommend Deep Art Effects?
Help other people by letting them know if this AI was useful.
73 alternatives to Deep Art Effects for Image editing
Edits images, removing and creating objects.

431

4.0

Enhanced image editing with object and text removal.

311

3.0

151

1.0

Customizable image text replacement.

137

1.5

Creation of pictures for social media content.

127

Improved image editing and retouching output.

124

1.0

Removes unwanted image elements in seconds.

78

5.0

Effortless photo editing without manual object removal.

77

68

5.0

Extension and enhancement of images.

56

1.0

Transformed portrait filters for photos.

53

5.0

High-quality photo editing for e-commerce products.

52

2.0

Enhances e-commerce product photos efficiently at scale

49

Enhanced image backgrounds.

47

5.0

Enhanced image manipulation capabilities.

44

1.0

Image enhancer with multiple features for optimization.

42

5.0

Professional photo editing made easy.

41

Unlimited graphic design and photo editing canvas

37

5.0

Enhance images smoothly with Onepic.

35

Edited professional product and marketing images.

34

An image resizer for social media.

33

1.0

Enhanced images with various plugins.

32

User-friendly image editing and generation.

32

1.0

Remove background, erase objects, add shadows, resize.

31

4.0

Editing and designing images through a browser.

26

Image editing & object removal solution.

24

Edited media, bg removal, upscaling, content generation.

24

5.0

Improved resolution and quality for photos.

24

Powerful image editing capabilities.

22

5.0

Online image editor and enhancer.

22

Enhancing and restoring images for iPads.

21

Improved resolution for images: pros & enthusiasts.

21

Enhanced workflows with image editing.

20

5.0

Erases unwanted objects from images.

20

Photography enhancement for iOS devices.

18

Customizable photo editor with easy background removal.

17

Cloud-based old photo restoration and enhancement.

17

5.0

High resolution image editing solution.

15

1.0

Advanced image editor for precise edits.

16

Editing product images for e-commerce.

15

Mobile app for creating depth effects in photos.

13

Enhanced images with customized settings & presets.

13

Enhances, edits images with multiple services.

13

Editing, removal, art generation, writing assistance

11

Improved business photo and video enhancement.

11

An app for editing photos and videos.

11

Automated image post-production for e-commerce.

10

9

5.0

Object removal image editor.

9

Enhanced photo editor for iOS.

9

Improved visual quality of images.

8

Enhanced photo editing online.

8

Enhanced editing for photo modifications.

8

Image enhancement: upscale resolution and colorization.

7

Optimized images for better website performance and SEO.

7

Enhancing image quality and removing backgrounds.

7

4.5

Simplified photo editing with enhanced features.

6

Enhanced image editing solution.

6

5.0

Automated image background removal for professionals.

5

5

Streamlined design through image edit and collaboration.

5

5.0

Enhances and styles photos

4

Enhanced art and images with advanced algos.

4

Enhance photos and videos creatively.

3

Enhanced editing for profile & product photos.

3

Image process + delivery for websites + apps.

2

Enhancing images with object/background manipulation

1

Enhanced photo editing with advanced algorithms.

1

Enhanced portrait photo editing

1

Enhanced image editing with seamless UX.

1
If you liked Deep Art Effects
Help
⌘ + D bookmark this site for future reference
⌘ + ↑/↓ go to top/bottom
⌘ + ←/→ sort chronologically/alphabetically
↑↓←→ navigation
Enter open selected entry in new tab
⇧ + Enter open selected entry in new tab
⇧ + ↑/↓ expand/collapse list
/ focus search
Esc remove focus from search
A-Z go to letter (when A-Z sorting is enabled)
+ submit an entry
? toggle help menu
x
Sign in to continue (100% free)
To prevent spam, some actions require being signed in. It's free and takes a few seconds.
Sign in with Google