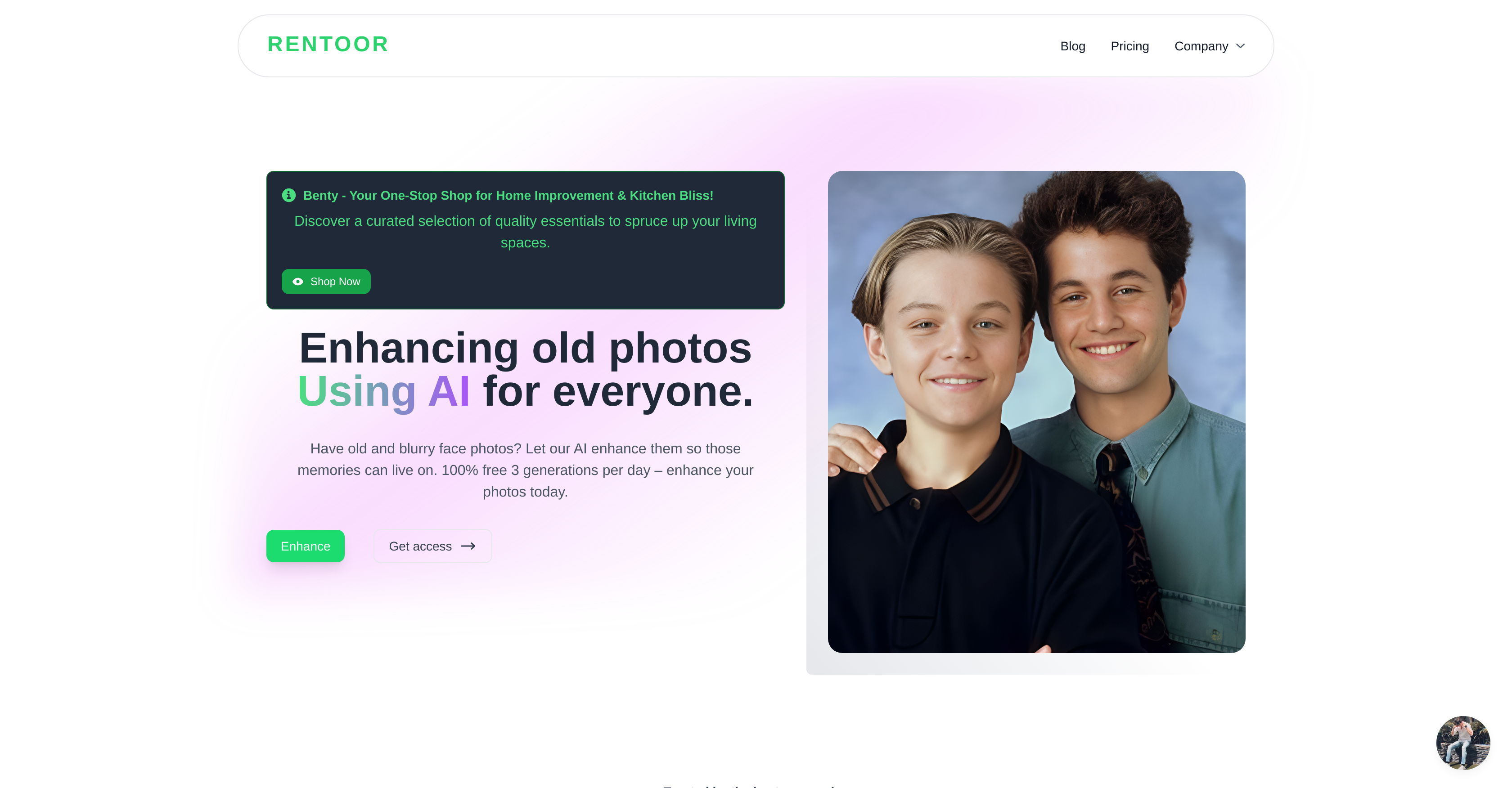 Generated by GPT-3
Rentoor is an AI-powered tool that helps to enhance old and blurry face photos. It uses advanced technology to improve image quality, allowing users to keep memories alive.
Rentoor is free of charge and easy to use, with no limit on the number of images that can be enhanced at once. The process of enhancing photos is fast and secure, making it suitable for both personal and professional use.
The product has received excellent reviews from the more than 22,000 users around the globe, who praise its design and functionality. Rentoor is powered by Hanii, and provides a reliable and user-friendly service for preserving memories.
Featured
?
56 alternatives to Rentoor for Image editing
02 Mar 2023

01 Feb 2023

24 Feb 2023

24 Feb 2023

26 Feb 2023

09 Jan 2023

19 Jan 2023

21 Jan 2023

22 Jan 2023

08 Dec 2022

08 Dec 2022

14 Dec 2022

19 Dec 2022

22 Dec 2022

23 Dec 2022

01 Nov 2022

02 Nov 2022

03 Nov 2022

28 Nov 2022

15 Oct 2022

27 Oct 2022

28 Oct 2022

01 Sep 2022

23 Sep 2022

09 Aug 2022

02 Jul 2022

22 Jul 2022

10 Jun 2022

23 Jun 2022

23 Jun 2022

24 Jun 2022

28 Jun 2022

21 Apr 2022

25 Jan 2022

11 Feb 2022

14 Feb 2022

13 Mar 2022

16 Mar 2022

11 Jan 2021

13 Jan 2021

21 Jun 2021

22 Jun 2021

01 Jul 2021

15 Jul 2021

04 Sep 2021

27 Oct 2021

27 Oct 2021

01 Nov 2021

03 Nov 2021

08 Dec 2021

17 Jun 2020

22 Jul 2020

05 Sep 2020

30 Oct 2020

27 Feb 2019

03 Jun 2017