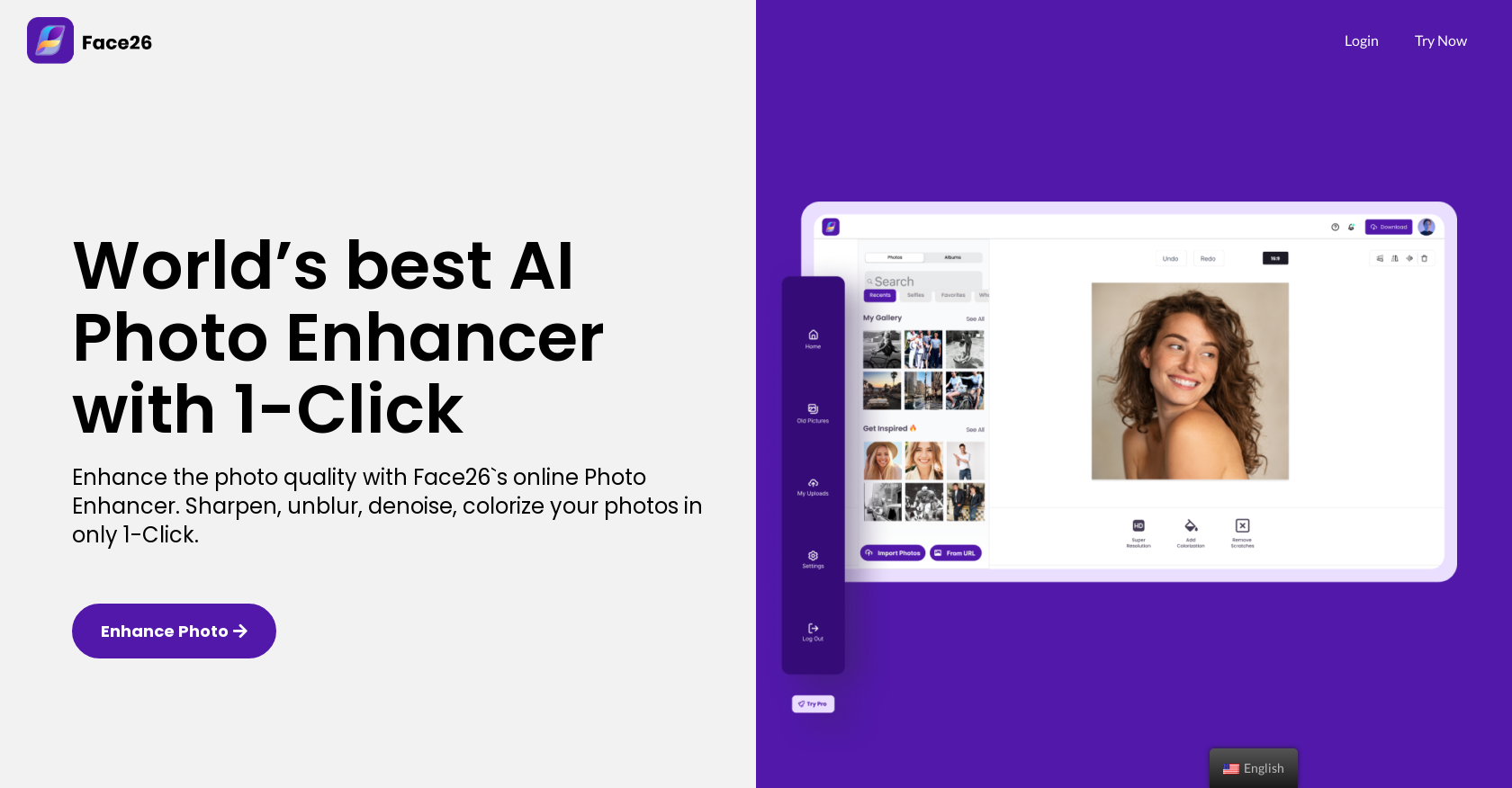 Generated by GPT-3
Face26 is an AI-powered tool that enhances old, pixelated, or blurred photos into high-definition pictures with one-click. This web-based photo enhancer offers a range of features, including AI upscaling, face retouching, image sharpening, and photo colorization.
It also has built-in photo enhancement tools that allow users to sharpen, denoise, and retouch their photos in seconds. Face26's algorithm has been trained on over 2 million images of high-resolution photos to provide the best results without requiring any editing skills from the user.
The tool can be used on desktop or smartphone, and images can be saved and downloaded directly. Face26 has received positive testimonials, highlighting the app's ability to enhance old photos and remove blurs and noise from images.
The tool is also capable of turning black-and-white photos into colored ones. In addition to its photo enhancing capabilities, Face26 offers other AI photo tools such as watermark removal, background removal, and object removal.
Overall, Face26 provides an easy-to-use solution for anyone who wants to restore and enhance their old or low-quality photos.
Featured
?
56 alternatives to Face26 for Image editing
02 Mar 2023

01 Feb 2023

24 Feb 2023

24 Feb 2023

26 Feb 2023

09 Jan 2023

16 Jan 2023

19 Jan 2023

22 Jan 2023

08 Dec 2022

08 Dec 2022

14 Dec 2022

19 Dec 2022

22 Dec 2022

23 Dec 2022

01 Nov 2022

02 Nov 2022

03 Nov 2022

28 Nov 2022

15 Oct 2022

27 Oct 2022

28 Oct 2022

01 Sep 2022

23 Sep 2022

09 Aug 2022

02 Jul 2022

22 Jul 2022

10 Jun 2022

23 Jun 2022

23 Jun 2022

24 Jun 2022

28 Jun 2022

21 Apr 2022

25 Jan 2022

11 Feb 2022

14 Feb 2022

13 Mar 2022

16 Mar 2022

11 Jan 2021

13 Jan 2021

21 Jun 2021

22 Jun 2021

01 Jul 2021

15 Jul 2021

04 Sep 2021

27 Oct 2021

27 Oct 2021

01 Nov 2021

03 Nov 2021

08 Dec 2021

17 Jun 2020

22 Jul 2020

05 Sep 2020

30 Oct 2020

27 Feb 2019

03 Jun 2017