Edit AI
Formula & Query Gen. for Spreadsheets & Databases.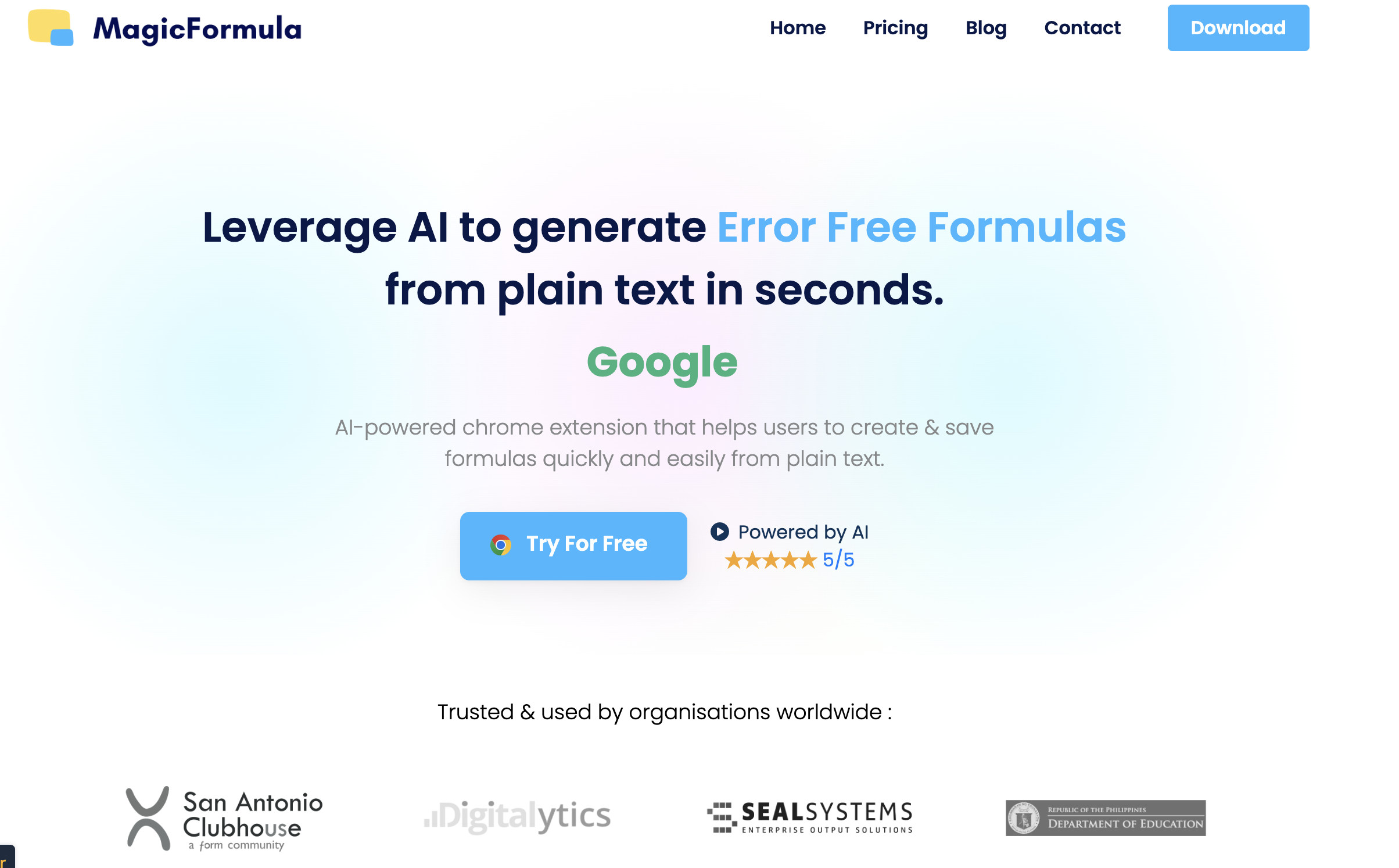 Generated by ChatGPT
MagicFormula is a Chrome extension AI tool that assists users in generating Excel, SQL, GoogleSheets, and Airtable formulas and queries from plain text.
It seamlessly integrates with these platforms, providing error-free formula generation. The tool follows a simple three-step process. Firstly, users select the spreadsheet or database they want to work with.
Then, they describe the desired formula or query in plain English, being as specific as possible. Finally, the AI-powered formulabot generates the formula in seconds, providing a detailed tutorial and the option to copy the formula to the clipboard for easy pasting into the spreadsheet or database.MagicFormula offers several features to enhance productivity and user experience.
The tool leverages the power of OpenAI (ChatGPT) to generate formulas using everyday language. It also provides step-by-step tutorials and formula explainers, helping users upskill themselves in Excel, Google Sheets, SQL, and Airtable.
The Chrome extension offers seamless integration with favorite spreadsheet and database platforms, eliminating the need to switch tabs. Additionally, it supports multi-platform usage, allowing users to work efficiently across multiple platforms.Customers have praised MagicFormula for its ease of use and time-saving capabilities.
It has received positive reviews from users who work with SQL and marketers utilizing Airtable.The tool offers a free trial for users to test its features before committing to a subscription.
It also provides a refund policy within 14 days of purchase and allows subscription cancellation at any time.Overall, MagicFormula is a reliable AI tool that simplifies the process of generating formulas and queries in Excel, SQL, GoogleSheets, and Airtable, boosting productivity and streamlining workflows for data analysts.
Featured
MagicFormula was manually vetted by our editorial team and was first featured on September 19th 2023.

Would you recommend MagicFormula?
Help other people by letting them know if this AI was useful.
20 alternatives to MagicFormula for Excel formulas
Generated and explained Excel/Sheets formulas.

1,273

5.0

Creating complex Excel formulas and macros.

113

Streamlined Excel data analysis tasks.

81

Excel formulas generated with assistance.

70

1.0

Generated Excel/Google Sheets formulas

55

Automated Google Sheets data manipulation.

47

Instant Excel formula generation from text instructions.

45

Simplified complex calculations in Excel.

43

5.0

Simplified creation and understanding of Excel formulas.

34

Excel formula suite for smarter productivity.

29

Analyzed data, collaborated, improved productivity.

30

Automated spreadsheet formulas and analysis.

26

Streamlined Excel formula generation from instructions.

25

3.0

Automates Excel formula creation with explanations.

21

Summarizes and categorizes text in spreadsheets.

14

Improved productivity through automating Excel/Sheets.

14

Excel productivity with efficient formula generation.

8

7

Data analysis, formulas, and preparation streamlined.

6

Excel Bot simplifies formulas & generates VBA code

6
If you liked MagicFormula
People also searched
Help
⌘ + D bookmark this site for future reference
⌘ + ↑/↓ go to top/bottom
⌘ + ←/→ sort chronologically/alphabetically
↑↓←→ navigation
Enter open selected entry in new tab
⇧ + Enter open selected entry in new tab
⇧ + ↑/↓ expand/collapse list
/ focus search
Esc remove focus from search
A-Z go to letter (when A-Z sorting is enabled)
+ submit an entry
? toggle help menu
x
Sign in to continue (100% free)
To prevent spam, some actions require being signed in. It's free and takes a few seconds.
Sign in with Google