Edit AI
By

Personalized travel planning & booking solution.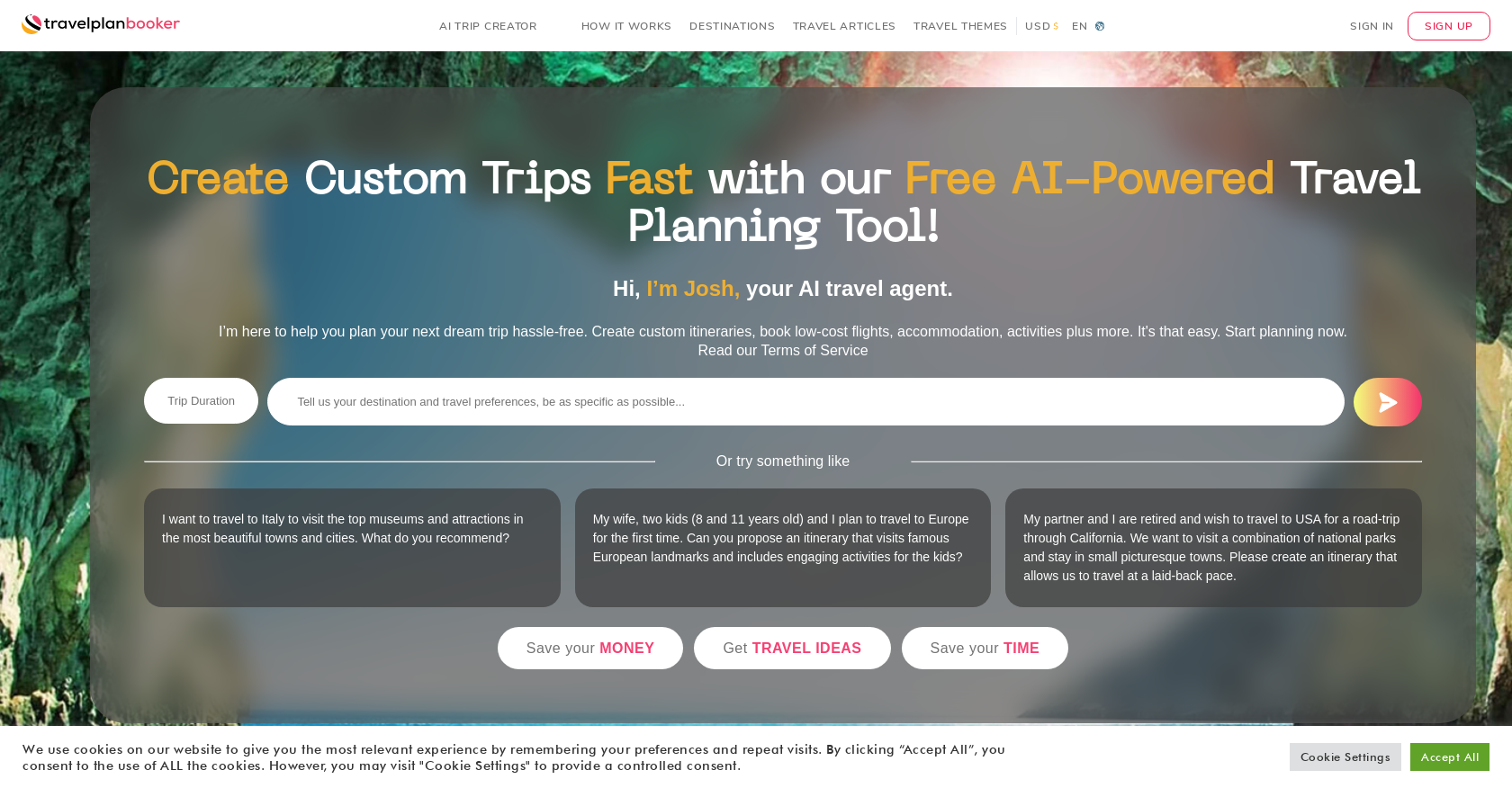 Generated by ChatGPT
The AI Trip Creator tool by TravelPlanBooker is an AI-assisted travel planner designed to provide personalized travel experiences. It allows users to create custom itineraries, book low-cost flights, accommodations, and activities for their dream trips.
The tool aims to simplify the travel planning process by offering a hassle-free solution.With the AI Trip Creator, users have the ability to input their travel preferences and receive tailored travel plan proposals.
These proposals are generated by an advanced AI model known as ChatGPT. It's important to note that while the tool strives for accuracy and reliability, the proposals are not guaranteed to be perfect.
Users are advised to use them as a starting point and exercise personal judgment before making any travel arrangements.The tool also provides up-to-date travel information and recommendations.
However, due to the ever-changing nature of the travel industry, absolute accuracy, completeness, and timeliness of the information cannot be guaranteed.
Users are encouraged to verify details such as flight availability, hotel availability, pricing, visa requirements, and entry restrictions before making any bookings or commitments.It's worth mentioning that the AI Trip Creator does not intend to replace professional travel advice or services provided by travel agencies, agents, or consultants.
Users should take personal responsibility for their final decisions and consider their own circumstances, preferences, and specific requirements when making travel arrangements.Additionally, the tool may provide links or information related to third-party services such as airline websites, hotel booking platforms, or local tour operators.
However, TravelPlanBooker does not endorse or guarantee the quality, reliability, or safety of these services. Users are advised to conduct independent research and due diligence before engaging with any third-party services.
Featured
TravelPlanBooker was manually vetted by our editorial team and was first featured on November 4th 2023.

Would you recommend TravelPlanBooker?
Help other people by letting them know if this AI was useful.
75 alternatives to TravelPlanBooker for Travel itineraries
Generated suggestions for travel itineraries.

339

3.0

Generated travel itineraries.

130

1.0

Streamlined trip planning and re-planning assistant.

72

3.5

Travel itinerary generator based on user preferences.

66

Travel itinerary planning and organizing.

43

1.0

Travel itinerary planner and booking for trips

42

5.0

Efficiently planned trips with travel insights.

41

Tailored travel itineraries.

38

3.0

Personalized vacation planning with smart recs.

36

5.0

Personalized travel itineraries with recommendations.

32

4.2

Family-friendly travel planning.

31

2.7

Travel itineraries and recommendations.

30

5.0

Assisted travel planning and booking.

29

Personalized travel itineraries planned with assistance.

29

1.0

Suggests travel plans based on user interests/inputs.

27

2.0

Customized travel plans platform.

27

25

Personalized travel itinerary planning.

23

Personalized travel itineraries generated autonomously.

22

3.0

Plan personalized memorable trips.

20

Travel recommendations and itinerary planning.

19

Travel planning and booking assistant.

18

Generating customized trip itineraries for travelers.

17

Interactive trip planning with map and chat interface.

17

Easy planning and booking of travels.

16

1.0

Travel itinerary planning and booking assistance.

15

5.0

Tailored travel itinerary planner.

15

2.7

Personalized travel planning assistance.

15

1.0

Customized travel itineraries.

14

14

Generated personalized travel itineraries.

13

Customized travel recommendations.

13

Planning personalized vacations without the hassle.

13

Personalized travel itineraries.

12

Personalized trip planning with advanced technology.

12

2.0

Personalized travel itinerary planning service.

12

Travel planning and suggestion of destinations.

11

Discovering hidden gem destinations for travelers.

11

Personalized itineraries for travel planning.

11

Generated custom travel itineraries.

11

Customized travel itineraries for tourists.

9

3.7

Personalized travel plans generated from preferences

8

A family holiday planning guide for London.

8

Generated personalized travel itineraries.

7

Travel itinerary planning & destination reviews.

7

Personalized travel itineraries creator.

7

5.0

Provide optimized travel itineraries.

7

Product that helps plan vacations.

6

Personalized trip itineraries generator.

6

Efficient travel planning with tailored recommendations.

6

App for discovering and planning adventures.

6

Travel safety prioritization for women adventurers.

5

Personalized travel itineraries planned dynamically.

5

Travel search and itinerary planning solution

5

Assisted virtual travel planning.

5

Personalized travel planning & recommendations

5

Tailored travel planner using preferences and feedback.

5

1.0

Personalized travel recommendations & itinerary.

5

5.0

Automated vacation planner.

4

Personalized travel planning and itineraries.

4

5.0

4

3

3

Custom travel itinerary planning & management

3

Personalized travel planner with smart recommendations.

3

Personalized city itinerary creation.

3

Smart travel itinerary planning with customization.

2

Vacation planning & personalized itineraries

2

Optimized travel planning and itinerary management

2

Customized travel organizer

2

Customized travel planner.

2

Personalized trip planning and itinerary creation.

2

Personalized travel planning and recommendations.

1

Organized daily planning and scheduling.

1

Travel itinerary planning and booking assistance.

1
If you liked TravelPlanBooker
Help
⌘ + D bookmark this site for future reference
⌘ + ↑/↓ go to top/bottom
⌘ + ←/→ sort chronologically/alphabetically
↑↓←→ navigation
Enter open selected entry in new tab
⇧ + Enter open selected entry in new tab
⇧ + ↑/↓ expand/collapse list
/ focus search
Esc remove focus from search
A-Z go to letter (when A-Z sorting is enabled)
+ submit an entry
? toggle help menu
x
Sign in to continue (100% free)
To prevent spam, some actions require being signed in. It's free and takes a few seconds.
Sign in with Google