Edit AI
Private and secure audio/video transcriptions services.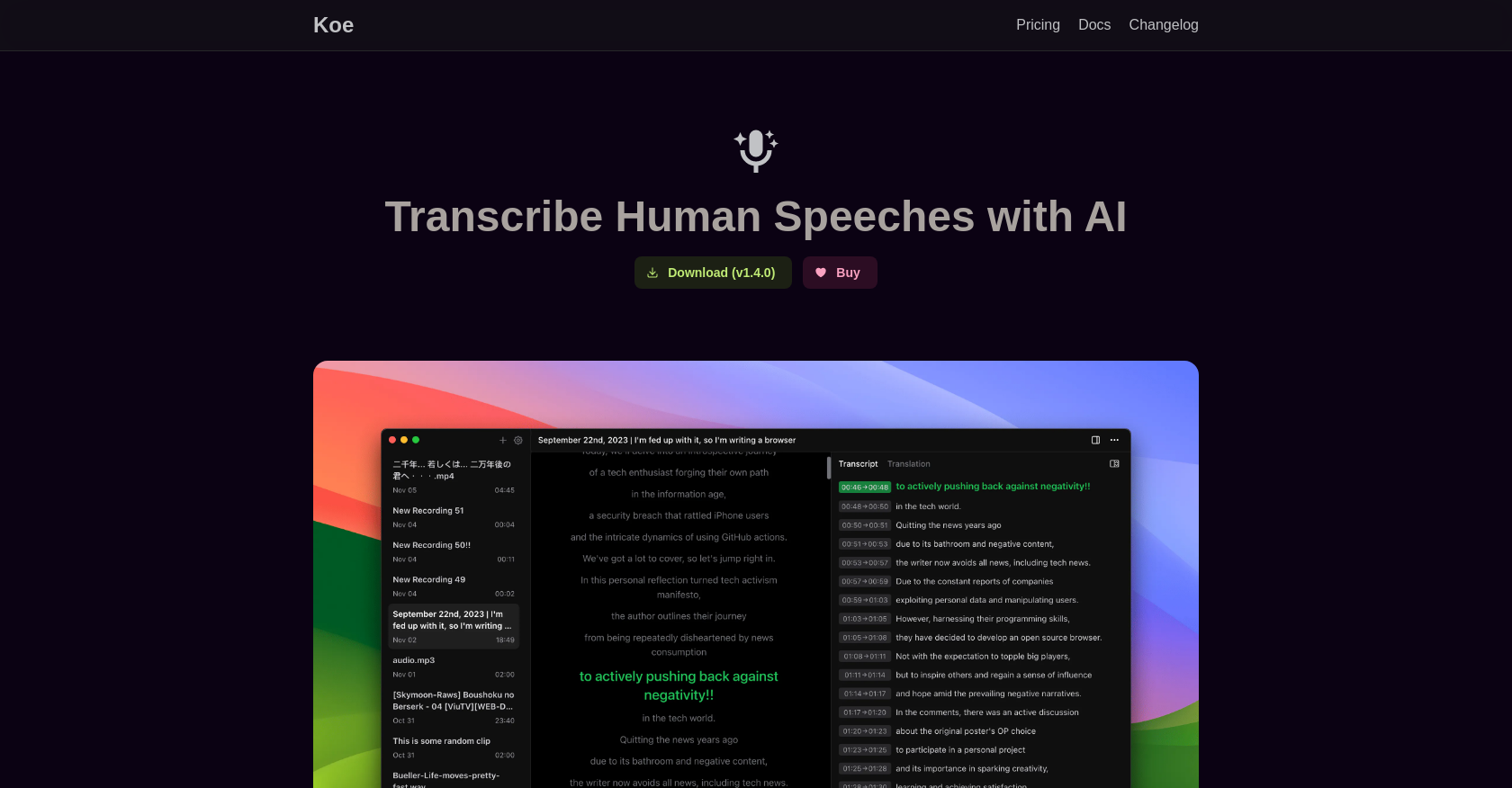 Generated by ChatGPT
Koe is an AI-powered tool that offers transcription services for audio and video files. It supports a wide range of audio and video formats, including mp3, wav, m4a, ogg, mov, avi, mp4, webm, and mkv.
One of the key features of Koe is the ability to transcribe human speeches using OpenAI's Whisper model. This transcription can be done locally without sending any data to external servers, ensuring privacy and security.
Additionally, Koe offers an API service for speech-to-text transcription, allowing users to integrate the tool into their own applications and enjoy faster transcription speeds.Koe also provides video playback with subtitles, allowing users to use the generated transcript as subtitles for their videos in the .mp4 format.
Moreover, Koe offers AI-powered translation using ChatGPT, enabling users to translate the transcribed text.Another useful feature of Koe is voice dictation, which allows users to dictate their text using speech.
This can be a fast and efficient way to generate written content.Regarding pricing, Koe offers a lifetime license option, allowing users to purchase the tool and use it indefinitely.
However, major upgrades in the future may require an additional upgrade cost.It is important to note that while the on-device Whisper model ensures that no data is sent to external servers during the transcription process, the translation feature does involve sending data to OpenAI's server.Koe offers a refund policy of 14 days after purchase for dissatisfied customers.
Featured
Koe App was manually vetted by our editorial team and was first featured on November 19th 2023.

Would you recommend Koe App?
Help other people by letting them know if this AI was useful.
26 alternatives to Koe App for Speech to text
User-friendly ML app discovery and utilization platform.

181

3.0

Powerful transcription and audio editing software.

51

2.5

Voice-to-text summarization for efficient note-taking.

39

4.0

Accurately transcribe real-time speech to text.

32

Analyzed and generated text and speech.

32

Audio and video transcribed into text summaries.

31

Conversion of audio files to text format.

30

4.5

Audio data analyzed and processed.

28

5.0

Voice transcription for capturing spoken thoughts.

25

4.5

An app that converts audio to text.

15

Reduced noise voice-to-text transcription.

14

Identified speaker & language in audio/video transcripts

14

Speech recognition and translation technology.

13

12

Real-time conversation analytics platform.

8

Converts speech to text in real-time with high accuracy.

5

Precise audio and video transcription and translation.

5

4

Multilingual accurate audio transcriptions

4

Efficient idea organization through note-taking

3

Voice-to-text transcription for macOS

3

Japanese reading comprehension improved for learners.

1

Accurately transcribing spoken words into written text.

1
If you liked Koe App
People also searched
Help
⌘ + D bookmark this site for future reference
⌘ + ↑/↓ go to top/bottom
⌘ + ←/→ sort chronologically/alphabetically
↑↓←→ navigation
Enter open selected entry in new tab
⇧ + Enter open selected entry in new tab
⇧ + ↑/↓ expand/collapse list
/ focus search
Esc remove focus from search
A-Z go to letter (when A-Z sorting is enabled)
+ submit an entry
? toggle help menu
x
Sign in to continue (100% free)
To prevent spam, some actions require being signed in. It's free and takes a few seconds.
Sign in with Google