Edit AI
Written text to natural speech conversion.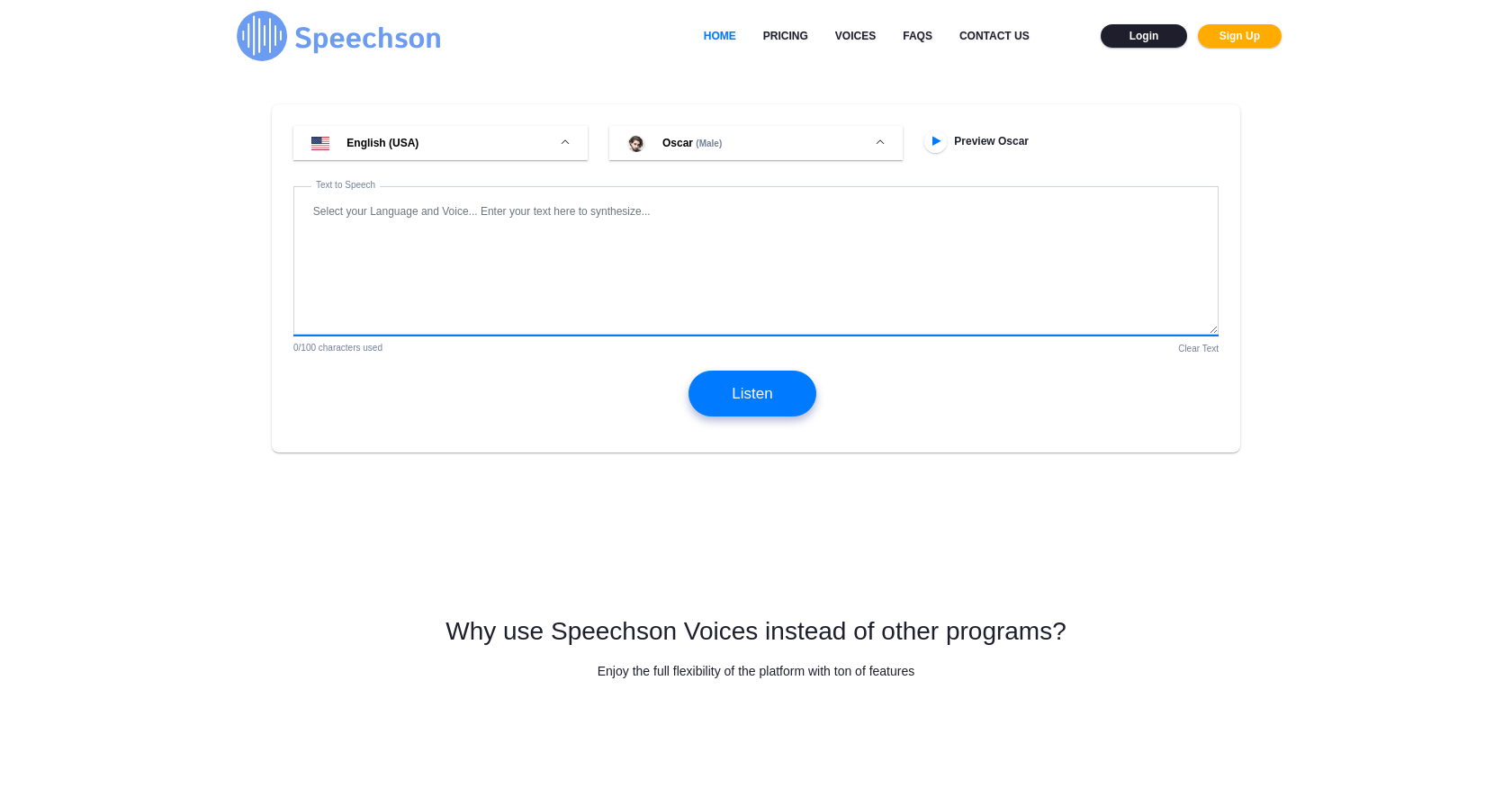 Generated by ChatGPT
Text to Sound is an online tool that converts text into natural, human-like speech. With this tool, users can simply input text and quickly generate high-quality audio files in MP3 and WAV formats.
The tool boasts an extensive collection of over 900 AI voices, representing 144+ languages. The user interface is straightforward, allowing users to easily navigate through the various features and options.
Upon accessing the tool, users can choose from a wide range of languages, including popular languages such as English, Spanish, Chinese, and Arabic, as well as less common languages like Estonian, Swahili, and Welsh.
The generated audio is designed to sound remarkably realistic, mimicking human speech patterns and intonations. This feature enhances the overall user experience and makes the output more suitable for various applications, such as voiceovers, virtual assistants, audiobooks, and language learning tools.
In addition to its text-to-speech capabilities, Text to Sound also provides several other sections, including pricing information, a comprehensive voice library, and a frequently asked questions section.
The tool offers a free trial feature, enabling users to explore its functionality before committing to a subscription or payment plans. Overall, Text to Sound is a powerful and versatile tool that empowers users to transform written content into high-quality audio output, incorporating a vast array of languages and delivering natural, human-like speech.
Featured
Speechson was manually vetted by our editorial team and was first featured on September 7th 2023.

Would you recommend Speechson?
Help other people by letting them know if this AI was useful.
65 alternatives to Speechson for Text to speech
Listen to articles, PDFs, emails, etc. in your podcast player or browser.

691

3.7

Voiceovers for videos, gaming, audiobooks & more.

211

2.3

Text transformed into customizable spoken output.

180

5.0

Customizable voiceover production service. (OK

177

5.0

Affordable solution for speech synthesis.

136

4.1

Created realistic audio content using synthetic voices.

129

3.7

Generate multilingual natural-sounding audio files.

96

3.0

Generates natural-sounding speech audio online.

92

5.0

Generated audio from written text in multiple languages.

75

4.5

Generating spoken content in multiple languages/accents.

61

Extracts video highlights from long-form content.

53

900+ voices. 142+ languages. Audio shareable.

51

3.0

Lifelike audio with human-like synthetic voices

50

5.0

Customizable online voice generator.

47

5.0

Edited human-like audio for content creation.

46

Build voice & chat bots with rap skills.

45

4.0

Creation of voiceovers for digital media.

36

Convert texts to natural sounding speech and vice versa.

35

5.0

Turn rambles into perfect speech

34

5.0

Creates voiceovers from text.

32

1.0

Audio clip generation of celebrity/cartoon voices.

31

4.0

Text-to-speech for reading and comprehension support.

29

4.0

Synthetic voice generator with API and audio editing.

26

5.0

Converts text to audio files with customization options.

26

Generated lifelike speech for multilingual content.

25

Automated social media and content creation.

24

1.0

Multi-lingual voiceovers w/ customization.

23

Transcribed spoken language analyzed for meaning.

21

Text-to-speech with lifelike voices across applications.

20

Text-to-speech software with highly realistic voices.

20

3.0

Voice & media wallet chat platform for payments.

19

5.0

Text-to-voice for ads, games, learning & publishing.

18

Conversion of text to high-quality audio files.

18

1.0

Content creators and educators can generate voices.

17

Improving Twitch streamers' speech output platform.

16

1.0

Platform for custom audio creation with text-to-speech.

16

Converts speech to text and analyzes emotions.

15

Multilingual voiceover solution.

14

Text-to-speech audio generation for customized projects.

13

2.0

Apps can recognize and generate voice.

13

Unique lifelike digital voice creation for businesses.

12

5.0

Turned text into cross-platform synthetic voices.

10

Content to speech for accessibility.

9

Created multilingual content & natural voice-overs.

9

Customized voice donations for online streamers.

9

Emotive voices for video/podcast text-to-speech.

8

Text to speech solution for spoken applications.

7

Content creation and accessibility solution.

7

3.0

Automated audio production for digital content.

7

Converts written messages to speech via chatbot.

6

Record audio with realistic voices online.

6

Text transformed to realistic voiceovers.

6

Voice-overs generated from text

5

5.0

Text-to-audio generation.

5

Spoken language to text conversion virtual assistant.

5

Generates voiceovers and narrations.

5

Personalized Christmas audio messages by Elves.

4

Audio content created via Text-to-Speech.

4

Audio content from text and videos.

4

Text transformed into captivating audio.

3

Multilingual text-to-speech synthesis.

3

Diverse audio production.

1

5.0

Text-to-speech conversion for documents and web pages

2

Generate video voiceovers.

1

Generate multilingual audio voices.

1
If you liked Speechson
Help
⌘ + D bookmark this site for future reference
⌘ + ↑/↓ go to top/bottom
⌘ + ←/→ sort chronologically/alphabetically
↑↓←→ navigation
Enter open selected entry in new tab
⇧ + Enter open selected entry in new tab
⇧ + ↑/↓ expand/collapse list
/ focus search
Esc remove focus from search
A-Z go to letter (when A-Z sorting is enabled)
+ submit an entry
? toggle help menu
x
Sign in to continue (100% free)
To prevent spam, some actions require being signed in. It's free and takes a few seconds.
Sign in with Google