Edit AI
Spoken language to text conversion virtual assistant.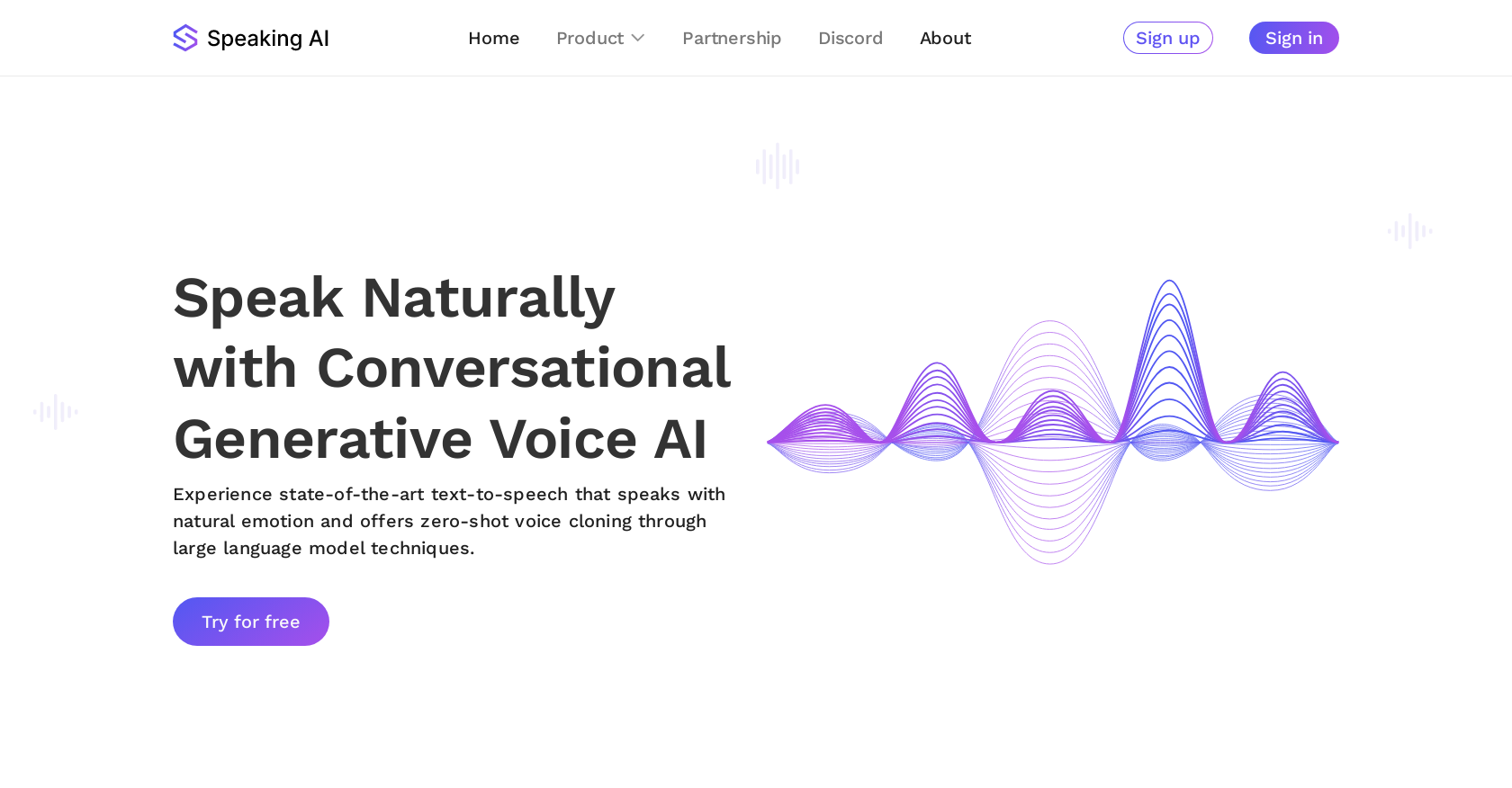 Generated by ChatGPT
Welcome to Speaking AI, your gateway to the future of voice technology! We are at the forefront of the generative voice AI revolution, bringing you cutting-edge text-to-speech capabilities and zero-shot voice cloning powered by advanced language model techniques.
Imagine being able to speak naturally with a voice that perfectly captures your unique tone, pitch, and modulation. Our state-of-the-art model empowers you to record and clone your voice in just 10 seconds, opening up a world of possibilities you've never dreamed of. Whether it's voiceovers, personalized assistant interactions, or simply having your voice preserved for the future, Speaking AI makes it all possible.
But we're more than just a technology platform. We're a community of innovators and enthusiasts, dedicated to pushing the boundaries of generative voice AI. Join our Discord community to be part of this exciting journey. As an early member, you'll enjoy exclusive access to pioneering features, direct communication with our team, and a say in shaping the future of our platform.
Ethical AI is at the heart of what we do. We believe in responsible development and deployment of AI technology, ensuring it benefits humanity. Explore our Safety Announcement to learn more about our commitment to ethical AI.
At Speaking AI, we're building foundational models for generative voice AI, making advanced voice cloning and text-to-speech capabilities accessible to the world. Join us today and experience the future of voice technology. Sign up, speak naturally, and be part of the voice AI revolution!
Featured
SpeakingAI was manually vetted by our editorial team and was first featured on November 8th 2023.

Would you recommend SpeakingAI?
Help other people by letting them know if this AI was useful.
65 alternatives to SpeakingAI for Text to speech
Listen to articles, PDFs, emails, etc. in your podcast player or browser.

682

3.7

Voiceovers for videos, gaming, audiobooks & more.

211

2.3

Customizable voiceover production service. (OK

176

5.0

Text transformed into customizable spoken output.

171

5.0

Created realistic audio content using synthetic voices.

127

3.7

Affordable solution for speech synthesis.

121

4.1

Generate multilingual natural-sounding audio files.

96

3.0

Generates natural-sounding speech audio online.

89

5.0

Generated audio from written text in multiple languages.

73

4.5

Generating spoken content in multiple languages/accents.

61

Extracts video highlights from long-form content.

53

900+ voices. 142+ languages. Audio shareable.

51

3.0

Edited human-like audio for content creation.

46

Customizable online voice generator.

46

5.0

Lifelike audio with human-like synthetic voices

45

5.0

Build voice & chat bots with rap skills.

45

4.0

Creation of voiceovers for digital media.

36

Convert texts to natural sounding speech and vice versa.

33

5.0

Turn rambles into perfect speech

32

5.0

Creates voiceovers from text.

32

1.0

Audio clip generation of celebrity/cartoon voices.

31

4.0

Text-to-speech for reading and comprehension support.

29

4.0

Synthetic voice generator with API and audio editing.

26

5.0

Converts text to audio files with customization options.

26

Generated lifelike speech for multilingual content.

25

Automated social media and content creation.

24

1.0

Multi-lingual voiceovers w/ customization.

22

Transcribed spoken language analyzed for meaning.

21

Text-to-speech with lifelike voices across applications.

20

Text-to-speech software with highly realistic voices.

20

3.0

Voice & media wallet chat platform for payments.

19

5.0

Text-to-voice for ads, games, learning & publishing.

18

Conversion of text to high-quality audio files.

18

1.0

Content creators and educators can generate voices.

17

Improving Twitch streamers' speech output platform.

16

1.0

Platform for custom audio creation with text-to-speech.

16

Converts speech to text and analyzes emotions.

15

Multilingual voiceover solution.

14

Text-to-speech audio generation for customized projects.

13

2.0

Apps can recognize and generate voice.

13

Unique lifelike digital voice creation for businesses.

12

5.0

Turned text into cross-platform synthetic voices.

10

Content to speech for accessibility.

9

Created multilingual content & natural voice-overs.

9

Customized voice donations for online streamers.

9

Emotive voices for video/podcast text-to-speech.

8

Automated audio production for digital content.

7

Content creation and accessibility solution.

7

3.0

Written text to natural speech conversion.

6

Text transformed to realistic voiceovers.

6

Converts written messages to speech via chatbot.

6

Record audio with realistic voices online.

6

Text to speech solution for spoken applications.

6

Text-to-audio generation.

5

Voice-overs generated from text

5

5.0

Generates voiceovers and narrations.

5

Personalized Christmas audio messages by Elves.

4

Audio content created via Text-to-Speech.

4

Audio content from text and videos.

4

Text transformed into captivating audio.

3

Multilingual text-to-speech synthesis.

3

Text-to-speech conversion for documents and web pages

2

Generate video voiceovers.

1

Generate multilingual audio voices.

1

Diverse audio production.

1

5.0
Pros and Cons
Cons
Doesn't recognize different accents
No real-time transcription
Lack of language support
Inaccurate punctuation interpretation
Low speech recognition accuracy
No offline functionality
Misses context of conversation
No support for dialects
Poor transcript formatting
Doesn't integrate with other software
Q&A
How does SpeakingAI navigate text to speech conversion?
SpeakingAI efficiently navigates text to speech conversion through advanced AI algorithms. The platform can convert spoken content into written text and then carry out a thorough analysis.
What languages does SpeakingAI support for text to speech transformation?
The supported languages for SpeakingAI's text to speech transformation are not explicitly stated on their website, so I can't provide a precise answer.
Can SpeakingAI analyze spoken content real-time?
Yes, SpeakingAI does have real-time analyzing capabilities for spoken content. It instantly turns the spoken words into text and then analyzes them.
What's the difference between SpeakingAI and other text to speech AI tools?
Without detailed comparison points, it's challenging to differentiate SpeakingAI from other text to speech AI tools. Its main feature is its ability to convert spoken content into written text and then analyze this data.
Why should I choose SpeakingAI over other AI transcription tools?
You should opt for SpeakingAI as it not only converts spoken language into text but also analyzes the data. This two-step process makes it more useful than simply transcribing voice into text.
Is SpeakingAI capable of recognizing slang or regional dialects?
On their website, it is not directly expressed if SpeakingAI can recognize slang or regional dialects.
How accurate is SpeakingAI's transcription?
The transcription accuracy of SpeakingAI is not specified on their website.
Does SpeakingAI come with an API for integration?
The information about API availability for SpeakingAI is not provided on their website.
Can I program SpeakingAI to understand specific terminologies related to my work field?
It is not outrightly stated on their website whether SpeakingAI can understand field-specific terminologies.
Can SpeakingAI handle multiple simultaneous voice streams?
SpeakingAI's capacity to handle multiple simultaneous voice streams is not mentioned on their website.
What are the hardware or software requirements to run SpeakingAI?
The hardware or software prerequisites to run SpeakingAI are not available on their website.
How does SpeakingAI ensure the privacy of our spoken content?
Details on how SpeakingAI ensures the privacy of user's spoken content are not outlined on their website.
Does SpeakingAI have a mobile app version for Android or iOS?
No information is provided on their website regarding the availability of an Android or iOS version for SpeakingAI.
Can I use SpeakingAI to convert podcasts or video lectures into text?
Yes, with SpeakingAI, you can convert any spoken content into text, and this includes podcasts and video lectures.
Does SpeakingAI support offline mode for text to speech conversion?
The support for offline mode in SpeakingAI for text to speech conversion is not indicated on their website.
Is there a limit to the length of the content SpeakingAI can transcribe?
There's no explicit information on their website regarding a limit to the length of content that SpeakingAI can transcribe.
How is SpeakingAI priced?
The pricing model for SpeakingAI isn't mentioned on their website.
Do I need any special equipment to use SpeakingAI effectively?
Information regarding any special equipment necessary for effective use of SpeakingAI is not available on their website.
Does SpeakingAI offer customer support in case of issues?
Details pertaining to customer support for SpeakingAI have not been provided on their website.
Can SpeakingAI deliver different text formats of the transcriptions?
The website doesn't show whether SpeakingAI can deliver transcriptions in different text formats or not.
If you liked SpeakingAI
Help
⌘ + D bookmark this site for future reference
⌘ + ↑/↓ go to top/bottom
⌘ + ←/→ sort chronologically/alphabetically
↑↓←→ navigation
Enter open selected entry in new tab
⇧ + Enter open selected entry in new tab
⇧ + ↑/↓ expand/collapse list
/ focus search
Esc remove focus from search
A-Z go to letter (when A-Z sorting is enabled)
+ submit an entry
? toggle help menu
x
Sign in to continue (100% free)
To prevent spam, some actions require being signed in. It's free and takes a few seconds.
Sign in with Google