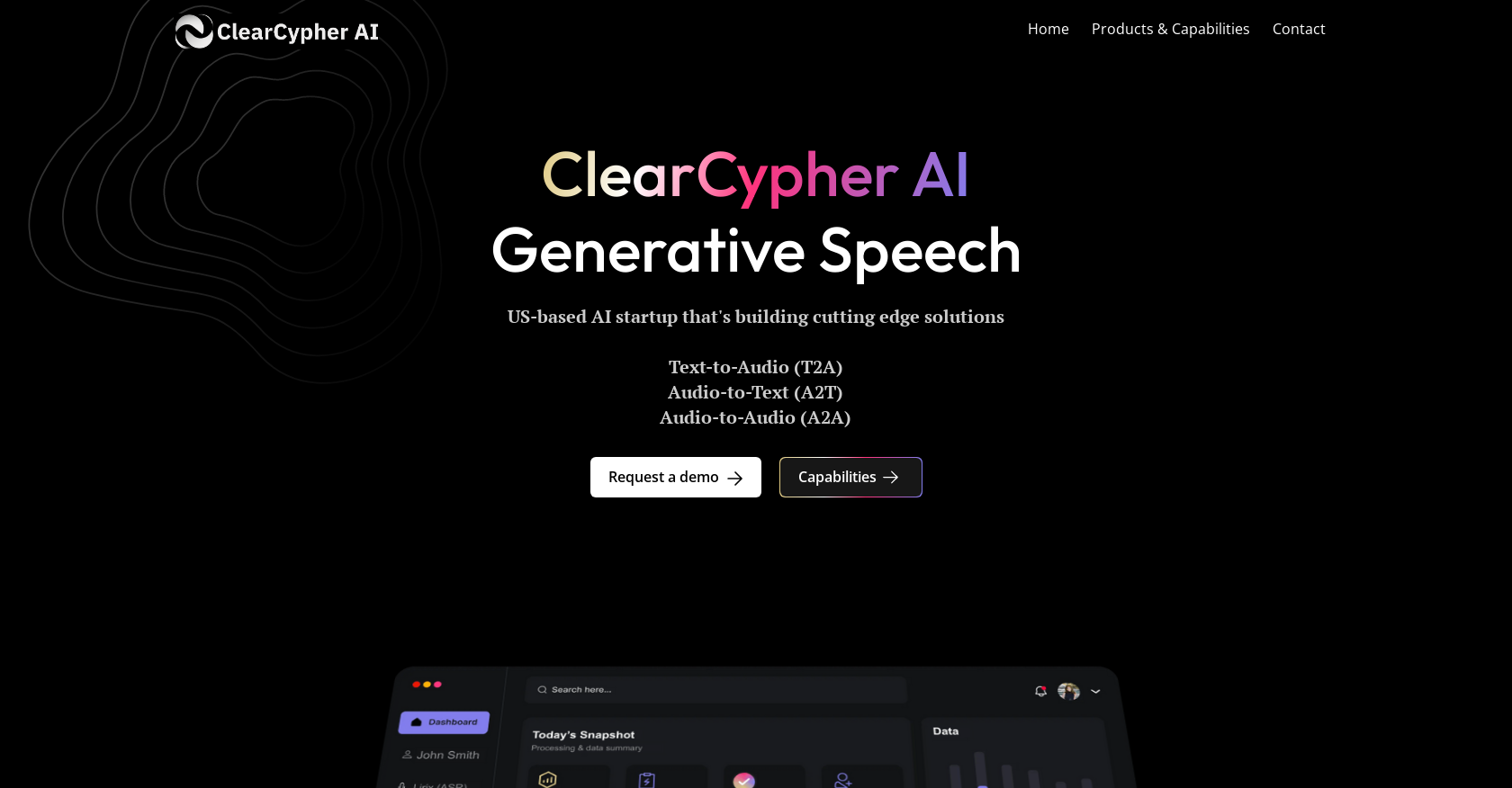 Generated by ChatGPT
ClearCypherAI is a US-based AI startup that specializes in generative audio solutions and datasets. They offer cutting-edge technology for various audio-related tasks, such as converting text to audio (T2A), audio to text (A2T), and audio to audio (A2A).
Their capabilities also include voice synthesis, script-to-speech, and fine-tuned GPT models built on LLaMA2 trained in multiple languages.ClearCypherAI's unique offerings include voiceprint and synthesizer functionalities, allowing users to target specific voices or detect anomalies.
They also excel in threat assessment, building AI platforms for this purpose. Additionally, they offer in-house research and development services for advancing AI technologies.The company provides a range of datasets, including natural language data and audio sets, which can be utilized for training and testing AI models.
They can deploy their AI solutions in air-gapped environments, ensuring secure and reliable access.ClearCypherAI offers comprehensive services, such as building custom AI platforms, creating custom datasets, providing full customer support, testing, API hosting and services, and feature customization.
Their all-in-one platform engine enables the development of various applications, including web and mobile apps, using big data efficiently.Their expertise is further demonstrated through their research efforts, such as advancing text recognition models and benchmarking OCR tools.
Clients can easily reach out to their team for inquiries or schedule a Zoom call for assistance.ClearCypherAI is dedicated to privacy protection and holds copyright for their products and solutions.
Featured
Clearcypher was manually vetted by our editorial team and was first featured on September 8th 2023.

Would you recommend Clearcypher?
Help other people by letting them know if this AI was useful.
65 alternatives to Clearcypher for Text to speech
Listen to articles, PDFs, emails, etc. in your podcast player or browser.

690

3.7

Voiceovers for videos, gaming, audiobooks & more.

211

2.3

Text transformed into customizable spoken output.

177

5.0

Customizable voiceover production service. (OK

177

5.0

Affordable solution for speech synthesis.

131

4.1

Created realistic audio content using synthetic voices.

129

3.7

Generate multilingual natural-sounding audio files.

96

3.0

Generates natural-sounding speech audio online.

91

5.0

Generated audio from written text in multiple languages.

74

4.5

Generating spoken content in multiple languages/accents.

61

Extracts video highlights from long-form content.

53

900+ voices. 142+ languages. Audio shareable.

51

3.0

Lifelike audio with human-like synthetic voices

49

5.0

Customizable online voice generator.

47

5.0

Edited human-like audio for content creation.

46

Build voice & chat bots with rap skills.

45

4.0

Creation of voiceovers for digital media.

36

Convert texts to natural sounding speech and vice versa.

34

5.0

Turn rambles into perfect speech

33

5.0

Creates voiceovers from text.

32

1.0

Audio clip generation of celebrity/cartoon voices.

31

4.0

Text-to-speech for reading and comprehension support.

29

4.0

Synthetic voice generator with API and audio editing.

26

5.0

Converts text to audio files with customization options.

26

Generated lifelike speech for multilingual content.

25

Automated social media and content creation.

24

1.0

Multi-lingual voiceovers w/ customization.

23

Transcribed spoken language analyzed for meaning.

21

Text-to-speech with lifelike voices across applications.

20

Text-to-speech software with highly realistic voices.

20

3.0

Voice & media wallet chat platform for payments.

19

5.0

Text-to-voice for ads, games, learning & publishing.

18

Conversion of text to high-quality audio files.

18

1.0

Content creators and educators can generate voices.

17

Improving Twitch streamers' speech output platform.

16

1.0

Platform for custom audio creation with text-to-speech.

16

Converts speech to text and analyzes emotions.

15

Multilingual voiceover solution.

14

Text-to-speech audio generation for customized projects.

13

2.0

Apps can recognize and generate voice.

13

Unique lifelike digital voice creation for businesses.

12

5.0

Turned text into cross-platform synthetic voices.

10

Content to speech for accessibility.

9

Created multilingual content & natural voice-overs.

9

Customized voice donations for online streamers.

9

Emotive voices for video/podcast text-to-speech.

8

Automated audio production for digital content.

7

Content creation and accessibility solution.

7

3.0

Written text to natural speech conversion.

6

Text transformed to realistic voiceovers.

6

Converts written messages to speech via chatbot.

6

Record audio with realistic voices online.

6

Text to speech solution for spoken applications.

6

Voice-overs generated from text

5

5.0

Spoken language to text conversion virtual assistant.

5

Generates voiceovers and narrations.

5

Personalized Christmas audio messages by Elves.

4

Audio content created via Text-to-Speech.

4

Audio content from text and videos.

4

Text transformed into captivating audio.

3

Multilingual text-to-speech synthesis.

3

Diverse audio production.

1

5.0

Text-to-speech conversion for documents and web pages

2

Generate video voiceovers.

1

Generate multilingual audio voices.

1
If you liked Clearcypher
People also searched
Help
⌘ + D bookmark this site for future reference
⌘ + ↑/↓ go to top/bottom
⌘ + ←/→ sort chronologically/alphabetically
↑↓←→ navigation
Enter open selected entry in new tab
⇧ + Enter open selected entry in new tab
⇧ + ↑/↓ expand/collapse list
/ focus search
Esc remove focus from search
A-Z go to letter (when A-Z sorting is enabled)
+ submit an entry
? toggle help menu
x
Sign in to continue (100% free)
To prevent spam, some actions require being signed in. It's free and takes a few seconds.
Sign in with Google