Edit AI
Collaborative code assistance with interactive features.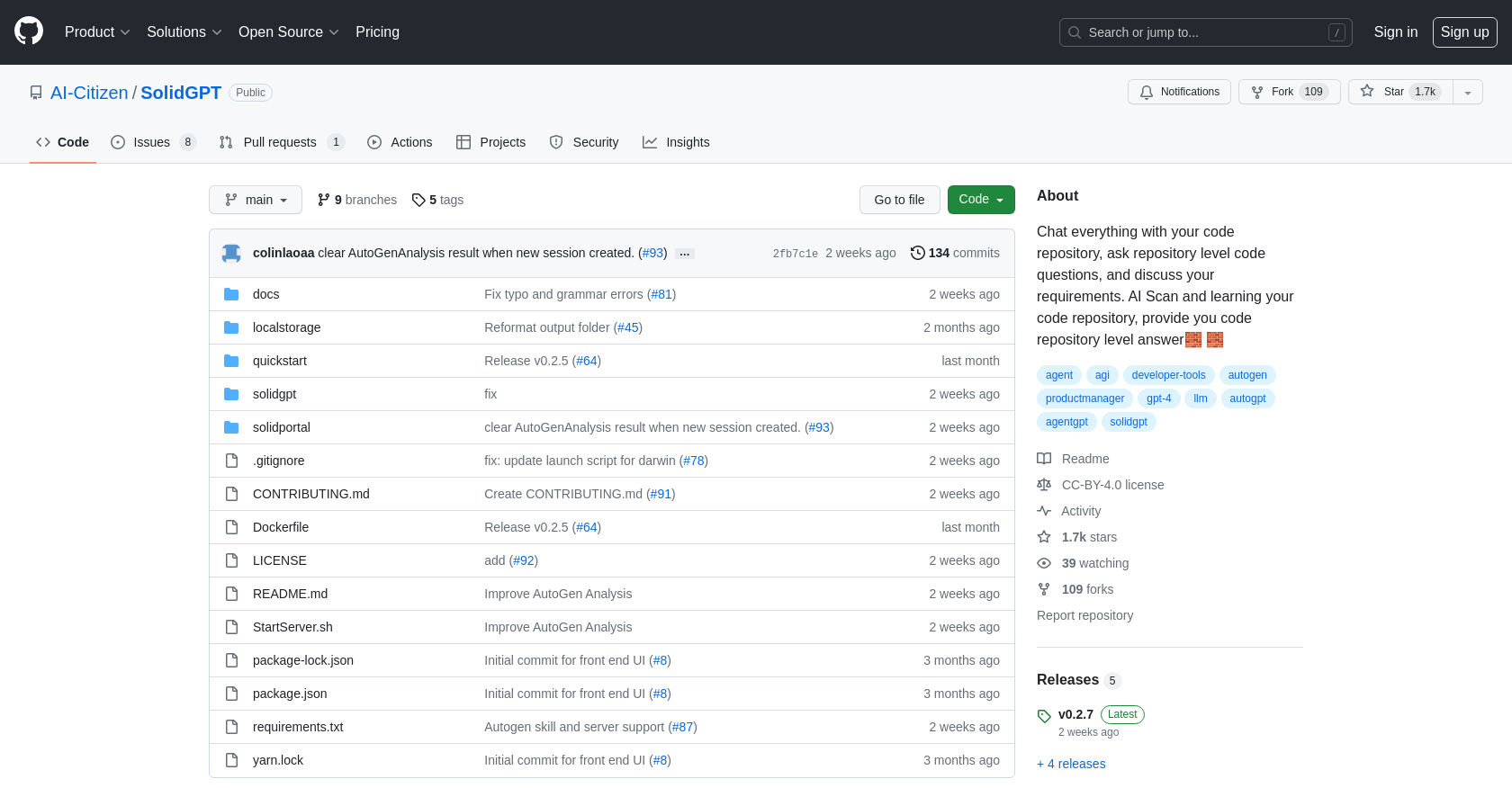 Generated by ChatGPT
SolidGPT is a tool hosted on GitHub that allows users to interact with their code repositories through chat and ask code-related questions at the repository level.
It also enables users to discuss their requirements. SolidGPT utilizes AI scanning and machine learning techniques to understand and analyze the code repository, providing answers and insights at the repository level.
This tool offers users the ability to have conversations with their code repositories, enabling a more interactive and collaborative coding experience.
By leveraging AI, SolidGPT aims to provide code repository level answers and assistance, potentially enhancing code comprehension and problem-solving.
It is important to note that while SolidGPT is described as an AI-powered tool for code interaction and analysis, specific details regarding the underlying technologies, algorithms, or models used are not mentioned in the provided text.
Therefore, it is advisable to refer to additional documentation or resources for a more comprehensive understanding of the technical aspects and capabilities of SolidGPT.
Featured
SolidGPT was manually vetted by our editorial team and was first featured on November 14th 2023.

Would you recommend SolidGPT?
Help other people by letting them know if this AI was useful.
AI-powered tools for Developers

311

5.0

Generate documentation from code & chat with it.

141

Automated documentation writing.

39

5.0

Software for understanding and documenting code.

31

Enhances code doc and team collaboration.

8

Code documentation generation for developers.

6

5.0

Dev team knowledge management and code comprehension.

2

Code docs and knowledge sharing for devs

1

Automated code doc for dev productivity.

1

Codebase documentation generation

1
If you liked SolidGPT
Help
⌘ + D bookmark this site for future reference
⌘ + ↑/↓ go to top/bottom
⌘ + ←/→ sort chronologically/alphabetically
↑↓←→ navigation
Enter open selected entry in new tab
⇧ + Enter open selected entry in new tab
⇧ + ↑/↓ expand/collapse list
/ focus search
Esc remove focus from search
A-Z go to letter (when A-Z sorting is enabled)
+ submit an entry
? toggle help menu
x
Sign in to continue (100% free)
To prevent spam, some actions require being signed in. It's free and takes a few seconds.
Sign in with Google