Edit AI
Code generation, testing, and documentation assistant.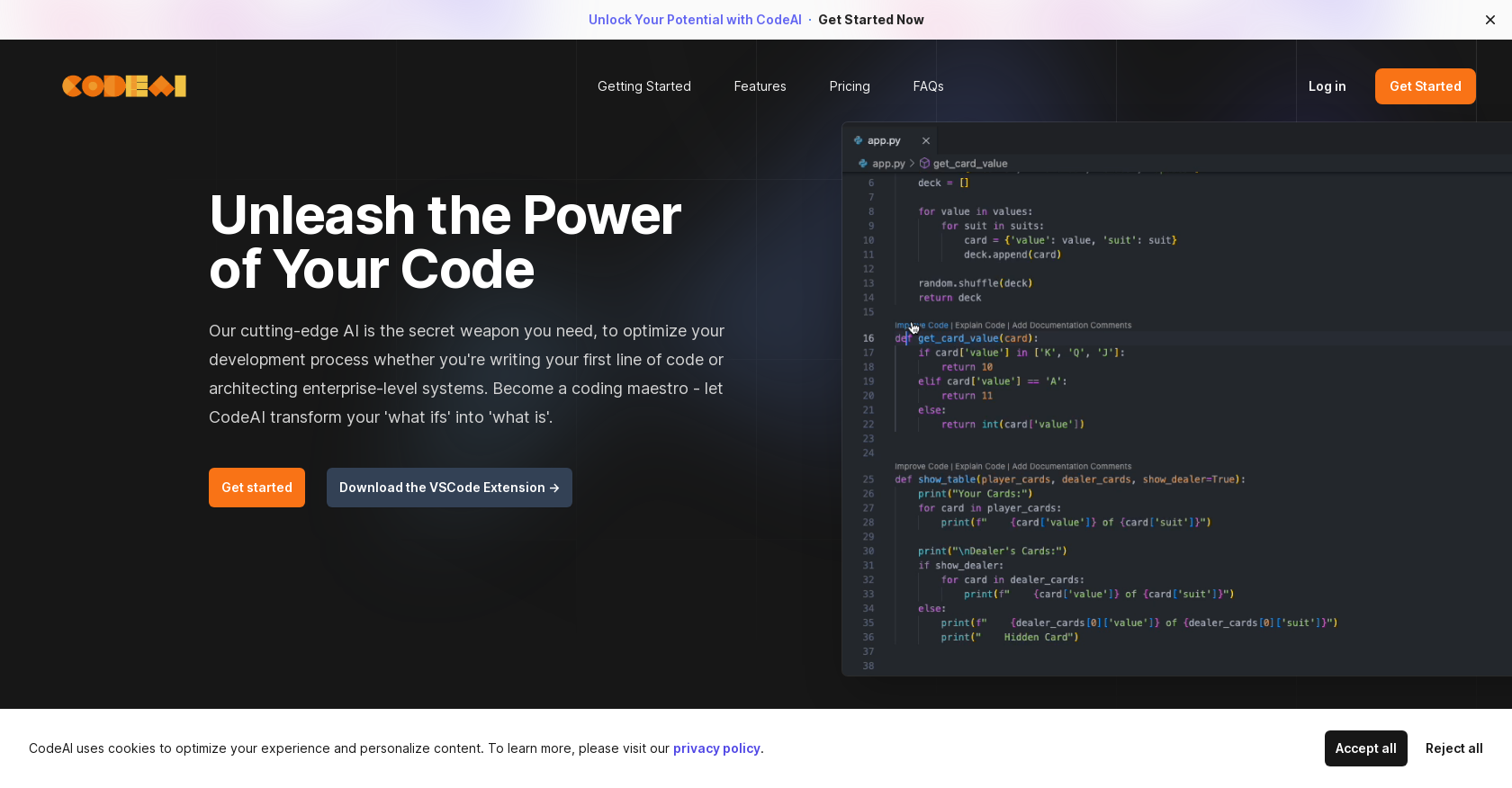 Generated by ChatGPT
CodeAI is a VS Code extension that leverages AI-driven technology to enhance the coding process for developers. It offers features such as code generation, unit test creation, and documentation capabilities.
With CodeAI, developers can optimize their development process, whether they are beginners or working on complex projects.The tool provides AI-driven code generation, allowing developers to transform their thoughts into well-written code quickly.
It focuses on crafting code that tells a story of innovation rather than just speed. CodeAI also offers automated unit test generation, ensuring code integrity and saving time for developers to focus on creating impactful applications.Additionally, CodeAI simplifies documentation by generating comprehensive, clear, and concise documentation effortlessly.
It helps developers make their code easily understood by others. The tool also provides in-depth explanations of code, supporting developers in understanding and optimizing their unique coding style.CodeAI is language-agnostic and supports multiple programming languages like JavaScript, Python, TypeScript, Go, Rust, C++, and more.
It ensures precise and insightful documentation across different languages.The tool aims to boost developers' productivity and efficiency by providing AI-powered assistance throughout the coding process.
CodeAI offers a range of pricing plans suitable for developers of all levels, from beginners to professionals, and protects user data with end-to-end encryption.Overall, CodeAI is designed to be a helpful companion, augmenting developers' abilities and streamlining their workflow without replacing their role as software developers.
It functions locally in the development environment, ensuring code safety and privacy.
Featured
CodeAI was manually vetted by our editorial team and was first featured on September 27th 2023.

Would you recommend CodeAI?
Help other people by letting them know if this AI was useful.
107 alternatives to CodeAI for Coding
Programming support for code generation and analysis.

457

4.8

Assisted code generation and refactoring for devs.

252

4.6

An efficient way to produce high-quality code.

118

Automating testing & code generation to simplify coding.

108

Simplified React component design with code suggestions.

85

3.0

Programming partner optimizing speed and productivity.

82

4.0

Code suggestion and automation for developers.

65

5.0

Coding assistant & learning for programmers

62

Generates code and designs UI for software development.

51

Generated code for multiple programming languages.

51

5.0

Automates UI component generation, no manual coding.

48

Natural language programming assistant for IDEs.

47

Platform for code generation and experimentation.

43

Helps Python programming with live code explanation.

39

5.0

Automated software development assistance.

38

5.0

Assisted code generation for desired functions.

37

Collaborative code helper for Visual Studio users.

35

Chatbot generates web pages.

34

Assisted data scientist and engineer code writing.

33

Personalized coding learning platform

33

Assisted natural language programming.

31

Generated code for app development

31

Design2Code transforms design to functional code.

31

Analyze code with error detection and IDE extension.

30

Code generation using TypeScript and GPT runtime.

29

Code generation assistant

26

Helped enterprise programmers with code.

22

Python and programming language code suggestion.

22

Rapid programming help using chatbot.

21

5.0

Real-time React components for interactive coding.

18

5.0

Cross-language code execution platform.

18

Contextual DevOps infrastructure assistance.

14

Improved coding efficiency.

13

5.0

Improved productivity with code completion

13

Enhanced coding with code generation and understanding.

13

Generated code for enhanced engineer productivity.

11

9

Multi-lingual cloud deployment supported.

8

Code assistant aiding coding queries & suggestions.

8

Automates code generation & optimization for coding.

6

Efficient code generation through rapid analysis.

3

Code editing and version control for pair programming.

3

Automates tasks, generates code, reviews for efficiency.

2

Optimized code generation assistant.

2

Programmer productivity helper

2

Assisted interactive programming for developers.

1

Coding assistance for web app creation by beginners.

1
Help
⌘ + D bookmark this site for future reference
⌘ + ↑/↓ go to top/bottom
⌘ + ←/→ sort chronologically/alphabetically
↑↓←→ navigation
Enter open selected entry in new tab
⇧ + Enter open selected entry in new tab
⇧ + ↑/↓ expand/collapse list
/ focus search
Esc remove focus from search
A-Z go to letter (when A-Z sorting is enabled)
+ submit an entry
? toggle help menu
x
Sign in to continue (100% free)
To prevent spam, some actions require being signed in. It's free and takes a few seconds.
Sign in with Google