Edit AI
Create mini-apps effortlessly without coding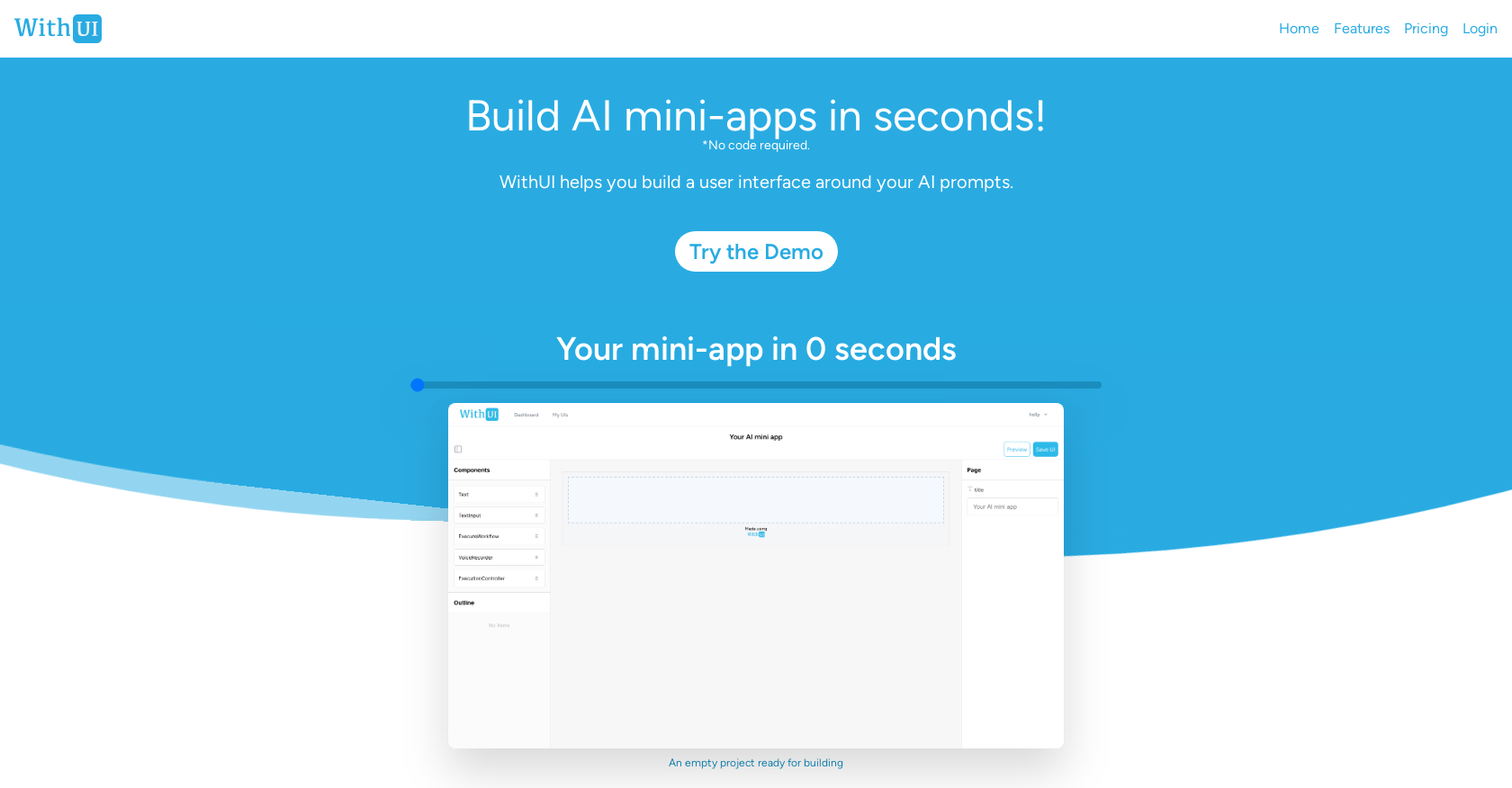 Generated by ChatGPT
WithUI is a tool that allows you to build AI mini-apps quickly and effortlessly. It eliminates the need for coding by enabling you to create a user interface around your AI prompts.
The tool offers a drag and drop UI feature, allowing you to easily add buttons and elements instead of repeatedly writing the same prompt. WithUI embraces simplicity and ease of use, providing a user-friendly platform where you can connect easy-to-understand building blocks to craft your concepts.
From the moment you start creating, all AI functionality is readily available, streamlining the development process.The tool prioritizes security and ensures the safety of your secret workflows and data, giving you peace of mind.
It is built with security in mind, ensuring the confidentiality of your information.WithUI offers delightful and responsive customer support, assuring you that assistance is readily available whenever you need it.
They are accessible through Discord, providing a platform for you to communicate and address any concerns.Although the tool is currently offered for free, there may be fees introduced for certain features in the future.
However, they guarantee a free tier will always be available. During this adjustment period, there may be usage limitations in place.Overall, WithUI empowers users to effortlessly build AI mini-apps with a user-friendly interface, eliminating the need for coding and offering a secure and supportive environment.
Featured
WithUI was manually vetted by our editorial team and was first featured on November 19th 2023.

Would you recommend WithUI?
Help other people by letting them know if this AI was useful.
128 alternatives to WithUI for Apps
Custom apps created without coding skills.

315

Generate digital products from natural language inputs.

59

5.0

Automation solution for non-coders.

38

Platform for creating custom business applications.

38

Profitable ideas transformed into products. (0)

30

Saves time generating UI mockups.

25

5.0

Design and code generation for FlutterFlow apps.

24

3.0

Build and deploy serverless functions for applications.

20

Simplified data analysis and app development.

18

Codeless mobile app development.

17

Embed in processes, chatbots, search, automation & data.

15

Marketplace for personal/professional usage.

14

Customized apps generate subscription-based revenue.

9

4.0

Innovation at the speed of thought

7

Customizable completion generation for developers.

6

Optimized Node.js serverless functions.

5

Simplified app development for non-tech users

5

Accelerates development of smart apps and chatbots

4

Safe and fast worldwide mobile money transfers.

1

Fast backend platform for efficient app development.

1

Low-latency execution of ML models worldwide.

1