Edit AI
Legal research & analysis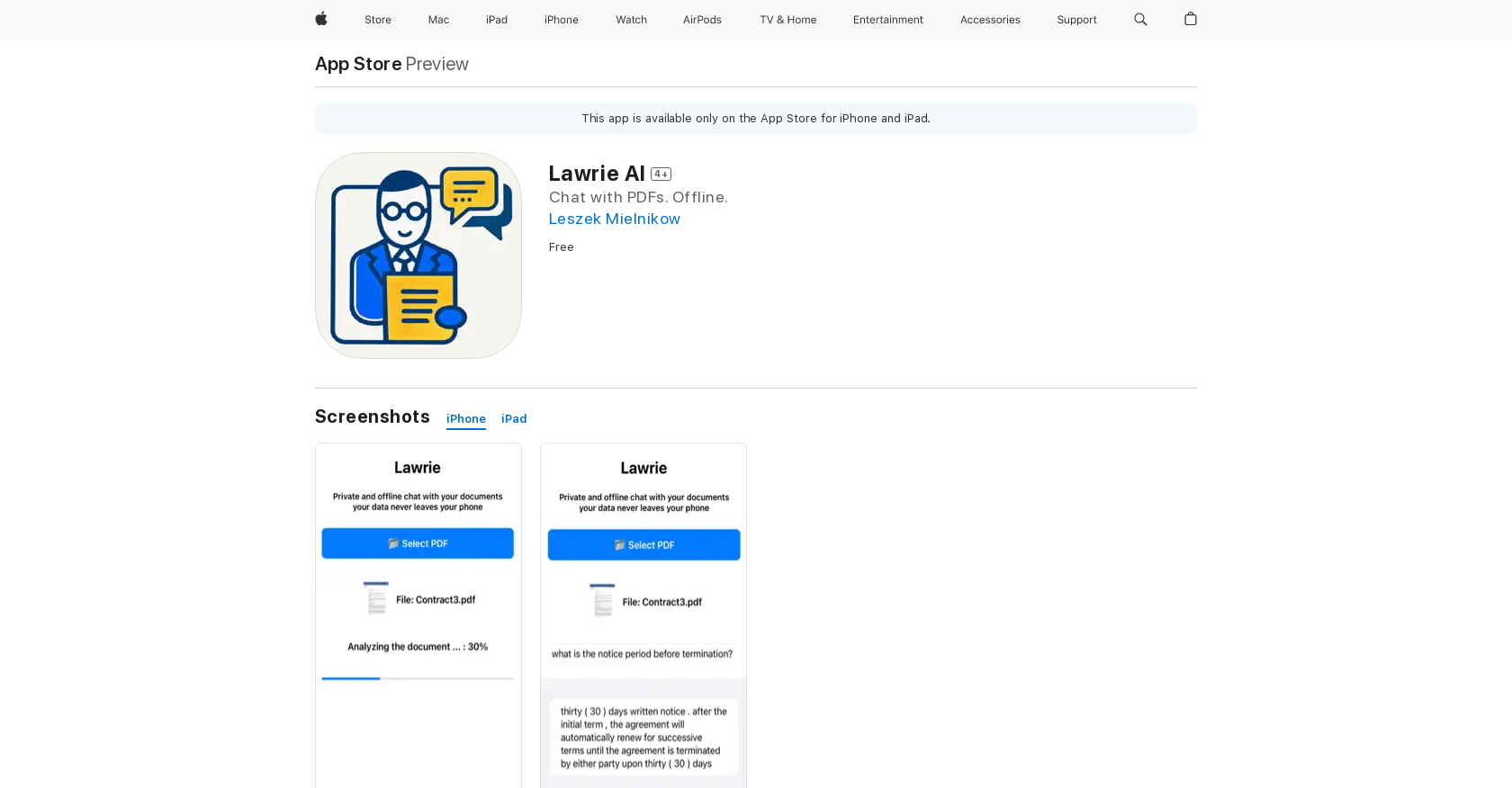 Generated by ChatGPT
Lawrie AI is an app available for download on the Apple App Store. Unfortunately, the provided text does not give any specific information about what Lawrie AI actually does.
The text only includes general information about accessing the App Store, shopping for Apple products, and exploring various categories like Mac, iPad, iPhone, and Apple Watch.Based on the limited information provided, Lawrie AI is likely an application or tool related to artificial intelligence (AI) that offers some sort of functionality or service.
However, without more detailed information about Lawrie AI's features or purpose, it is not possible to provide a precise description of its capabilities or benefits.It is important to note that the provided text is not helpful in understanding what Lawrie AI does.
In order to provide an accurate description, additional information about Lawrie AI would be necessary, such as its intended use, target audience, or specific functionalities.
Featured
Lawrie was manually vetted by our editorial team and was first featured on July 26th 2023.

Would you recommend Lawrie?
Help other people by letting them know if this AI was useful.
103 alternatives to Lawrie for Document Q&A
Pros and Cons
Pros
Offline operation
Data security (no data sharing)
iPhone and iPad compatible
Easy Analysis of PDF files
Low data consumption
Real-time answers
Effective for legal documents
Saves on lawyer fees
Easy to use interface
Regular updates and bug fixes
Takes less time to initialize PDF
Free download
Does not collect personal data
Cons
Only available on iOS
Limited to PDF analysis
Large app size
No data sharing
No internet functionality
Requires latest iOS
Only English language
New app - bugs possible
Unknown developer
Only targets legal documents
Q&A
What does Lawrie AI do?
Lawrie AI allows users to interact with PDF files offline. It's designed to answer questions posed to PDF files, providing instantaneous responses. It's a particularly useful tool for perusing contracts and agreements, circumventing manual reading and potential legal costs.
Is Lawrie AI only available on the App Store?
Yes, Lawrie AI is exclusively available on the App Store.
Can I use Lawrie AI on other devices aside from iPhone and iPad?
Currently, Lawrie AI is only compatible with iPhone and iPad devices.
Do I need internet for Lawrie AI to function?
No, Lawrie AI does not require an internet connection to function. It operates offline ensuring no data sharing.
What is the main feature of Lawrie AI?
Lawrie AI's main feature is the ability to chat with PDF files. Users upload their PDFs, ask questions, and get instant responses.
Can I ask questions to PDF files using Lawrie AI?
Yes, Lawrie AI is designed to answer questions asked to uploaded PDF files.
Does Lawrie AI collect my data?
No, Lawrie AI does not collect any user data.
How big is the Lawrie AI app?
Lawrie AI app is 579.2 MB in size.
Which languages is Lawrie AI available in?
Lawrie AI is currently available in English language only.
Will Lawrie AI work with the latest iOS?
Yes, Lawrie AI is compatible with the latest iOS, specifically iOS 16.4 and later.
What are the updates in the latest version of Lawrie AI?
The latest update of Lawrie AI, Version 1.8, was made on July 24, 2023 with the implementation of bug fixes, and a decrease in PDF initialization time.
Does the app Lawrie AI charge any fees?
No, Lawrie AI is a free app.
Does Lawrie AI require specific permissions?
IDK
How secure is Lawrie AI?
Lawrie AI is a secure application. It operates entirely offline and does not share data, meaning all user data remains strictly on their iPhone.
Who is the developer of Lawrie AI?
The developer of Lawrie AI is Leszek Mielnikow.
Does Lawrie AI provide any tools for legal research and analysis?
While not explicitly stated, Lawrie AI's chat feature with PDFs could potentially be used for legal research and analysis, especially when dealing with contracts and agreements.
What formats does Lawrie AI support?
Lawrie AI supports PDF format, allowing users to upload and interact with these documents.
How can I get support for Lawrie AI?
Support for Lawrie AI can be obtained through the app support link provided on their website.
Can Lawrie AI help me compare customer ratings and reviews?
IDK
Can I use Lawrie AI offline?
Yes, Lawrie AI operates completely offline, allowing users to interact with their PDF files without the need for an internet connection.
If you liked Lawrie
Help
⌘ + D bookmark this site for future reference
⌘ + ↑/↓ go to top/bottom
⌘ + ←/→ sort chronologically/alphabetically
↑↓←→ navigation
Enter open selected entry in new tab
⇧ + Enter open selected entry in new tab
⇧ + ↑/↓ expand/collapse list
/ focus search
Esc remove focus from search
A-Z go to letter (when A-Z sorting is enabled)
+ submit an entry
? toggle help menu
x
Sign in to continue (100% free)
To prevent spam, some actions require being signed in. It's free and takes a few seconds.
Sign in with Google