Edit AI
Efficient personal knowledge organization and retrieval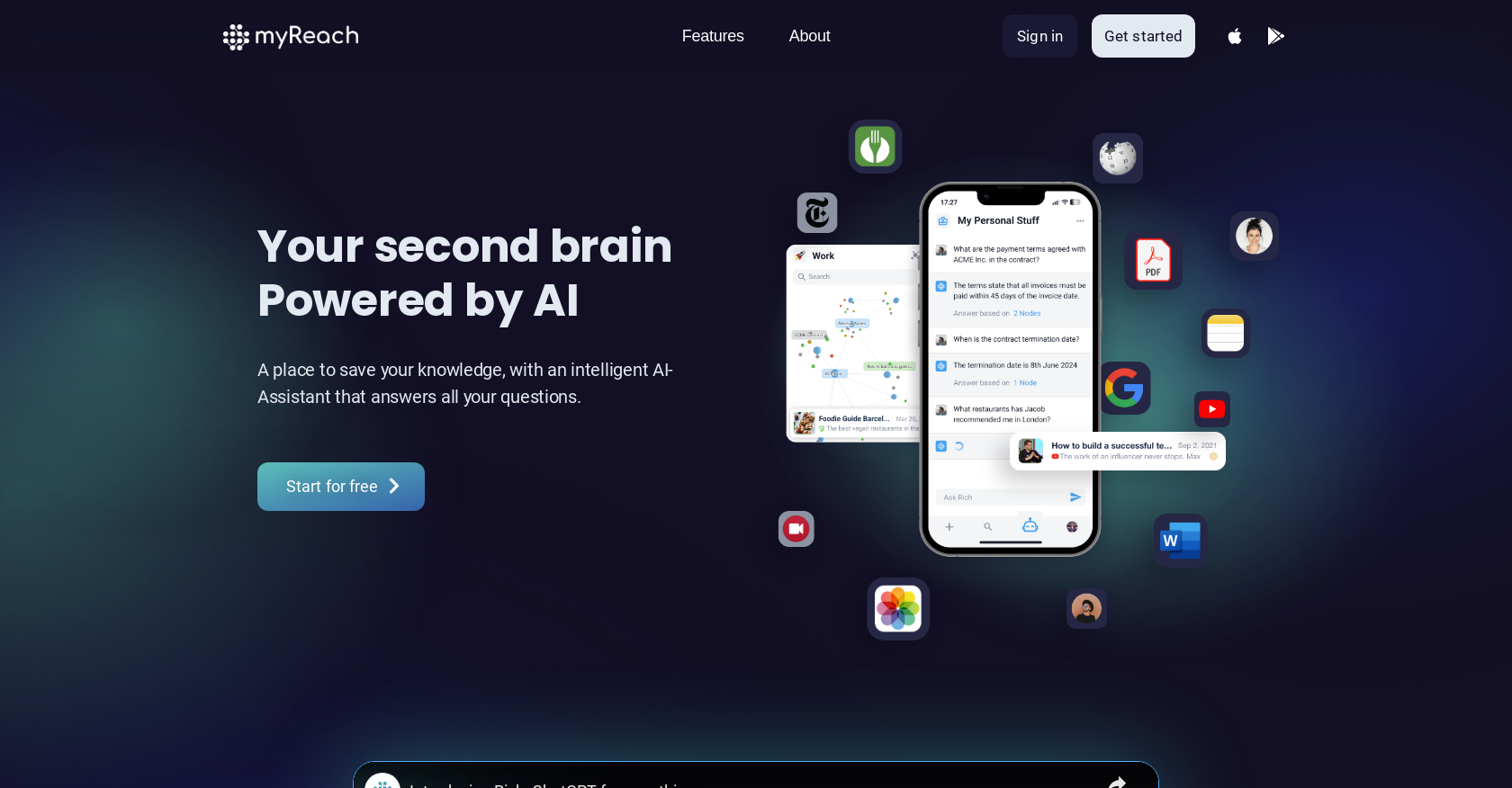 Generated by ChatGPT
myReach is an AI-powered tool that serves as a personal knowledge hub designed to manage, organize and search for information saved by users. It replaces the need to search through different desktop folders, Google Drive, email or phone to locate documents, notes, contacts, and websites.
Users can easily save and store all their important data in one place. In addition, the tool provides an AI assistant that answers questions, making it easier for users to retrieve information.
The tool's neural network is designed to extract and learn information from the content of all saved items and organize them in a way that users can find them easily.
With the help of the AI assistant, users can find information by searching for specific keywords, similar to asking a personal assistant. myReach also supports relationships and properties that allow users to connect, structure and contextualize data.
Users can group information into topics, add tags, and network their thoughts like a mind map. This helps users to find information faster and retrieve it easily.
myReach is useful for students, professionals, and anyone who handles a lot of data and needs to retrieve information quickly and efficiently. The tool's AI features make it easier to manage knowledge, save time, and increase productivity.
Featured
myReach was manually vetted by our editorial team and was first featured on June 24th 2023.

Would you recommend myReach?
Help other people by letting them know if this AI was useful.
137 alternatives to myReach for Document Q&A
Converts PDFs to interactive chatbots.

617

3.4

Read PDFs conversationally with assistance.

366

3.0

Creation of chatbots for messaging apps.

349

3.0

Chat-based PDF analysis output.

173

3.7

Simplified prompt & accurate data comprehension.

168

5.0

Search and query PDF docs with semantic features.

151

1.0

Automated worker for instant business tasks.

147

3.7

AI Chat with your Knowledge Base

90

5.0

PDF document communication and interaction.

81

4.0

Summarize document insights.

78

Integrating for multi-platform content creation.

71

2.0

Analyze files and provide Q&A through chatbot.

70

3.7

Instant PDF document answers with ChatDOC.

70

4.0

Improved productivity via streamlined processes.

68

Ease PDF understanding & data analysis.

65

3.7

Document analysis and insight generation.

60

5.0

Efficient document cross-referencing & retrieval.

56

Rapidly finding documents and knowledge.

54

1.0

Document summarization and Q&A using conversation.

53

5.0

Comprehensive document review and communication solution

53

4.7

Extract answers from PDFs.

51

5.0

Analyzed PDFs via instant chat.

49

Document collab w/ chat in multiple langs & formats

49

4.7

Analyzed documents, chatted with customized chatbots.

44

5.0

Analyzed Q&A PDF document.

43

Analyzed and assisted with interactive PDF documents.

42

1.0

Simplified document summarization platform.

41

3.0

Chat for simplified file management and collaboration.

37

Text editor to improve writing creativity and output.

34

Analyzed and aligned documents using Q&A platform.

32

1.0

Extract & communicate with docs in various formats.

32

4.0

Efficient PDF document analysis and question answering.

31

Effortlessly organize and retrieve information.

29

Intelligent search for document library.

27

Analyzed data through conversational interface.

27

Provide contextual responses from uploaded docs

27

5.0

Chatbot for document analysis and Q&A.

26

Extracting insights from data files through Q&A.

26

Chat With Your Digital Content

26

5.0

Chatbot for answering questions from documents.

25

5.0

Digital question answering for text and video.

24

Web content analysis & conversational Q&A system.

24

Parsing technical documents and jargon.

23

Improved learning through personal content memory.

22

Online assistant for creating and analyzing documents.

22

5.0

Enhanced PDF with interactive Q&A features

22

PDF summarization and understanding solution

22

5.0

Note-taking and chat with text generation.

20

5.0

19

1.0

Interactive PDF Q&A for engagement and answers.

19

Automated customer support responding.

19

5.0

Streamlined PDF simplification through chat.

18

5.0

Automated business operations across industries.

18

Improve website documentation with Q&A integration.

18

Efficient chatbot for multi-document convos.

17

5.0

Analyze & summarize PDF papers for academia & business.

16

Converted PDFs with natural dialogue

15

3.0

Accelerated document analysis and insights.

15

Tailored chatbot for Q&A on content.

14

Quickly analyze PDFs and answer questions in chat.

14

Legal research & analysis

14

Assistant for discovering insights and analyzing data.

13

PDF reader with interactive Q&A.

13

Simplified analysis of academic content.

13

5.0

Conversational PDF viewer

13

Extract secure info for trusted content generation.

12

4.8

Enhancing document processing with chatbots and OCR.

12

Integrates document chat for app developers.

12

Document analysis & Q&A solution for various files

12

4.0

PDF document analysis and extraction improved.

12

Reads documents and answers queries.

11

Managed documents through language processing.

11

Document analysis and interaction via conversation.

11

A document summarization and Q&A productivity aid.

10

Analyze PDF document questions efficiently.

10

PDF document assistant and translator.

10

Manage and interact with private Mac documents.

10

Analyzed PDF, DOC, and TXT via question-based input.

9

9

Personalized shopping assistant with smart suggestions.

9

5.0

Custom question-answering on uploaded documents.

8

Created custom chatbots with NLP algorithms.

8

Extracted data from docs for real-time workflows.

8

Custom chatbots for support, marketing & education.

8

Customizable chatbots w/ multilingual support & docs.

8

Automated document and workflow platform.

8

Create chatbots easily without coding.

7

Analyzed documents for Q&A.

7

Enhancing interactions with a personalized assistant.

7

Automated document sorting and retrieval assistant.

6

Simplified PDF retrieval through questioning.

6

Support chatbot w/ NLP & search.

6

5.0

Quickly search and answer questions in documents.

5

5.0

Enhanced group chat collaboration with document sharing.

5

Enhances knowledge and support with Q&A docs.

5

Improved PDF collaboration and communication.

5

Enhanced PDF management and editing for efficiency.

5

Customizable search engine with integrated features.

4

Chatbot for employee support with knowledge base.

4

5.0

Improved document navigation and information extraction.

4

PDF analysis, interaction, collaboration (35)

4

Effortless document sorting using Q&A.

4

1.0

Retrieve and validate uploaded document data.

3

Cloud-based doc analysis & collab w/ generative tech.

3

5.0

Manage digital documents with Q&A chat.

3

Fast retrieval of document info.

3

Revolutionary document collaboration solution.

3

Document Q&A Knowledge Assistant

3

PDF data analysis chatbot for engagement

3

Data analysis & Q&A platform for personal information.

3

Retrieving personalized answers from uploaded documents.

3

Secure document summarization and chat.

3

Improves document interaction with Q&A and automation.

3

Varied chatbots handle & integrate w/ diverse platforms.

2

Enhances document comprehension via chatbot. (-3 points)

2

Enhanced work productivity through chat interface.

2

Docs transformed to insights via analysis & summary.

2

Seamless document collaboration and enhancement.

2

PDF chat for querying & summarizing info.

2

1

Test new solutions on a platform.

1

Cost-cutting chatbot streamlines customer support.

1

5.0

Voice assistant for real-time info retrieval.

1

Document search and retrieval with chat.

1

Document searching and retrieval made instant.

1

Efficient proposal creation for sales professionals

1

Improved document collaboration and analysis.

5

Interactive PDF responses+communication Enhancements

2
Pros and Cons
Pros
Personal knowledge hub
Saves from various sources
Enhanced keyword search
Organizes saved items
Neural network learning
Supports relationships and properties
Data contextualization
Mind mapping capability
Optimized for various user categories
Time-saving
Productivity increase
Automatically transcribes audio and video
Automatically extracts text from images and websites
Generates summaries
Provides data interconnect recommendations
In-built ChatGPT
Supports property addition
Replaces multiple productivity apps
Robust note-taking
Instant answers feature
Frictionless search
Share to App feature
Centralized data storage
Secure and encrypted data
Native browser extensions
Available for Android and iOS
Web and desktop versions
Real-time collaboration support
Integration with other apps
Free and premium plans
Generous node and storage limits
Ongoing development and updates
GDPR compliance
Dedicated community forum
Cons
Limited free storage
Storage restrictions on premium
No desktop version yet
Delay in pro version
Chatbot in Beta
Potential GDPR concerns
Collaboration coming soon
Limited extensions support
Limited integration updates
Q&A
What is myReach?
myReach is a personal knowledge management tool that leverages AI to help users store, organize, and retrieve their information in a seamless manner. It eliminates the need to manually search through various files and folders, and instead stores all necessary data in a single place. The AI assistant in the tool provides answers to queries, making it easy for users to access their stored information. myReach operates like a second brain that learns and extracts information from all stored items and organizes them so that they can be retrieved conveniently.
How does myReach's AI assistant help retrieve information?
The AI assistant in myReach aids in retrieving information by understanding the content of all items saved by the user. It learns from these contents and organizes them in a way that makes it easy for users to find the information they seek. Users can pose specific questions to the AI assistant, much like interacting with a personal assistant, to find their information.
What kind of information can myReach store?
myReach can store a wide range of information including notes, websites, files, contacts, and documents. Users don't need to waste time looking through different sources for their stored items because all their important information can be securely saved in one place with myReach.
What is the significance of relationships and properties feature in myReach?
Relationships and properties are crucial features in myReach as they allow users to create a structured and interconnected network of their information. They can connect various entries, categorise information into topics, add tags and create a sort of mind map for their thoughts. Adding context and important details with properties, like star ratings, price, status, reminders, and descriptions, ensures that important information is easily retrievable when needed.
Can myReach help me in organizing data in a structured way?
Yes, myReach can help in organizing data in a structured way. It supports relationships and properties that allow users to systematize their saved entries. Users can group information into topics, add tags, and connect entries to formulate a structured understanding of their stored data. This way, users can create a network of their thoughts, much like a brain's mind map, making it easier to find and retrieve information faster.
Is myReach efficient for professionals and students?
myReach is highly effective for both professionals and students. Its AI functionality and ability to manage knowledge, organize data and save time enhances productivity considerably. For students, it provides a platform to organize their notes and get instant summaries for their research. For professionals, it enables them to connect important documents to client profiles and analyse their files with the assistance of a personal AI.
How does myReach's neural network work?
The neural network of myReach is engineered to learn and extract information from the contents of all saved items. This learning process aids in the organization of data stored in the tool, which in turn enables users to find and retrieve their information easily, similar to querying a personal assistant.
What keywords can I use for searching information in myReach?
Users can use specific keywords related to the information they are searching for in myReach. The exact keywords to use depend on how the user has stored and classified the information in the tool. These inputs are used by the AI assistant to fetch the relevant information.
Is myReach a chatbot too?
Yes, myReach does have a chatbot feature. The intelligent AI-Assistant, Rich, operates like a chatbot to answer users' queries instantly. It is trained to understand users' knowledge and provide quick answers to their questions.
How does myReach increase productivity?
myReach increases productivity by providing an all-encompassing, AI-powered platform for users to store, manage and retrieve their information quickly and efficiently. By eliminating the time and effort required to manually search through various files and folders on different platforms, and instead providing a centralized hub for personal knowledge, it boosts the efficiency of data management. The additional benefits of the AI assistant assisting in quick information retrieval and the tools for structured thought organization also significantly contribute to increased productivity.
What is the myReach's 'second brain' concept all about?
myReach's 'second brain' concept relates to the tool's ability to store, manage, and retrieve information in a manner that mirrors the functionality of a human brain. This concept involves learning from and organizing the content of all saved items so the stored knowledge can be easily and seamlessly accessed later, thus relieving users from straining their brains to remember where certain pieces of information are saved.
How secure is the data stored in myReach?
All user data stored in myReach is secured using top-notch encryption protocols. User privacy is their number one priority and myReach ensures that only the user has access to their data. The platform fully complies with GDPR regulations, ensuring high standards of data protection and privacy.
Can myReach be integrated with other applications?
Yes, myReach can be integrated with other applications. Users can import their data from other apps as myReach releases new integrations constantly. Users can request for specific integrations via the community forum in myReach's site.
Does myReach support real-time collaboration?
Real-time collaboration with myReach is currently under development and it is indicated on their website as 'Coming Soon'. Teams will be able to use myReach to collaborate in real time and build on their shared knowledge together.
Can myReach transcribe audio and video files?
Yes, myReach can transcribe audio and video files. The tool's AI functionality can automatically transcribe audio and video data, simplifying the process of information extraction for the user.
How does AI help in organizing data in myReach?
AI plays a significant role in myReach by automatically extracting and organizing data from various aspects of the user's life. It is used to transcribe audio and video files, extract text from images and websites, generate summaries, and provide recommendations on how best to interconnect the user's information. This automation greatly reduces effort and enhances the organization of user data.
Does myReach have a mobile app?
Yes, myReach does have a mobile app available for both Android and iOS platforms. With the mobile app, users can capture ideas on the go and keep all their important information within easy reach at all times.
What is myReach's ChatGPT feature?
The ChatGPT feature in myReach is an intelligent AI assistant named Rich that answers all the user's questions, similar to how a chatbot engages with user queries. It's trained to learn from the user's saved data and becomes more knowledgeable with more data input. It can provide insights, conclusions, knowledge and summaries of the user's stored data. This feature is more personal and versatile than the usual ChatGPT because it can also answer personal questions about the user's data.
How much does myReach Premium cost?
myReach Premium costs 8 Euros per month when billed annually. With the Premium subscription, users gain access to features such as 50,000 nodes, 50 GB of total storage, and 10,000 words in AI chat, among other features.
Is myReach GDPR compliant?
Yes, myReach is fully GDPR compliant, meaning it adheres to the European Union's General Data Protection Regulation. This ensures that all user data is handled and processed in a manner that respects user privacy and security.
If you liked myReach
People also searched
Help
⌘ + D bookmark this site for future reference
⌘ + ↑/↓ go to top/bottom
⌘ + ←/→ sort chronologically/alphabetically
↑↓←→ navigation
Enter open selected entry in new tab
⇧ + Enter open selected entry in new tab
⇧ + ↑/↓ expand/collapse list
/ focus search
Esc remove focus from search
A-Z go to letter (when A-Z sorting is enabled)
+ submit an entry
? toggle help menu
x
Sign in to continue (100% free)
To prevent spam, some actions require being signed in. It's free and takes a few seconds.
Sign in with Google