Edit AI
Simplified prompt & accurate data comprehension.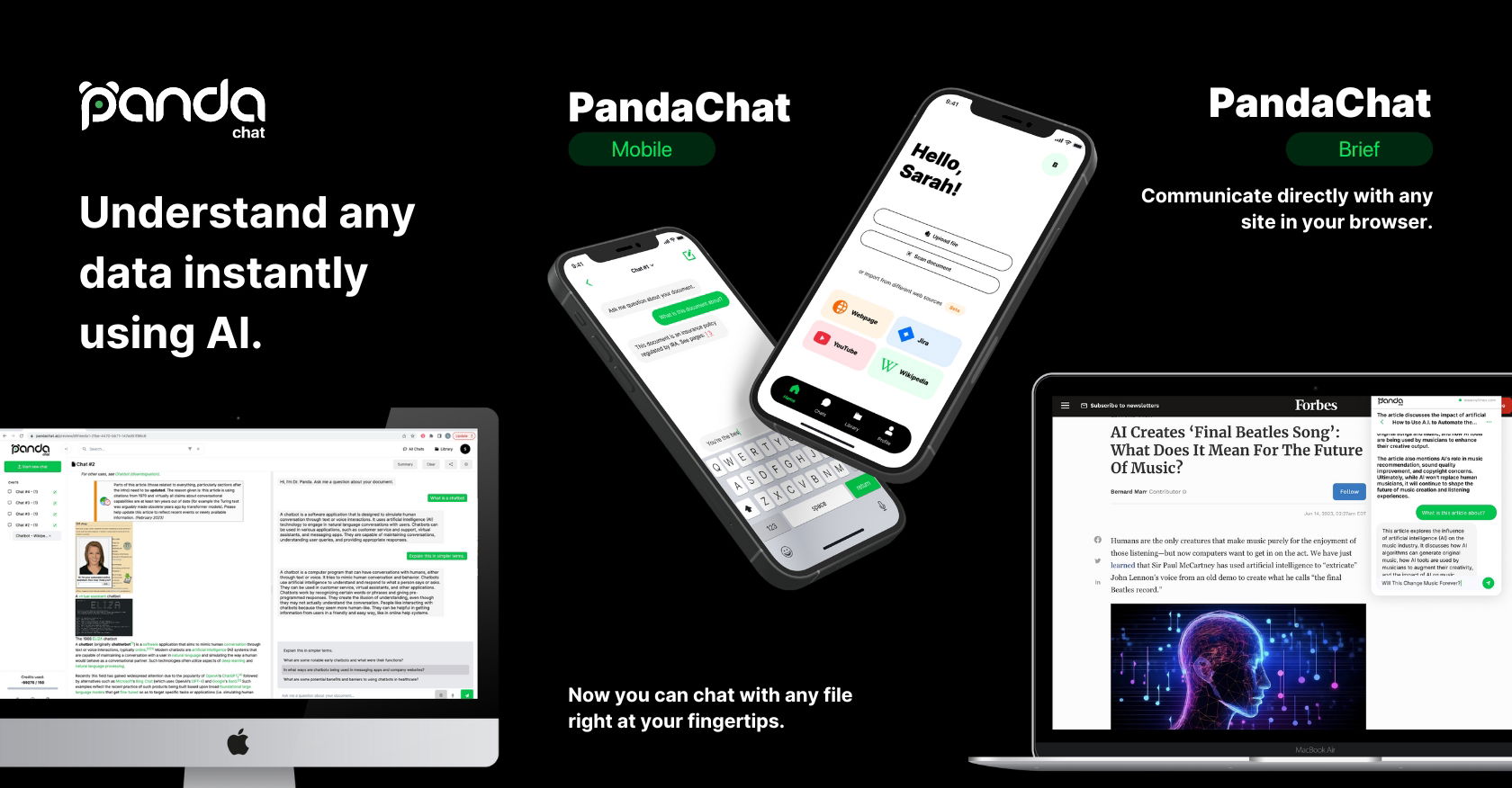 Generated by ChatGPT
PandaChat is AI tool that enables you to chat with your data in any file, audio, image, website, or YouTube video. Interact, gain insights, and get information quickly like never before. Explore different PandaChat products in order to get the best out of this revolutionising AI technology.
PandaChat Mobile
Data insights right at your fingertips. Whether you're traveling, in a meeting, or simply away from your desk, stay connected and chat with your files through mobile chat functionality.
PandaChat Brief
Summarize any article. With this innovative feature, you can now summarize and engage in live conversations with any website directly within your browser.
PandaChat Embed
Embed Chatbot on your website. Supercharge your website's functionality: Embed interactive chatbots to drive user engagement and revolutionise customer support.
Featured
PandaChat was manually vetted by our editorial team and was first featured on June 26th 2023.

Would you recommend PandaChat?
Help other people by letting them know if this AI was useful.
106 alternatives to PandaChat for Document Q&A
Pros and Cons
Pros
Quick data comprehension
Multiple product options
File format versatility
Website crawling feature
Instant answers
Context recognition
Sophisticated search techniques
Document parsing
Multi-format compatibility
Applicable in numerous industries
User-friendly design
Natural language processing
Supports various apps
Targeted search results
Concise summaries of articles
Can process images/audio/sites/videos
Can be embedded into websites
Cons
No offline functionality
No support for databases
Limited app integrations
No explicit security features
No multilingual support
No Enterprise version mentioned
No API for developers
Implementation in new platforms 'coming soon'
No sentiment analysis feature
No feedback mechanism for incorrect answers
Q&A
What is PandaChat?
PandaChat is an AI-powered tool designed to facilitate easy understanding of different types of data. It does this by securely uploading various file formats, scanning entire websites, and promptly providing intelligent responses to user queries. PandaChat uses natural language processing to give accurate answers, sophisticated search techniques to yield precise results, and document parsing to extract and understand important information for context. Beyond being user-friendly, PandaChat is known for its potential to revolutionize industries like education, research, human resources, and healthcare, among others.
How does PandaChat work?
PandaChat works by securely uploading and processing various types of files, including PDFs, Word documents, images, as well as crawling entire websites. The platform uses natural language processing to understand user intent, context, and language intricacies. It then leverages advanced search techniques to generate precise results, allowing users to locate relevant information easily. PandaChat also employs document parsing to extract key information and comprehend the document's context, simplifying the user's search and query process.
What kind of files can PandaChat process?
PandaChat can process a wide array of file formats. These include but are not limited to PowerPoints, Word Documents, Excels, Images, and PDFs. The platform can even crawl entire websites and use the gathered data to formulate intelligent responses.
Can PandaChat analyze images?
Yes, PandaChat has the capability to analyze images along with other file formats like PDFs, Word documents, PPTs, etc. It uses artificial intelligence tools to understand the content of the images and provide relevant information based on the content.
How does PandaChat use natural language processing?
PandaChat uses natural language processing to allow users to ask questions just like they would in a conversation with a person. This technology helps the system in recognizing the intricacies of language, context, and user intent, delivering prompt and accurate answers to the user's queries.
In what industries can PandaChat be utilized?
PandaChat can be utilized across a variety of industries. Some of these include education and research, human resources, business, healthcare, e-commerce and retail, tourism, banking and finance, and insurance.
What is document parsing and how does PandaChat employ it?
Document parsing is a process in which important information is extracted from a document. PandaChat employs AI to intelligently process any uploaded document. It extracts important information, understands the context, and hence makes it easier for users to search and ask questions.
Does PandaChat support multiple file formats?
Absolutely, PandaChat supports multiple file formats. This allows users to upload any document or image and receive content-relevant information. PandaChat is compatible with formats including PDFs, Word documents, and images.
Can I use PandaChat on my mobile device?
Certainly, PandaChat offers a mobile application which means it's available on your mobile device. The mobile app enables users to engage in conversations with any file, image, audio, website, or even a YouTube video right from their device.
Does PandaChat have a Chrome extension?
Yes, PandaChat indeed has a Chrome extension. Not only does it provide concise summaries of articles, but it also allows users to instantly start 'talking' to the website.
Can PandaChat be embedded into my website?
Yes, you can embed PandaChat into your website. The platform offers a product that allows for seamless integration of chatbots into your site, which can be tailored to enhance your website's user experience and engagement.
Is it safe to upload files to PandaChat?
Yes, it is safe to upload files to PandaChat. The platform has implemented measures to ensure the secure upload of different file types.
How does PandaChat ensure the relevance and accuracy of its responses?
PandaChat ensures the relevance and accuracy of its responses through several ways. First, it employs advanced search techniques to generate precise search outcomes, thus letting users locate the information they require with ease. Second, the application uses NLP-based algorithms which recognize the intricacies of language, user intent, and context, providing accurate and speedy answers. Lastly, PandaChat intelligently processes any uploaded document using AI to extract vital details and understanding the document's context.
What applications are supported by PandaChat?
PandaChat currently supports a number of apps such as YouTube, Jira, MP3, and Webpage. Additionally, it plans on future support for Github, Google Drive, Slack, Discord, Asana, Database, Gmail, arXiv, Wordpress, Elastic Search, Weather, Twitter, and Reddit.
How does PandaChat help in education and research?
In the field of Education and Research, PandaChat proves to be a great ally. It lets users upload research papers, documents, or any written work and it can provide accurate answers to inquiries about its content. Moreover, it makes accumulating and summarizing vast amounts of research materials easier, thus providing a more engaging, comprehensibly accelerated learning process.
How does PandaChat generate precise search outcomes?
PandaChat generates precise search outcomes by employing sophisticated search techniques. This technology ensures that users can easily and quickly find the information they require - an extremely useful feature when searching through lengthy documents or looking to find specific details.
Does PandaChat provide instant answers to queries?
Yes, PandaChat is designed to provide instant answers to user queries. It eliminates the need to manually search through extensive documents by analyzing all accumulated materials and acting as an expert to supply the needed answers within seconds.
Can PandaChat transform information from lengthy documents?
Indeed, PandaChat is capable of transforming information from lengthy documents. The platform uses AI-enabled document parsing to intelligently process and extract vital information, understand context, and reduce long documents into searchable and query-friendly formats.
How does PandaChat understand user intent and context?
PandaChat understands user intent and context through its powerful natural language processing. The system is designed to recognize the subtleties of language, the context of the query, and the user's intent. This allows it to provide prompt and accurate answers that accurately reflect the user's needs and expectations.
What products does PandaChat offer?
PandaChat offers several products to cater to different user needs. These include a mobile app for on-the-go accessibility, a Chrome extension for an improved web browsing experience, and an embedded chat option that can be integrated into your own website for enhanced user engagement.
If you liked PandaChat
Help
⌘ + D bookmark this site for future reference
⌘ + ↑/↓ go to top/bottom
⌘ + ←/→ sort chronologically/alphabetically
↑↓←→ navigation
Enter open selected entry in new tab
⇧ + Enter open selected entry in new tab
⇧ + ↑/↓ expand/collapse list
/ focus search
Esc remove focus from search
A-Z go to letter (when A-Z sorting is enabled)
+ submit an entry
? toggle help menu
x
Sign in to continue (100% free)
To prevent spam, some actions require being signed in. It's free and takes a few seconds.
Sign in with Google