Edit AI
Note-taking and chat with text generation.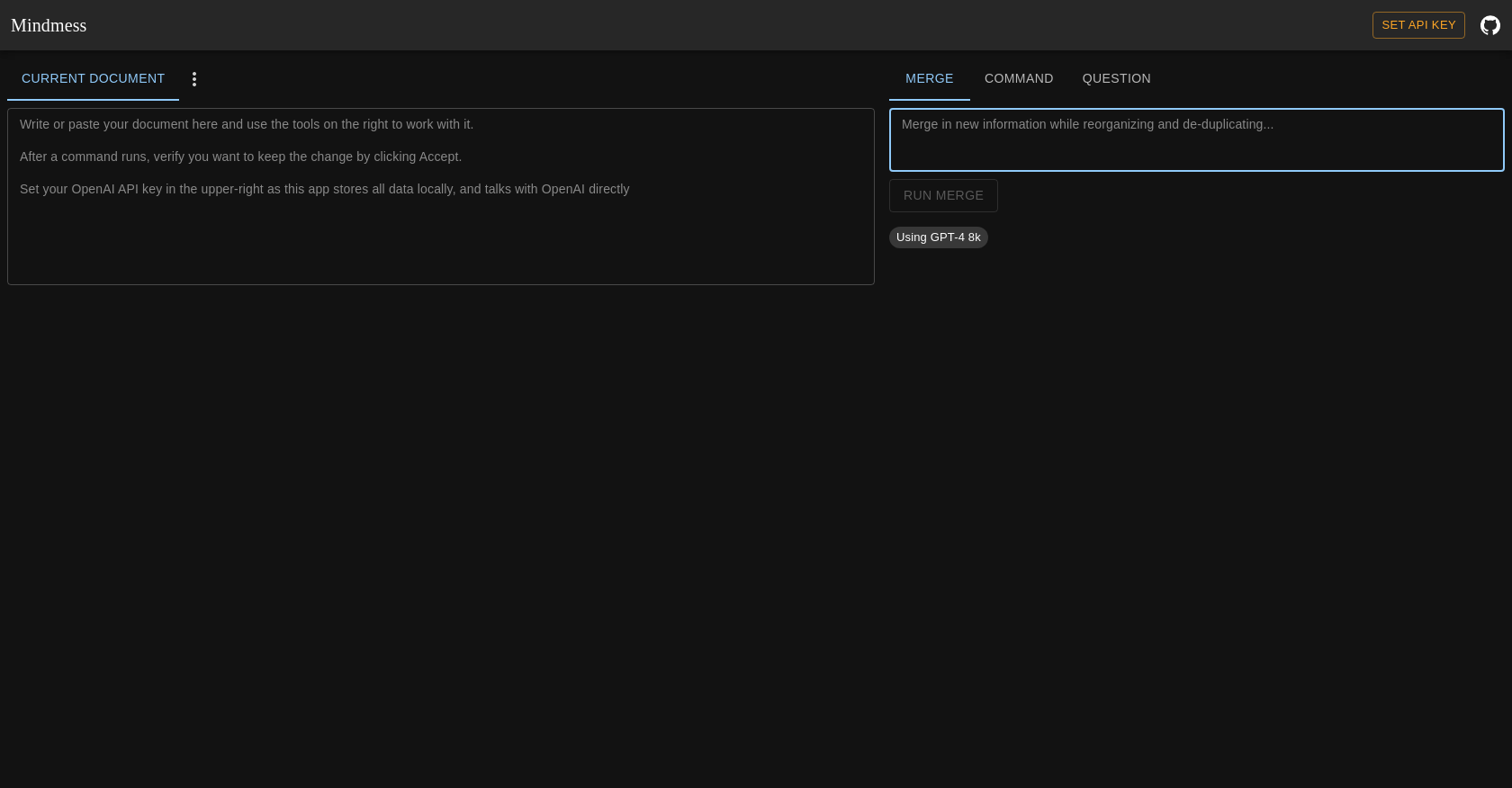 Generated by ChatGPT
Mindmess is a collaborative note-taking tool that allows users to interact with ChatGPTMINDMESS. With the set API key feature, users can seamlessly integrate their own API keys from GitHub to ensure secure access to the tool.
Mindmess offers various functionalities such as the ability to merge documents and run merge commands. The tool also boasts the use of GPT-4, an 8k model, to power its text generation capabilities.
This indicates the tool's reliance on advanced natural language processing algorithms to provide accurate and comprehensive responses. Mindmess enables users to collaborate on note-taking activities, making it an ideal choice for team projects or brainstorming sessions.
By leveraging ChatGPTMINDMESS, users can engage in meaningful exchanges and discussions while noting down their ideas, insights, and questions. The tool's merge functionality allows users to consolidate multiple documents into a single coherent document, enhancing efficiency and organization.
Additionally, the capability to run merge commands suggests that Mindmess provides a flexible and customizable environment to tailor note-taking workflows to specific needs.
Mindmess's utilization of GPT-4, an 8k model, signifies its commitment to harnessing the latest advancements in artificial intelligence to deliver high-quality text generation.
This ensures that users can expect state-of-the-art language understanding and generation capabilities while collaborating on their notes. In summary, Mindmess is a collaborative note-taking tool that offers features like API key integration, document merging, and chat-based interactions with GPT-4, an 8k model.
It is suited for teamwork and collaboration, providing users with a powerful and flexible environment for managing and organizing their notes.
Featured
Mindmess was manually vetted by our editorial team and was first featured on November 20th 2023.

Would you recommend Mindmess?
Help other people by letting them know if this AI was useful.
137 alternatives to Mindmess for Document Q&A
Converts PDFs to interactive chatbots.

617

3.4

Read PDFs conversationally with assistance.

367

3.0

Creation of chatbots for messaging apps.

349

3.0

Chat-based PDF analysis output.

175

3.7

Simplified prompt & accurate data comprehension.

169

5.0

Search and query PDF docs with semantic features.

152

1.0

Automated worker for instant business tasks.

147

3.7

AI Chat with your Knowledge Base

90

5.0

PDF document communication and interaction.

81

4.0

Summarize document insights.

78

Integrating for multi-platform content creation.

71

2.0

Analyze files and provide Q&A through chatbot.

70

3.7

Instant PDF document answers with ChatDOC.

70

4.0

Improved productivity via streamlined processes.

68

Ease PDF understanding & data analysis.

66

3.7

Document analysis and insight generation.

60

5.0

Efficient document cross-referencing & retrieval.

56

Document summarization and Q&A using conversation.

54

5.0

Rapidly finding documents and knowledge.

54

1.0

Comprehensive document review and communication solution

53

4.7

Extract answers from PDFs.

51

5.0

Analyzed PDFs via instant chat.

49

Document collab w/ chat in multiple langs & formats

49

4.7

Analyzed documents, chatted with customized chatbots.

44

5.0

Analyzed Q&A PDF document.

43

Analyzed and assisted with interactive PDF documents.

42

1.0

Simplified document summarization platform.

41

3.0

Chat for simplified file management and collaboration.

37

Text editor to improve writing creativity and output.

34

Analyzed and aligned documents using Q&A platform.

32

1.0

Extract & communicate with docs in various formats.

32

4.0

Efficient PDF document analysis and question answering.

31

Effortlessly organize and retrieve information.

29

Intelligent search for document library.

27

Analyzed data through conversational interface.

27

Provide contextual responses from uploaded docs

27

5.0

Chatbot for document analysis and Q&A.

26

Extracting insights from data files through Q&A.

26

Chat With Your Digital Content

26

5.0

Chatbot for answering questions from documents.

25

5.0

Digital question answering for text and video.

24

Web content analysis & conversational Q&A system.

24

Parsing technical documents and jargon.

23

Enhanced PDF with interactive Q&A features

23

Improved learning through personal content memory.

22

Online assistant for creating and analyzing documents.

22

5.0

Efficient personal knowledge organization and retrieval

22

PDF summarization and understanding solution

22

5.0

19

1.0

Interactive PDF Q&A for engagement and answers.

19

Automated customer support responding.

19

5.0

Streamlined PDF simplification through chat.

18

5.0

Automated business operations across industries.

18

Improve website documentation with Q&A integration.

18

Efficient chatbot for multi-document convos.

17

5.0

Analyze & summarize PDF papers for academia & business.

16

Converted PDFs with natural dialogue

15

3.0

Accelerated document analysis and insights.

15

Tailored chatbot for Q&A on content.

14

Quickly analyze PDFs and answer questions in chat.

14

Legal research & analysis

14

Assistant for discovering insights and analyzing data.

13

PDF reader with interactive Q&A.

13

Simplified analysis of academic content.

13

5.0

Conversational PDF viewer

13

Extract secure info for trusted content generation.

12

4.8

Enhancing document processing with chatbots and OCR.

12

Integrates document chat for app developers.

12

Document analysis & Q&A solution for various files

12

4.0

PDF document analysis and extraction improved.

12

Reads documents and answers queries.

11

Managed documents through language processing.

11

Document analysis and interaction via conversation.

11

A document summarization and Q&A productivity aid.

10

Analyze PDF document questions efficiently.

10

PDF document assistant and translator.

10

Manage and interact with private Mac documents.

10

Analyzed PDF, DOC, and TXT via question-based input.

9

9

Personalized shopping assistant with smart suggestions.

9

5.0

Custom question-answering on uploaded documents.

8

Created custom chatbots with NLP algorithms.

8

Extracted data from docs for real-time workflows.

8

Custom chatbots for support, marketing & education.

8

Customizable chatbots w/ multilingual support & docs.

8

Automated document and workflow platform.

8

Create chatbots easily without coding.

7

Analyzed documents for Q&A.

7

Enhancing interactions with a personalized assistant.

7

Automated document sorting and retrieval assistant.

6

Simplified PDF retrieval through questioning.

6

Support chatbot w/ NLP & search.

6

5.0

Quickly search and answer questions in documents.

5

5.0

Enhanced group chat collaboration with document sharing.

5

Enhances knowledge and support with Q&A docs.

5

Improved PDF collaboration and communication.

5

Enhanced PDF management and editing for efficiency.

5

Customizable search engine with integrated features.

4

Chatbot for employee support with knowledge base.

4

5.0

Improved document navigation and information extraction.

4

PDF analysis, interaction, collaboration (35)

4

Effortless document sorting using Q&A.

4

1.0

Retrieve and validate uploaded document data.

3

Cloud-based doc analysis & collab w/ generative tech.

3

5.0

Manage digital documents with Q&A chat.

3

Fast retrieval of document info.

3

Revolutionary document collaboration solution.

3

Document Q&A Knowledge Assistant

3

PDF data analysis chatbot for engagement

3

Data analysis & Q&A platform for personal information.

3

Retrieving personalized answers from uploaded documents.

3

Secure document summarization and chat.

3

Improves document interaction with Q&A and automation.

3

Varied chatbots handle & integrate w/ diverse platforms.

2

Enhances document comprehension via chatbot. (-3 points)

2

Enhanced work productivity through chat interface.

2

Docs transformed to insights via analysis & summary.

2

Seamless document collaboration and enhancement.

2

PDF chat for querying & summarizing info.

2

1

Test new solutions on a platform.

1

Cost-cutting chatbot streamlines customer support.

1

5.0

Voice assistant for real-time info retrieval.

1

Document search and retrieval with chat.

1

Document searching and retrieval made instant.

1

Efficient proposal creation for sales professionals

1

Improved document collaboration and analysis.

10

GoPDF: Edit, Convert, Edit, Engage, Chat

7
If you liked Mindmess
People also searched
Help
⌘ + D bookmark this site for future reference
⌘ + ↑/↓ go to top/bottom
⌘ + ←/→ sort chronologically/alphabetically
↑↓←→ navigation
Enter open selected entry in new tab
⇧ + Enter open selected entry in new tab
⇧ + ↑/↓ expand/collapse list
/ focus search
Esc remove focus from search
A-Z go to letter (when A-Z sorting is enabled)
+ submit an entry
? toggle help menu
x
Sign in to continue (100% free)
To prevent spam, some actions require being signed in. It's free and takes a few seconds.
Sign in with Google