Edit AI
Interactive PDF Q&A for engagement and answers.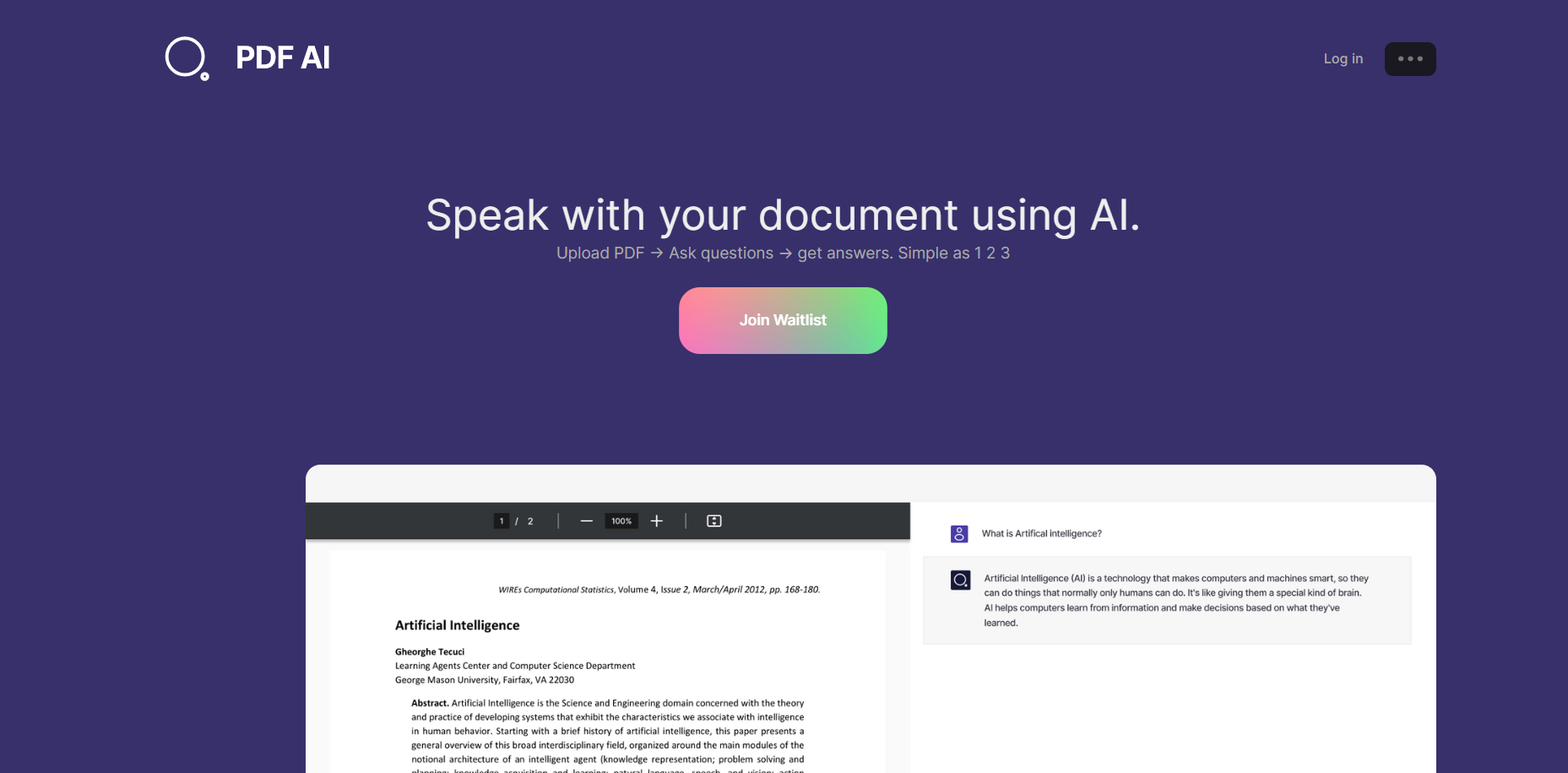 Generated by ChatGPT
PDF AI is a tool that allows users to interact with their PDF documents using artificial intelligence (AI) technology. With this tool, users can upload their PDF files, ask questions about the content, and receive answers.
The process is described as a simple three-step procedure: uploading the PDF, posing questions, and obtaining answers. By leveraging AI technology, PDF AI aims to enhance the user experience when working with PDF documents.
It provides an alternative method for interacting with content, allowing users to engage with their PDFs in a more dynamic and conversational way. Although the exact functionality and features of PDF AI are not explicitly mentioned in the text, the tool's purpose is to enable users to speak with their PDF documents.
This suggests that it employs natural language processing (NLP) algorithms to analyze the content of the uploaded PDFs and provide relevant answers to the questions asked by users.
The text also includes references to a waitlist and a future year (2023), indicating that PDF AI might still be in development or undergoing improvements.
It also provides contact information, including email and Twitter, suggesting that users can reach out for assistance or further information about the tool.
Legal and privacy policies are mentioned, highlighting the tool's commitment to data protection and compliance.
Featured
PDFAI.io was manually vetted by our editorial team and was first featured on July 3rd 2023.

Would you recommend PDFAI.io?
Help other people by letting them know if this AI was useful.
103 alternatives to PDFAI.io for Document Q&A
Pros and Cons
Pros
Interactive PDF Q&A
Simple three-step procedure
Dynamic content interaction
Conversational engagement
Employs NLP algorithms
Ongoing development/improvements
User assistance available
Data protection commitment
Legal compliance
Contact via email
Contact via Twitter
Cons
Still in development
Implicit functionality
Limited to PDF documents
No API mentioned
No mobile app
Possible delay in answers
No OCR for scanned PDFs
Unclear error resolution
Potential lag with large files
Privacy concerns for sensitive documents
Q&A
What is PDFAI.io?
PDFAI.io is an artificial intelligence (AI) tool oriented towards interactive querying and engagement with PDF documents.
What does PDFAI.io do?
PDFAI.io provides an AI-driven experience that allows users to interact directly with their PDF content. Users can upload PDFs, formulate questions related to their content, and obtain AI-generated responses.
How does PDFAI.io work?
PDFAI.io works in three steps: 1. Users upload their PDF documents. 2. They ask questions about the content. 3. They receive AI derived insights and responses. However, the specific workflow details remain unmentioned.
What technology does PDFAI.io use to interact with PDF documents?
PDFAI.io uses AI technology, likely incorporating natural language processing (NLP) algorithms, to analyse the content in uploaded PDFs and respond accurately to the questions posed by users.
How can I upload my PDFs to PDFAI.io?
While the procedure to upload PDFs is not described explicitly, PDFAI.io's homepage gives a basic process flow; implying that after accessing the service, users can load their PDF files. More instructions should become visible once users start the process.
What types of questions can I ask PDFAI.io?
Given the NLP basis, users can potentially ask PDFAI.io any text-related or context-based query about the content in the PDF.
How does PDFAI.io generate answers to my questions?
PDFAI.io generates answers to user queries by employing AI algorithms, which are possibly derived from NLP and machine learning techniques. They analyse the PDF's content and generate insights and responses.
How does PDFAI.io enhance the user experience with PDF documents?
PDFAI.io enhances the user experience with PDF documents by enabling dynamic and conversational interaction with the document content, effectively talking to the PDFs in a natural, query-response manner.
What is the premise behind PDF AI's method of interaction with content?
The premise behind PDFAI.io is to enable conversational interaction between users and their PDF content using artificial intelligence technology, which ultimately eliminates the need for manual search and find procedures.
Why is PDFAI.io on a waitlist for 2023?
The mention of a 2023 waitlist for PDFAI.io suggests that it may be under development or going through significant updates or enhancements, due for release in that indicated year.
Is PDFAI.io completely developed, or is it still undergoing improvements?
As there's a mention of a waitlist and a mention of the year 2023, it's plausible to infer that PDFAI.io isn't entirely complete at this point and might be undergoing further improvements.
How can I get in touch with the PDFAI.io team?
To reach the PDFAI.io team, users can drop an email or follow and contact them via Twitter, as suggested by the contact options on the website.
What are PDF AI's legal and privacy policies?
PDFAI.io maintains legal and privacy policies, as implied by the references on the website. However, the specific policies aren't detailed in the provided content.
How does PDFAI.io protect user data?
The precise data protection measures utilized by PDFAI.io aren't mentioned. Still, the mention of their legal imprints and privacy policy suggests a commitment to comply with standard data protection guidelines.
Can PDFAI.io comprehend any type of question related to uploaded PDF content?
The system's design, based on natural language processing, should allow PDFAI.io to understand and respond to any text-based question related to the uploaded PDF content.
Does PDFAI.io require an account or login to use?
The website content doesn't explicitly mention a login or account requirement, so it's unclear whether PDFAI.io requires user registration.
Does PDFAI.io support multiple PDF uploads?
The ability to upload multiple PDFs isn't specified clearly in the provided context.
Is there an option to download the resulting Q&A from PDFAI.io?
There is no specific mention of an option to download the resulting Q&A from PDFAI.io. Further details might be available once the product fully launches or upon request from the service team.
How reliable are PDFAI.io's responses?
The reliability of PDFAI.io's responses rests upon their AI's processing algorithms. However, without specific reports or testimonials, it's hard to confidently state the overall reliability.
Are there any known limitations to what PDFAI.io can do?
While PDFAI.io promises a dynamic, AI-driven interaction with PDF content, the service's limitations aren't explicitly revealed. It's expected that heavily graphic, non-text, or poorly formatted PDFs might present challenges.
If you liked PDFAI.io
Help
⌘ + D bookmark this site for future reference
⌘ + ↑/↓ go to top/bottom
⌘ + ←/→ sort chronologically/alphabetically
↑↓←→ navigation
Enter open selected entry in new tab
⇧ + Enter open selected entry in new tab
⇧ + ↑/↓ expand/collapse list
/ focus search
Esc remove focus from search
A-Z go to letter (when A-Z sorting is enabled)
+ submit an entry
? toggle help menu
x
Sign in to continue (100% free)
To prevent spam, some actions require being signed in. It's free and takes a few seconds.
Sign in with Google