Edit AI
Converted PDFs with natural dialogue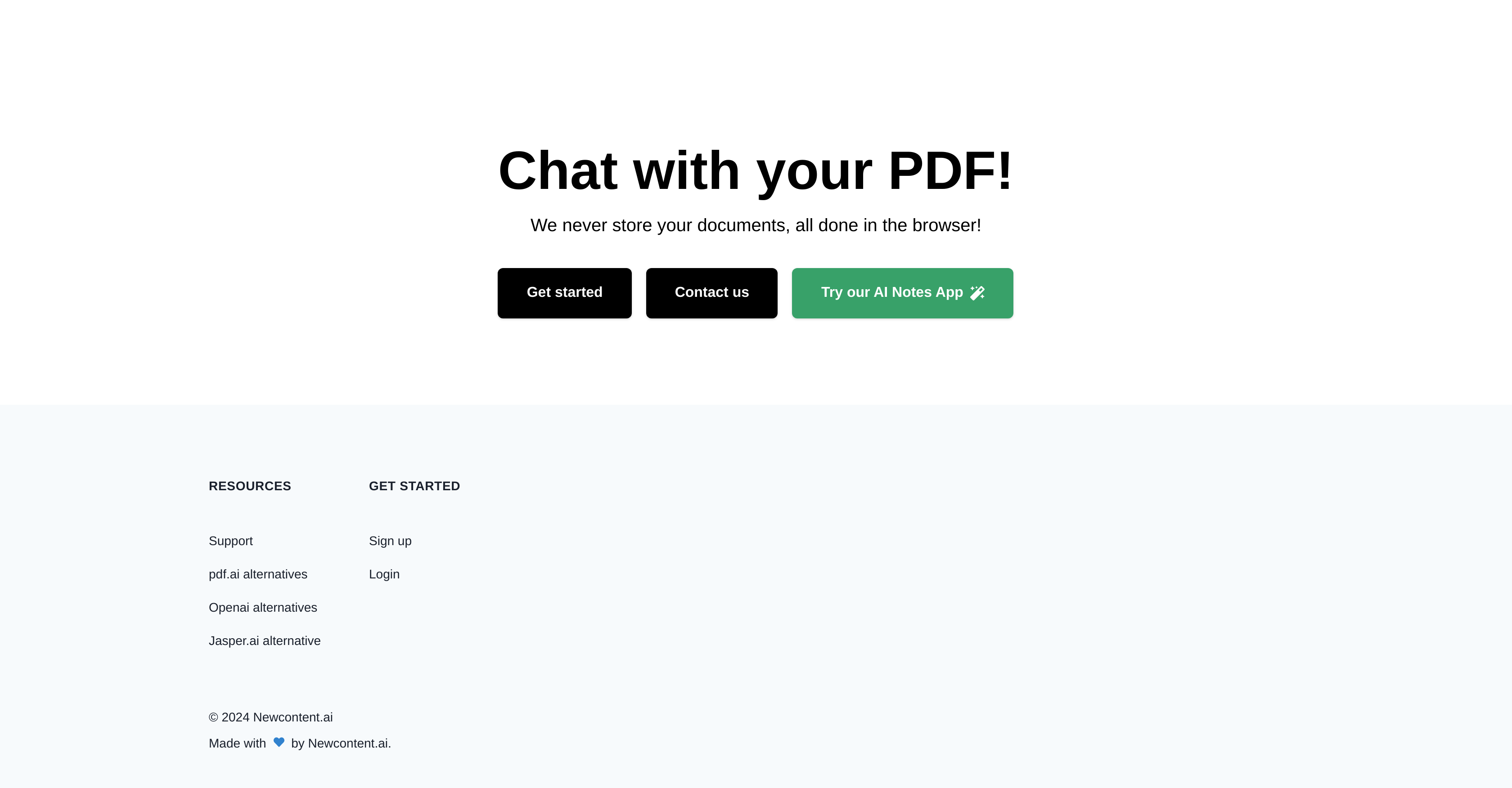 Generated by ChatGPT
PDFConvo is an AI-based tool that enables users to chat with their PDF documents. The tool offers AI-generated content, which makes it easy for users to have a conversation with their PDFs.
Importantly, PDFConvo ensures that users' documents remain secure, as no documents are stored on their platform. This tool operates entirely in the browser, which makes it accessible to a wide range of users.PDFConvo's AI capabilities provide an interactive and engaging way for users to interact with their PDFs.
Users can ask their PDF questions, and the tool generates responses based on the contents of the document. The tool offers a chat feature that makes it easy for users to engage in a conversation about their PDFs.
PDFConvo also provides resources that help users find pdf.ai alternatives, Openai alternatives, and Jasper.ai alternatives. This feature provides users with a useful guide for exploring other AI tools that they can use for different purposes.To get started with PDFConvo, users can sign up or log in via the app.newcontent.ai portal.
Overall, PDFConvo offers an innovative solution for individuals and organizations that want to unlock the full potential of their PDF documents in a personalized, interactive, and engaging way.
Featured
PDFConvo was manually vetted by our editorial team and was first featured on June 8th 2023.

Would you recommend PDFConvo?
Help other people by letting them know if this AI was useful.
103 alternatives to PDFConvo for Document Q&A
Pros and Cons
Pros
Chat with PDFs feature
Interactive document experience
No document storage
High security level
Browser-based tool
Multi-platform accessibility
Easy sign up
Direct login via app
Innovative PDF solution
Personalized interaction with PDFs
Automated Q&A from PDFs
Cons
Operates only in browser
Potential privacy concerns
Cannot store documents
Limited to PDF documents
Lacks mobile app
No offline functionality
No mentioned collaborative features
No API integration
Lacking multilingual support
Q&A
What is PDFConvo?
PDFConvo is an AI-based tool that allows users to engage in a conversation with their PDF documents. It generates content in response to user inquiries based on the information within the PDF.
How does PDFConvo work?
PDFConvo works by employing AI technology to understand and interpret the information within a PDF. Users can ask questions about their PDFs, and the tool generates responses accordingly.
What features does PDFConvo offer?
PDFConvo offers several features including an interactive chat feature for querying documents, AI-generated content as responses to queries, and resources to find alternatives like pdf.ai, Openai, and Jasper.ai.
Does PDFConvo require any installation or can it be used in-browser?
PDFConvo doesn't require any installation. It works entirely in the browser, increasing its accessibility to a wide range of users.
Are the documents I use with PDFConvo stored on their platform for future reference?
No, PDFConvo does not store any documents on their platform. This is a privacy feature that ensures the security of the users' documents.
How does PDFConvo ensure the security of my documents?
PDFConvo ensures the security of your documents by not storing them on their platform. All interactions occur entirely in your browser.
What is the AI-generated content provided by PDFConvo?
The AI-generated content by PDFConvo comprises of responses to user queries, which are derived from the user's PDF document.
How does PDFConvo's chat feature help me interact with my PDFs?
PDFConvo's chat feature allows users to ask their PDF documents questions, as if they were having a conversation. This interactive conversation aids in better understanding and engagement with the content present in the PDF.
What alternative solutions does PDFConvo provide resources for?
PDFConvo provides resources for exploring alternative solutions like pdf.ai, Openai, and Jasper.ai.
Why would I want to chat with my document using PDFConvo?
Chatting with your document using PDFConvo allows for an interactive and engaging experience to understand, navigate, and extract information from PDF documents more effectively.
How can PDFConvo help me understand the contents of my PDF document better?
PDFConvo can help you understand the contents of your PDF document better by enabling you to ask direct questions about the content and receiving AI-generated responses based on that content.
In what format does PDFConvo provide responses to the user's inquiries?
PDFConvo provides responses to the user's inquiries in the form of chat messages.
Is PDFConvo a free tool?
IDK
How do I sign up or log in to PDFConvo?
To sign up or log in to PDFConvo, users can visit app.newcontent.ai.
Can I access PDFConvo from any device?
As PDFConvo operates entirely in the browser, it can be accessed from any device with an internet connection.
What kind of users can benefit from PDFConvo?
PDFConvo can benefit any user who engages with PDF documents and wishes to interact with them in a more engaging and simplified manner. This can include students, researchers, organisations and any individual seeking to maximize their understanding of PDF content.
How does PDFConvo's AI understand the context of my document?
PDFConvo's AI uses natural language processing to understand the context of your document. It interprets the content in your PDF, creating a basis for generating responses to your inquiries.
How quickly does PDFConvo respond to my questions about the PDF?
IDK
Can I use PDFConvo to interact with other types of documents apart from PDFs?
IDK
Where can I get support if I have questions or issues using PDFConvo?
Support for PDFConvo can be found on its website under the 'Resources' section.
If you liked PDFConvo
Help
⌘ + D bookmark this site for future reference
⌘ + ↑/↓ go to top/bottom
⌘ + ←/→ sort chronologically/alphabetically
↑↓←→ navigation
Enter open selected entry in new tab
⇧ + Enter open selected entry in new tab
⇧ + ↑/↓ expand/collapse list
/ focus search
Esc remove focus from search
A-Z go to letter (when A-Z sorting is enabled)
+ submit an entry
? toggle help menu
x
Sign in to continue (100% free)
To prevent spam, some actions require being signed in. It's free and takes a few seconds.
Sign in with Google