Edit AI
Automated ad creation for websites and apps.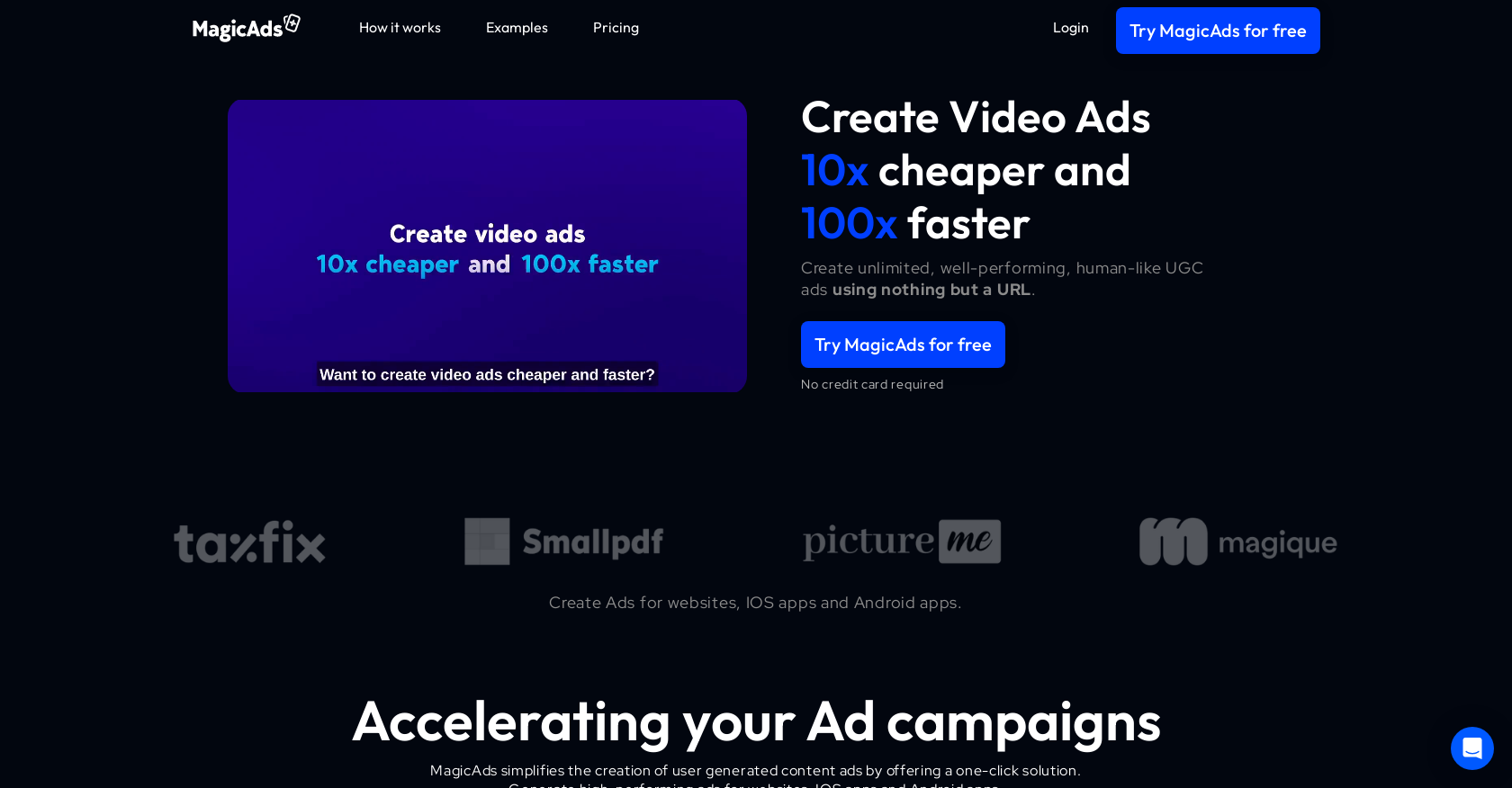 Generated by ChatGPT
MagicAds is an AI-powered tool that simplifies the creation of user-generated content (UGC) ads. It offers a one-click solution to generate high-performing ads for websites, iOS apps, and Android apps.
The process is simple and efficient, requiring users to paste their app store link and customize the ad by selecting options like avatars, language, tone, subtitles, music, and watermarks.MagicAds' AI takes over from there, combining the app information, brand identity, and graphic assets to generate authentic, human-like UGC ads ready for immediate use on social media platforms.
The tool aims to revolutionize UGC ad creation by providing a fast, efficient, and cost-effective solution.The tool has been trusted and praised by notable users such as Taxfix, Smallpdf, and PictureMe, who attest to its transformative impact.
MagicAds streamlines the ad creation process, making it easy and affordable for users to launch successful campaigns.With its focus on simplicity and efficiency, MagicAds offers a convenient and accessible solution for businesses looking to create engaging and effective video ads.
By leveraging the power of AI, MagicAds enables users to generate unlimited, well-performing, human-like UGC ads using only a URL, making it a valuable tool for marketers and advertisers.
Featured
MagicAds was manually vetted by our editorial team and was first featured on October 11th 2023.

Would you recommend MagicAds?
Help other people by letting them know if this AI was useful.
31 alternatives to MagicAds for Ads
Maximized ad ROI & engagement via creative generation.

51

3.7

Fast and accurate Google Ads optimization.

46

5.0

Marketing ad video editing.

32

Generated digital sales campaigns.

30

Collaborated on mock-ups for PPC ad campaign.

14

Maximizing return on investment for ad campaigns.

13

Generate social media ads with assistance.

9

Optimizes digital ad images to increase conversions.

1
Help
⌘ + D bookmark this site for future reference
⌘ + ↑/↓ go to top/bottom
⌘ + ←/→ sort chronologically/alphabetically
↑↓←→ navigation
Enter open selected entry in new tab
⇧ + Enter open selected entry in new tab
⇧ + ↑/↓ expand/collapse list
/ focus search
Esc remove focus from search
A-Z go to letter (when A-Z sorting is enabled)
+ submit an entry
? toggle help menu
x
Sign in to continue (100% free)
To prevent spam, some actions require being signed in. It's free and takes a few seconds.
Sign in with Google