Edit AI
In-chat ads for chatbots, generating revenue.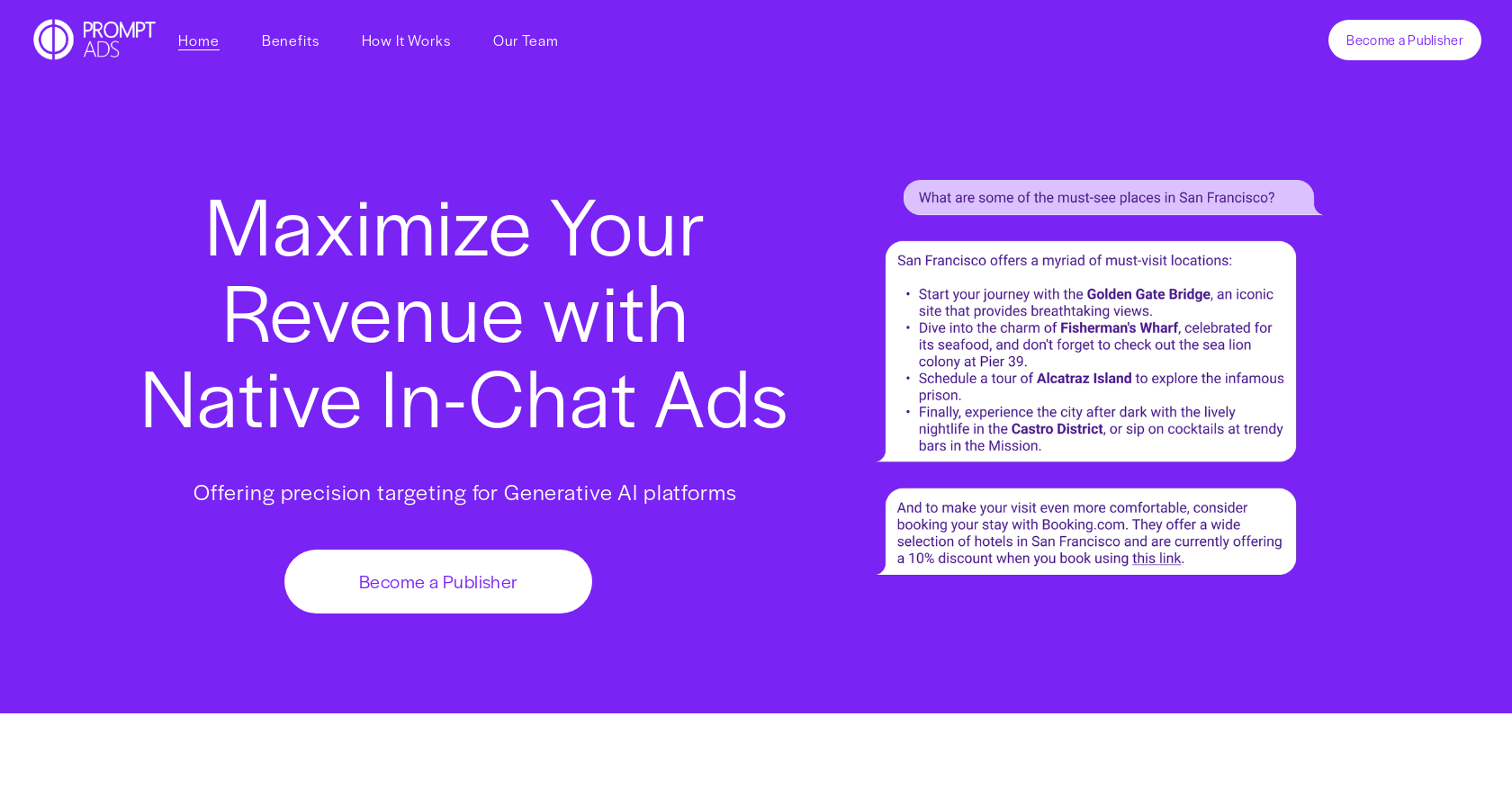 Generated by ChatGPT
PromptAds.ai is a tool that enables AI chat platforms to generate revenue by incorporating tailored in-chat advertisements. It offers precision targeting for Generative AI platforms and is specifically designed for AI startups seeking to monetize their chatbots.
The tool utilizes advanced prompt analysis to ensure highly relevant and personalized ads that enhance the user experience with unobtrusive advertising.
It seamlessly integrates with chatbot platforms and provides support throughout the straightforward integration process.Once integrated, PromptAds.ai's AI system analyzes user prompts in real-time, understanding the context and content of each conversation.
It then identifies the most relevant ads from its extensive network of advertisers and generates native text ads that are injected into the chat.Through user engagement with the ads, revenue is generated for the AI chat platform.
Detailed reports on ad performance and user engagement are provided, and regular payouts are processed based on the revenue generated.PromptAds.ai provides AI startups with instant access to a diverse pool of advertisers, expanding their monetization opportunities without requiring additional effort.
The tool is developed by a team with expertise in advertising platform development and successful startup growth.Overall, PromptAds.ai offers a seamless ad solution specifically designed for AI platforms, maximizing revenue potential and improving user experience by providing tailored in-chat advertisements.
Featured
Promptads was manually vetted by our editorial team and was first featured on September 18th 2023.

Would you recommend Promptads?
Help other people by letting them know if this AI was useful.
24 alternatives to Promptads for Ads
Help
⌘ + D bookmark this site for future reference
⌘ + ↑/↓ go to top/bottom
⌘ + ←/→ sort chronologically/alphabetically
↑↓←→ navigation
Enter open selected entry in new tab
⇧ + Enter open selected entry in new tab
⇧ + ↑/↓ expand/collapse list
/ focus search
Esc remove focus from search
A-Z go to letter (when A-Z sorting is enabled)
+ submit an entry
? toggle help menu
x
Sign in to continue (100% free)
To prevent spam, some actions require being signed in. It's free and takes a few seconds.
Sign in with Google