Edit AI
Transcribed audio analysis for content search.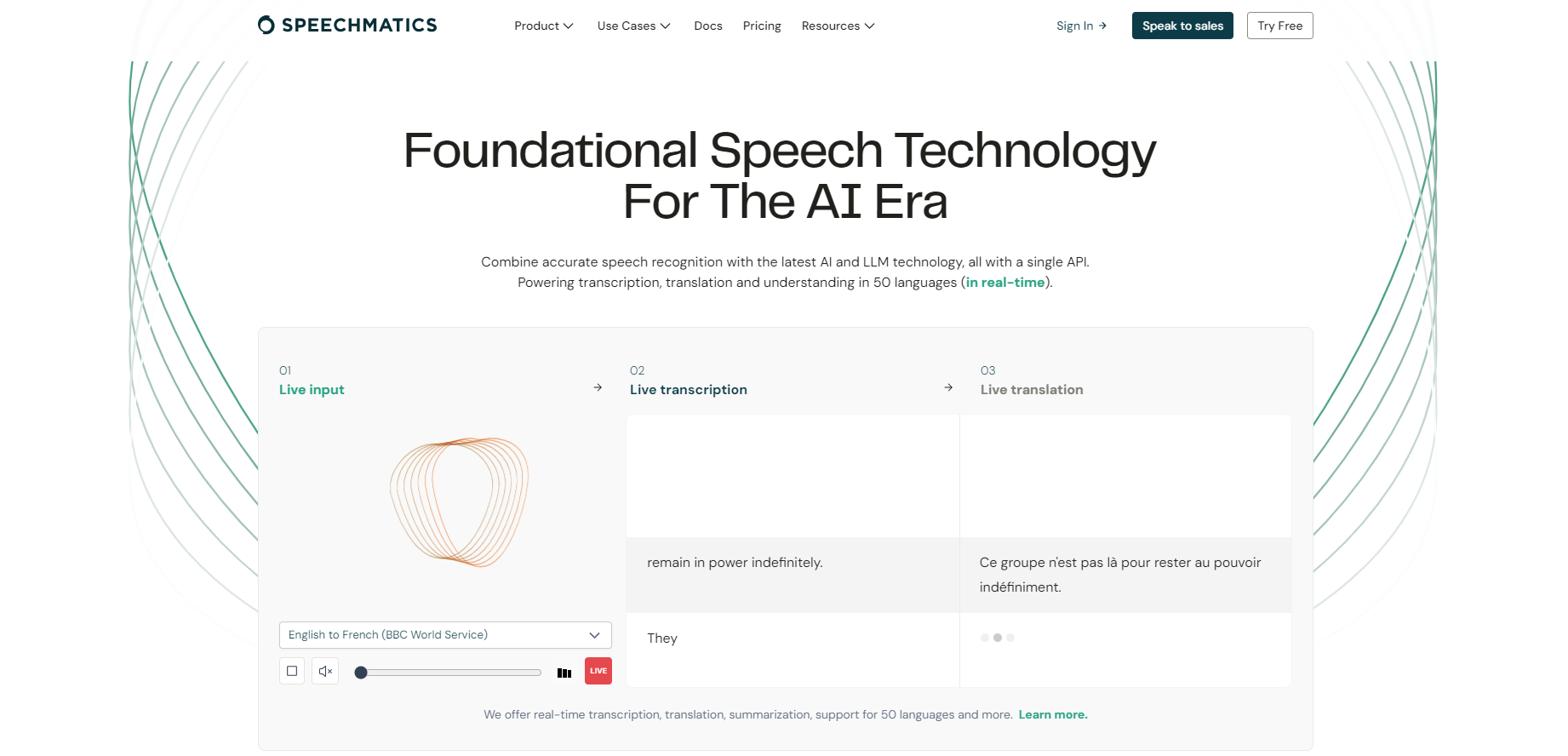 Generated by ChatGPT
Speechmatics is the world's leading expert in Speech Intelligence, combining the latest breakthroughs in AI and ML to unlock the business value in human speech.
An AI-based tool that accurately transcribes audio data into text, and finds value in its contents for businesses of all sizes.
Businesses use Speechmatics worldwide to accurately understand and transcribe human-level speech into text regardless of demographic, age, gender, accent, dialect, or location in real-time.
Combining these transcripts with the latest AI-driven speech capabilities, businesses build products that utilize summarization, topic detection, sentiment analysis, translation, and more.
Speechmatics processes over 300 years of transcription worldwide every month in 49+ languages and can translate 69 language pairs. Having pioneered ML in speech recognition, its neural networks consider acoustics, languages, dialects, multiple speakers, punctuation, capitalization, context, and implicit meanings.
Featured
Speechmatics was manually vetted by our editorial team and was first featured on January 30th 2023.

Would you recommend Speechmatics?
Help other people by letting them know if this AI was useful.
27 alternatives to Speechmatics for Speech to text
User-friendly ML app discovery and utilization platform.

181

3.0

Powerful transcription and audio editing software.

51

2.5

Voice-to-text summarization for efficient note-taking.

39

4.0

Accurately transcribe real-time speech to text.

32

Analyzed and generated text and speech.

32

Audio and video transcribed into text summaries.

31

Conversion of audio files to text format.

30

4.5

Audio data analyzed and processed.

28

5.0

Voice transcription for capturing spoken thoughts.

25

4.5

An app that converts audio to text.

15

Reduced noise voice-to-text transcription.

14

Identified speaker & language in audio/video transcripts

14

Speech recognition and translation technology.

13

Private and secure audio/video transcriptions services.

13

1.0

12

Real-time conversation analytics platform.

8

Converts speech to text in real-time with high accuracy.

5

Precise audio and video transcription and translation.

5

4

Multilingual accurate audio transcriptions

4

Efficient idea organization through note-taking

3

Voice-to-text transcription for macOS

3

Japanese reading comprehension improved for learners.

1

Accurately transcribing spoken words into written text.

1
Pros and Cons
Pros
Highly accurate transcription
Inclusive speech recognition
Content search in audio files
Improves user experience
Optimizes website functionality
GDPR compliant
Connection authentication
Visitor browsing-security
Preference personalization
Statistical website analysis
Marketing personalization
Cross-domain consent for cookies
Flexible API for integration
Uses machine learning
Supports multiple programming languages
Cons
Depends heavily on cookies
Necessary for GDPR-compliance
Used for advertising purposes
Extensive use of third-party providers
Marketing cookies for ad personalization
Data synchronization with third-party services
User tracking across websites
Requires visitor data exchange
Potential latency due to load balancing
Data shared across multiple domains
Q&A
What is Speechmatics?
Speechmatics is a tech company focusing on advanced machine learning technology to convert spoken language into written text. This AI-powered speech-to-text technology provides highly accurate transcriptions and is designed to be inclusive, supporting a broad range of languages and dialects.
What is the main function of Speechmatics?
The main function of Speechmatics is to convert spoken language into written text. It's primarily used to transcribe audio files into text, enabling users to conveniently search, analyze, and organize their audio content. As a result, it can support a plethora of use-cases that require accurate transcription, such as content search, voice command functionality, and more.
What types of cookies does Speechmatics use?
Speechmatics uses a variety of cookie types to improve user experience and website functionality. These include necessary cookies for basic functions like page navigation and secure areas access, preference cookies for preserving user preferences such as language selection, statistics cookies like Google Analytics for understanding website usage, and marketing cookies for advertising purposes. Additionally, it uses cookies for connection authentication and visitor browsing security.
How do cookies improve the user experience in Speechmatics?
Cookies on Speechmatics improve the user experience by remembering the user's preferences, ensuring basic functions like secure areas access and page navigation are operational. They also help understand how users interact with the website by collecting anonymous data, thus enabling the implementation of improvements based on these insights. Additionally, cookies are crucial for enhancing security by preventing cross-site request forgery and for authentication of connections.
Why is Speechmatics termed as 'inclusive'?
Speechmatics is termed 'inclusive' because of its extensive language coverage and robustness to different accents and dialects. It supports the majority of the global population's native languages, thus accommodating an extensive user base with diverse linguistic backgrounds.
How does Speechmatics ensure GDPR-compliance?
Speechmatics ensures GDPR-compliance through its cookie policy. It uses cookies to detect if the visitor has accepted the marketing category in the cookie banner, which is a requirement for GDPR-compliance. Furthermore, they offer the capability for users to manage their cookie settings and provide explicit consent for different types of cookies, hence choosing which ones they want to agree to.
How accurate is the transcription service of Speechmatics?
Speechmatics delivers highly accurate transcriptions. This accuracy is realized through the adoption of leading-edge machine learning techniques in recognizing and transcribing speech. The precise level of accuracy however can depend on different factors such as clarity of speech, audio quality, and more.
How does Speechmatics handle security and authentication?
Speechmatics ensures security and authentication by using cookies that prevent cross-site request forgery and are indispensable for website security. It also uses cookies for secure connection authentication. Along with multiple load-balance servers, this mechanism ensures a secure and optimized website performance through a process known as Secure Socket Layers (SSL).
What languages are supported in Speechmatics?
Speechmatics supports a wide array of languages covering most of the global population's native languages. This extensive language support along with its robustness to accents and dialects constitutes a significant aspect of its inclusiveness.
Can Speechmatics be integrated with other applications?
Yes, Speechmatics can be easily integrated with other applications. They offer a flexible speech-to-text API which users can integrate into their services, solutions, and applications to transcribe speech into text.
What is the 'machine learning' component in Speechmatics?
Machine learning is at the heart of Speechmatics. It uses the latest machine learning techniques to convert spoken language into written text. These AI-driven methodologies help ensure high accuracy in transcriptions and the ability to continuously learn and improve from more data and use-cases.
How does Speechmatics optimize its response rate?
Speechmatics optimizes its response rate through using cookies in context with load balancing. This mechanism works by evenly distributing the traffic load on multiple network links or servers, helping to optimize the response rate between the visitor and the site.
How does preference selection work in Speechmatics?
Preference selection in Speechmatics works through the use of preference cookies. These cookies save information that modifies how the website behaves or looks, such as the user's preferred language or region. Users have the liberty to choose which cookies they want to agree to by managing their cookie settings.
What does 'connection authentication' mean in Speechmatics?
In Speechmatics, 'connection authentication' is a security process that validates that the data being transmitted is being sent and received by authorized users only. It uses cookies for this process, ensuring the website's integrity through Secure Socket Layers (SSL).
How is user consent managed in Speechmatics?
In Speechmatics, user consent is managed through an option to accept or deny cookies. Users can change or withdraw their consent from the Cookie Declaration on the website at any time. There's also a functionality where users can choose which cookies they want to agree to by managing their cookie settings.
What is the role of Google Analytics in Speechmatics?
Google Analytics plays a crucial role in Speechmatics by providing insights into how users interact with the website. Through the use of Google Analytics cookies, anonymous data is collected and reported, allowing webmasters to understand user behavior and optimize the website based on these insights.
Does Speechmatics offer any unique features?
Yes, Speechmatics does offer unique features. They use machine learning approaches to constantly improve their speech recognition system and to find new ways to understand human speech better. Features such as Automatic Language Identification and Speaker Labels are offered along with many others to deliver comprehensive and accurate transcriptions.
What are the possible deployment options for Speechmatics?
Speechmatics offers flexible deployment options to accommodate different user needs. Their technology can be deployed on the cloud, which is an instantly accessible method and doesn't require any installation. They also offer an on-premises deployment for users who want sensitive data to remain within their own environment. A hybrid deployment option is also available which uses common APIs, making it possible to switch between cloud and on-premises as needed.
What is the purpose of usage statistics in Speechmatics?
Usage statistics in Speechmatics provide insights into how users interact with the website. Anonymous data about user interactions and website navigation is collected and reported. This data is crucial in understanding areas for improvement and optimizing the user experience.
What is the significance of 'visitor browsing-security' in Speechmatics?
The concept of 'visitor browsing-security' in Speechmatics refers to the measures taken to safeguard users against fraudulent activities like cross-site request forgery. Certain cookies are used to ensure browsing-security by preventing such activities, essentially contributing to the overall security of the website and its visitors.
If you liked Speechmatics
Help
⌘ + D bookmark this site for future reference
⌘ + ↑/↓ go to top/bottom
⌘ + ←/→ sort chronologically/alphabetically
↑↓←→ navigation
Enter open selected entry in new tab
⇧ + Enter open selected entry in new tab
⇧ + ↑/↓ expand/collapse list
/ focus search
Esc remove focus from search
A-Z go to letter (when A-Z sorting is enabled)
+ submit an entry
? toggle help menu
x
Sign in to continue (100% free)
To prevent spam, some actions require being signed in. It's free and takes a few seconds.
Sign in with Google