Edit AI
PDF Pals — ChatPDF on Mac
4.8
PDF document analysis & extraction for professionals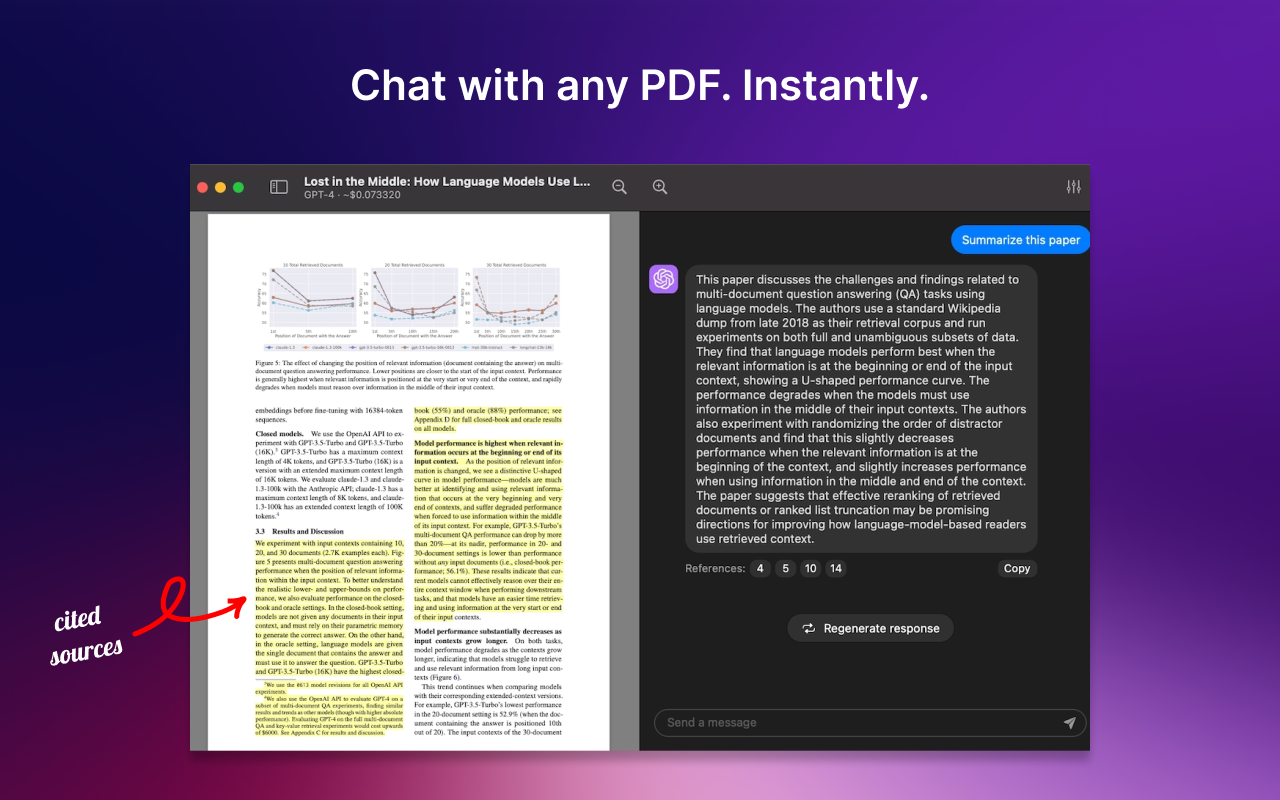 Generated by ChatGPT
What if the long report you've been going over could talk? What if you could just type in some questions and it could give you the answer right away, without having to read (or re-read) it top to bottom? PDF Pals app does exactly that.
View all features at https://pdfpals.com
PDF Pals features
1. Interact with your PDFs
Get insights from your PDFs without uploading the files — the app's OCR engine processes the text and AI analyzes it locally. Get answers quickly and save time!
2. Get answers with citations
Know exactly where the answers are coming from as PDF Pals provides you with not just the answers to your questions but also cites the sources for said answers from your documents.
3. Chat with multiple PDFs
Sometimes you need to research a broader topic and just one PDF is not enough. In PDF Pals, you can chat with multiple PDFs at once and get your answers quicker!
4. Chat with multiple documents.
Your PDFs stay on your Mac, no uploads are required. Additionally, the app automatically redacts the sensitive information it detects in your files. There is no in-app analytics either.
5. Customize your chat
You can customize your experience in PDF Pals — pick response temperature, AI chat model, change response language, use markdown, and more.
Related app: https://boltai.com — #1 ChatGPT for macOS
Featured
PDF Pals — ChatPDF on Mac was manually vetted by our editorial team and was first featured on August 13th 2023.

Would you recommend PDF Pals — ChatPDF on Mac?
Help other people by letting them know if this AI was useful.
24 alternatives to PDF Pals — ChatPDF on Mac for ChatGPT on Mac
macOS assistant for automated tasks.

367

5.0

Automated chatbot integration for boosted productivity.

29

MacOS app for seamless Q&A conversations.

26

Writing assistant for Mac users.

24

5.0

Powerful language model for efficient writing.

22

Fast personalized assistant for Mac users.

21

Conversational models on macOS made accessible.

15

Convenient assistant for enjoyable conversations.

14

Chat interface for natural language generation.

12

macOS workflow optimizer.

12

5.0

Enhanced Mac productivity through automation.

8

7

Chat with intelligent agents via messaging.

7

6

Boost productivity with chat assistant for Mac users.

5

5.0

Improved Mac communication via streamlined chatbot.

5

ChatGPT on your menu bar: Access and interact easily.

4

Interacted with chatbots via a MacOS menu bar app.

3

Personalized assistant for private chat experiences.

3

Boosts productivity, enables instant chat on macOS.

2

Engaged experts in multiple fields via instant chat

2

Enhanced productivity and creativity.

2

Productivity app sorts macOS chat logs.

1

Mac chat assistant for topics & assistance.

1
Pros and Cons
Pros
Native macOS application
No upload or file size limit
Powerful OCR engine
Handles scanned PDFs
Handles complex forms
Documents stay local
No cloud database
Bring your own API key
Supports multiple API providers
Simple pay-once pricing model
No subscription required
Data stored locally
SQLite databases for training data
No middle servers
No in-app analytics
Data backup being easy
Single license can be used on multiple devices
Provides research tools for academics
Caters to legal associates for document review
Aids consultants in document processing
Helps financial analysts with data extraction
Instantly usable after download
Developers actively engage with users
Positive user-feedback
Flexible API options
Multiple use-case catered
UI is user friendly
Data privacy is respected
Financial insight extraction tools
Supports multi-PDFs
Fast and efficient
Local indexing of data
Cons
No Windows or Linux support
Doesn't support languages apart from English
Incompatibility with other document types
One Time Purchase, only one-year updates
No team plan license
No GPT-4 usage
Can't use with ChatGPT Plus subscription
Not suitable for large files
Inability to extract tables
Q&A
What is PDF Pals?
PDF Pals is a native macOS application that enables users to interact with any PDF document on their Mac without concerns about uploading or file size restrictions. It employs a robust OCR engine, which makes it efficient in handling scanned PDFs and complex forms. It is designed to be flexible, facilitating users to bring their own API key or rent one from supported providers like OpenAI, AzureOpenAI Service, and OpenRouter. It's primarily utilized by researchers, legal associates, consultants, and financial analysts for various document analysis and extraction tasks.
What are the key features of PDF Pals?
Key features of PDF Pals include fast and powerful OCR capabilities, compatibility with multiple API providers like OpenAI, AzureOpenAI Service & OpenRouter, local indexing, multi-PDF support, and impressive speed. Another unique feature is its ability to chat with scanned PDFs and complex forms. It respects user privacy by not including in-app analytics and avoids using middle servers. Also, training data is stored locally in SQLite databases, offering easy backup options.
How secure is PDF Pals?
PDF Pals is very secure. It ensures this by not uploading any user documents or requiring a cloud database. Instead, all documents and data stay locally on the user's macOS device. Furthermore, users' API keys are kept securely in the Apple Keychain.
Does PDF Pals support multiple API providers like OpenAI, AzureOpenAI Service, and OpenRouter?
Yes, PDF Pals supports multiple API providers, including OpenAI, AzureOpenAI Service, and OpenRouter. Users have the flexibility to bring their own API key or rent one from these providers.
How does PDF Pals handle scanned PDFs and complex forms?
PDF Pals handles scanned PDFs and complex forms using a powerful Optical Character Recognition (OCR) engine. This allows it to extract and analyze data from scanned or image-based PDF documents effectively.
How do I back up my data in PDF Pals?
In PDF Pals, all your data is stored in a local SQLite database, which makes it easy to back up your data.
How can researchers use PDF Pals?
For researchers and academics, PDF Pals can be utilized to extract critical information from research papers, academic articles, and e-books. This makes it easier for them to enhance their studies and research processes.
In what ways can legal associates benefit from PDF Pals?
Legal associates can significantly benefit from using PDF Pals. They can use it to effortlessly review and analyze legal documents, case files, and contracts, thereby improving productivity and accuracy.
Why is PDF Pals useful for consultants?
PDF Pals is useful for consultants as it helps them process client documents, contracts, and invoices efficiently. It saves time and streamlines workflows, thereby improving overall consultancy processes.
How can financial analysts use PDF Pals?
Financial analysts can use PDF Pals to effortlessly extract and analyze crucial financial information from reports, statements, and data. This enhances data-driven decision-making.
What sets PDF Pals apart from other PDF chatting applications?
PDF Pals stands apart from other PDF chat applications due to its unique features such as local indexing, multi-PDF support, and impressive speed. It also provides users the flexibility to bring their own API keys or rent one from supported providers. Moreover, PDF Pals does not require a subscription. Users only need to pay once to use it forever.
Is there a file size limit when using PDF Pals?
No, there is no file size limit when using PDF Pals. It allows users to chat with any PDF document on their Mac without restrictions on file size.
Is a subscription needed to use PDF Pals?
No, a subscription is not needed to use PDF Pals. The tool follows a simple pricing model where users are asked to pay once and can use the tool forever.
What is the pricing model for PDF Pals?
PDF Pals uses a simple pricing model. Users can pay once and use the tool forever. Pricing options include a Personal plan for $29 (originally priced at $50) suitable for individuals planning to use it on one macOS device, and a Standard plan priced at $49 (originally $100), catering to freelancers and small teams wanting to deploy the tool on up to three macOS devices. Both plans come with all PDF Pals features and one year of updates.
Is PDF Pals available for Windows or Linux?
IDK
How does the license work for PDF Pals?
For PDF Pals, you purchase a license that allows you to use the software indefinitely according to the terms of the plan you choose. This could either be the personal or standard plan, and they permit usage on 1 and 3 macOS devices respectively. These licenses also come with a year of free updates.
Can I use PDF Pals without an OpenAI API key?
IDK
What are the system requirements to use PDF Pals?
PDF Pals requires macOS 13 or above to function seamlessly.
Can I communicate in a language other than English on PDF Pals?
IDK
How does PDF Pals ensure user privacy?
PDF Pals respects user privacy in numerous ways. It does not include in-app analytics, does not utilize middle servers, and all data, including training data, is stored locally on the user's Mac. This way, PDF Pals ensures that user information is protected at all times and privacy is maintained.
If you liked PDF Pals — ChatPDF on Mac
Help
⌘ + D bookmark this site for future reference
⌘ + ↑/↓ go to top/bottom
⌘ + ←/→ sort chronologically/alphabetically
↑↓←→ navigation
Enter open selected entry in new tab
⇧ + Enter open selected entry in new tab
⇧ + ↑/↓ expand/collapse list
/ focus search
Esc remove focus from search
A-Z go to letter (when A-Z sorting is enabled)
+ submit an entry
? toggle help menu
x
Sign in to continue (100% free)
To prevent spam, some actions require being signed in. It's free and takes a few seconds.
Sign in with Google