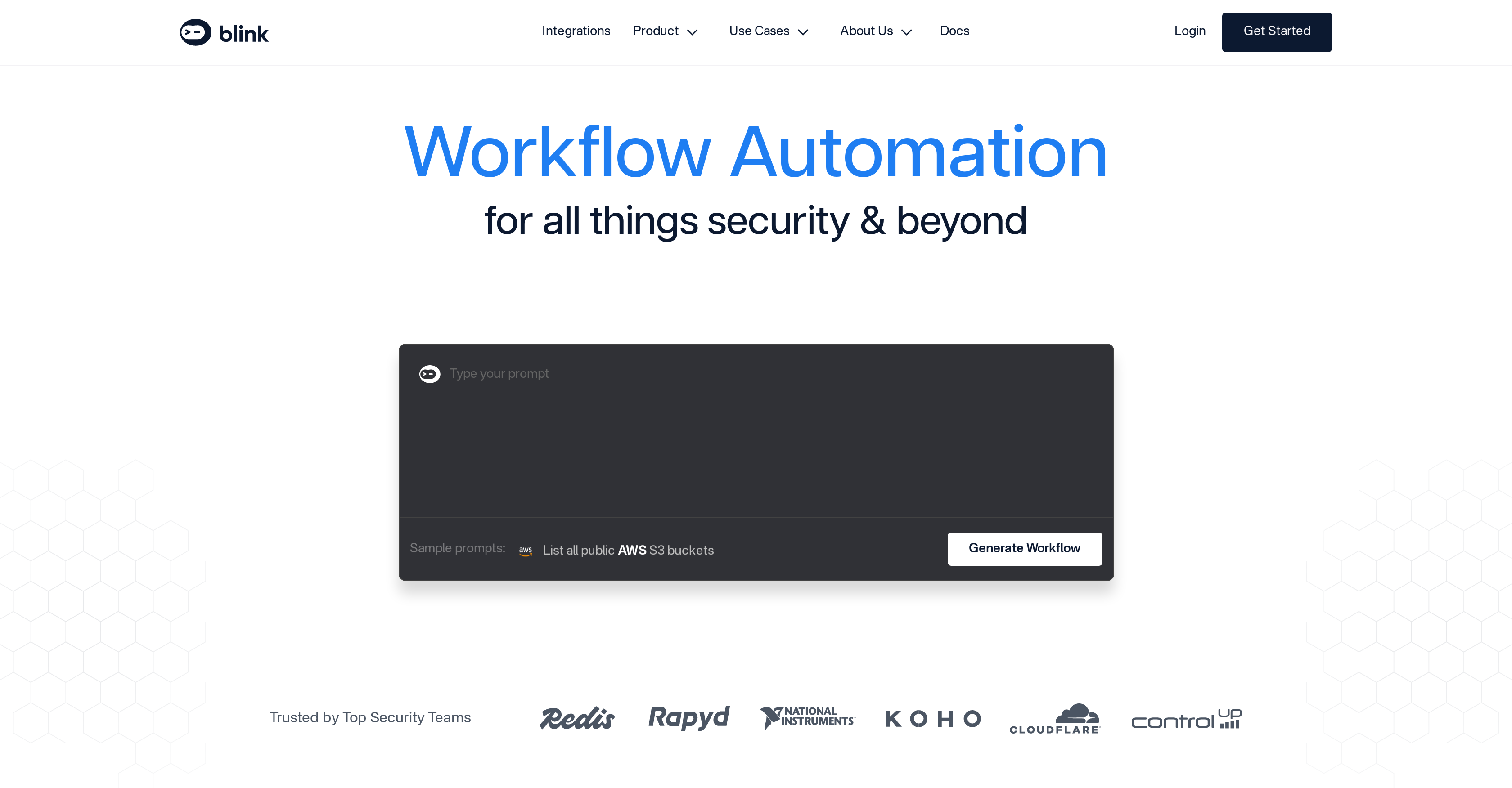 Featured
Blinkops was manually vetted by our editorial team and was first featured on July 1st 2023.

Would you recommend Blinkops?
Help other people by letting them know if this AI was useful.
Automated workflow and API integration chatbot.

56

Automated workflow analysis.

27

Automated platform for optimizing workflow productivity.

25

Automated process management and task automation.

18

5.0

Developed applications via drag-and-drop interface.

16

5.0

Automated workflows for multi-platforms; no coding.

11

Workflow automation for team performance.

11

Automating various tasks across applications.

10

Personalized workflows for enhanced productivity.

7

2.0

Automated workflows for repetitive tasks.

6

Enhanced workflow automation and decision-making.

4

1.0

Task management and workflow optimization.

2

Workflow automation platform for businesses.

2

Automated creative workflow for designers and artists

1

Workflow automation through data capture in industries.

1

Workflow automation with human collaboration.

1
Pros and Cons
Pros
Cybersecurity focused
Workflow automation capabilities
Secure operations
Automation in security tasks
Swift threat detection
Synchronous cybersecurity processes
Rapid response
Scalable security workflows
Consistent security testing
Effective vulnerability management
Efficient patching process
Time-saving
Reduces workload
Decreases operational cost
Efficient anomaly detection
Integrated security alerts
Prioritizes security tasks
Optimal resource utilization
Flexibility in execution
Privacy preservation
Eradicates manual errors
Maintenance-free operation
Reduced operational risks
Accessible insights
Enhanced productivity
Automates routine procedures
Cost-effective solution
Minimizes security breaches
Customization capabilities
Data driven decisions
Secure intrusion detection
Process optimization
Data integrity
Improved compliance
Smoother audit trails
Continuous security improvement
User-friendly interface
Troubleshoots potential issues
Professional incident response
Real-time monitoring
Data-protection mechanism
Collaborative security procedures
Secure APIs
Standardized security operation
Controls user access
Mitigates potential threats
Performance analytics
In-built security protocols
Cons
Limited platform integration
Missing real-time updates
Lacks customization options
Requires manual setup
No offline access
Inefficient data management
Non-intuitive interface
No mobile application
Limited workflow templates
Lacks comprehensive user guides
Q&A
What is Blinkops?
Blinkops is a specialized AI platform focused on workflow automation and cybersecurity.
What are the key features of Blinkops?
The key features of Blinkops include robust workflow automation, advanced cybersecurity, integration capabilities with other tools, and scalability.
How does Blinkops enhance cybersecurity?
Blinkops enhances cybersecurity by utilizing advanced AI algorithms to identify and mitigate potential security threats. It offers protective measures across digital platforms.
How does Blinkops automate workflows?
Blinkops automates workflows by intelligently organizing tasks, assigning them to the appropriate resources, and managing any dependencies or shift changes to ensure optimum workflow efficiency.
Who is the target audience for Blinkops?
The target audience for Blinkops is businesses and organizations seeking to streamline their workflows and enhance security, primarily in industries that handle sensitive data.
What security measures does Blinkops adopt?
Blinkops adopts a series of security measures such as advanced threat detection, protective firewalls, data encryption, and regular security audits to ensure the highest level of protection.
Can Blinkops integrate with other tools?
Yes, Blinkops can integrate with a wide range of tools to broaden its functionality and provide holistic solutions.
Which industries can benefit the most from Blinkops?
Industries that can benefit the most from Blinkops include those dealing with large amounts of sensitive data such as healthcare, finance, and technology firms.
How can Blinkops aid a team's productivity?
Blinkops aids a team's productivity by automating repetitive tasks, managing workflow, and freeing up staff to perform more critical problem-solving tasks.
Does Blinkops support real-time monitoring?
Yes, Blinkops supports real-time monitoring, providing live updates on workflow progress, security issues, and system performance.
Is Blinkops capable of handling big data?
Blinkops is fully equipped to handle big data, leveraging its capacity to analyze, interpret, and provide valuable insights effectively.
Can Blinkops detect security threats?
Yes, Blinkops can detect security threats. Its advanced AI algorithms vigilantly monitor the system for potential breaches and address them promptly.
How user-friendly is the Blinkops interface?
The Blinkops interface is designed to be user-friendly, offering intuitive navigation and an easy-to-understand dashboard.
What kind of support is available for Blinkops users?
Support for Blinkops users includes 24/7 customer service, comprehensive documentation, and a community forum for shared learning and troubleshooting.
Does Blinkops offer software version updates?
Yes, Blinkops regularly offers software version updates to ensure their platform remains state-of-the-art and addresses evolving technological needs.
Can Blinkops be customized to fit a specific business?
Blinkops can be customized to fit a specific business's needs, offering bespoke workflow designs and security measures depending on the individual business requirements.
How scalable is Blinkops?
Blinkops is highly scalable, facilitating seamless growth for businesses without compromising efficiency or security.
What's the cost of implementing Blinkops?
IDK
Does Blinkops offer data analytics or reporting capabilities?
Blinkops does offer data analytics and reporting capabilities, providing insights into workflow efficiency and security metrics.
How is data privacy preserved in Blinkops?
Data privacy in Blinkops is preserved by stringent security measures that include encryption of data at rest and in transit, along with strict access controls.
If you liked Blinkops
Help
⌘ + D bookmark this site for future reference
⌘ + ↑/↓ go to top/bottom
⌘ + ←/→ sort chronologically/alphabetically
↑↓←→ navigation
Enter open selected entry in new tab
⇧ + Enter open selected entry in new tab
⇧ + ↑/↓ expand/collapse list
/ focus search
Esc remove focus from search
A-Z go to letter (when A-Z sorting is enabled)
+ submit an entry
? toggle help menu
x
Sign in to continue (100% free)
To prevent spam, some actions require being signed in. It's free and takes a few seconds.
Sign in with Google