Edit AI
Stay productive in meetings.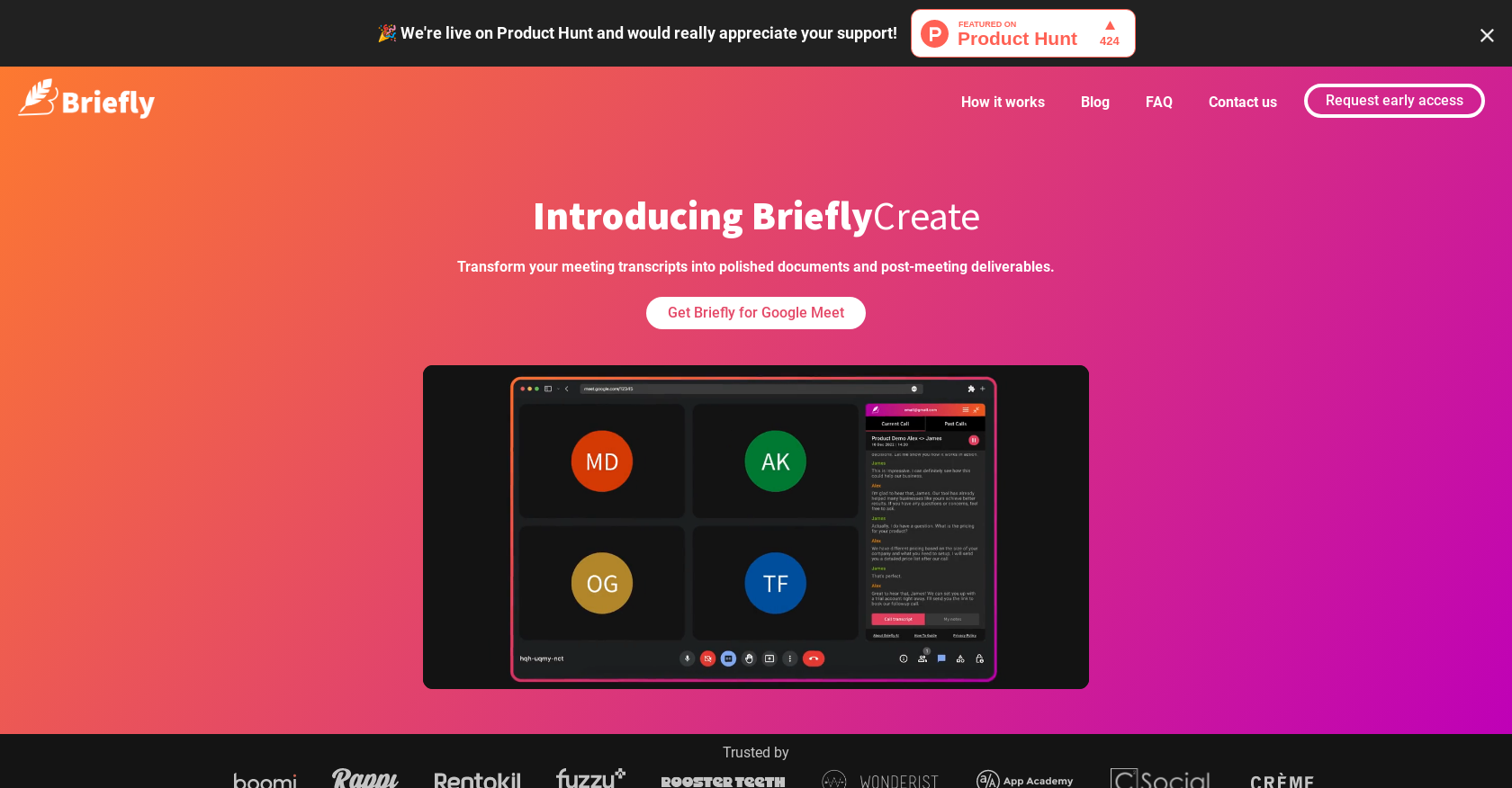 Generated by ChatGPT
BrieflyAI is an AI tool that employs natural language processing to capture meeting notes, transcriptions, and generate meeting summaries, action items and follow-up emails.
With BrieflyAI, users can focus on active participation during meetings while the tool takes care of note-taking and the generation of important action items to be completed.
BrieflyAI leverages GPT to automatically summarize meeting transcripts and extract key insights, thus providing objective summaries and personalized takeaways to users.
Additionally, it automatically drafts personalized follow-up emails, leading to improved productivity and stronger teamwork. BrieflyAI supports over 12 languages and can capture transcriptions in the language spoken in the call.
Users can access all their call summaries, transcripts, and notes in one place, making it easier to find specific discussions later on. Furthermore, BrieflyAI provides the option to transform meeting transcripts into polished documents and improve post-meeting deliverables through Briefly Create.
The tool is available as a Chrome extension and is compatible with popular video conferencing tools such as Google Meet, Zoom, and Teams. Overall, BrieflyAI is an efficient, time-saving AI tool that can help teams stay organized and productive during meetings.
Featured
Briefly AI was manually vetted by our editorial team and was first featured on June 1st 2023.

Would you recommend Briefly AI?
Help other people by letting them know if this AI was useful.
Pros and Cons
Pros
Supports 12 languages
Generates meeting summaries
Automatic transcription service
Personalized follow-up emails
Dedicated Chrome extension
Compatible with popular video conferencing tools
Turns transcripts into polished documents
Objectively extracts key insights
Action items generation
Single location for transcripts and summaries
Drafts personalized emails
Enhanced productivity
Stronger teamwork
Email summaries directly to inbox
Integration with Briefly Create for improved deliverables
Cons
Limited to Chrome extension
Lacks mobile app support
Cannot handle multiple languages simultaneously
Supports only 12 languages
Incompatibility with non-popular conferencing tools
May not handle technical jargons efficiently
Possibility of incorrect transcription
Depends on external video platforms
Potentially generic email drafting
Requires clean audio for transcription
If you liked Briefly AI
Help
⌘ + D bookmark this site for future reference
⌘ + ↑/↓ go to top/bottom
⌘ + ←/→ sort chronologically/alphabetically
↑↓←→ navigation
Enter open selected entry in new tab
⇧ + Enter open selected entry in new tab
⇧ + ↑/↓ expand/collapse list
/ focus search
Esc remove focus from search
A-Z go to letter (when A-Z sorting is enabled)
+ submit an entry
? toggle help menu
x
Sign in to continue (100% free)
To prevent spam, some actions require being signed in. It's free and takes a few seconds.
Sign in with Google