Edit AI
Record and recall meetings with audio and screen.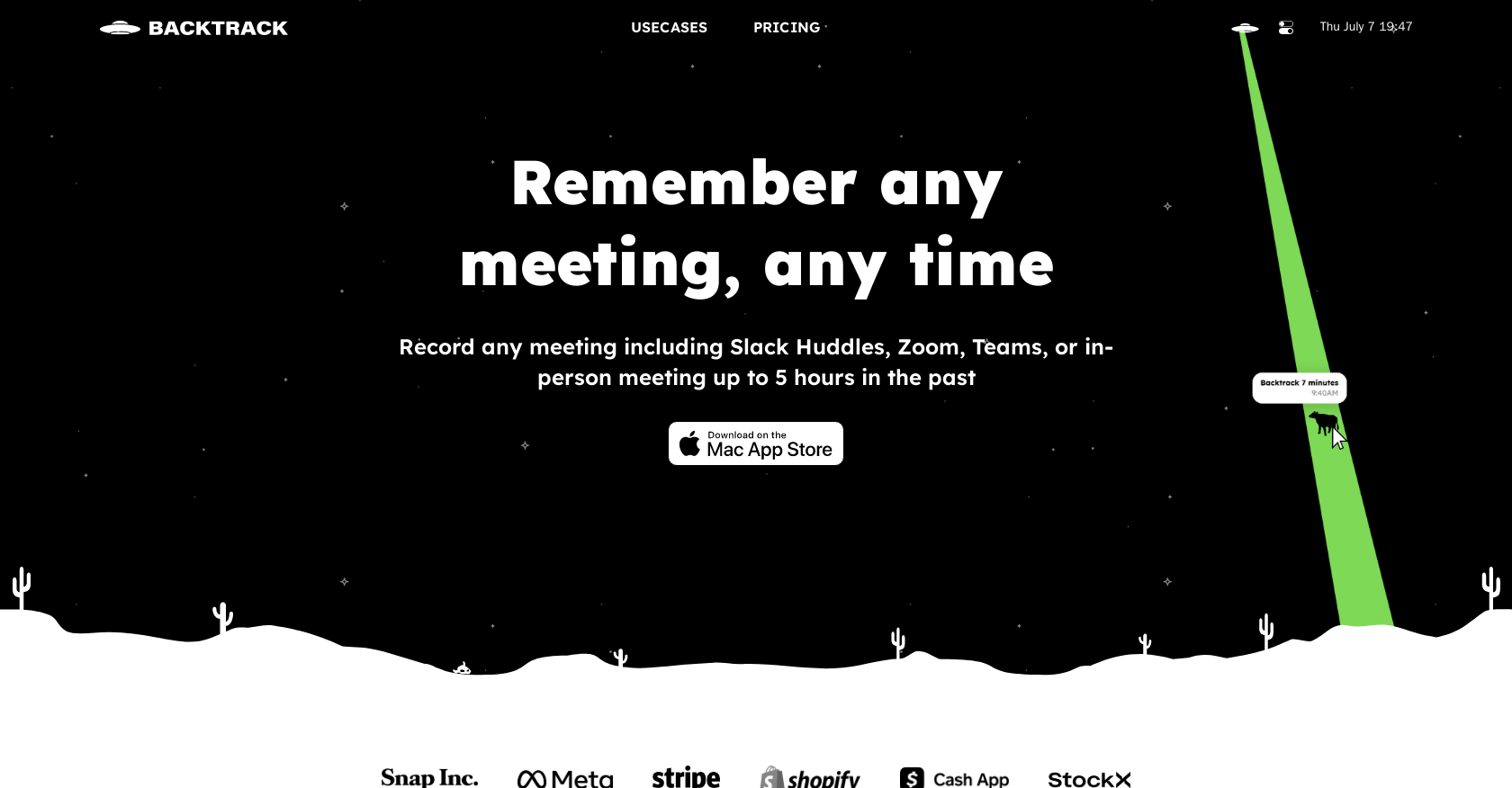 Generated by ChatGPT
Backtrack is a Mac menu bar recorder that allows users to recall and save audio, screen recordings, and conversations from the past. The tool is designed to assist in various use cases, including recording Slack Huddles, client calls, brainstorming sessions, user interviews, sales calls, webinars, conference booths, and bug reporting.With Backtrack, users can locally record up to five hours of past audio, screen, or microphone inputs.
They have the option to preview and customize what they want to save from Zoom calls and in-person conversations before downloading. The tool also offers AI note-taking capabilities, allowing users to upload recordings to the cloud and generate AI transcripts and summaries, eliminating the need for manual note-taking.Backtrack automatically remembers the most recent hour of internal or external audio and screen, enabling users to capture and save up to one hour of in-person or Zoom calls from the past.
The tool ensures privacy by making backtracks completely private until the user creates a shareable link.Users have praised Backtrack for its usefulness in remembering action items, aiding in ADHD or poor working memory situations, and solving problems around synchronous conversations in remote teams.
The tool is described as a lifeline for individuals who attend numerous meetings and need a reliable way to recall and review important discussions.Backtrack offers a waitlist for early access to new features and provides support through its blog, Twitter, and Instagram pages.
Featured
Backtrack was manually vetted by our editorial team and was first featured on September 10th 2023.

Would you recommend Backtrack?
Help other people by letting them know if this AI was useful.
If you liked Backtrack
Help
⌘ + D bookmark this site for future reference
⌘ + ↑/↓ go to top/bottom
⌘ + ←/→ sort chronologically/alphabetically
↑↓←→ navigation
Enter open selected entry in new tab
⇧ + Enter open selected entry in new tab
⇧ + ↑/↓ expand/collapse list
/ focus search
Esc remove focus from search
A-Z go to letter (when A-Z sorting is enabled)
+ submit an entry
? toggle help menu
x
Sign in to continue (100% free)
To prevent spam, some actions require being signed in. It's free and takes a few seconds.
Sign in with Google