Edit AI
Summarize scientific publications for students.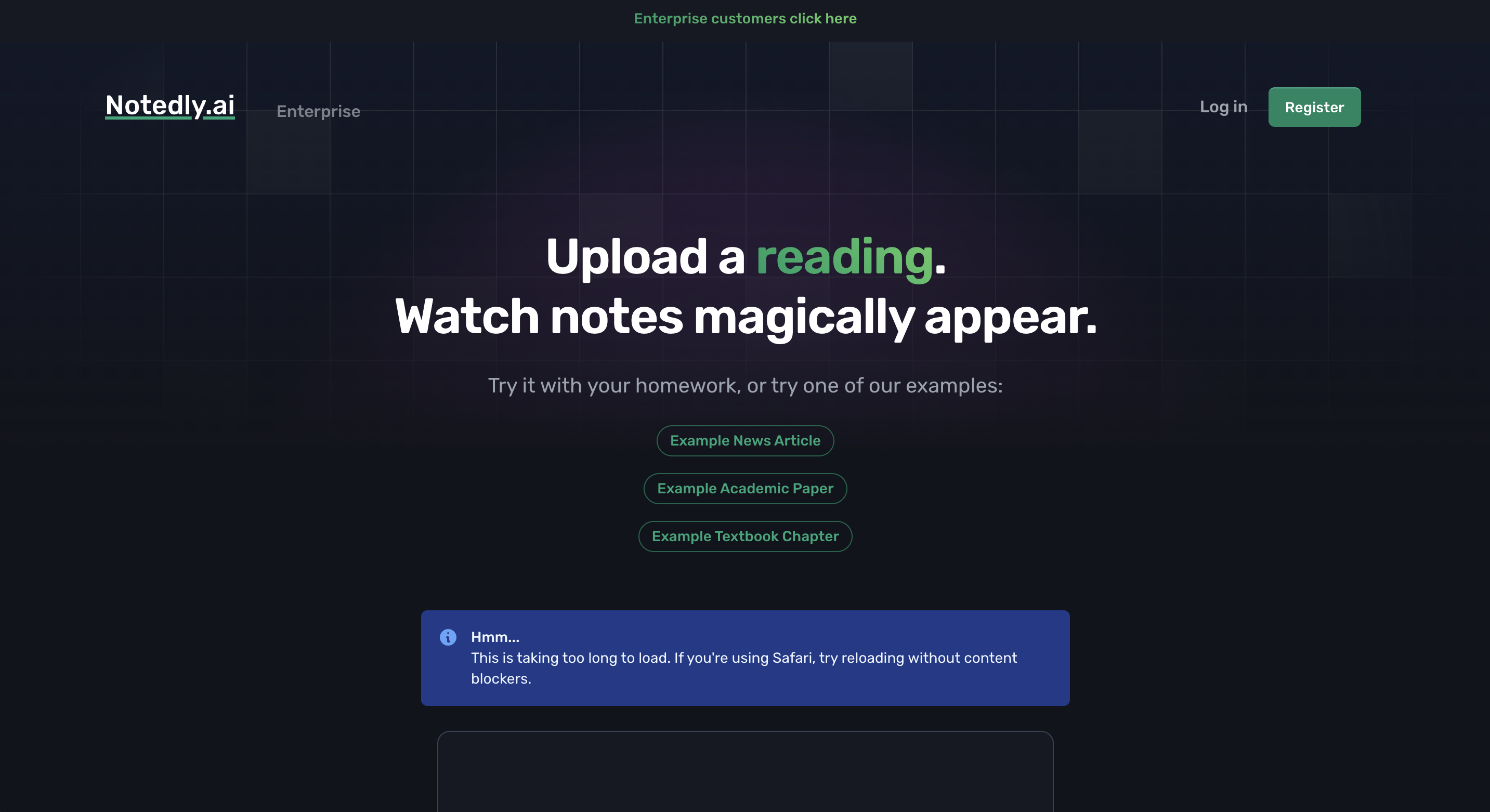 Generated by ChatGPT
Notedly is an AI-powered tool that helps students save time by automatically generating notes from assigned readings. It is designed to help students quickly and efficiently understand complex content, allowing them to spend their nights socializing instead of note taking.
The tool works by uploading a scientific publication, such as a textbook chapter, news article, or research paper, and then allowing Notedly to scan the material and take notes on it for the user.
The notes are generated in seconds and are written in a simple-to-read language that helps students comprehend the material. Notedly also offers an example summary of a news article, academic paper, or textbook chapter, as well as the ability to paste homework to auto generate notes.
With Notedly, users can save hours per week of reading time without sacrificing their grades.
Featured
Notedly was manually vetted by our editorial team and was first featured on January 30th 2023.

Would you recommend Notedly?
Help other people by letting them know if this AI was useful.
19 alternatives to Notedly for Note-taking
Accurate lecture and speech transcription.

43

Automated meeting note generation.

33

Improved note organization for productivity boost.

20

Concise meeting notes with clear data.

16

11

4.0

Improves meeting note-taking.

11

NoteGenie boosts note productivity and precision.

7

Audio to written notes conversion made easy.

4

Efficient note-taking and idea summarization

4

Automated notes from meetings and lectures.

4

Accurate transcriptions and convenient note-taking.

3

Enhanced note-taking and writing productivity.

2

Speech-to-text transcription for notes

2

Voice dictation for productive meetings & conferences.

2

Podwise visualizes podcast episode knowledge.

1
Pros and Cons
Pros
Generates notes automatically
Saves hours of reading
Simplifies complex content
Facilitates faster studying
Scans any reading material
Offers example summaries
Handles academic papers
Summarizes news articles
Operates on textbook chapters
Accepts pasted homework
Lowers stress levels
Supports extensive readings
Delivers rapid results
No account required for first use
Assists in content comprehension
Can use for research papers
Effective for page-long assignments
Quick reflection tool
Facilitates socializing time
Bridges university issues
Reduces time on assignments
Easy login process
Tool for comprehensive understanding
Conducive for news article summarization
Ideal for quick paragraph writing
Helps to tackle multiple assignments
Condensed notes generation
Substitute for manual note-taking
User-friendly interface
Useful for study groups
Facilitates understanding of academic texts
Direct scanning of textbook chapters
Reduction in study pressure
Useful for last-minute studying
Offers trial without account
Multifunctional note taking tool
Streamlines study schedules
Grades improvement
Saves study time
Useful for cramming sessions
Suitable for any paper length
Aids in homework completion
Enable faster assignment submission
Improved academic productivity
Supports active studying
Ideal for busy students
Speeds up document parsing
Useful for scholarly articles
Boosts study efficiency
Helps retain more information
Cons
Lacks offline functionality
No multi-device synchronization
No API for developers
No collaborative functionality
No visual/interactive notes support
Limited languages comprehension
No integration with external tools
Requires internet connection
Potential privacy concerns
Lacks user-customizable settings
Q&A
Who target users of Notedly?
Notedly targets students. It is a tool designed for students who are getting twenty-page papers assigned to them every class, students who need to read a new textbook chapter every few days, and even for students who need to pore over dozens of documents for a research paper.
How does Notedly work?
Notedly works by scanning and taking notes from assigned material that a user uploads. This material can be a textbook chapter, news article, academic paper, or other document. After scanning, Notedly auto-generates a page of notes for the user in seconds.
What kind of documents can be uploaded to Notedly?
Users can upload a wide range of documents onto Notedly, ranging from textbook chapters to news articles to academic research papers.
Does Notedly offer any examples of summaries?
Yes, Notedly does offer examples of summaries. Users can try example summaries from a news article, an academic paper, or a textbook chapter.
Can I paste my homework into Notedly?
Yes, users can paste their homework into Notedly. It will auto-generate notes based on the content provided.
How quickly does Notedly generate notes?
Notedly is able to generate notes instantly. The process takes only seconds once the assigned reading has been uploaded.
What level of understanding can I expect from the notes Notedly produces?
Notedly specializes in explaining complex concepts in simple-to-read language. Users can expect that the notes Notedly produces will help them comprehend assigned reading material quickly and efficiently.
What is the language complexity of the notes produced by Notedly?
The language complexity of the notes produced by Notedly is designed to be simple-to-read. Notedly aims to explain complex academic concepts in a comprehensible manner.
How much time can I save using Notedly every week?
Using Notedly, users can save dozens of hours per week that would usually be spent on reading assignments.
Can anyone start using Notedly without an account?
Yes, anyone can start using Notedly for their first summary without creating an account. They simply need to provide their email, after which they agree to Notedly's terms of service.
Can Notedly help me understand complex academic text?
Yes, Notedly can help users understand complex academic text. By scanning assigned readings and generating notes, Notedly simplifies the content into easy-to-understand language.
Do I need to download or install Notedly?
No download or installation is required to use Notedly. It is accessible via its website.
Does Notedly support only English, or other languages as well?
IDK
Is Notedly free or do I need to subscribe?
IDK
What's the data privacy policy of Notedly?
Notedly enforces a strict data privacy policy. All the information collected by the website is anonymized and cannot be used to identify a user. Strictly necessary cookies are used on the website for services such as allowing summaries without needing to sign up and handling subscription payments.
Can Notedly be used on mobile devices?
IDK
Why was Notedly developed?
Notedly was developed to empower students. It addresses the issue of overwhelming academic load and the stress it produces, striving to make the study process more manageable for students.
How does Notedly affect my study routine?
Notedly positively affects a user's study routine by saving time. Assignments that would usually take hours to read can now be done in minutes, freeing up more time for other activities.
Is there a user guide I can read before using Notedly?
IDK
Does Notedly offer enterprise packages?
Yes, Notedly offers enterprise packages. More detailed information about this can be found on the Enterprise section of their website.
If you liked Notedly
Help
⌘ + D bookmark this site for future reference
⌘ + ↑/↓ go to top/bottom
⌘ + ←/→ sort chronologically/alphabetically
↑↓←→ navigation
Enter open selected entry in new tab
⇧ + Enter open selected entry in new tab
⇧ + ↑/↓ expand/collapse list
/ focus search
Esc remove focus from search
A-Z go to letter (when A-Z sorting is enabled)
+ submit an entry
? toggle help menu
x
Sign in to continue (100% free)
To prevent spam, some actions require being signed in. It's free and takes a few seconds.
Sign in with Google