Edit AI
Resume customization for optimal job applications.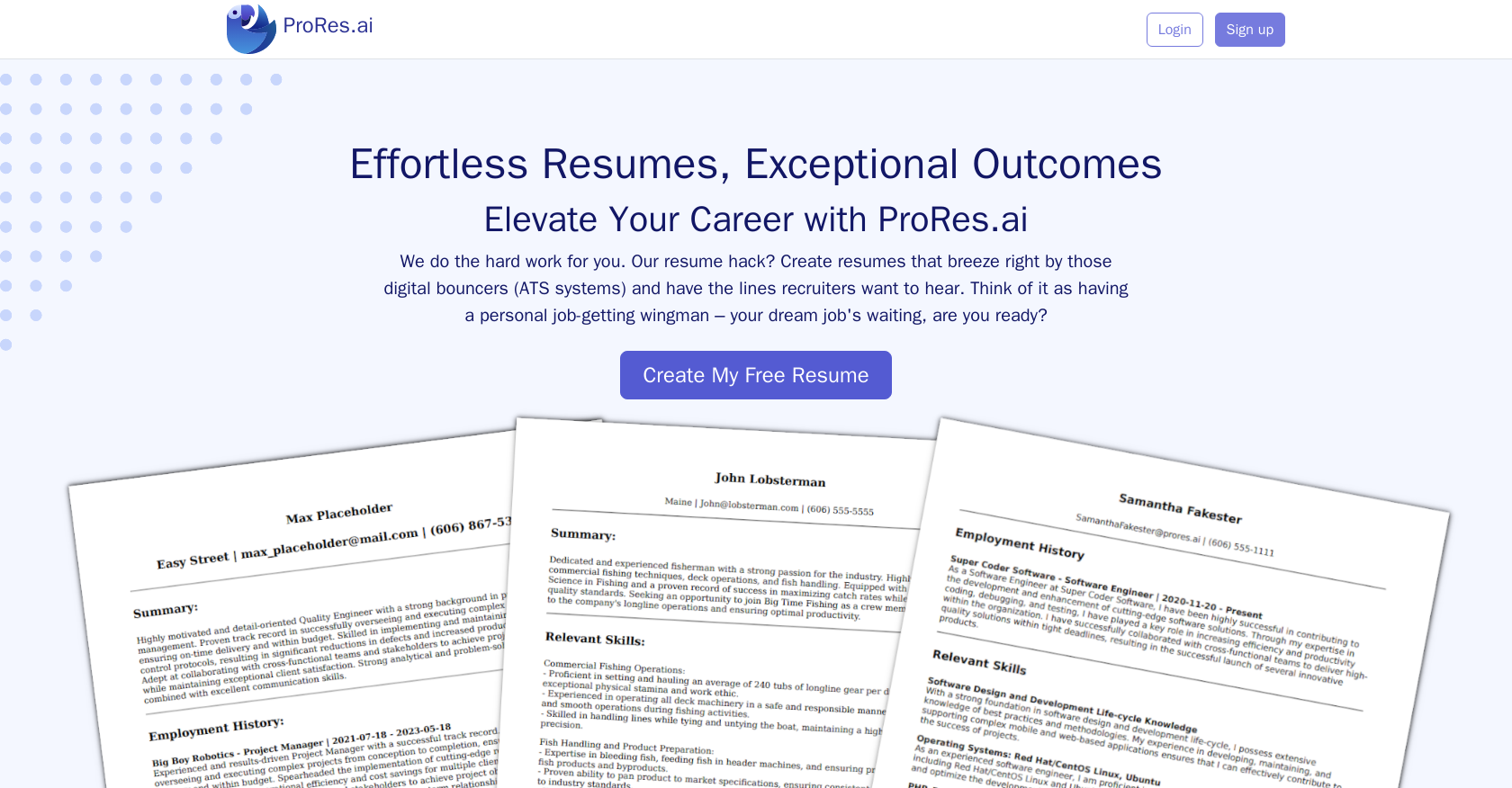 Generated by ChatGPT
ProRes.ai is an AI tool designed to create tailored resumes that match specific job requirements, increasing the chances of landing a dream job. By leveraging advanced AI technology, ProRes.ai aims to bypass ATS systems and capture the attention of recruiters.
Users begin by filling out their profiles, including educational background, work experience, and skills. They then specify the desired role and provide details about the company, job description, and necessary skills.
ProRes.ai's technology takes over and analyzes the profile and job description to craft a perfectly tailored resume. Users have the option to review and make desired tweaks using the built-in editor before downloading the resume as a PDF.According to customer testimonies, ProRes.ai empowers professionals by helping them create standout resumes that showcase their abilities and make a remarkable impression on potential employers.
The tool's automation capabilities save time by personalizing resumes quickly, allowing users to adapt their resumes for different job applications effortlessly.
ProRes.ai's effectiveness lies in its ability to captivate recruiters and navigate ATS systems, ultimately increasing the chances of securing a dream job.ProRes.ai is easy to use, with an intuitive interface that guides users through the resume creation process.
The tool's AI technology analyzes job descriptions and industry trends to highlight relevant skills and recommend impactful action verbs. With ProRes.ai, users can save valuable time in their job search by generating tailored resumes for any target job with just a few clicks.
Overall, ProRes.ai offers an effective and efficient solution for crafting customized resumes that align with career goals and attract potential employers.
Featured
ProRes was manually vetted by our editorial team and was first featured on November 18th 2023.

Would you recommend ProRes?
Help other people by letting them know if this AI was useful.
43 alternatives to ProRes for Resumes
Leading resume builder trusted by 3M users.

85

4.2

Evaluates job seeker profiles and resumes on LinkedIn.

76

3.7

Analysis of resumes for job optimization.

68

3.0

Instantly generate customized resumes for any job.

62

3.0

Resume builder with suggested bullet points.

55

5.0

Job postings analysis and organization for seekers.

49

2.0

Customized resumes for targeted personalization.

49

1.0

Resume builder with multi-templates and suggestions.

44

5.0

Generate resumes instantly with input-based automation.

35

4.5

Personalized resume creation with industry samples.

31

Optimized resumes with ATS features.

30

Improved resume creation.

26

4.5

Create resumes inspired by successful profiles.

25

1.0

Resume optimization for job seekers.

23

1.0

Enhancing resumes to increase interview prospects

21

Resume formatting and creation aid.

13

Tailored resumes and cover letters for job seekers.

10

3.0

Enhanced CV optimization for job applications.

8

Generate polished resumes & cover letters.

4

Resume builder for professional profiles.

3

2

Enhancing careers by optimizing resumes & cover letters.

1
If you liked ProRes
People also searched
Help
⌘ + D bookmark this site for future reference
⌘ + ↑/↓ go to top/bottom
⌘ + ←/→ sort chronologically/alphabetically
↑↓←→ navigation
Enter open selected entry in new tab
⇧ + Enter open selected entry in new tab
⇧ + ↑/↓ expand/collapse list
/ focus search
Esc remove focus from search
A-Z go to letter (when A-Z sorting is enabled)
+ submit an entry
? toggle help menu
x
Sign in to continue (100% free)
To prevent spam, some actions require being signed in. It's free and takes a few seconds.
Sign in with Google