Edit AI
Analyzes and summarizes meetings.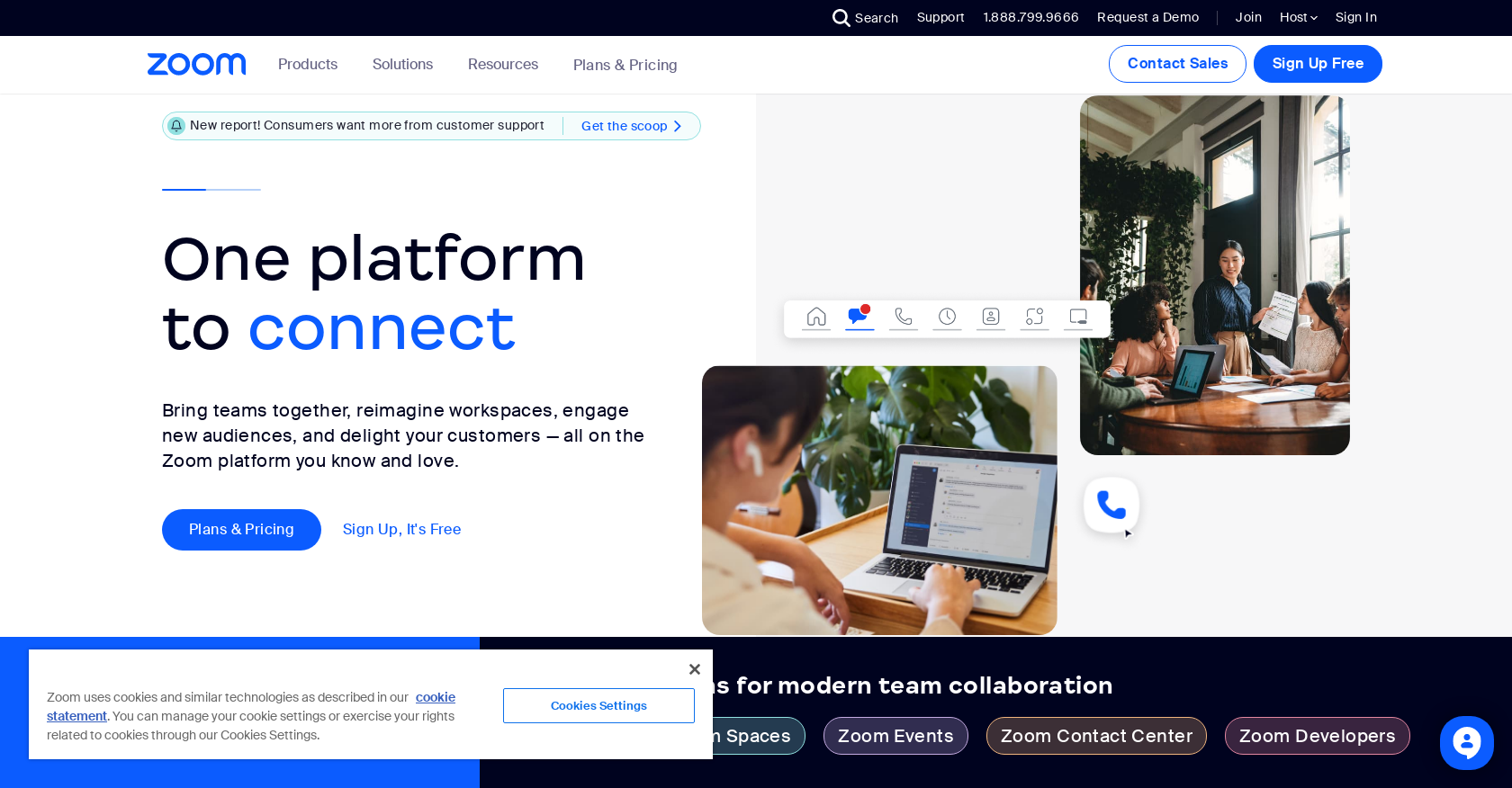 Generated by ChatGPT
Zoom is a collaboration tool that offers a suite of features to modernize workflows for teams. The platform includes video meetings, team chat, VoIP phone, webinars, whiteboard, contact center, and events.
It offers hybrid and virtual events with Zoom Events for impactful virtual experiences. Zoom also offers innovative video solutions for every meeting space with Zoom Rooms, which brings meeting spaces online, and Zoom Spaces, which offers solutions for every space.
The platform also includes Zoom Contact Center, an omnichannel cloud solution optimized for video with tools like cloud contact center and virtual agents to engage customers and deliver intelligent support with conversational AI.
Additionally, Zoom provides services for all design, strategy, implementation, event, and hardware needs for expert support. Zoom has an open platform that allows developers to build Zoom apps and integrations.
The platform also includes resources such as Docs & Guides to build on Zoom's platform using APIs, Webhooks, and SDKs, and Developer Tools to evaluate and build with their solutions.
Zoom has a Partner Program that brings Zoom's communications platform to market through alliance, sales, and service partnerships, and provides access to marketing and sales resources in the Partner Portal.
Featured
Zoom IQ was manually vetted by our editorial team and was first featured on March 29th 2023.

Would you recommend Zoom IQ?
Help other people by letting them know if this AI was useful.
22 alternatives to Zoom IQ for Meetings
19

Automates note-taking and summarization during meetings.

17

Improved meeting productivity and wellness.

7

Collaboration for productive meetings.

5

5.0

Meeting management streamlined, collaboration enhanced.

1
Pros and Cons
Pros
Analyzes and summarizes meetings
Includes video meetings
Features team chat
Capable of VoIP phone
Offers webinars
Embeds whiteboard
Contact center included
Virtual event hosting
Hybrid event hosting
Video solutions for meeting spaces
Cloud contact center optimized for video
Can host Impactful virtual experiences
Provider of expert support services
Allows developers to build Zoom apps
Provide Zoom integrations
Has open platform with Docs & Guides
Includes Developer Tools
Features Partner Program with alliance, sales, and service partnerships
Access to marketing and sales resources
Virtual working spaces
Zoom Contact Center
Zoom Spaces
Zoom Rooms
Flexibility with hybrid and virtual events
Optimized for video service
Rich conversation analytics
Offers resources for building on Zoom's platform
Hardware as service subscription plans
Comes with a Developer Forum
Provides global services
Offers cloud contact center
Have zoom marketplace
Conferencing in connected conference rooms
Contact center solution optimized for video
Provides online webinars
Event hosting with Zoom events
Integrations and apps with open platform
Online team chats
Provides virtual meeting space
Platform solutions for developers
Offers Customer Managed Key
Large apps in Zoom App Marketplace
Cons
Limited transcription accuracy
Lacks offline functionality
Reliance on stable internet
Occasional lags in service
High bandwidth requirement
Limited whiteboard features
Limited customization options
Complicated interface for beginners
Subpar sound quality
Limited customer service response
Q&A
What are some key features of Zoom IQ Meeting analysis?
Zoom IQ provides comprehensive analysis features for meetings that include meeting transcriptions, conversation intelligence, virtual meeting analysis and even the analysis of virtual working spaces. It also offers a cloud contact center and a virtual agent utilizing conversational AI for intelligent support.
How does the AI in Zoom IQ Meeting work?
The AI in Zoom IQ works by analyzing the content of the meetings, transcribing conversations, studying interaction patterns within meetings, and providing actionable insights from those calls and meetings. It employs conversational AI to power the virtual agent in the cloud contact center.
Can Zoom IQ Meeting create summaries of webinars?
The information on their website doesn't specify whether Zoom IQ can create summaries of webinars. However, given the comprehensive analysis and transcription capabilities of Zoom IQ, it could potentially capture and analyze key points from webinars.
How accurate is the transcription feature of Zoom IQ Meeting?
The website doesn't provide specific details on the accuracy of the transcription feature of Zoom IQ. But as a machine learning-based service, we can infer that its accuracy would improve over time and with more usage.
What kind of meeting analysis can Zoom IQ provide?
Zoom IQ can provide sophisticated analysis of meetings, including interaction patterns, conversation intelligence, and transcriptions. It allows users to derive actionable insights from meetings, calls, and other forms of interaction within the Zoom environment.
How does the Zoom IQ Meeting integrate with the overall Zoom platform?
Zoom IQ is integrated within the overall Zoom platform and adds intelligence to the suite of collaboration tools offered by Zoom. It leverages the same data, interfaces and is compatible with other Zoom tools such as the Zoom Meetings, Zoom Spaces, and Zoom Contact Center.
Can Zoom IQ Meeting analyze large scale events?
The website does not provide specific information on whether Zoom IQ can analyze large scale events. But considering the extensive feature set of the platform, it can be inferred that it should be capable of analyzing large meetings.
Are the analysis and transcriptions from Zoom IQ Meeting shareable?
Zoom IQ's transcriptions and conversation analytics, generated from meetings and calls, can feasibly be shared among team members or other stakeholders. However, the website does not explicitly state that these analysis and transcriptions are shareable.
Does Zoom IQ Meeting support different languages in its transcription?
Zoom's website does not provide specific details on whether Zoom IQ supports multiple languages in its transcription feature.
Can Zoom IQ Meeting analyze virtual whiteboard usage during a meeting?
While the website mentions the capability to analyze virtual meetings, it doesn't specifically mention the ability to analyze virtual whiteboard usage during a meeting.
Does Zoom IQ Meeting offer specialized tools for customer support?
Zoom IQ includes a Cloud Contact Center feature and a Virtual Agent feature powered by conversational AI, which could be beneficial in a customer support setting by providing intelligent support to customers.
Can Zoom IQ Meeting be integrated into other softwares with Zoom's open platform?
Zoom's platform is open, offering APIs, Webhooks, and SDKs, indicating that it would be possible to integrate Zoom IQ and its meeting analysis features into other software systems.
Are there any training resources included for new users of Zoom IQ Meeting?
Zoom offers a Learning Centre with expert-led tutorials on Zoom products and features, which would likely include resources for new users of Zoom IQ Meeting.
What kind of support does Zoom offer for technical issues with Zoom IQ Meeting?
For technical support, users can access documentation on the Zoom platform through their Support page. They also have a dedicated Developer Support page for more technical queries and issues related to integrations and custom developments.
Can I use Zoom IQ Meeting for analyzing education sector meetings?
While the website doesn't specify that Zoom IQ can analyze meetings in the education sector, given its broad capabilities it is reasonable to infer that it can be used to analyze any type of meetings, including those in the education sector.
Is there a free trial version for Zoom IQ Meeting?
The website does not mention if there is a free trial version for Zoom IQ Meeting.
How safe and secure is the usage of Zoom IQ Meeting?
Zoom's website puts significant emphasis on security and compliance, with references to a Trust Center and Privacy, Security, and Legal Policies. It suggests that Zoom takes data security and privacy seriously, so usage of Zoom IQ Meeting should comply with high security standards.
How can I access and implement insights gained from Zoom IQ Meeting analysis?
With the actionable insights derived from Zoom IQ's analysis, users can implement changes in their meeting dynamics, communication, conversation handling, and other aspects. However, specific methods of accessing and implementing these insights would depend on the user's individual use case.
Does Zoom IQ Meeting work with the VoIP phone system?
Zoom IQ forms part of the Zoom One platform offering, and the platform does include a VoIP Phone System as one of its features. However, the exact complementary nature or interaction between Zoom IQ and the VoIP Phone System is not explicitly mentioned on the website.
What's included in the Zoom IQ Meeting's virtual agent feature?
The Virtual Agent feature of Zoom IQ is a part of Zoom's Cloud Contact Center. Using conversational AI, it provides intelligent support. The exact specifics of what this includes are not detailed on the website.
If you liked Zoom IQ
Help
⌘ + D bookmark this site for future reference
⌘ + ↑/↓ go to top/bottom
⌘ + ←/→ sort chronologically/alphabetically
↑↓←→ navigation
Enter open selected entry in new tab
⇧ + Enter open selected entry in new tab
⇧ + ↑/↓ expand/collapse list
/ focus search
Esc remove focus from search
A-Z go to letter (when A-Z sorting is enabled)
+ submit an entry
? toggle help menu
x
Sign in to continue (100% free)
To prevent spam, some actions require being signed in. It's free and takes a few seconds.
Sign in with Google