Edit AI
Personalized home interior design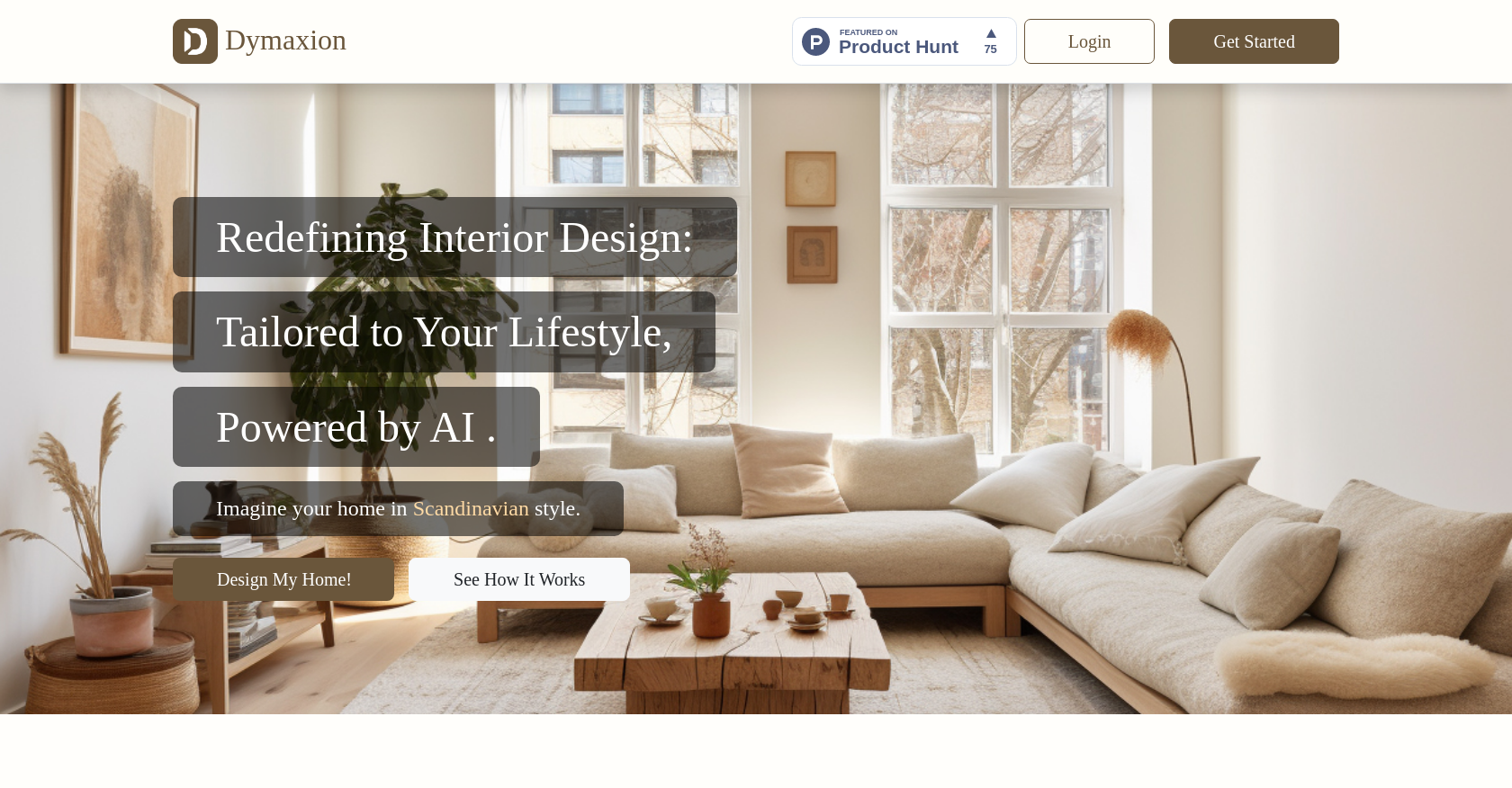 Generated by ChatGPT
Dymaxion is an AI-powered online interior design tool that offers a unique approach tailored to individual lifestyles. Unlike other AI design tools that focus solely on aesthetics, Dymaxion's AI prioritizes understanding and reasoning based on specific needs and requirements, ensuring designs that are both visually appealing and functional.To get started, users need to provide general constraints such as the type of space and specific requirements.
The more detailed the information provided, the better-tailored the design strategy will be. Dymaxion offers three curated design strategies, such as "study-focused" or "comfort-focused," but users can further customize colors, furniture, and other aspects through the chat feature.Dymaxion provides a comprehensive design insight, including renderings, budgets, and rationales for each furniture choice.
The tool also offers effortless shopping links that allow users to transition seamlessly to purchase, with direct platform links to popular retailers.Users can design multiple rooms or an entire home using Dymaxion's platform, ensuring coherence and functionality throughout.
The tool considers the user's budget when suggesting design strategies and furniture options, providing guidance on effective spending.Dymaxion is user-friendly for both design novices and experts.
Users receive personalized recommendations and comprehensive explanations behind each design choice, facilitating both a great design outcome and learning opportunities.Overall, Dymaxion offers a personalized and comprehensive AI-driven interior design experience, combining aesthetics, functionality, and affordability.
Featured
Dymaxion was manually vetted by our editorial team and was first featured on October 5th 2023.

Would you recommend Dymaxion?
Help other people by letting them know if this AI was useful.
60 alternatives to Dymaxion for Interior design
Generated dream rooms for interior design.

193

5.0

Automated personalized home design.

148

5.0

Generate unlimited home design ideas.

129

3.0

An app for virtual interior design and staging.

126

3.0

Interior design that generates personalized concepts.

81

Quick and easy 3D floor plan creation.

79

Generated interior design inspiration and renderings.

66

3.0

Personalized digital mood boards for interior design.

59

Moodboard generator for interior design.

56

5.0

Virtual interior design and staging.

52

5.0

Image generation for artists and designers.

43

Personalized interior design visualizations.

41

Improved interior design inspiration.

39

Personalized interior design recommendations.

39

Interior design visualization based on a photo.

38

2.7

Personalized interior design makeovers suggested.

35

5.0

Room redesign themes with photorealistic renderings.

35

Customizable interior design w/ styles & colors.

33

Creating home designs with a range of styles.

32

4.0

Visualizes custom interior designs realistically.

28

Customized 3D interior design concepts without hassle.

27

Effortless room transformations with smart design.

27

Visualized online interior design.

26

Customized interior design variation platform.

25

2.0

Custom interior design ideas for home & office.

25

5.0

Customized room concepts generated for interior design.

23

Inspiration for interior design projects.

23

1.0

Generated and visualized interior design ideas platform.

22

Virtual interior design for real estate.

21

Efficient personalized interior design recommendations.

19

3.5

Generated interior design visualization.

17

Personalized online visualization of interior design.

16

Image creation for interior design.

15

Enhance and edit photos using smart camera.

14

Managed and visualized interior design projects.

13

Generates multiple room designs for interior decoration.

13

Effortless room redesign visualization made convenient.

13

Stunning interior designs generated

12

Personalized design solutions for homeowners.

11

5.0

Visualized efficient living space.

10

Visualize interior design options.

10

Personalized designs for living spaces.

10

5.0

Suggested interior design styles & inspiration.

9

Customize interior design styles and themes.

9

Interior design visualization and room redesign.

7

Customized interior design concepts made effortlessly.

6

Visualizing interior design with images.

5

Interior design visualization & inspiration resource.

5

Experiment with interior design styles visually.

5

Individualized interior design suggestions.

4

Transform room designs easily

4

Space transformation simulator for design and staging.

3

5.0

Analyzed interior design styles and room images.

2

Generate personalized interior designs, visualize space.

1

Interior design restyling for personalized spaces.

1

Virtual room design and interior planning.

1
If you liked Dymaxion
Help
⌘ + D bookmark this site for future reference
⌘ + ↑/↓ go to top/bottom
⌘ + ←/→ sort chronologically/alphabetically
↑↓←→ navigation
Enter open selected entry in new tab
⇧ + Enter open selected entry in new tab
⇧ + ↑/↓ expand/collapse list
/ focus search
Esc remove focus from search
A-Z go to letter (when A-Z sorting is enabled)
+ submit an entry
? toggle help menu
x
Sign in to continue (100% free)
To prevent spam, some actions require being signed in. It's free and takes a few seconds.
Sign in with Google