Edit AI
Text processing and workflow optimization.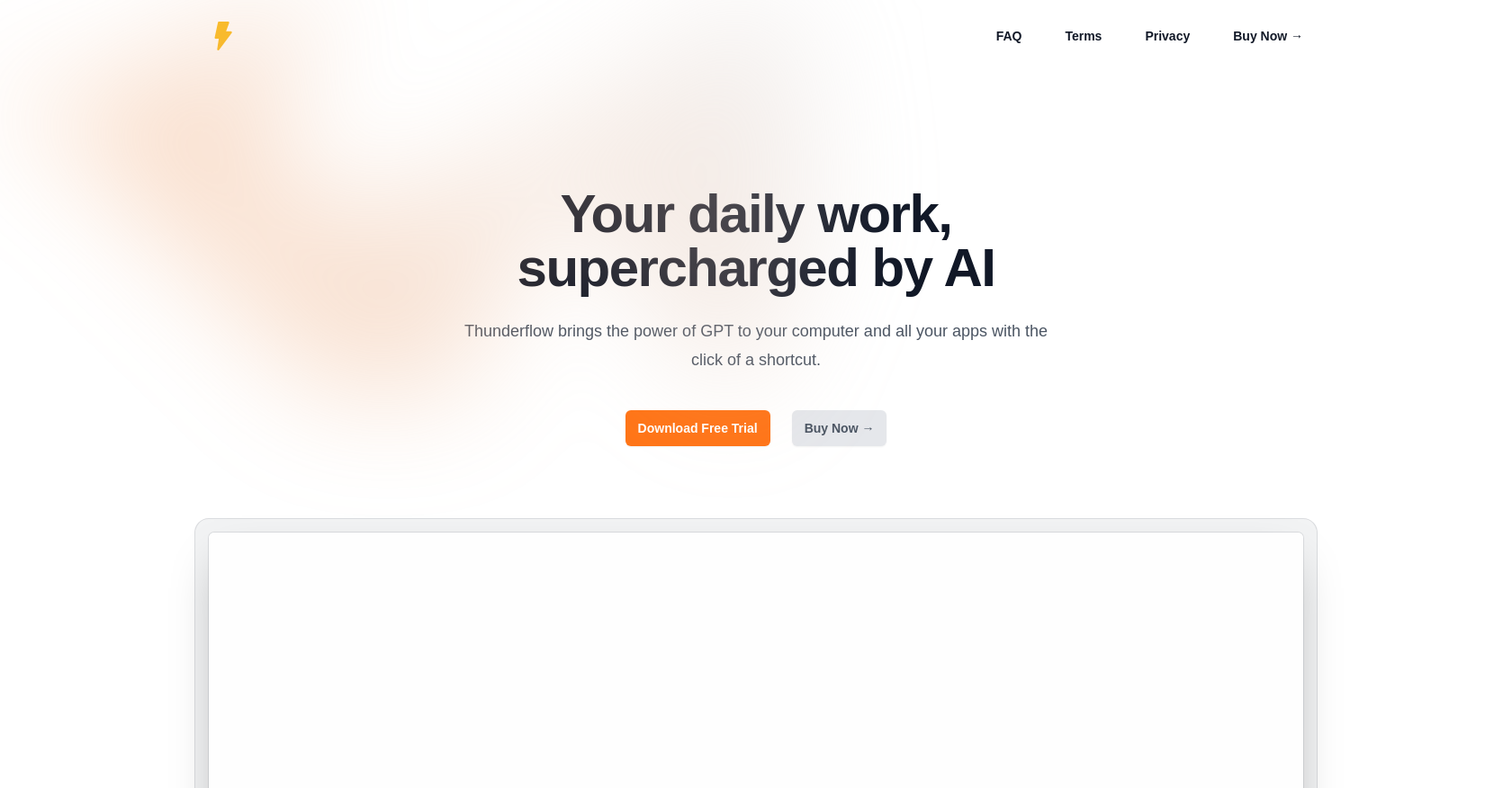 Generated by ChatGPT
Thunderflow is an AI tool that supercharges workflows by bringing the power of GPT (Generative Pre-trained Transformer) to users' computers and applications.
It allows users to manipulate text from any app directly through Thunderflow without the need to switch contexts. The tool offers several features to enhance productivity without disrupting the workflow.
It provides a universal shortcut that activates a quick action panel, enabling users to apply GPT's power to any highlighted or clipboard text across their system.
Users can run predefined or custom actions swiftly on selected text, tailoring Thunderflow to meet their unique needs.Seamless integration is another key aspect of Thunderflow.
It can transform text in real-time, streaming output directly into any text field or editor, blending seamlessly with users' tasks. The tool also allows users to choose from multiple models depending on the complexity or requirements of their predefined actions.
Additionally, Thunderflow provides flexibility in terms of output styles, giving users control over the appearance of the generated text.Currently available on Windows and Mac, with Linux support in the pipeline, Thunderflow addresses the limitations of web-based approaches like ChatGPT.
It aims to capture the magic of ChatGPT and make it accessible throughout users' entire workflow.To address common queries, a FAQ section on the website covers topics such as how Thunderflow works, free trial availability, the need for an OpenAI account or key, data security, supported models, and customization options for predefined actions.
Thunderflow is developed by Light Builds, LLC.
Featured
Thunderflow was manually vetted by our editorial team and was first featured on November 9th 2023.

Would you recommend Thunderflow?
Help other people by letting them know if this AI was useful.
89 alternatives to Thunderflow for Task automation
Efficient and automated business task assistant.

214

5.0

Boost productivity with virtual assistants.

125

Automated productivity and collaboration platform.

102

5.0

AI assistant for efficient work

81

Automated complex browser workflows.

77

Task management and productivity tracking.

75

NLP and analytics enhance task management.

67

5.0

Automation app automates workflows and web app control.

62

5.0

Task automation and productivity enhancement.

55

5.0

Automated platform improves HR/IT productivity.

52

ChatGPT linked with 5k+ apps via no-code platform.

52

Automated task management for calendar & email.

47

Workplace writing assistant for productivity.

43

Optimized workflow and automated code development.

42

Enhances website UX with intelligent integration.

41

Assists in writing emails and messages.

35

Personalized assistance for enhanced productivity.

35

Workflow optimization and process mining for industries.

35

Automated assistant handles tasks and talks naturally.

35

Insights and personalized interactions for businesses.

33

Spreadsheet optimization with assistants for efficiency.

32

Improved productivity in Shortcuts app

31

Automated assistant for daily task automation.

31

Improved engineering productivity and decision-making.

29

Automated productivity assistant.

29

Automate workflow by outsourcing simple tasks.

28

5.0

Automated news delivery & aggregation service

26

5.0

Automated Android task assistant.

26

1.0

Virtual assistant for improving text and productivity.

26

Managed family chaos through SMS copilot.

25

Automated task integration with custom flexibility.

25

Automated fintech compliance process optimization.

24

API platform for diverse tasks.

24

Versatile chatbot for writing, proofreading, and more.

24

Improved 3D workflow w/ easy env. creation & history.

24

5.0

Automates mundane tasks and enhances productivity.

23

Automated team time management platform.

22

Increased efficiency through online task automation.

20

Scheduling & email assist. with reminders.

21

19

Automation of cron jobs using natural language.

19

Automated business processes via language.

18

1.0

Automated task management for organizations.

16

Automated web browsing task automation

17

Automated mobile chat assistant for tasks and help.

17

Automated business processes for increased productivity.

15

Automated daily writing and translation prompts.

13

Streamlined developer task management and collaboration.

13

Automated business task co-pilot.

12

Improved productivity through efficient task execution.

12

Automated sales team productivity boost.

12

Simulating autonomous agents to solve tasks.

12

1.0

Simplified tasks, streamlined workflow.

11

Automated content and tasks for startups.

11

Automated employee performance review writing.

11

Streamlined task management via text messaging.

11

Insurance automation resulting in improved productivity.

11

1.0

Streamlined development and deployment.

10

5.0

Automated content generation workflow.

10

Automated chatbot for writing and task productivity.

9

Automated conversational employee support platform.

8

Automated CRM with contact sync and personalization.

8

Improved teamwork and productivity in projects.

7

Improved writing productivity assistant.

6

Improved legal efficiency for increased productivity.

5

Improved Interactions and Operations

4

Enrich browsing with automated extension.

5

Applications for various industries

4

Media asset and content management platform.

4

Enhanced team collaboration for productivity.

4

Enhanced productivity through seamless task management

3

Automated browser actions for data collection.

3

Personal task assistant and workflow automation.

3

Task management, scheduling, email streamlined.

2

Automated task customization.

2

Optimized document workflows across functions.

2

Improved task efficiency and increased productivity.

1

Productivity and knowledge assistants

1

Automated workflow and task delegation for productivity.

1

Automated customer support with cognitive capabilities.

1
If you liked Thunderflow
People also searched
Help
⌘ + D bookmark this site for future reference
⌘ + ↑/↓ go to top/bottom
⌘ + ←/→ sort chronologically/alphabetically
↑↓←→ navigation
Enter open selected entry in new tab
⇧ + Enter open selected entry in new tab
⇧ + ↑/↓ expand/collapse list
/ focus search
Esc remove focus from search
A-Z go to letter (when A-Z sorting is enabled)
+ submit an entry
? toggle help menu
x
Sign in to continue (100% free)
To prevent spam, some actions require being signed in. It's free and takes a few seconds.
Sign in with Google