Edit AI
Automated task integration with custom flexibility.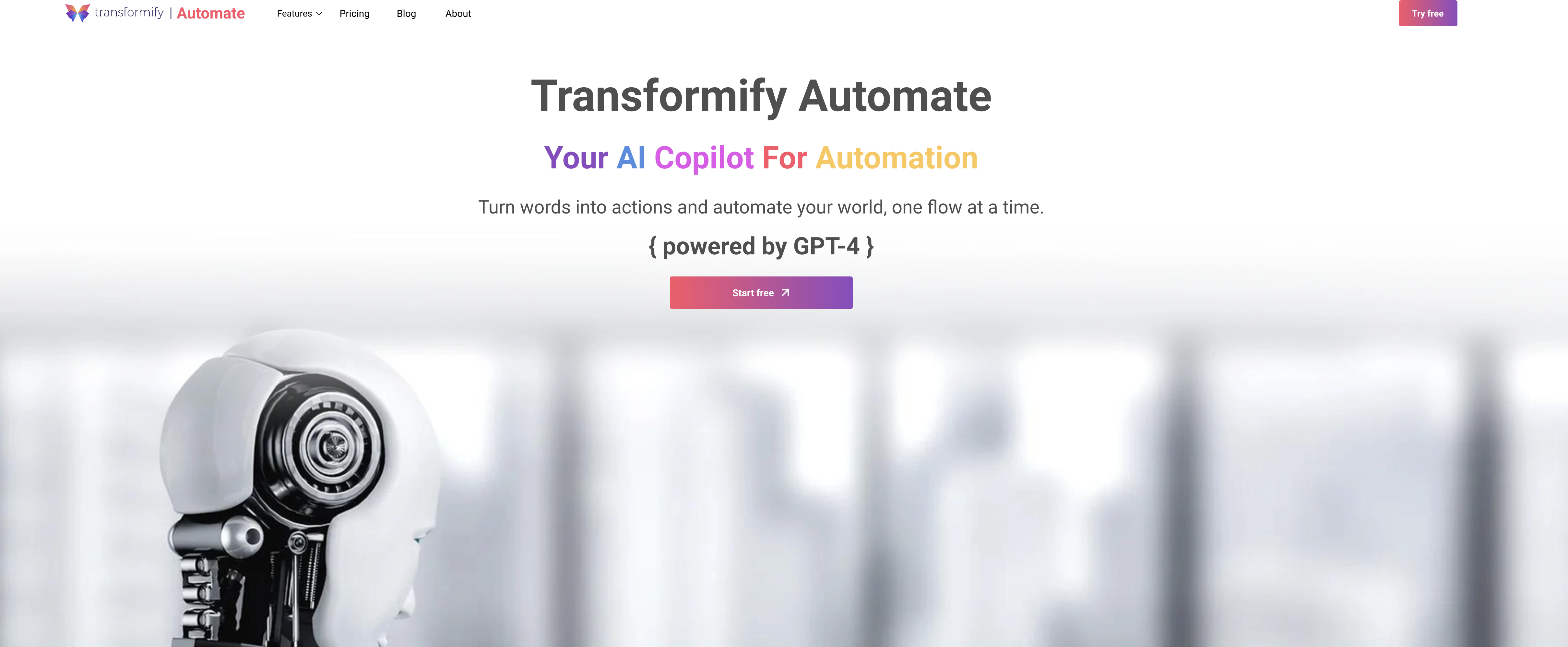 Generated by ChatGPT
Transformify Automate is an AI tool for automating tasks using Natural Language and LLMs. The tool allows users to add a wide range of AI automation and integration scenarios in a conversational way by typing in commands in a chat box, and letting the AI Copilot generate the flow.
It offers various features such as creating customized and powerful flows, democratized automation, and data manipulation with AI. Transformify Automate also provides a library of connector SDKs to integrate with existing apps, including OneDrive, Google Gmail, Infobip SMS, Mailchimp, Discord, SQL Server, PostgreSQL, FTP, and SMTP protocols.With Transformify Automate, users can explore a wide range of free-flow templates to spark inspiration, modify them to suit their needs, and run their flow on event triggers.
The AI Copilot takes care of the user's schedulers, webhooks, and event triggers automatically, or the user can call the unique URL via a third-party app to run the flow, process the JSON data, and send the outcome via an app/protocol connector.Moreover, the tool offers a Trust Center for enterprise tools, providing cutting-edge security for digital certificates and secrets using Azure Key Vault, and digitally sign files with ease.
Transformify Automate can be accessed through a free account, which can be upgraded to a payment plan to access unlimited Automate features, enterprise-grade security, and without any hassles of the number and type of flows, triggers, runs, etc.
Overall, Transformify Automate brings AI technology within reach to everyone, making it an excellent tool for chatbot and workflow automation.
Featured
Transformify Automate was manually vetted by our editorial team and was first featured on April 16th 2023.

Would you recommend Transformify Automate?
Help other people by letting them know if this AI was useful.
58 alternatives to Transformify Automate for Task automation
Pros and Cons
Pros
Customized flow creation
Chatbox command input
Event triggers via URL
Can process JSON data
Wide range of templates
Azure Key Vault security
Digitally signs files
Upgradeable free account
Unlimited features with premium
Library of connector SDKs
OneDrive, Gmail, Infobip integrations
Mailchimp, Discord, SQL server connections
SMTP, FTP protocol connectors
Democratized automation
Data manipulation capabilities
Run flow on event triggers
User-friendly chatbox interface
Cutting-edge security system
Suitable for chatbot automation
Supports many types of triggers
Supports multiple databases
Supports different file formats
Can modify existing templates
Handles webhook automatically
Local or cloud file saving
High integration flexibility
Secure digital certificate handling
Task automation with Natural Language
LLMs for automation
Easy file manager
Supports media files
Intuitive user interface
Trust Center for enterprise tools
Various flow templates
Free-flow template modification
File digital signing
Conversational automation
SecureOps tools inclusion
Transformify drive file storage available
Key Vault for secure storage
Securely authenticates URL calls
Safeguards flows with secrets
Uses PFX certificates
No credit card required for signup
Conversational Automate Chat UX
Automatically sets trigger schedulers
Custom connectors for automation
Cons
No offline usage
Requires constant internet connection
No mobile app
Limited pre-built templates
Complex for non-tech individuals
Dependent on Azure Key Vault
Lacks multi-language support
No API documentation provided
If you liked Transformify Automate
Help
⌘ + D bookmark this site for future reference
⌘ + ↑/↓ go to top/bottom
⌘ + ←/→ sort chronologically/alphabetically
↑↓←→ navigation
Enter open selected entry in new tab
⇧ + Enter open selected entry in new tab
⇧ + ↑/↓ expand/collapse list
/ focus search
Esc remove focus from search
A-Z go to letter (when A-Z sorting is enabled)
+ submit an entry
? toggle help menu
x
Sign in to continue (100% free)
To prevent spam, some actions require being signed in. It's free and takes a few seconds.
Sign in with Google