Edit AI
Improved ChatGPT interactions via prompt generation.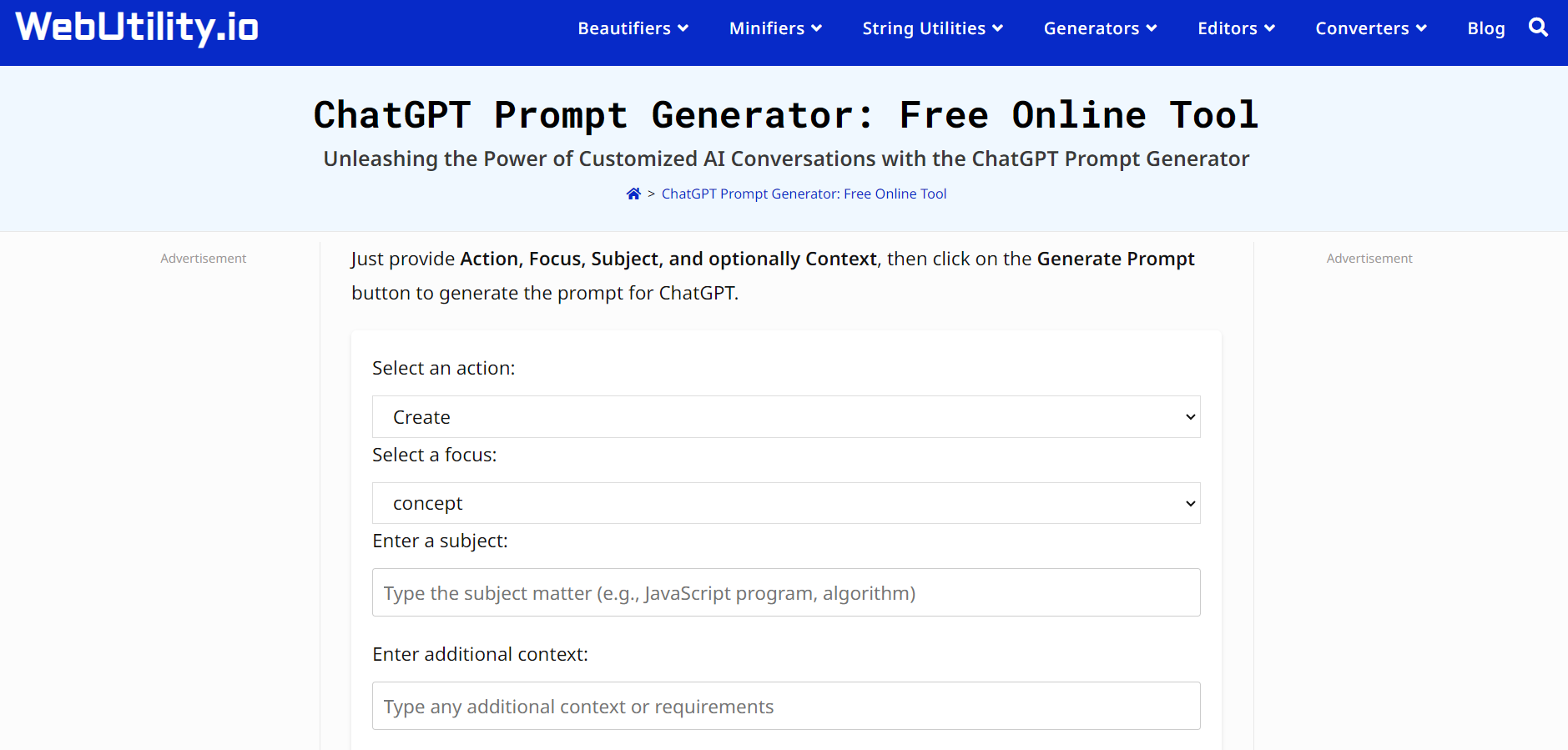 Generated by ChatGPT
The ChatGPT Prompt Generator, developed by WebUtility.io, is a practical tool that assists users in creating personalized prompts for OpenAI's ChatGPT.
Designed with user-friendliness in mind, this tool allows users to generate prompts that cater to their specific needs.By utilizing the ChatGPT Prompt Generator, users can enhance their interactions with ChatGPT by providing prompts that are tailored to their desired outcomes.
This enables them to achieve more accurate and relevant responses from the AI model.The tool is intended for developers, coders, and individuals with an interest in leveraging the capabilities of ChatGPT.
It can be particularly useful for those working on projects involving natural language processing, chatbots, or conversational AI.With its straightforward interface, the ChatGPT Prompt Generator offers a hassle-free experience for users.
By eliminating the need for manual prompt creation, it streamlines the process and allows users to focus on refining their prompts for optimal results.Whether one is engaging in research, development, or experimentation, the ChatGPT Prompt Generator serves as a valuable resource for maximizing the potential of ChatGPT.
By harnessing the power of tailored prompts, users can enhance their interactions and benefit from more effective AI-generated responses.Please note that precise details, such as specific features or functionalities, are not included in this description, as they may vary and evolve over time.
Featured
ChatGPT Prompt Generator was manually vetted by our editorial team and was first featured on October 21st 2023.

Would you recommend ChatGPT Prompt Generator?
Help other people by letting them know if this AI was useful.
64 alternatives to ChatGPT Prompt Generator for Prompts
Generated optimized prompts for ChatGPT responses.

349

5.0

Generate content ideas for marketers & writers.

117

Generated realistic prompts for creative output.

90

1.0

Tailored text prompts for various use cases.

85

5.0

Generate prompts for storytelling or role-playing.

76

5.0

Prompt portfolios for efficient prompt engineering.

73

3.0

Created descriptive text prompts for image conversion.

70

Optimizes language prompts with intuitive interface.

61

4.5

Create prompts for developers and prompt engineers.

51

5.0

Generated art prompts for mid-journey inspiration.

48

5.0

Generates detailed, reproducible art prompts online.

44

Created eCommerce content with prompts.

41

4.0

Improved user prompts for optimized experience.

40

4.0

Optimizing user prompts for advanced output.

39

Tailored task prompts generated.

34

Improved ChatGPT with managed prompts.

33

Generating extended art prompts for creative projects.

32

Friendly chatbot prompts generator.

31

Multi-lingual brainstorming prompts for collaboration.

31

Assisted prompt creation with clear, friendly interface.

27

Boosted productivity via prompt generation for ChatGPT.

26

Generates creative prompts for writing.

23

Text prompt generator with categorized output.

23

Streamlines image prompt creation.

21

Creative prompts for art projects generation.

21

Optimizing prompt generation for language models.

19

5.0

Improved mid-journey advertising prompts.

17

Prompts optimized for model creation.

17

5.0

Web3 chat interaction booster.

17

Generates creative prompts for photography and design.

14

Generated chatbot prompts.

14

Text prompts from images for creative use.

10

Responses to Bumble prompts.

7

6

High-quality prompt assistance.

6

Generating reliable prompts for NLP.

5

Improved writing process output.

5

Assisted prompts for created art

4

Customer support and assistance chat app.

2

5.0

Improved dialogue using expertly curated cues.

3
If you liked ChatGPT Prompt Generator
Help
⌘ + D bookmark this site for future reference
⌘ + ↑/↓ go to top/bottom
⌘ + ←/→ sort chronologically/alphabetically
↑↓←→ navigation
Enter open selected entry in new tab
⇧ + Enter open selected entry in new tab
⇧ + ↑/↓ expand/collapse list
/ focus search
Esc remove focus from search
A-Z go to letter (when A-Z sorting is enabled)
+ submit an entry
? toggle help menu
x
Sign in to continue (100% free)
To prevent spam, some actions require being signed in. It's free and takes a few seconds.
Sign in with Google