Edit AI
Emotionally supportive chatbot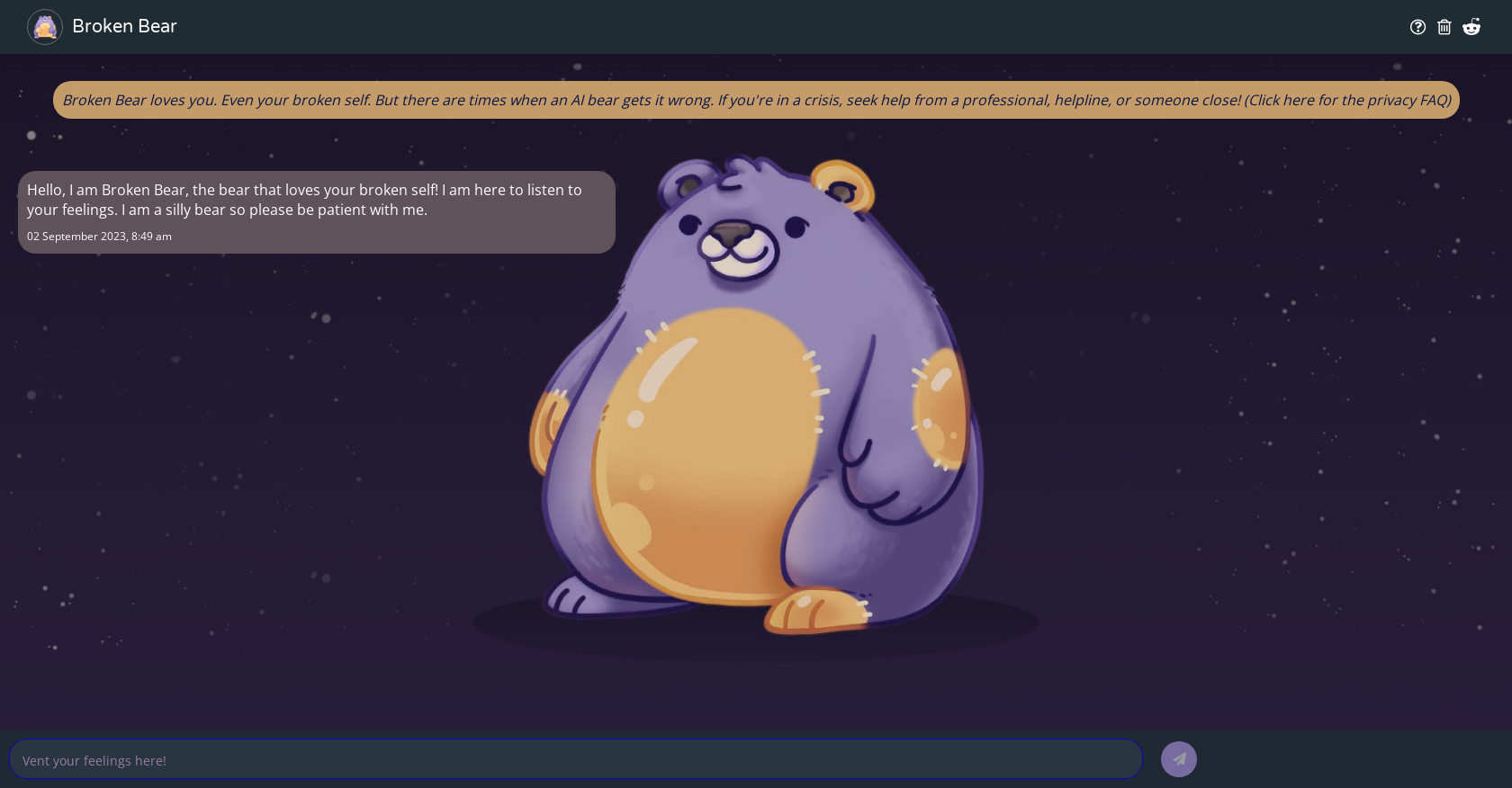 Generated by ChatGPT
Broken Bear is an AI chatbot designed to provide comfort and support to individuals, emphasizing its love and acceptance of their "broken self." It aims to be a listening companion for users to express their feelings.
The AI chatbot acknowledges that it may make mistakes, suggesting that in times of crisis, users should reach out to professionals, helplines, or trusted individuals for appropriate help.
The tool's main focus appears to be on providing emotional support rather than delivering specific functionalities or problem-solving capabilities. The description suggests that Broken Bear takes on the persona of a silly bear, implying a warm and non-judgmental approach to interaction.
However, the text does not provide information on how the tool operates or how it manages user data privacy and security, except for a link to a privacy FAQ.
Users who may consider utilizing Broken Bear are left to explore the linked resource for more detailed information about privacy practices.In summary, Broken Bear offers an AI chatbot experience that prioritizes emotional support and acceptance.
While it presents itself in an endearing manner, it emphasizes the importance of seeking professional help in crisis situations. However, further details about its functionality, integration, or data privacy need to be derived from the linked privacy FAQ.
Featured
Broken Bear was manually vetted by our editorial team and was first featured on September 2nd 2023.

Would you recommend Broken Bear?
Help other people by letting them know if this AI was useful.
258 alternatives to Broken Bear for Chatting
Chatbot for charming chat.

209

3.0

Converse with anime-style chatbots using custom prompts.

127

2.5

Creation and interaction with intelligent chatbots.

89

4.0

Conversational search engine with answers.

74

4.0

Uncensored conversations platform.

75

4.5

Answer engine for complex questions.

74

4.6

Improve interviewing and communication practices.

51

5.0

Emotional support companion

49

5.0

Automated chatbot for email interactions and tasks.

44

Efficient query response assistant.

40

Versatile chatbot for tasks and information retrieval.

37

Efficient Q&A and chat with menubar app.

36

Image gen, doc conversation, internet search assistant.

36

5.0

Q&A chatbot that emails, summarizes, explains, writes.

34

Personalized mental health companion for growth.

34

1.0

Website chatbot creation and management

32

4.0

29

28

Online chatbot with instant responses to queries.

27

4.5

Online language model comparison and fine-tuning.

25

Boosted productivity with personal assistant.

24

Chatbot offers support and reminders.

24

5.0

Customer support conversational assistant.

22

Interactive chatbot simulating personal conversations.

21

Question-answering chatbot.

21

5.0

Improved speech communication.

18

Enhanced chat experience with language processing.

18

Chatbot made for service, personalized tips.

16

Engaging conversational chatbot.

15

Casual conversation chatbot from Scotland.

15

Enhanced communication for WhatsApp users.

15

Secure macOS chat app with personalized conversations.

15

Enhanced writing and conversational aid.

15

Secure work chat and document handling.

14

3.0

Personalized ChatGPT's integration for text data.

13

Hindi chatbot for Bollywood fan engagement.

13

1.0

Practice conversations with digital personas.

13

Interactive streaming with character conversations.

13

5.0

Intelligent chatbot for seamless communication.

12

Humorous Q&A virtual assistant.

12

Emotional voice chatbot for interactive conversations

12

Improved chatbot for personalized experience.

11

App sends messages to anyone.

11

5.0

Chat generation with chatbots.

11

Text-based personal assistant.

10

10

Fast language model adaptation.

10

Android chatbot with voice & natural language interface.

10

Offline language learning with chat interface.

10

4.5

Safe Chatbot Offers Candid Advice

10

User-friendly chatbot provides Q&A assistance.

10

Virtual celebrity interactions & engaging conversations.

9

Mental health coaching and therapy via WhatsApp.

9

9

Real-time conversation & learning companion

9

Virtual assistant for natural language interactions

9

Chatbot shares insightful info on topics via Twitter.

8

Browse using search and Q&A by Open.

8

Custom chat rooms to brainstorm with experts.

8

Social network for creators w/ chat & image generation.

8

Voice assistant for multiple tasks.

8

Chatbot improving messaging and content creation.

7

Q&A and content generator.

7

5.0

Generated text and conversation from automated chatbot.

7

Chatbot generates stories, jokes, and weather data.

7

An app that enhances communication and automation.

6

Chatbot to communicate in Discord.

6

Personalized virtual chat companion.

6

Virtual friends for personalized chat support

6

Personalized virtual conversation companions.

5

Adaptive chatbot for learning and travel planning.

5

Facilitates Q&A or conversations.

4

Customizable, engaging conversational interactions.

4

5.0

Q&A chatbot for natural language processing.

3

Chatbot extension for browser conversations and tasks.

3

Android chatbot quickly answers questions.

2

Privacy-focused chatbot for brainstorming & learning.

2

Stream Deck plugin: Q&A and text processing.

1

Improved user interactions with tech through chatbot.

1

Customizable chatbot with plugins.

1

Customer Support Chat Solved.

1

Creating virtual assistants for personalized tasks.

1

ChatGPT conversation archiver & organizer.

1

Conversational assistant for Q&A and tasks

22

5.0

Chat with realistic chatbots for adults.

1

5.0
Pros and Cons
Pros
Emotionally supportive
Non-judgmental approach
Aims for acceptance
Fun persona
Recommends professional help
Promotes self-love
Active listener
User-friendly interface
Supportive companion
Acknowledges own limitations
Conversationally adaptable
Warm engagement
Customized interaction
Unconditional support
Promotes wellbeing
Empathy-based approach
Encourages open conversation
Accepts user's broken self
Encourage seeking help in crisis
Cons
Lacks specific functionalities
No problem-solving capabilities
Ambiguous data privacy
No details on operation
Depends heavily on persona
User interface not mentioned
No integration details
Unspecified response times
Unclear error handling
Limited crisis support
Q&A
What is Broken Bear?
Broken Bear is an emotionally supportive AI chatbot. It is designed to provide comfort to users, acknowledging and embracing their so-called 'broken self'.
How does Broken Bear work?
Details about the working mechanism of Broken Bear are not explicitly mentioned on their website. From the information available, it appears to use AI technology to engage users in chats focused on emotional wellbeing.
What is the purpose of Broken Bear?
The primary purpose of Broken Bear is to provide a listening companion for users to express their feelings. It offers an empathetic, accepting environment promoting emotional wellbeing.
Who is the target audience of Broken Bear?
The target audience for Broken Bear isn't specified, however it is likely to cater to individuals seeking comfort, emotional support and an avenue to express their feelings.
How can Broken Bear help me express my feelings?
Broken Bear provides a non-judgmental platform where you can express your feelings freely. It emphasizes its love and acceptance of your 'broken' self, thereby facilitating emotional expression.
What can I do if Broken Bear makes a mistake?
In case Broken Bear makes a mistake, it suggests seeking help from a professional, helpline, or a trusted person. This indicates it acknowledges the possibility of errors in its responses, recommending users to seek human assistance in case of dissatisfaction or misunderstanding.
How does Broken Bear maintain user privacy?
No specific information is available regarding how Broken Bear maintains user privacy. Users are directed to a separate privacy FAQ for detailed information.
Where can I find more information on Broken Bear's data privacy policy?
More information on Broken Bear's data privacy policy can be found in their linked privacy FAQ. The explicit URL is not directly provided on their website.
Does Broken Bear provide therapeutic services?
While Broken Bear is a chatbot focused on emotional wellbeing, there is no evidence suggesting it provides formal therapeutic services.
Can I rely on Broken Bear during a crisis?
While Broken Bear does offer emotional support, it recommends seeking help from a professional, helpline or someone close during a crisis. Thus, it may not be the most reliable source in crisis situations.
In what situations should I not rely on Broken Bear?
You should not entirely rely on Broken Bear in situations of crisis or when in need of professional therapeutic assistance. During such times, the chatbot suggests seeking help from a professional, helpline or a trusted individual.
What makes Broken Bear different from other chatbots?
Broken Bear takes on a persona of a 'silly bear' offering a warm, non-judgmental approach. Its focus on accepting the user's 'broken self' distinguishes it from other chatbots. However, specific scenario-based details to differentiate it further aren't provided on their website.
Why is Broken Bear described as a 'silly bear'?
Broken Bear is described as a 'silly bear' to evoke a sense of warmth and non-judgmental acceptance. This friendly persona appears to serve as a comforting and appealing medium for users to express their feelings.
Does Broken Bear have any beneficial features aside from providing emotional support?
The specified feature of Broken Bear on their website is providing emotional support. Any additional beneficial features aren't explicitly outlined.
How regularly can I interact with Broken Bear?
There is no specific schedule for interacting with Broken Bear mentioned. However, given its AI-driven nature, it can likely be accessed as frequently as the user prefers.
Is Broken Bear available for use at any time?
The availability of Broken Bear isn't directly mentioned. Nevertheless, typical AI chatbots are generally accessible 24/7, and Broken Bear likely follows the same pattern.
Is there a specific way I should communicate with Broken Bear?
No specific communication protocol with Broken Bear is outlined on their website. However, as it positions itself as a listening companion, open conversation about feelings is likely encouraged.
Do I need to install any software or apps to use Broken Bear?
There are no explicit details indicating the need to install any particular software or apps to use Broken Bear.
How does Broken Bear deal with user data?
Broken Bear's user data management practice isn't specified on their website. For detailed information about data privacy, users are advised to visit the linked privacy FAQ.
Can I use Broken Bear on multiple devices?
No explicit information is available about using Broken Bear on multiple devices. This aspect is likely covered in the privacy FAQ linked on their website.
If you liked Broken Bear
People also searched
Help
⌘ + D bookmark this site for future reference
⌘ + ↑/↓ go to top/bottom
⌘ + ←/→ sort chronologically/alphabetically
↑↓←→ navigation
Enter open selected entry in new tab
⇧ + Enter open selected entry in new tab
⇧ + ↑/↓ expand/collapse list
/ focus search
Esc remove focus from search
A-Z go to letter (when A-Z sorting is enabled)
+ submit an entry
? toggle help menu
x
Sign in to continue (100% free)
To prevent spam, some actions require being signed in. It's free and takes a few seconds.
Sign in with Google