Edit AI
Assisted writing and consulting across domains.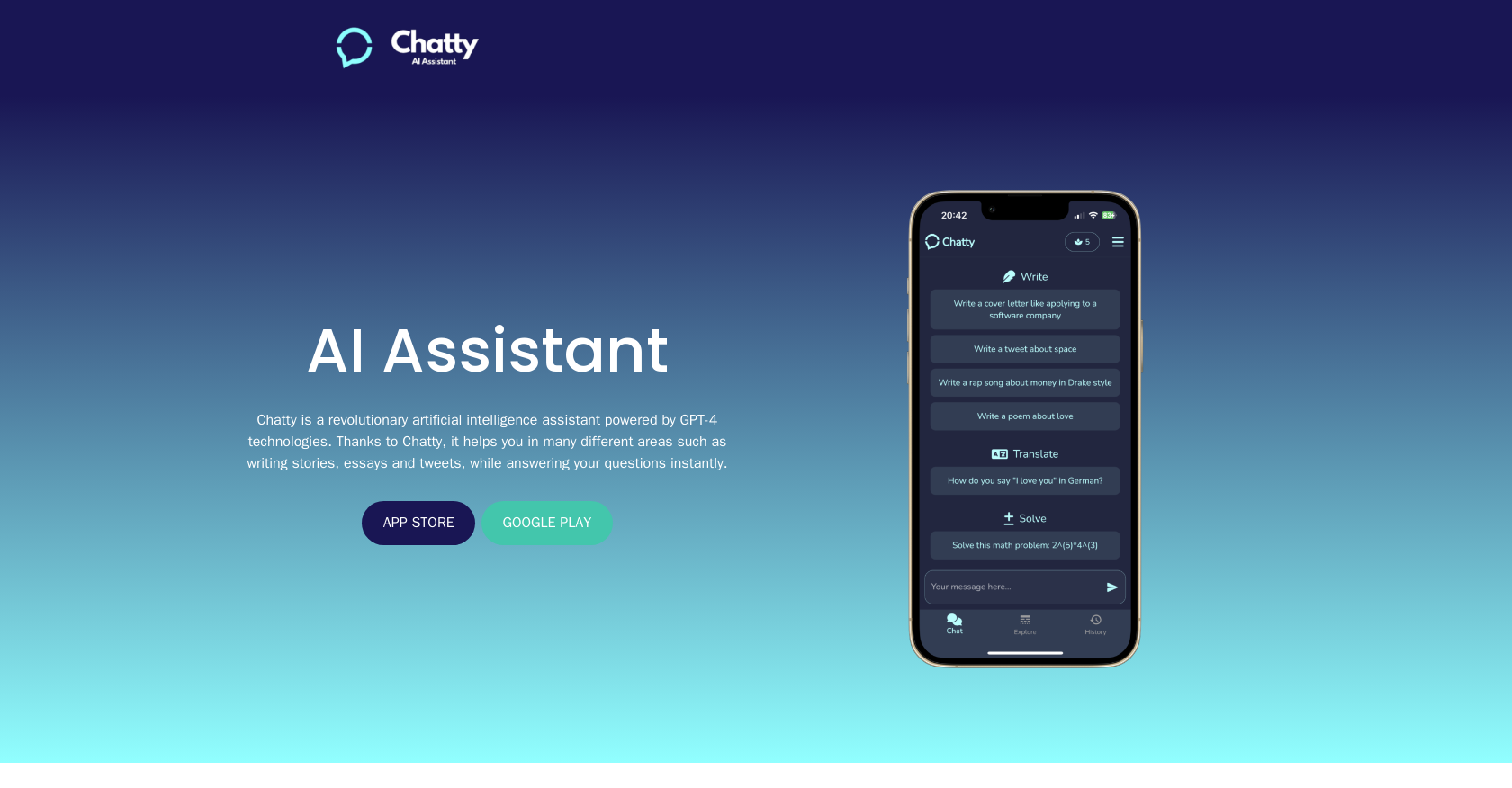 Generated by ChatGPT
Chatty is an AI assistant powered by GPT-4 technologies that helps with writing tasks, as well as providing instant answers to different queries. With advanced content writing abilities, Chatty can generate high-quality written content on a wide range of topics, including blog posts, stories, essays, and reports.
Chatty also acts as an expert in different fields such as nutrition, health, finance, and technology, providing advice on specific topics and help in completing specific tasks.In addition to providing assistance in writing and consulting, Chatty has different features that include generating lyrics of a song for any music genre, acting as a Historian, a Midjourney Prompt Generator, a Chief Executive Officer, a Chef to provide recipes, a Travel Guide, a Cyber Security Specialist, and a Movie Critic among others.Chatty offers different pricing plans, with a basic version that is free and powered by GPT-3.5 Turbo, providing five trials per day, higher word limit, and no ads.
While Chatty Pro, which is powered by GPT-4, offers unlimited questions and answers, no ads, and higher word limit. Chatty Pro is available in weekly, monthly, and yearly pricing plans.Overall, Chatty is a helpful AI assistant that combines advanced content writing abilities with professional consulting in different fields, making it a useful tool for students, professionals, and anyone who needs assistance in writing and consulting.
Featured
Chatty: AI Assistant was manually vetted by our editorial team and was first featured on April 15th 2023.

Would you recommend Chatty: AI Assistant?
Help other people by letting them know if this AI was useful.
204 alternatives to Chatty: AI Assistant for ChatGPT
Automated text gen for content/research.

145

3.3

Advice service via WhatsApp.

77

Convenient Q&A resource for webpages.

73

Website Q&A assistant for natural language.

50

Helps create system diagrams.

48

Enhanced search results with natural language responses.

46

Enhanced chatbot with web search.

42

Nine skilled assistants for various tasks.

40

5.0

Improved comms with analysis & video insights.

35

Productivity enhancement via instant messaging.

33

Human-like conversational system.

32

Personalized content interaction.

30

Faster, research-enhanced chatbot.

30

5.0

Offers writing prompts suggestions.

27

UI for better chatbot chats.

27

5.0

Chatbot that answers questions and triggers actions.

25

5.0

Generate human-like text with pre-trained models.

25

5.0

25

Highlights text with explanations.

24

Customer communication via messaging for businesses.

24

A chatbot that answers questions.

24

Android chatbot: Email, essay, programming, gaming.

23

Management and export of ChatGPT conversations.

23

5.0

Customize ChatGPT for specific purposes.

23

Engages in interactive conversations.

22

Assisted desktop writing, editing, and brainstorming.

21

Text assistant for productivity & creativity automation.

20

Anonymous chat with no registration required.

20

Writing, translation, virtual assistant.

18

Enhanced chatbot communication via searchable history.

17

Conversational interface for open-source project.

16

Automated support for various communication cases.

16

Command-line access to pre-trained language models.

16

5.0

Advanced chat-based tasks w/ voice commands.

16

Chatbot that answers queries.

15

Chat function extension for easy access.

14

Customizable chat personalities for improved experience.

14

Universal chat assistant for content discussion.

14

Personalized recs & task assist. via Q&A.

13

Secure chat w/ tasks & privacy for mainstream clients.

13

iOS conversational agent.

13

Polish info vague on website safety & operator.

12

Improves online browsing with smart chatbot

12

Conversed with a potent language model via interface.

11

Generate text for app integration.

10

Personalized Q&A chatbot.

10

Aid for keeping track of research queries.

9

Structured processing of unstructured data.

9

Text analysis, data cleaning, and content generation.

9

Integrates data, answers questions, connects platforms.

9

Integrated chatbot and search functionalities

9

Enhanced chat interactions with improved assistance.

8

Customizable chat prompts for better communication.

8

Generated web content via ChatGPT on Chrome.

8

Faster Q&A with a browser extension.

8

Boost conversions with custom chatbots, improve UX.

8

Web productivity assistant for quick content creation.

7

Versatile chatbot for writing and conversation support.

7

Versatile assistant for education, travel, conversation

7

Efficient chat platform for dynamic conversations.

7

Chatbot for easy text conversations.

6

FAQ chatbot for text messaging support.

6

Customizable assistant for desktop chat and Q&A.

6

Chat enabled advanced capabilities for interactions.

6

Customized and optimized conversational interface

6

Improved web search assistant for seamless browsing.

6

Cloud customer service w/ natural language processing.

5

Voice-guided writing automation to enhance productivity.

5

Personalized chat with collaborative interactions.

5

Streamlined Customer Support

4

Quickly answer questions with simple chatbot.

3

Integrated chat support for multiple applications

2

Personalized prompts for enhanced productivity in chat.

2

Workflow optimization via conversational interactions.

2

Efficient content creation with generated text.

5.0
Pros and Cons
Pros
High-quality content generation
Advanced writing abilities
Multidomain consulting
Generates song lyrics
Acts as a Historian
Midjourney Prompt Generator
Acts as CEO
Provides recipes
Acts as Travel Guide
Acts as Cyber Security Specialist
Movie Critic role
Free basic version available
GPT-3.5 Turbo for basic version
Five trials per day
No ads in basic
High word limit
Different pricing plans
Powered by GPT-4 (Pro version)
Unlimited Q&A's (Pro version)
No ads (Pro version)
Higher word limit (Pro Version)
Available on App Store
Available on Google Play
Cons
No offline mode
No multi-language support
No personalised assistance
Limited free version
Only text-based interaction
No integration with other platforms
No SDK for developers
Subject accuracy could vary
Not all expertises listed
Q&A
What is Chatty?
Chatty is a cutting-edge AI assistant that leverages the power of GPT-4 technology to assist with a multifaceted range of tasks.
What does Chatty do?
Chatty specializes in assisted writing, consulting across numerous domains, generating high-quality written content, and providing instantaneous answers to myriad queries.
Is Chatty capable of generating high-quality written content?
Yes, Chatty is capable of manufacturing premium quality written content on a sweeping breadth of topics including but not limited to blog posts, stories, essays and reports.
In what domains is Chatty an expert?
Chatty can provide valuable insights and advice as an expert in numerous fields such as health, nutrition, finance and technology.
What features does Chatty offer?
Some of the prominent features that Chatty offers include the generation of song lyrics for a given music genre, performing the role of a Historian, functioning as a mid-journey prompt generator, acting as a CEO, providing recipes as a Chef, working as a Travel Guide, a Cyber Security Specialist and a Movie Critic among other roles.
Can Chatty act as a Historian?
Yes, Chatty has the capacity to act as a Historian.
Can Chatty generate song lyrics for any music genre?
Absolutely, Chatty can generate lyrics for songs across any music genre.
How does Chatty act as a Travel Guide?
As a Travel Guide, Chatty can provide insights, suggestions and guidance related to various travel destinations and tasks.
Is Chatty helpful for professionals?
Yes, Chatty can be of great assistance to professionals. It can help in writing, consulting, offering advice and helping in task completion across various domains.
How does Chatty assist with writing tasks?
For writing tasks, Chatty offers advanced content writing abilities, generating high-quality content on a range of topics, and providing assistance and advice as needed.
What's the difference between Chatty Basic and Chatty Pro?
Chatty Basic is a free version powered by GPT-3.5 Turbo, offering five trials per day, higher word limit, and no ads. On the other hand, Chatty Pro, powered by GPT-4, provides unlimited questions and answers, no ads, and higher word limit.
What are the pricing plans offered by Chatty?
Chatty offers three pricing plans for its Pro version - Weekly at $4.99, Monthly at $12.99 and Yearly at $49.99.
Is Chatty available on both App Store and Google Play?
Yes, Chatty is available on both the App Store and Google Play.
What's the technology behind Chatty?
Chatty harnesses the technology of both GPT-3.5 Turbo and the more advanced GPT-4.
What are the word limit and question limit on Chatty?
Chatty Basic provides five trials per day with a higher word limit, while Chatty Pro offers unlimited questions with a higher word limit too.
Does Chatty have ads?
No, Chatty neither in the Basic version nor in the Pro version, does not have ads.
How can Chatty assist me in cyber security?
By acting as a Cyber Security Specialist, Chatty can assist in tasks related to the field of digital protection.
How does Chatty's role as a CEO work?
In the role of a CEO, Chatty can offer insights, advice, and solutions that are typically expected from a Chief Executive Officer.
How often can I use Chatty in a day?
With the basic version of Chatty, you can use it for up to five trials in a day. However, with Chatty Pro, you have unrestricted access throughout the day.
Can Chatty provide recipes as well?
Yes, when acting in the role of a Chef, Chatty can indeed provide recipes.
If you liked Chatty: AI Assistant
Help
⌘ + D bookmark this site for future reference
⌘ + ↑/↓ go to top/bottom
⌘ + ←/→ sort chronologically/alphabetically
↑↓←→ navigation
Enter open selected entry in new tab
⇧ + Enter open selected entry in new tab
⇧ + ↑/↓ expand/collapse list
/ focus search
Esc remove focus from search
A-Z go to letter (when A-Z sorting is enabled)
+ submit an entry
? toggle help menu
x
Sign in to continue (100% free)
To prevent spam, some actions require being signed in. It's free and takes a few seconds.
Sign in with Google