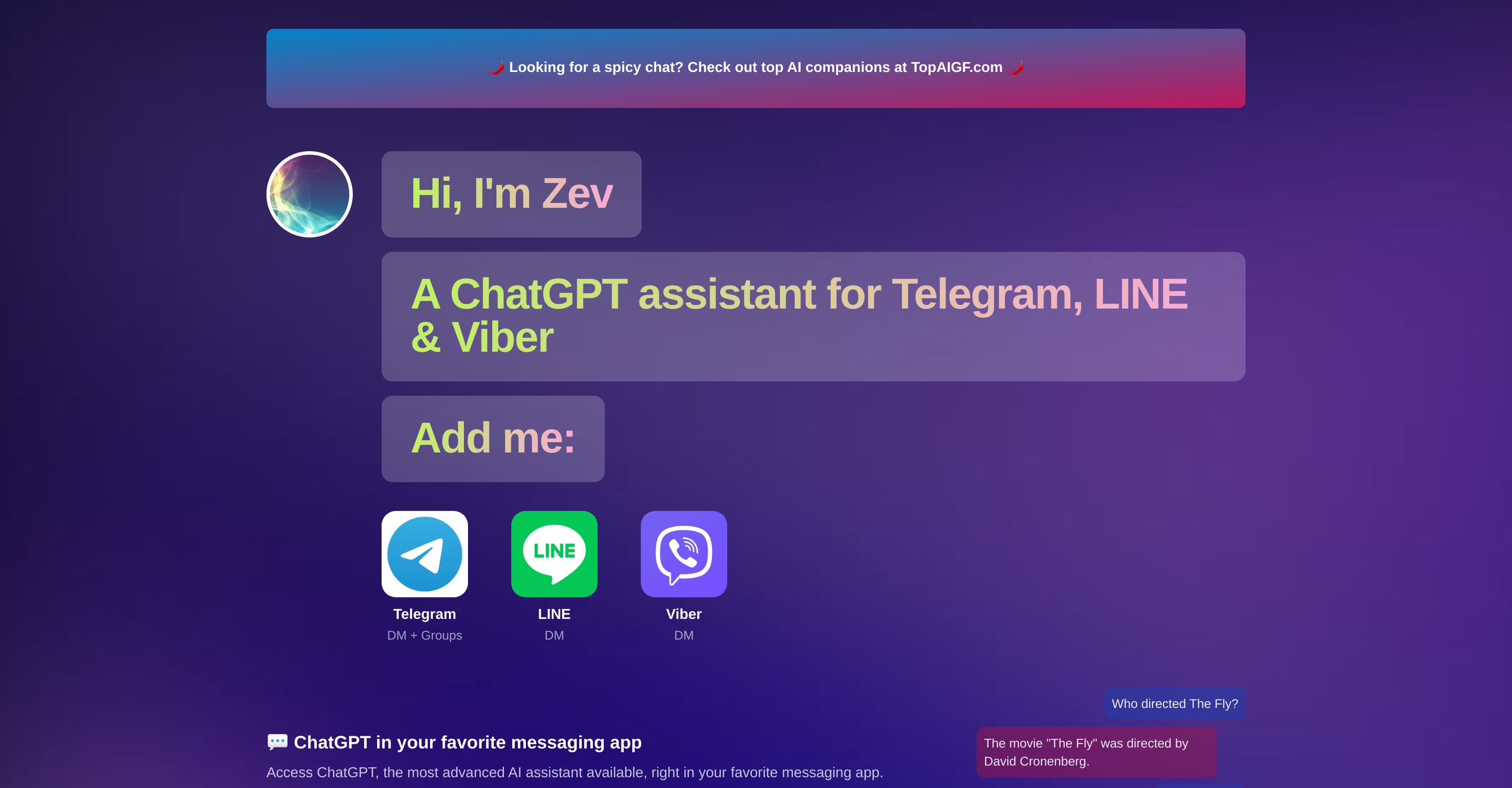 Generated by GPT-3
Zev is an AI-powered assistant that integrates with popular instant messaging applications such as Telegram, LINE, and Viber, providing users with access to ChatGPT, one of the latest and most advanced AI assistants available.
Zev can answer queries, provide personalized recommendations, help with translations, and more. Users can also leverage the tool's persona feature, which allows them to switch between various personalities, such as Chef, Travel Planner, or Social Media Manager, each with its unique style of speech, to engage in more personalized conversations.
Zev also stores conversation history for a few hours, allowing users to pick up from where they left off. The tool supports group conversations on Telegram, where up to 50 members can participate simultaneously.
Zev is available for a free trial, with a monthly subscription fee of $10 after the introductory period. Overall, Zev is a powerful AI chatbot assistant that provides users with a convenient and intuitive way of accessing advanced AI capabilities right from their favorite messaging app.
Featured
?
88 alternatives to Zev for Conversations
02 Mar 2023

05 Mar 2023

06 Mar 2023

06 Mar 2023

07 Mar 2023

07 Mar 2023

08 Mar 2023

11 Mar 2023

11 Mar 2023

11 Mar 2023

11 Mar 2023

13 Mar 2023

14 Mar 2023

15 Mar 2023

02 Feb 2023

03 Feb 2023

04 Feb 2023

06 Feb 2023

07 Feb 2023

08 Feb 2023

10 Feb 2023

11 Feb 2023

13 Feb 2023

20 Feb 2023

20 Feb 2023

20 Feb 2023

20 Feb 2023

23 Feb 2023

25 Feb 2023

26 Feb 2023

02 Jan 2023

02 Jan 2023

03 Jan 2023

05 Jan 2023

06 Jan 2023

07 Jan 2023

09 Jan 2023

09 Jan 2023

13 Jan 2023

23 Jan 2023

23 Jan 2023

24 Jan 2023

24 Jan 2023

27 Jan 2023

27 Jan 2023

29 Jan 2023

29 Jan 2023

30 Jan 2023

05 Dec 2022

06 Dec 2022

07 Dec 2022

08 Dec 2022

09 Dec 2022

12 Dec 2022

12 Dec 2022

13 Dec 2022

14 Dec 2022

14 Dec 2022

16 Dec 2022

17 Dec 2022

17 Dec 2022

18 Dec 2022

19 Dec 2022

20 Dec 2022

22 Dec 2022

22 Dec 2022

22 Dec 2022

23 Dec 2022

24 Dec 2022

28 Dec 2022

29 Dec 2022

30 Dec 2022

05 Nov 2022

26 Nov 2022

26 Nov 2022

30 Nov 2022

22 Oct 2022

24 Sep 2022

26 Sep 2022

28 Sep 2022

12 Aug 2022

14 Jun 2022

02 May 2022

08 Mar 2022

09 Apr 2021

29 Jun 2021

17 Nov 2021

20 Mar 2020