AI Chat Bestie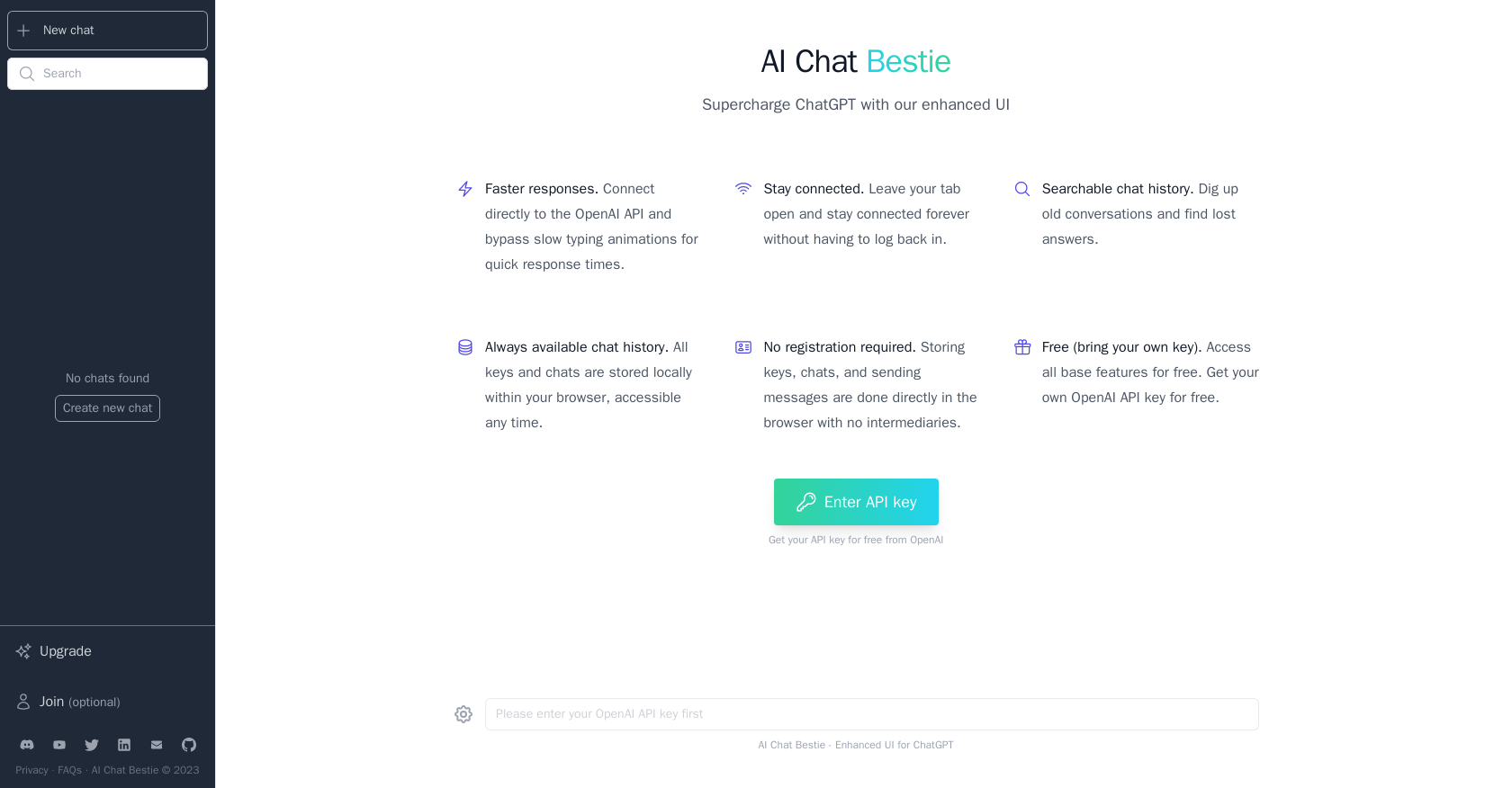 Generated by GPT-3
AI Chat Bestie is an enhanced user interface tool that empowers ChatGPT's functionality by offering faster response times, searchable chat history, and always-available chat histories.
The tool allows the user to connect directly to the OpenAI API, bypassing slow typing animations for quicker responses. Chat histories are stored locally within the browser, making them accessible anytime, and no separate registration is required.
AI Chat Bestie's browser-only storage ensures privacy and data reliability. Users can upgrade by joining AI Chat Bestie's Discord channel, and more information about the tool can be found on their Github and other social media handles.
The tool is free to use, and users can either bring their API keys or get a free one from OpenAI. In summary, AI Chat Bestie is an advanced UI tool that enhances ChatGPT by providing faster response times and different chat functionalities while ensuring privacy and reliability.
Featured
?
89 alternatives to AI Chat Bestie for Conversations
02 Mar 2023

05 Mar 2023

06 Mar 2023

06 Mar 2023

07 Mar 2023

07 Mar 2023

07 Mar 2023

08 Mar 2023

11 Mar 2023

11 Mar 2023

11 Mar 2023

11 Mar 2023

14 Mar 2023

15 Mar 2023

15 Mar 2023

02 Feb 2023

03 Feb 2023

04 Feb 2023

06 Feb 2023

07 Feb 2023

08 Feb 2023

10 Feb 2023

11 Feb 2023

13 Feb 2023

20 Feb 2023

20 Feb 2023

20 Feb 2023

20 Feb 2023

23 Feb 2023

25 Feb 2023

26 Feb 2023

02 Jan 2023

02 Jan 2023

03 Jan 2023

05 Jan 2023

06 Jan 2023

07 Jan 2023

09 Jan 2023

09 Jan 2023

13 Jan 2023

23 Jan 2023

23 Jan 2023

24 Jan 2023

24 Jan 2023

27 Jan 2023

27 Jan 2023

29 Jan 2023

29 Jan 2023

30 Jan 2023

05 Dec 2022

06 Dec 2022

07 Dec 2022

08 Dec 2022

09 Dec 2022

12 Dec 2022

12 Dec 2022

13 Dec 2022

14 Dec 2022

14 Dec 2022

16 Dec 2022

17 Dec 2022

17 Dec 2022

18 Dec 2022

19 Dec 2022

20 Dec 2022

22 Dec 2022

22 Dec 2022

22 Dec 2022

23 Dec 2022

24 Dec 2022

28 Dec 2022

29 Dec 2022

30 Dec 2022

05 Nov 2022

26 Nov 2022

26 Nov 2022

30 Nov 2022

22 Oct 2022

24 Sep 2022

26 Sep 2022

28 Sep 2022

12 Aug 2022

14 Jun 2022

02 May 2022

08 Mar 2022

09 Apr 2021

29 Jun 2021

17 Nov 2021

20 Mar 2020