Edit AI
Generate mind maps efficiently with various templates.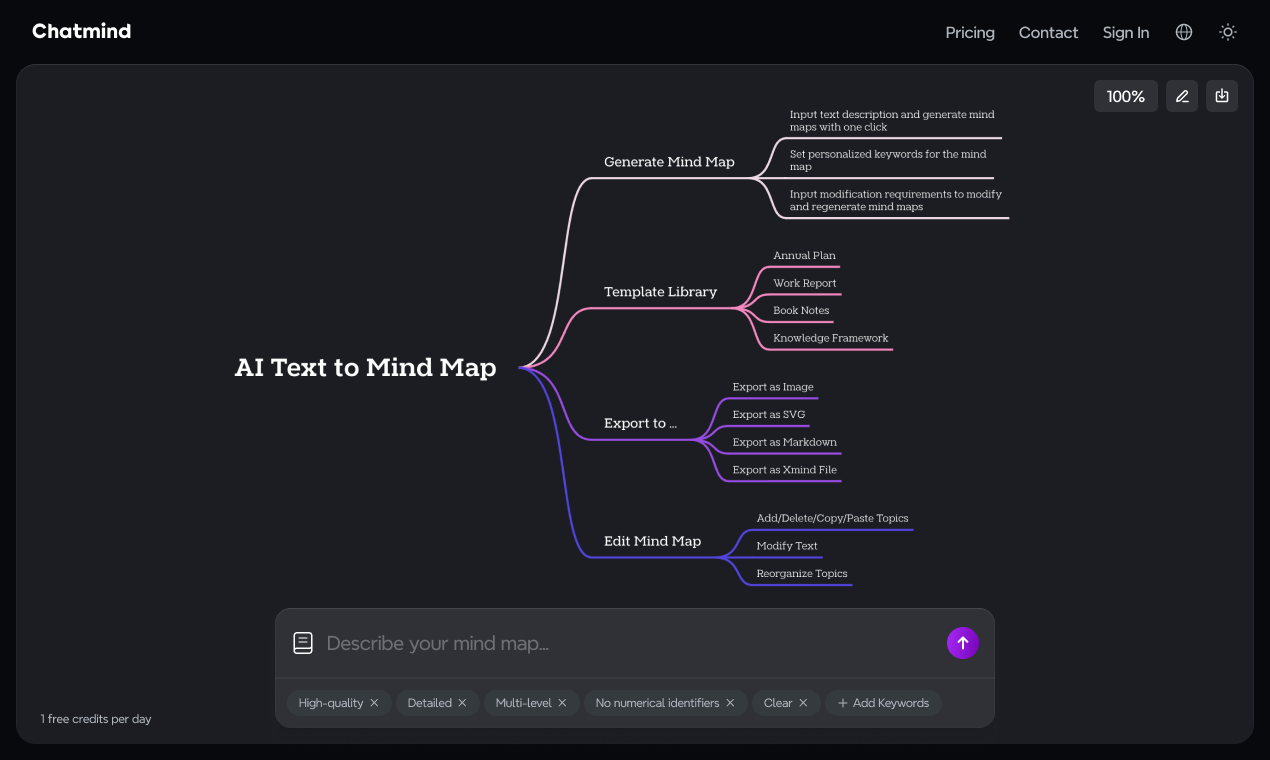 Generated by ChatGPT
Chatmind: AI Mind Mapping & Brainstorming by GPT-4
Ideas grow on trees. Just type one: Enter a seed of thought and watch it sprout into a full idea tree.
Add your keywords into prompt. Or use our templates: Steer your brainstorming with keywords or jump-start it with our templates.
1 free credit a day: Enjoy a daily free credit to fuel your creativity with Chatmind.
A lot of AI features coming soon: Buckle up for a bunch of exciting AI updates that will turbocharge your brainstorming.
Featured
Chatmind was manually vetted by our editorial team and was first featured on March 24th 2023.

Would you recommend Chatmind?
Help other people by letting them know if this AI was useful.
171 alternatives to Chatmind for ChatGPT
Pros and Cons
Pros
Efficient mind map generation
Multiple template options
Task automation
Business scheduling
Presentation and summary capabilities
Keyword-prompted brainstorming
Daily free credit
One-click presentations
Project management features
Note summarization
Contextual and specified language support
Supported by multiple developers
Large user base
Cons
Requires Javascript enabled
Limited free usage
Not mobile-friendly
Poor browser compatibility
No listed API
Multiple developers, possible inconsistencies
Unclear language support
Q&A
What is Chatmind?
Chatmind is an AI-powered tool designed for efficiently generating mind maps. It offers various templates for tasks, business, automation, schedules, presentations, and summaries. This mind mapping and brainstorming tool works by generating an 'idea tree' from a seed of thought or keyword input.
How does Chatmind generate mind maps?
Chatmind generates mind maps by leveraging AI technology, specifically the GPT-4 model. Users input a 'seed' of thought or a keyword into the prompt, and Chatmind expands this into a full-fledged 'idea tree', creating an organized visual depiction of the user's thought process.
What are the template options available on Chatmind?
The template options available on Chatmind range from task management, automation, business process mapping, schedule planning, to presentation making and summary creation. These templates help steer the brainstorming process by providing structured formats to organize thoughts.
What does '1 free credit a day' imply in Chatmind?
The phrase '1 free credit a day' denotes that every user of Chatmind is provided with a daily free credit. This daily free credit can be utilized to access and use the premium AI features of Chatmind.
What types of AI features is Chatmind planning to add in the future?
Specific upcoming AI features for Chatmind are not explicitly detailed on their website, but a phrase suggests that users should 'buckle up for a bunch of exciting AI updates.' This indicates that there are plans to introduce new and innovative AI functionalities that could potentially enhance users' brainstorming experience.
Can I use Chatmind without JavaScript enabled?
No, Chatmind doesn't function properly without JavaScript enabled. Users are requested to enable JavaScript to continue interacting with the tool and experiencing its full features.
What is the significance of 'page title' in Chatmind?
The 'page title' serves as the primary identification of a web page. In Chatmind's case, the page title 'ChatMind.Tech' gives users a quick understanding of the website's purpose and function i.e., it is a tech-oriented page for ChatMind, an AI-based mind-mapping tool.
Where can I find tutorials for using Chatmind?
Tutorials for using Chatmind can be located on their website, under the section labeled 'Tutorial'. These may provide step-by-step instructions or demonstrations on how to effectively use Chatmind.
Does Chatmind have a WeChat group?
Yes, Chatmind does have a WeChat group. They have provided an option on their website labeled 'WeChat Group', suggesting a platform for user interaction or for users to get support and share insights.
Can I use Chatmind for project management?
Yes, one of the features of Chatmind is for project management. It allows users to brainstorm and generate a mind map covering different aspects of a project, making it a handy tool for managing projects.
How does the one-click presentation feature work on Chatmind?
While precise details about the one-click presentation feature are not provided, it is inferred that this feature on Chatmind allows users to swiftly convert their generated mind-maps or processed thoughts into a well-structured presentation format.
Can I make a schedule using Chatmind?
Indeed, users can create schedules utilizing Chatmind. On their website is an explicit mention of 'Schedule' as one of the templates, indicating functionality to generate a mind map around schedule planning.
Does Chatmind support specific language inputs?
Chatmind supports context and specified language input. Users can input their data or requirements in a particular language, and it will adequately generate and present the results.
How can I save my work on Chatmind?
Though the specifics are not mentioned in the given data, it can be inferred that there is a save function in Chatmind, considering the 'Save' button apparent on their website. Users should be able to save their work for later review or modification.
How can Chatmind be used for brainstorming?
Chatmind can be used for brainstorming by accepting user inputs such as seed ideas or keywords, and then the AI expands these inputs into detailed and organized mind maps. It also offers various templates to drive the brainstorming session, essentially serving as a digital brainstorming hub.
What does 'frame combing' mean in Chatmind?
There is no specific explanation given for the term 'frame combing' on the Chatmind website. Further information or context could provide a more exact understanding of what it refers to in the context of Chatmind.
How does Chatmind assist in the note summary?
Chatmind assists with note summary by allowing users to generate summarized mind maps from their notes. This helps in condensing information and providing a clear, visual representation of summarized notes.
What is the 'DarkLightDaily Free-LT' feature in Chatmind?
'DarkLightDaily Free-LT' isn't explicitly explained on Chatmind's platform. The wording suggests it might be related to a feature or an option in Chatmind, but without further context, it's difficult to give a precise definition.
What kind of support is provided for Chatmind?
Chatmind has a support network provided by Laf and BaiXingAI, according to their website. Additionally, DataWhale also appears to be involved in the support provided. Together, these entities seem to play significant roles in the development, maintenance, and user support for Chatmind.
What does 'made by TianFang' imply on Chatmind?
'Made by TianFang' implies that TianFang is one of the creators or developers behind Chatmind. Other contributors mentioned in the context include Am, Jeekrs, Jevein, and Acwink.
Help
⌘ + D bookmark this site for future reference
⌘ + ↑/↓ go to top/bottom
⌘ + ←/→ sort chronologically/alphabetically
↑↓←→ navigation
Enter open selected entry in new tab
⇧ + Enter open selected entry in new tab
⇧ + ↑/↓ expand/collapse list
/ focus search
Esc remove focus from search
A-Z go to letter (when A-Z sorting is enabled)
+ submit an entry
? toggle help menu
x
Sign in to continue (100% free)
To prevent spam, some actions require being signed in. It's free and takes a few seconds.
Sign in with Google