Edit AI
Customized messaging for prompt responses and chats.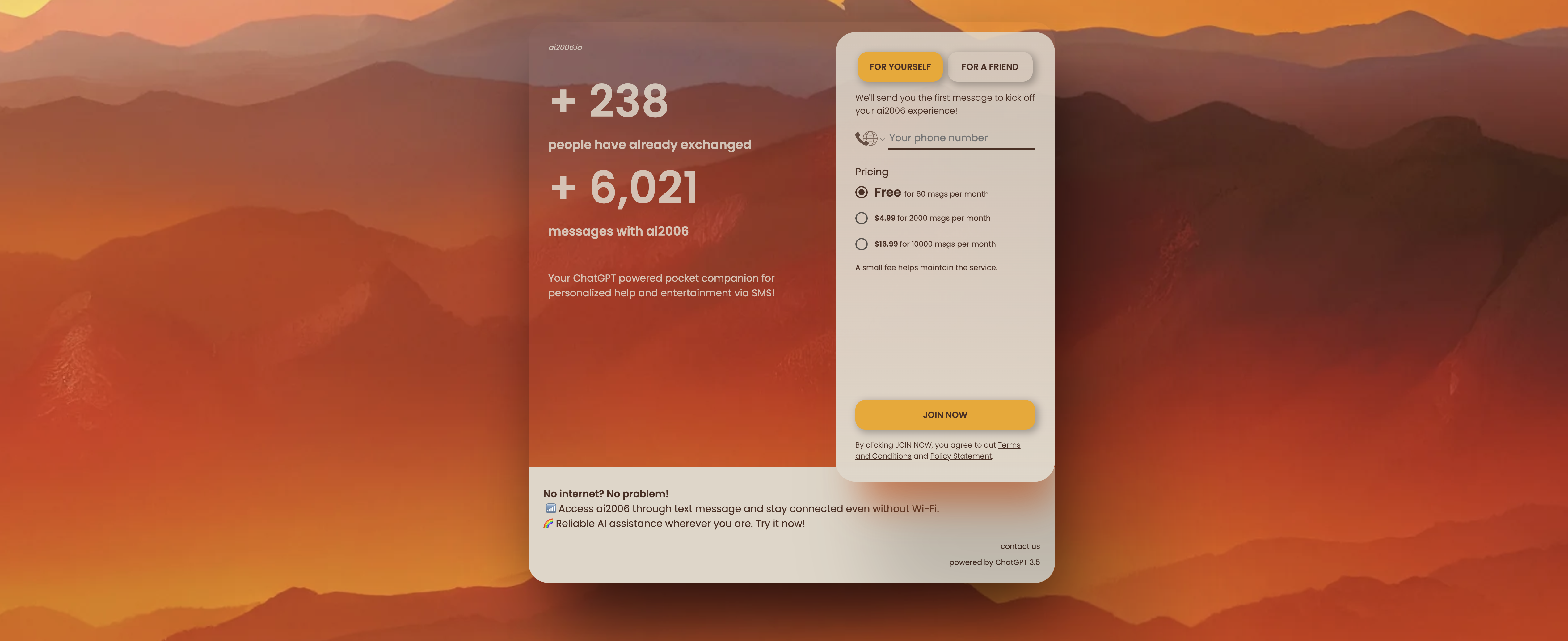 Generated by ChatGPT
ai2006 is a text messaging service that provides users with personalized help and entertainment through the use of AI technology. The service is powered by ChatGPT, an advanced language model that allows users to engage in natural language conversations with the AI assistant.
The tool is ideal for those seeking quick answers or a chat buddy, providing on-the-go support and a friendly ear. Ai2006 is available internationally, with users in over 200 countries.
It is accessible even without Wi-Fi or an internet connection, as users can access it through text messaging. ai2006 is a subscription-based service that offers users a choice of three plans.
The basic plan is free and provides users access to 60 messages per month. Other plans offer more messages, and a small fee helps to maintain the service.
The tool can be used by individuals for themselves or as a gift to a friend or loved one. For example, ai2006 is ideal for seniors who may have difficulty accessing the internet, providing them with easy access to information and conversation through text messaging.
Users in need of personalized assistance can join the service by agreeing to the tool's terms and conditions. Overall, ai2006 is a user-friendly and accessible tool that provides personalized assistance through natural language conversations with an AI assistant, powered by ChatGPT.
Featured
AI2006 was manually vetted by our editorial team and was first featured on June 3rd 2023.

Would you recommend AI2006?
Help other people by letting them know if this AI was useful.
204 alternatives to AI2006 for ChatGPT
Automated text gen for content/research.

144

3.3

Advice service via WhatsApp.

77

Convenient Q&A resource for webpages.

73

Website Q&A assistant for natural language.

50

Helps create system diagrams.

48

Enhanced search results with natural language responses.

46

Enhanced chatbot with web search.

42

Nine skilled assistants for various tasks.

40

5.0

Improved comms with analysis & video insights.

35

Productivity enhancement via instant messaging.

33

Human-like conversational system.

32

Personalized content interaction.

30

Faster, research-enhanced chatbot.

30

5.0

Offers writing prompts suggestions.

27

UI for better chatbot chats.

27

5.0

Chatbot that answers questions and triggers actions.

25

5.0

Generate human-like text with pre-trained models.

25

5.0

25

Highlights text with explanations.

24

Customer communication via messaging for businesses.

24

A chatbot that answers questions.

24

Android chatbot: Email, essay, programming, gaming.

23

Management and export of ChatGPT conversations.

23

5.0

Customize ChatGPT for specific purposes.

23

Assisted desktop writing, editing, and brainstorming.

21

Engages in interactive conversations.

21

Text assistant for productivity & creativity automation.

20

Anonymous chat with no registration required.

20

Writing, translation, virtual assistant.

18

Enhanced chatbot communication via searchable history.

17

Conversational interface for open-source project.

16

Automated support for various communication cases.

16

Command-line access to pre-trained language models.

16

5.0

Advanced chat-based tasks w/ voice commands.

16

Chatbot that answers queries.

15

Chat function extension for easy access.

14

Customizable chat personalities for improved experience.

14

Universal chat assistant for content discussion.

14

Personalized recs & task assist. via Q&A.

13

Secure chat w/ tasks & privacy for mainstream clients.

13

iOS conversational agent.

13

Polish info vague on website safety & operator.

12

Improves online browsing with smart chatbot

12

Conversed with a potent language model via interface.

11

Generate text for app integration.

10

Personalized Q&A chatbot.

10

Aid for keeping track of research queries.

9

Structured processing of unstructured data.

9

Text analysis, data cleaning, and content generation.

9

Integrates data, answers questions, connects platforms.

9

Integrated chatbot and search functionalities

9

Enhanced chat interactions with improved assistance.

8

Customizable chat prompts for better communication.

8

Generated web content via ChatGPT on Chrome.

8

Faster Q&A with a browser extension.

8

Boost conversions with custom chatbots, improve UX.

8

Web productivity assistant for quick content creation.

7

Versatile chatbot for writing and conversation support.

7

Versatile assistant for education, travel, conversation

7

Efficient chat platform for dynamic conversations.

7

Chatbot for easy text conversations.

6

FAQ chatbot for text messaging support.

6

Assisted writing and consulting across domains.

6

Customizable assistant for desktop chat and Q&A.

6

Chat enabled advanced capabilities for interactions.

6

Customized and optimized conversational interface

6

Improved web search assistant for seamless browsing.

6

Cloud customer service w/ natural language processing.

5

Voice-guided writing automation to enhance productivity.

5

Personalized chat with collaborative interactions.

5

Streamlined Customer Support

4

Quickly answer questions with simple chatbot.

3

Integrated chat support for multiple applications

2

Personalized prompts for enhanced productivity in chat.

2

Workflow optimization via conversational interactions.

2

Efficient content creation with generated text.

5.0
Pros and Cons
Pros
Access without internet
International availability
Multiple subscription plans
Powered by ChatGPT 3.5
60 free messages monthly
Usable as a gift
No need for Wi-Fi
Access through SMS
Personalized assistance
Natural language conversations
User-friendly interface
Quick response time
Useful for seniors
Access to prompt help
Can connect to 200+ countries
Large number of exchanged messages
Practical for entertainment
Personalized messaging
Pocket companion for help
Customized messaging
Allows natural language conversations
Cons
Not free after 60 messages
Limited number of messages
No internet-based interface
Potentially expensive for heavy users
Dependent on text message availability
No voice assistant capability
No multilingual support
Not optimized for business use
Inaccessible without a phone
Q&A
What is ai2006?
Ai2006 is a text messaging service that leverages AI technology to offer personalized help and entertainment. It utilizes ChatGPT, an advanced language model, to engage users in natural language conversations as an AI assistant.
How does ai2006 work?
Ai2006 operates using an advanced language model known as ChatGPT, which allows it to engage users in natural language conversations. Through a subscription model, users can send and receive messages with the AI, benefiting from personalized assistance or simply enjoying a conversation.
Can ai2006 function offline?
Yes, ai2006 can function offline. It is accessible via text messaging, thus it can remain functional without requiring an internet or Wi-Fi connection.
What is ChatGPT?
ChatGPT is an advanced language model. It's capable of engaging users in natural language conversations, enabling ai2006 to provide personalized assistance.
How am I able to use Ai2006 without internet?
You can use ai2006 without an internet connection because of its ability to operate through text messaging. This feature ensures that you can still communicate with your AI companion even when there's no Wi-Fi or internet access.
How does ai2006 assist with personalized help and entertainment?
Ai2006 uses the ChatGPT model to understand and interact in human-like conversations, providing personal assistance based on the information it gathers from the conversations. As for entertainment, the AI can engage users in interesting chats and provide quick responses.
What plans does ai2006 offer for subscription?
Ai2006 offers three subscription plans. The basic plan, which is free, grants users access to 60 messages per month. The other two plans cost $4.99 for 2000 messages per month and $16.99 for 10000 messages per month respectively.
What is the benefit of subscribing to a premium plan of ai2006?
Subscribing to a premium plan of ai2006 allows unrestricted interaction with the AI, especially for those who frequently use the service. The premium plans provide much higher limits on monthly messages compared to the basic plan.
Which countries can use ai2006?
Ai2006 is available for use in over 200 countries. This includes, but is not limited to, all the countries listed on their website.
Can I use ai2006 internationally?
Yes, you can use ai2006 internationally. It is a globally accessible service operating in more than 200 nations around the world.
How user-friendly is ai2006?
Ai2006 is user-friendly. It works through text messaging which most people are familiar with. Its interface and functions are created to facilitate easy interaction between the user and the AI.
Can I gift ai2006 to a friend or family member?
Yes, ai2006 can be gifted to friends or family members. This makes it an ideal tool for loved ones who may need easy and immediate access to information or conversation, such as seniors.
Is ai2006 suitable for seniors?
Absolutely, ai2006 is highly suitable for seniors. It is a text messaging service that provides easy access to information and conversation, an aspect that is highly beneficial for seniors who might struggle with accessing the internet.
Is there a limit to how many messages I can send with ai2006?
Yes, there is a limit to how many messages you can send with ai2006. Depending upon the subscription plan, the limit varies. The basic plan offers 60 messages per month, the $4.99 plan offers 2000 messages per month, while the $16.99 plan gives you access to 10000 messages per month.
Can I use Ai2006 as my chat buddy?
Yes, you can use ai2006 as your chat buddy. It is designed to provide both personalized assistance and friendly chats that mimic human conversation.
How natural is the conversation with ai2006?
The conversation with ai2006 is very natural. It is powered by ChatGPT, a language model that mimics human language. This enables it to construct sentences and respond in a way that feels similar to speaking with another person.
Do I need to agree to terms and conditions before I can use ai2006?
Yes, you must agree to the terms and conditions of use before you can start using ai2006. This is needed to ensure the user's understanding of the service's policies and their commitment to adhere to them.
What makes ai2006 a reliable AI assistant?
Ai2006 can be called a reliable AI assistant because it is designed to provide personalized help and entertainment via SMS. It can be accessed without the internet, making it reliable for users who lack a stable internet connection. The AI learns from interactions to provide more personalized assistance, providing a human-like conversation experience.
How does ai2006 manage to keep the users engaged?
The engagement of users in ai2006 is managed through AI-driven conversations. By answering questions and engaging in back-and-forths with users, ai2006 facilitates an engaging experience. It can help with quick answers, which in turn keeps the users hooked and encourages them to interact more.
What kind of support does ai2006 provide on-the-go?
Ai2006 can provide on-the-go support by answering questions, providing quick responses, and engaging users in meaningful conversations. Even without an internet connection, users can stay in touch with ai2006 and use its services through text messaging.
Help
⌘ + D bookmark this site for future reference
⌘ + ↑/↓ go to top/bottom
⌘ + ←/→ sort chronologically/alphabetically
↑↓←→ navigation
Enter open selected entry in new tab
⇧ + Enter open selected entry in new tab
⇧ + ↑/↓ expand/collapse list
/ focus search
Esc remove focus from search
A-Z go to letter (when A-Z sorting is enabled)
+ submit an entry
? toggle help menu
x
Sign in to continue (100% free)
To prevent spam, some actions require being signed in. It's free and takes a few seconds.
Sign in with Google