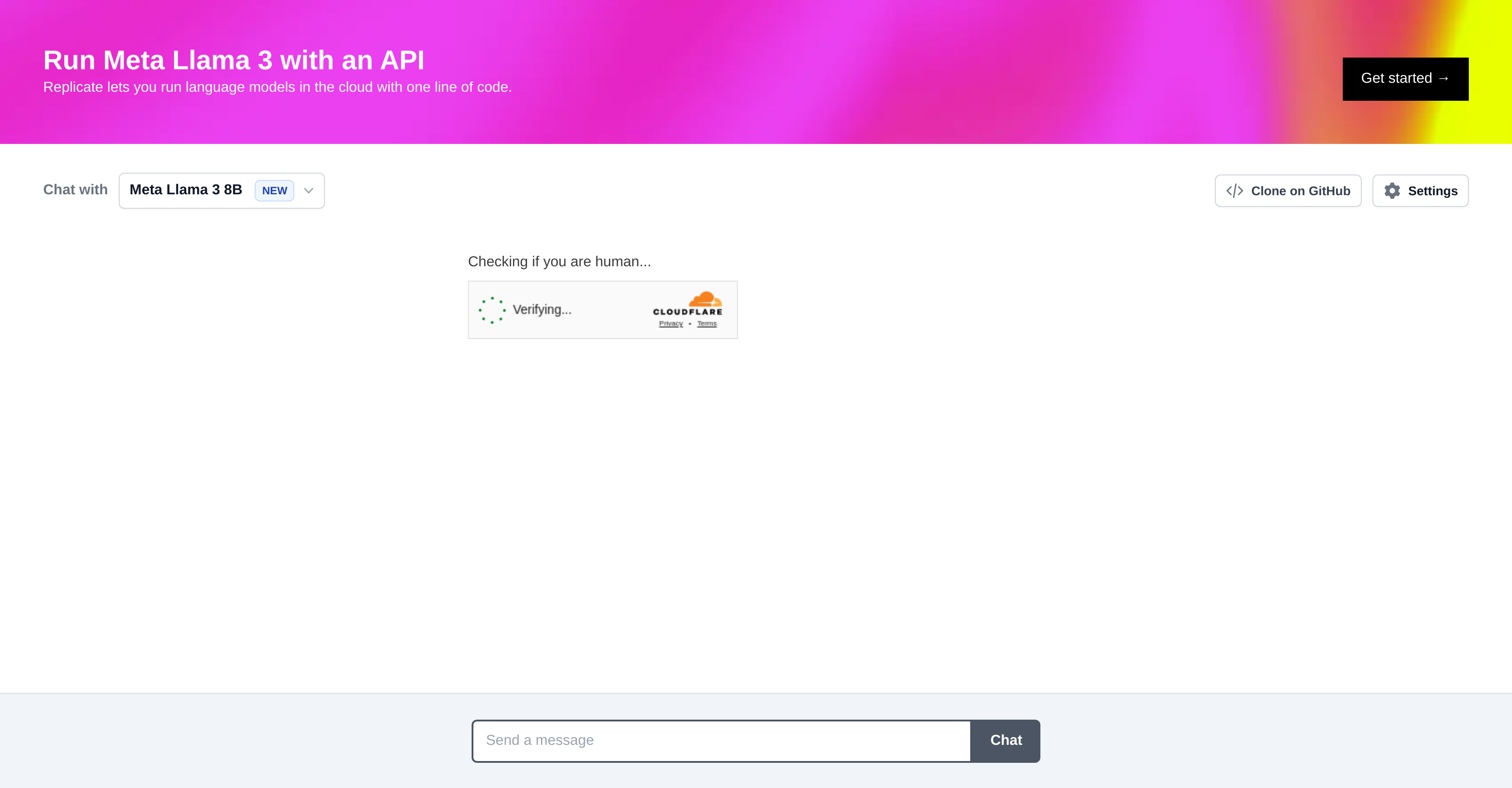 Generated by ChatGPT
LLaMA2 Chatbot, an innovative alternative to ChatGPT, is a freely available, open-source conversational AI based on the advanced LLaMA2 model. This chatbot presents a paradigm shift in interactive AI, powered by a robust learning framework, mirroring the essence of human-like conversations with incredible precision.
An unique feature lies in its flexible user settings, including adjustable temperature, top-P, and maximum sequence length, which allow for granular control over the bot's responses.
Higher temperature settings can produce more random outcomes, while lower ones maintain predictability. The top-P parameter enables users to influence the diversity of the bot's responses, while the maximum sequence length defines the response's word limit.
With its user-centric customization and advanced AI technology, the LLaMA2 Chatbot is revolutionizing the way we perceive, interact, and utilize conversational AI, offering a more immersive and personalized chat experience.
The open-source nature of LLaMA2 fosters a collaborative environment where developers globally can contribute, driving continuous evolution and improvements in the realm of conversational AI.
Featured
LLaMa2 Chat was manually vetted by our editorial team and was first featured on July 19th 2023.

Would you recommend LLaMa2 Chat?
Help other people by letting them know if this AI was useful.
258 alternatives to LLaMa2 Chat for Chatting
Chatbot for charming chat.

209

3.0

Converse with anime-style chatbots using custom prompts.

127

2.5

Creation and interaction with intelligent chatbots.

89

4.0

Conversational search engine with answers.

74

4.0

Uncensored conversations platform.

75

4.5

Answer engine for complex questions.

74

4.6

Improve interviewing and communication practices.

51

5.0

Emotional support companion

49

5.0

Automated chatbot for email interactions and tasks.

44

Efficient query response assistant.

40

Versatile chatbot for tasks and information retrieval.

37

Image gen, doc conversation, internet search assistant.

37

5.0

Efficient Q&A and chat with menubar app.

36

Q&A chatbot that emails, summarizes, explains, writes.

34

Personalized mental health companion for growth.

34

1.0

Website chatbot creation and management

32

4.0

28

Online chatbot with instant responses to queries.

27

4.5

Online language model comparison and fine-tuning.

25

Boosted productivity with personal assistant.

24

Chatbot offers support and reminders.

24

5.0

Customer support conversational assistant.

22

Interactive chatbot simulating personal conversations.

21

Question-answering chatbot.

21

5.0

Improved speech communication.

18

Enhanced chat experience with language processing.

18

Chatbot made for service, personalized tips.

16

Engaging conversational chatbot.

15

Casual conversation chatbot from Scotland.

15

Enhanced communication for WhatsApp users.

15

Secure macOS chat app with personalized conversations.

15

Enhanced writing and conversational aid.

15

Secure work chat and document handling.

14

3.0

Personalized ChatGPT's integration for text data.

13

Hindi chatbot for Bollywood fan engagement.

13

1.0

Practice conversations with digital personas.

13

Interactive streaming with character conversations.

13

5.0

Intelligent chatbot for seamless communication.

12

Humorous Q&A virtual assistant.

12

Emotional voice chatbot for interactive conversations

12

Improved chatbot for personalized experience.

11

App sends messages to anyone.

11

5.0

Android chatbot with voice & natural language interface.

11

Chat generation with chatbots.

11

Text-based personal assistant.

10

10

Fast language model adaptation.

10

Offline language learning with chat interface.

10

4.5

Safe Chatbot Offers Candid Advice

10

User-friendly chatbot provides Q&A assistance.

10

Virtual celebrity interactions & engaging conversations.

9

Mental health coaching and therapy via WhatsApp.

9

9

Real-time conversation & learning companion

9

Virtual assistant for natural language interactions

9

Chatbot shares insightful info on topics via Twitter.

8

Browse using search and Q&A by Open.

8

Custom chat rooms to brainstorm with experts.

8

Social network for creators w/ chat & image generation.

8

Voice assistant for multiple tasks.

8

Chatbot improving messaging and content creation.

7

Q&A and content generator.

7

5.0

Generated text and conversation from automated chatbot.

7

Chatbot generates stories, jokes, and weather data.

7

An app that enhances communication and automation.

6

Chatbot to communicate in Discord.

6

Personalized virtual chat companion.

6

Virtual friends for personalized chat support

6

Personalized virtual conversation companions.

5

Adaptive chatbot for learning and travel planning.

5

Facilitates Q&A or conversations.

4

Customizable, engaging conversational interactions.

4

5.0

Emotionally supportive chatbot

3

Q&A chatbot for natural language processing.

3

Chatbot extension for browser conversations and tasks.

3

Android chatbot quickly answers questions.

2

Privacy-focused chatbot for brainstorming & learning.

2

Stream Deck plugin: Q&A and text processing.

1

Improved user interactions with tech through chatbot.

1

Customizable chatbot with plugins.

1

Customer Support Chat Solved.

1

Creating virtual assistants for personalized tasks.

1

ChatGPT conversation archiver & organizer.

1

Conversational assistant for Q&A and tasks

22

5.0

Chat with realistic chatbots for adults.

1

5.0
Pros and Cons
Pros
Extremely user-friendly
Superior natural language processing
Uncanny text understanding
Robust conversation management
Exceptional data privacy considerations
Advanced sentiment analysis
Integrated with multiple platforms
Impeccable response accuracy
Proactive conversation initiation
Advanced understanding of context
Continuous learning capability
Customizable user experience
Effective conversation tracking
In-built error handling mechanism
End-to-end encryption
Thorough chat history logs
Real-time response speeds
Integration with third-party APIs
Text-to-speech conversion
Wide range of languages
Seamless software updates
SDKs for multiple platforms
Extensive library of resources
24/7 customer support
Scalable to enterprise size
Elegant design and interface
Modular architecture
Ability to handle ambiguity
Intelligent routing of conversations
Rich media support
Multichannel feature
Automatic Updating System
Proficient multitasking capability
Timezone aware
Multiple bot personalities
Offers analytics and reports
Automated FAQ generation
Backup and recovery feature
User permission control
Generates user profiling
Performance benchmarking tools
Allows A/B testing
Convenient debugging feature
Supports multiple databases
Built-in remote support
Integrates with cloud storage
Large data handling capacity
Preemptive disaster recovery measures
Quick installation and setup
Efficient resource usage
Cons
Limited language support
No text-to-speech function
Cannot import chat history
No multi-platform support
Doesn't support multimedia messages
Non-customizable interface
Lacks advanced privacy settings
No offline functionality
No group chat feature
Poor customer support
Q&A
What is LLaMa2's core functionality?
LLaMa2's core functionality is to facilitate interactive communication by simulating human-like conversations via its chatbot capabilities.
What specific features does LLaMa2 offer?
The specific features of LLaMa2 are not explicitly mentioned on their website.
How does LLaMa2's chatbot function operate?
The functioning of LLaMa2's chatbot is not specified on their website.
What platforms is LLaMa2 compatible with?
There is not sufficient information to determine which platforms LLaMa2 is compatible with.
Can LLaMa2 be integrated with other AI tools?
There isn't clear information about LLaMa2's integration capabilities with other AI tools.
What are the system requirements for LLaMa2?
The system requirements to run LLaMa2 are not defined on their website.
How do I set up and configure LLaMa2?
The instructions for setting up and configuring LLaMa2 are not available on their website.
What makes LLaMa2 stand out from similar AI chat tools?
It isn't explicitly mentioned what makes LLaMa2 stand out from similar AI chat tools.
Can I customize LLaMa2's functionalities to suit my needs?
The ability to customize LLaMa2 functions to fit individual needs is not explained on their website.
How does LLaMa2 handle user data and privacy?
The handling of user data and privacy by LLaMa2 is not elaborated on their website.
What is the learning curve for LLaMa2, is it beginner-friendly?
There is no explicit information available on the learning curve of LLaMa2 or its ease of use for beginners on their website.
Does LLaMa2 require any coding skills?
Coding skills requirement for utilizing LLaMa2 is not stated on their website.
What languages does LLaMa2's chatbot support?
The supported languages of LLaMa2's chatbot are not listed on their website.
Are there any pre-set templates or frameworks in LLaMa2 that I can use?
The presence of pre-set templates or frameworks in LLaMa2 is not mentioned on their website.
Does LLaMa2 provide analytics or insights into user engagement?
Details about whether LLaMa2 provides analytics or insights into user engagement is not available on their website.
Can I use LLaMa2 for customer support on my website?
Whether LLaMa2 can be used for customer support on websites isn't clearly identified on their website.
Is there a mobile version of LLaMa2?
A mobile version of LLaMa2 is not specified on their website.
How can I troubleshoot issues with LLaMa2?
The troubleshooting procedures for LLaMa2 issues aren't outlined on their website.
Does LLaMa2 offer continuous updates and new feature releases?
Information regarding continuous updates and new feature releases for LLaMa2 is not provided on their website.
What support or resources are available for LLaMa2 users?
The support resources accessible for LLaMa2 users are not stated on their website.
If you liked LLaMa2 Chat
Help
⌘ + D bookmark this site for future reference
⌘ + ↑/↓ go to top/bottom
⌘ + ←/→ sort chronologically/alphabetically
↑↓←→ navigation
Enter open selected entry in new tab
⇧ + Enter open selected entry in new tab
⇧ + ↑/↓ expand/collapse list
/ focus search
Esc remove focus from search
A-Z go to letter (when A-Z sorting is enabled)
+ submit an entry
? toggle help menu
x
Sign in to continue (100% free)
To prevent spam, some actions require being signed in. It's free and takes a few seconds.
Sign in with Google