Edit AI
Improved exploration & insight discovery.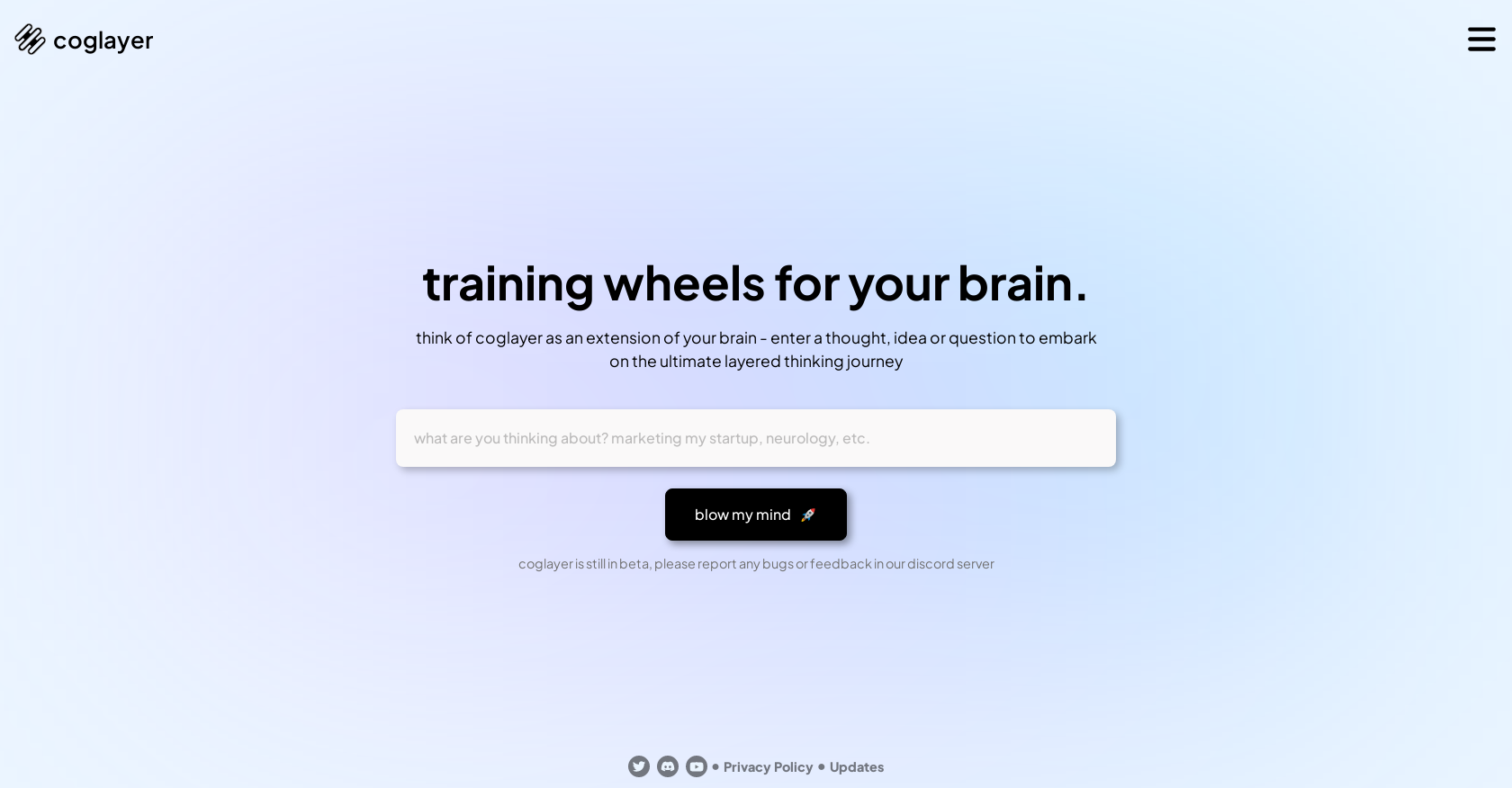 Generated by ChatGPT
Coglayer is an AI tool that aims to enhance your thinking process by serving as an extension of your brain. With Coglayer, you can input thoughts, ideas, or questions, and witness as it uncovers new insights.
It adapts to make your thinking journey easier and more informative. This tool acts as virtual training wheels for your brain, supporting your cognitive exploration and offering layered thinking experiences.
By utilizing Coglayer, you can expect new perspectives and surprising discoveries.However, it's worth noting that Coglayer is currently in beta, indicating that it is still undergoing development and refinement.
The creators encourage users to report any bugs or provide feedback through their Discord server.It's important to prioritize privacy, and Coglayer provides a privacy policy to ensure transparency in data handling.
Users can access the policy for details on how their information is collected, used, and protected.Lastly, Coglayer keeps users informed about updates through a designated channel which documents the tool's progress and improvements.In summary, Coglayer is an AI tool that invites users to input thoughts and questions, then presents new insights via a layered thinking approach.
Its ongoing development suggests a dedication to refining the tool's functionality.
Featured
Coglayer was manually vetted by our editorial team and was first featured on July 23rd 2023.

Would you recommend Coglayer?
Help other people by letting them know if this AI was useful.
258 alternatives to Coglayer for Chatting
Chatbot for charming chat.

209

3.0

Converse with anime-style chatbots using custom prompts.

127

2.5

Creation and interaction with intelligent chatbots.

89

4.0

Conversational search engine with answers.

74

4.0

Uncensored conversations platform.

75

4.5

Answer engine for complex questions.

74

4.6

Improve interviewing and communication practices.

51

5.0

Emotional support companion

49

5.0

Automated chatbot for email interactions and tasks.

44

Efficient query response assistant.

40

Versatile chatbot for tasks and information retrieval.

37

Image gen, doc conversation, internet search assistant.

37

5.0

Efficient Q&A and chat with menubar app.

36

Q&A chatbot that emails, summarizes, explains, writes.

34

Personalized mental health companion for growth.

34

1.0

Website chatbot creation and management

32

4.0

29

28

Online chatbot with instant responses to queries.

27

4.5

Online language model comparison and fine-tuning.

25

Boosted productivity with personal assistant.

24

Chatbot offers support and reminders.

24

5.0

Customer support conversational assistant.

22

Interactive chatbot simulating personal conversations.

21

Question-answering chatbot.

21

5.0

Improved speech communication.

18

Enhanced chat experience with language processing.

18

Chatbot made for service, personalized tips.

16

Engaging conversational chatbot.

15

Casual conversation chatbot from Scotland.

15

Enhanced communication for WhatsApp users.

15

Secure macOS chat app with personalized conversations.

15

Enhanced writing and conversational aid.

15

Secure work chat and document handling.

14

3.0

Personalized ChatGPT's integration for text data.

13

Hindi chatbot for Bollywood fan engagement.

13

1.0

Practice conversations with digital personas.

13

Interactive streaming with character conversations.

13

5.0

Intelligent chatbot for seamless communication.

12

Humorous Q&A virtual assistant.

12

Emotional voice chatbot for interactive conversations

12

Improved chatbot for personalized experience.

11

App sends messages to anyone.

11

5.0

Android chatbot with voice & natural language interface.

11

Chat generation with chatbots.

11

Text-based personal assistant.

10

10

Fast language model adaptation.

10

Offline language learning with chat interface.

10

4.5

Safe Chatbot Offers Candid Advice

10

User-friendly chatbot provides Q&A assistance.

10

Virtual celebrity interactions & engaging conversations.

9

Mental health coaching and therapy via WhatsApp.

9

9

Real-time conversation & learning companion

9

Virtual assistant for natural language interactions

9

Chatbot shares insightful info on topics via Twitter.

8

Browse using search and Q&A by Open.

8

Custom chat rooms to brainstorm with experts.

8

Social network for creators w/ chat & image generation.

8

Voice assistant for multiple tasks.

8

Chatbot improving messaging and content creation.

7

Q&A and content generator.

7

5.0

Generated text and conversation from automated chatbot.

7

Chatbot generates stories, jokes, and weather data.

7

An app that enhances communication and automation.

6

Chatbot to communicate in Discord.

6

Personalized virtual chat companion.

6

Virtual friends for personalized chat support

6

Personalized virtual conversation companions.

5

Adaptive chatbot for learning and travel planning.

5

Facilitates Q&A or conversations.

4

Customizable, engaging conversational interactions.

4

5.0

Emotionally supportive chatbot

3

Q&A chatbot for natural language processing.

3

Chatbot extension for browser conversations and tasks.

3

Android chatbot quickly answers questions.

2

Privacy-focused chatbot for brainstorming & learning.

2

Stream Deck plugin: Q&A and text processing.

1

Improved user interactions with tech through chatbot.

1

Customizable chatbot with plugins.

1

Customer Support Chat Solved.

1

Creating virtual assistants for personalized tasks.

1

ChatGPT conversation archiver & organizer.

1

Conversational assistant for Q&A and tasks

22

5.0

Chat with realistic chatbots for adults.

1

5.0
Pros and Cons
Pros
Enhanced cognitive exploration
Supports layered thinking experience
Encourages new perspectives
Facilitates surprising discoveries
In beta - constant refinement
Open channel for bug reporting
Encourages user feedback
Transparent data handling
Detailed privacy policy
Keeps users informed of updates
Easy-to-read updates channel
Augments thought process
Adapts to user's thinking journey
Uncover new insights from input
Training wheels for your brain
Cons
Still in beta
Potential for bugs
Limited user guidance
Reliant on user feedback
Unknown data handling
Update information in separate channel
Sign-in required
Privacy policy clarity
No API mentioned
Limited accessibility information
Q&A
What is Coglayer?
Coglayer is an AI tool designed to augment the thinking process. You can share your thoughts, ideas, or queries with it, and it uncovers new insights. Working as a cognitive extension, Coglayer supports layered thinking experiences, providing virtual training wheels for your brain.
How does Coglayer function as an extension of my brain?
Coglayer functions as a mental extension by taking in your thoughts or questions and processing them. It uncovers new insights, presenting them in a layered manner for a progressive exploration of your thinking journey. This systematic layering mimics the human mind's thought exploration, hence acting as an extension of your brain.
What's the process to input thoughts and ideas into Coglayer?
The exact process to input thoughts and ideas into Coglayer is not mentioned. However, by logical inference, considering it's a chatbot, you could expect to submit your thoughts and ideas by typing them into a chat interface.
In what ways does Coglayer adapt to make my thinking journey easier?
Coglayer adapts to ease your thinking journey by structuring your thoughts and ideas into layers, revealing newer perspectives and insights. This layered approach allows for an organized exploration of your thought process.
What does layering thinking experiences mean in Coglayer?
Layering thinking experiences in Coglayer means breaking down inputs into depths of insight. When you share a thought or idea, Coglayer systematically unravels new perspectives, akin to peeling back the layers of an onion, thus offering a layered experience.
What kind of new insights can I expect from using Coglayer?
New insights from using Coglayer could range from revealing unseen connections between concepts, alternative viewpoints or ideas, or hidden implications within your thoughts. The specifics would depend on the content and complexity of the user's input.
What does it mean that Coglayer is currently in beta?
When a product is in beta, it means it's in a development phase where it's released to the end-users for testing. Feedback gathered during the beta phase aids the developers in spotting any unresolved issues. As Coglayer is currently in beta, it indicates that its features and functionalities are still under refinement.
How can I report bugs I find in Coglayer?
Users can report bugs they encounter in Coglayer via their Discord server. The server is a portal for communication between the Coglayer team and users to discuss any issues.
Where can I provide my feedback about Coglayer?
Feedback about Coglayer can be provided through their Discord server, where users can inform the team about their experiences or report any areas that can be improved.
What provisions does Coglayer make for user privacy?
Coglayer has a clear privacy policy ensuring transparency in how user data is handled. Users' privacy is a priority, and measures are taken to collect, use, and protect user data responsibly.
Where can I find Coglayer's privacy policy?
Coglayer's privacy policy can be accessed through a direct link on their website, specifically marked as 'Privacy Policy'.
What does Coglayer do with my data?
IDK
How does Coglayer keep users informed about updates?
Coglayer maintains an 'Updates' page where they document the tool's progress and enhancements. This transparency allows users to stay informed about the latest changes and upgrades.
Where can I find updates about Coglayer's progress and improvements?
Updates about Coglayer's progress and enhancements can be found on a dedicated 'Updates' webpage link provided on their website.
How does Coglayer contribute to cognitive exploration?
Coglayer contributes to cognitive exploration by breaking down your thoughts and ideas into progressive layers revealing unseen depths. It acts as virtual training wheels that make your thinking journey more informative by revealing new perspectives and insights.
What makes Coglayer different from other AI tools?
What sets Coglayer apart from other AI tools is its unique layered thinking approach, where it functions as an extension of your brain to uncover hidden layers of your thoughts and ideas, providing new perspectives and insights.
Can Coglayer show me new perspectives on my thoughts and ideas?
Yes, Coglayer has been designed to present new perspectives on your thoughts and ideas. It processes the input and uncovers deep insights which can provide a fresh perspective.
How does virtual training wheels for the brain work in Coglayer?
Coglayer acts as 'virtual training wheels' for the brain by structuring thoughts and ideas into an organized, layered format. This approach allows users to explore their thoughts more comprehensively, offering new insights and encouraging cognitive exploration.
Can I use Coglayer for free or is there a premium version?
IDK
Does Coglayer work better for specific types of thoughts or ideas?
There is no specific information on whether Coglayer works better for particular types of thoughts or ideas. However, given its design for deep, layered thinking, it should be able to process a variety of thoughts and ideas, each with their respective degrees of complexity.
If you liked Coglayer
Help
⌘ + D bookmark this site for future reference
⌘ + ↑/↓ go to top/bottom
⌘ + ←/→ sort chronologically/alphabetically
↑↓←→ navigation
Enter open selected entry in new tab
⇧ + Enter open selected entry in new tab
⇧ + ↑/↓ expand/collapse list
/ focus search
Esc remove focus from search
A-Z go to letter (when A-Z sorting is enabled)
+ submit an entry
? toggle help menu
x
Sign in to continue (100% free)
To prevent spam, some actions require being signed in. It's free and takes a few seconds.
Sign in with Google