Edit AI
Interactive streaming with character conversations.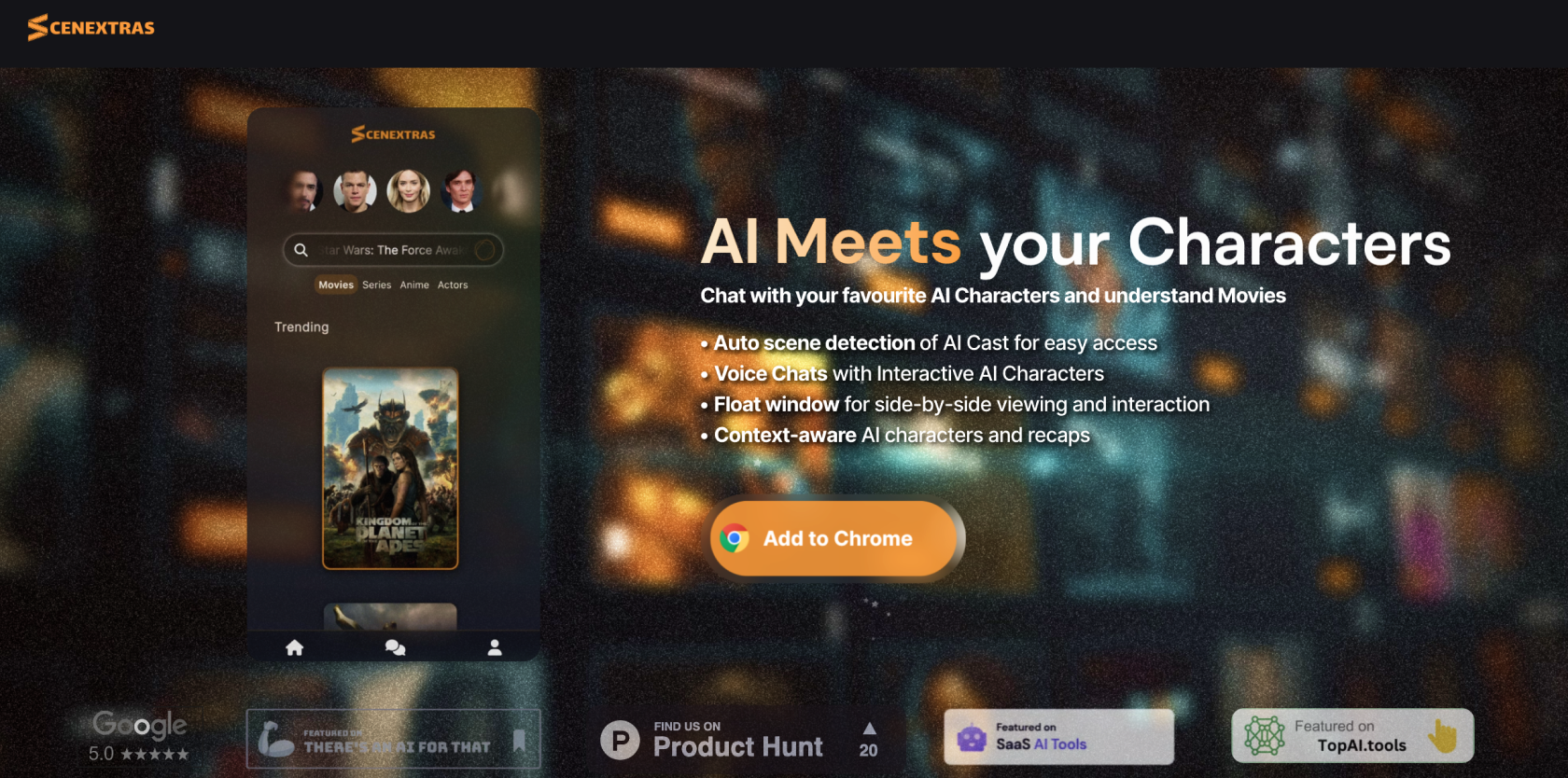 Generated by ChatGPT
sceneXtras is a GPT-enhanced streaming companion available as a Chrome extension. It allows users to chat with AI characters from their favorite series and films.
Currently, the tool is available on Netflix, with Disney, HBO, and Prime coming soon. With sceneXtras, users can have dream conversations with their favorite characters, exploring in-depth show details and uncovering hidden gems.
The tool features SceneGPT, a personal entertainment concierge, which provides instant answers to questions about characters, places, backstories, and alliances.
Users can interact with SceneGPT through chat.sceneXtras is working on adding new features, such as shoppable products from favorite shows, voice interactions with characters, and real-time notifications to help users keep up with complex storylines and important details.The tool has a size of 2.91MiB and is available in English language.
It is developed by scenextras0, and the developer can be contacted through their privacy policy website [https://scenextras.com/privacy]. Privacy practices are disclosed, and the tool collects data related to location and website content.
Further details can be found in the developer's privacy policy.Overall, sceneXtras is a GPT-enhanced streaming companion that allows users to have interactive conversations with AI characters, enhancing their streaming experience and providing additional information about their favorite series and films.
Featured
sceneXtras was manually vetted by our editorial team and was first featured on September 30th 2023.

Would you recommend sceneXtras?
Help other people by letting them know if this AI was useful.
258 alternatives to sceneXtras for Chatting
Chatbot for charming chat.

209

3.0

Converse with anime-style chatbots using custom prompts.

127

2.5

Creation and interaction with intelligent chatbots.

89

4.0

Conversational search engine with answers.

74

4.0

Uncensored conversations platform.

75

4.5

Answer engine for complex questions.

74

4.6

Improve interviewing and communication practices.

51

5.0

Emotional support companion

49

5.0

Automated chatbot for email interactions and tasks.

44

Efficient query response assistant.

40

Versatile chatbot for tasks and information retrieval.

37

Efficient Q&A and chat with menubar app.

36

Image gen, doc conversation, internet search assistant.

36

5.0

Q&A chatbot that emails, summarizes, explains, writes.

34

Personalized mental health companion for growth.

34

1.0

Website chatbot creation and management

32

4.0

29

28

Online chatbot with instant responses to queries.

27

4.5

Online language model comparison and fine-tuning.

25

Boosted productivity with personal assistant.

24

Chatbot offers support and reminders.

24

5.0

Customer support conversational assistant.

22

Interactive chatbot simulating personal conversations.

21

Question-answering chatbot.

21

5.0

Improved speech communication.

18

Enhanced chat experience with language processing.

18

Chatbot made for service, personalized tips.

16

Engaging conversational chatbot.

15

Casual conversation chatbot from Scotland.

15

Enhanced communication for WhatsApp users.

15

Secure macOS chat app with personalized conversations.

15

Enhanced writing and conversational aid.

15

Secure work chat and document handling.

14

3.0

Personalized ChatGPT's integration for text data.

13

Hindi chatbot for Bollywood fan engagement.

13

1.0

Practice conversations with digital personas.

13

Intelligent chatbot for seamless communication.

12

Humorous Q&A virtual assistant.

12

Emotional voice chatbot for interactive conversations

12

Improved chatbot for personalized experience.

11

App sends messages to anyone.

11

5.0

Chat generation with chatbots.

11

Text-based personal assistant.

10

10

Fast language model adaptation.

10

Android chatbot with voice & natural language interface.

10

Offline language learning with chat interface.

10

4.5

Safe Chatbot Offers Candid Advice

10

User-friendly chatbot provides Q&A assistance.

10

Virtual celebrity interactions & engaging conversations.

9

Mental health coaching and therapy via WhatsApp.

9

9

Real-time conversation & learning companion

9

Virtual assistant for natural language interactions

9

Chatbot shares insightful info on topics via Twitter.

8

Browse using search and Q&A by Open.

8

Custom chat rooms to brainstorm with experts.

8

Social network for creators w/ chat & image generation.

8

Voice assistant for multiple tasks.

8

Chatbot improving messaging and content creation.

7

Q&A and content generator.

7

5.0

Generated text and conversation from automated chatbot.

7

Chatbot generates stories, jokes, and weather data.

7

An app that enhances communication and automation.

6

Chatbot to communicate in Discord.

6

Personalized virtual chat companion.

6

Virtual friends for personalized chat support

6

Personalized virtual conversation companions.

5

Adaptive chatbot for learning and travel planning.

5

Facilitates Q&A or conversations.

4

Customizable, engaging conversational interactions.

4

5.0

Emotionally supportive chatbot

3

Q&A chatbot for natural language processing.

3

Chatbot extension for browser conversations and tasks.

3

Android chatbot quickly answers questions.

2

Privacy-focused chatbot for brainstorming & learning.

2

Stream Deck plugin: Q&A and text processing.

1

Improved user interactions with tech through chatbot.

1

Customizable chatbot with plugins.

1

Customer Support Chat Solved.

1

Creating virtual assistants for personalized tasks.

1

ChatGPT conversation archiver & organizer.

1

Conversational assistant for Q&A and tasks

22

5.0

Chat with realistic chatbots for adults.

1

5.0
If you liked sceneXtras
People also searched
Help
⌘ + D bookmark this site for future reference
⌘ + ↑/↓ go to top/bottom
⌘ + ←/→ sort chronologically/alphabetically
↑↓←→ navigation
Enter open selected entry in new tab
⇧ + Enter open selected entry in new tab
⇧ + ↑/↓ expand/collapse list
/ focus search
Esc remove focus from search
A-Z go to letter (when A-Z sorting is enabled)
+ submit an entry
? toggle help menu
x
Sign in to continue (100% free)
To prevent spam, some actions require being signed in. It's free and takes a few seconds.
Sign in with Google