Edit AI
WhatsApp chatbot for automated conversations.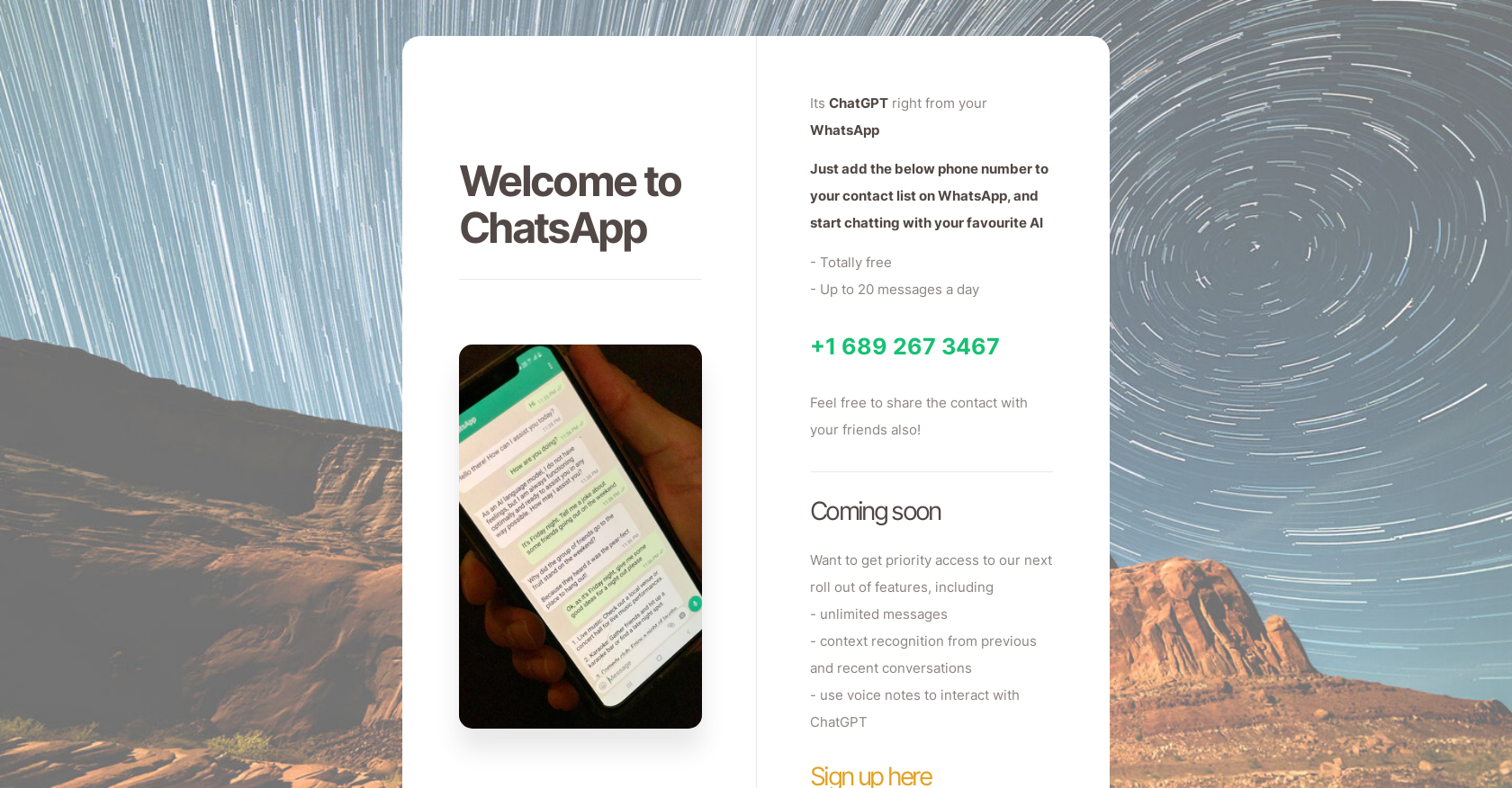 Generated by ChatGPT
ChatsApp is an AI tool that provides free chat services through WhatsApp. Users can add +1 689 267 3467 to their contact list on WhatsApp and start chatting with their favorite AI.
They can send up to 20 messages a day to the AI, without any cost. The service is available for free, and the tool's development is ongoing, which provides users with access to features such as unlimited messages, recognizing context from previous and recent conversations, and the ability to interact with ChatGPT through voice notes.
Users can also sign up for priority access to these new features. ChatsApp offers a personalized and interactive chat experience with AI that can help users achieve their goals or provide them with entertainment.
The tool has been crafted by the Twitter user @SMAAMERI and was made using Carrd. Overall, ChatsApp provides an accessible and user-friendly way for people to converse with AI bots through WhatsApp.
Featured
ChatsApp was manually vetted by our editorial team and was first featured on March 24th 2023.

Would you recommend ChatsApp?
Help other people by letting them know if this AI was useful.
259 alternatives to ChatsApp for Chatting
Chatbot for charming chat.

208

3.0

Converse with anime-style chatbots using custom prompts.

127

2.5

Creation and interaction with intelligent chatbots.

89

4.0

Uncensored conversations platform.

75

4.5

Answer engine for complex questions.

74

4.6

Conversational search engine with answers.

73

4.0

Improve interviewing and communication practices.

51

5.0

Emotional support companion

49

5.0

Automated chatbot for email interactions and tasks.

44

Efficient query response assistant.

40

Versatile chatbot for tasks and information retrieval.

37

Efficient Q&A and chat with menubar app.

36

Image gen, doc conversation, internet search assistant.

35

5.0

Q&A chatbot that emails, summarizes, explains, writes.

34

Personalized mental health companion for growth.

34

1.0

Website chatbot creation and management

32

4.0

29

28

Online chatbot with instant responses to queries.

27

4.5

Online language model comparison and fine-tuning.

25

Boosted productivity with personal assistant.

24

Chatbot offers support and reminders.

24

5.0

Customer support conversational assistant.

22

Interactive chatbot simulating personal conversations.

21

Question-answering chatbot.

21

5.0

Improved speech communication.

18

Enhanced chat experience with language processing.

18

Chatbot made for service, personalized tips.

16

Engaging conversational chatbot.

15

Casual conversation chatbot from Scotland.

15

Enhanced communication for WhatsApp users.

15

Secure macOS chat app with personalized conversations.

15

Enhanced writing and conversational aid.

15

Secure work chat and document handling.

14

3.0

Personalized ChatGPT's integration for text data.

13

Hindi chatbot for Bollywood fan engagement.

13

1.0

Practice conversations with digital personas.

13

Interactive streaming with character conversations.

13

5.0

Intelligent chatbot for seamless communication.

12

Humorous Q&A virtual assistant.

12

Emotional voice chatbot for interactive conversations

12

Improved chatbot for personalized experience.

11

App sends messages to anyone.

11

5.0

Chat generation with chatbots.

11

Text-based personal assistant.

10

10

Fast language model adaptation.

10

Android chatbot with voice & natural language interface.

10

Offline language learning with chat interface.

10

4.5

Safe Chatbot Offers Candid Advice

10

User-friendly chatbot provides Q&A assistance.

10

Virtual celebrity interactions & engaging conversations.

9

Mental health coaching and therapy via WhatsApp.

9

9

Real-time conversation & learning companion

9

Virtual assistant for natural language interactions

9

Chatbot shares insightful info on topics via Twitter.

8

Browse using search and Q&A by Open.

8

Custom chat rooms to brainstorm with experts.

8

Social network for creators w/ chat & image generation.

8

Voice assistant for multiple tasks.

8

Chatbot improving messaging and content creation.

7

Q&A and content generator.

7

5.0

Generated text and conversation from automated chatbot.

7

Chatbot generates stories, jokes, and weather data.

7

An app that enhances communication and automation.

6

Chatbot to communicate in Discord.

6

Personalized virtual chat companion.

6

Virtual friends for personalized chat support

6

Personalized virtual conversation companions.

5

Adaptive chatbot for learning and travel planning.

5

Facilitates Q&A or conversations.

4

Customizable, engaging conversational interactions.

4

5.0

Emotionally supportive chatbot

3

Q&A chatbot for natural language processing.

3

Chatbot extension for browser conversations and tasks.

3

Android chatbot quickly answers questions.

2

Privacy-focused chatbot for brainstorming & learning.

2

Stream Deck plugin: Q&A and text processing.

1

Improved user interactions with tech through chatbot.

1

Customizable chatbot with plugins.

1

Customer Support Chat Solved.

1

Creating virtual assistants for personalized tasks.

1

ChatGPT conversation archiver & organizer.

1

Conversational assistant for Q&A and tasks

22

5.0
Pros and Cons
Pros
Free chat services
Accessible via WhatsApp
Up to 20 messages daily
No additional costs
Under active development
Anticipated unlimited messaging feature
Prioritized access with signup
Context recognition in conversations
Ability to use voice notes
Personalized chat experience
Entertainment and productivity features
Created by experienced developer
Made using reliable platform
Easy contact addition
Shareable contact details
Promised feature roll-outs
Cons
Limited to 20 messages daily
Doesn't support multiple languages
Voice recognition feature pending
Context recognition still in development
Not open-source
Limited to WhatsApp platform
No API mentioned
Unknown data privacy measures
Phone number requirement
Q&A
What is ChatsApp?
ChatsApp is an AI tool providing free chat services via WhatsApp. It offers users the ability to engage in automated conversations with an artificial intelligence.
How can I start using ChatsApp's free service on my WhatsApp?
To use the free service of ChatsApp on WhatsApp, simply add the following number +1 689 267 3467 to your contact list. Once added, you can start chatting directly with the AI.
How many messages per day can I send to ChatsApp?
As a user of the ChatsApp, you can send up to 20 messages per day without any cost.
What's the contact number for ChatsApp on WhatsApp?
The contact number for ChatsApp on WhatsApp is +1 689 267 3467.
What features can we expect from the ongoing development of ChatsApp?
The ongoing development of ChatsApp promises multiple advanced features. The AI will soon include unlimited messages, context recognition from previous and recent conversations as well as voice note interactions with ChatGPT.
How can I sign up for priority access to new ChatsApp features?
For priority access to upcoming ChatsApp features, there's a sign-up link present on the website.
Is there a cost associated with using ChatsApp?
No, there is not any cost associated with using ChatsApp. You can engage with it for free.
Does ChatsApp recognize context from previous and recent conversations?
Currently, ChatsApp does not recognize context from previous chats. However, this feature is part of the ongoing development and will be available soon.
Can I interact with ChatsApp using voice notes?
At the moment, voice note interaction with ChatsApp isn't supported. Nonetheless, it is one of the features that will be introduced in the future development.
Who created ChatsApp?
ChatsApp has been created by Twitter user @SMAAMERI.
What is Carrd and how is it related to ChatsApp?
Carrd is a website building platform and it has been used to craft the ChatsApp.
What is the purpose of the ChatsApp AI tool?
ChatsApp is typically meant to facilitate interactive and personalized conversations with an AI via WhatsApp. Users can use it for multiple purposes like entertainment or achieving specific goals.
Is the ChatsApp tool used only for entertainment or can it help achieve specific goals?
ChatsApp is not only for entertainment. It can also assist users in achieving specific outcomes through interactive and personalized conversations.
Are there any usage limits with ChatsApp?
As of now, there is a limit of up to 20 free messages per day with ChatsApp. However, the feature of sending unlimited messages is part of the upcoming development.
Can I use ChatsApp for unlimited messages?
Currently, ChatsApp doesn't offer unlimited messages. Nevertheless, this feature, along with many other enhancements, are part of upcoming development.
How does ChatsApp handle privacy and data?
IDK
Can I share ChatsApp's contact number on WhatsApp with my friends?
Yes, you are free to share the ChatsApp contact number with your friends so they can also enjoy the service.
What is ChatGPT and how does it relate to ChatsApp?
ChatGPT is a form of Artificial Intelligence that comprehends and responds to human language. In ChatsApp, users have the ability to interact with this AI.
How user-friendly is the ChatsApp tool?
ChatsApp has been created with user-friendly considerations. Irrespective of your level of technical knowledge, you can easily converse with the AI via WhatsApp.
Where can I find updates and news about ChatsApp?
IDK
If you liked ChatsApp
Help
⌘ + D bookmark this site for future reference
⌘ + ↑/↓ go to top/bottom
⌘ + ←/→ sort chronologically/alphabetically
↑↓←→ navigation
Enter open selected entry in new tab
⇧ + Enter open selected entry in new tab
⇧ + ↑/↓ expand/collapse list
/ focus search
Esc remove focus from search
A-Z go to letter (when A-Z sorting is enabled)
+ submit an entry
? toggle help menu
x
Sign in to continue (100% free)
To prevent spam, some actions require being signed in. It's free and takes a few seconds.
Sign in with Google