Edit AI
Interacted genuinely with fictional characters via chat.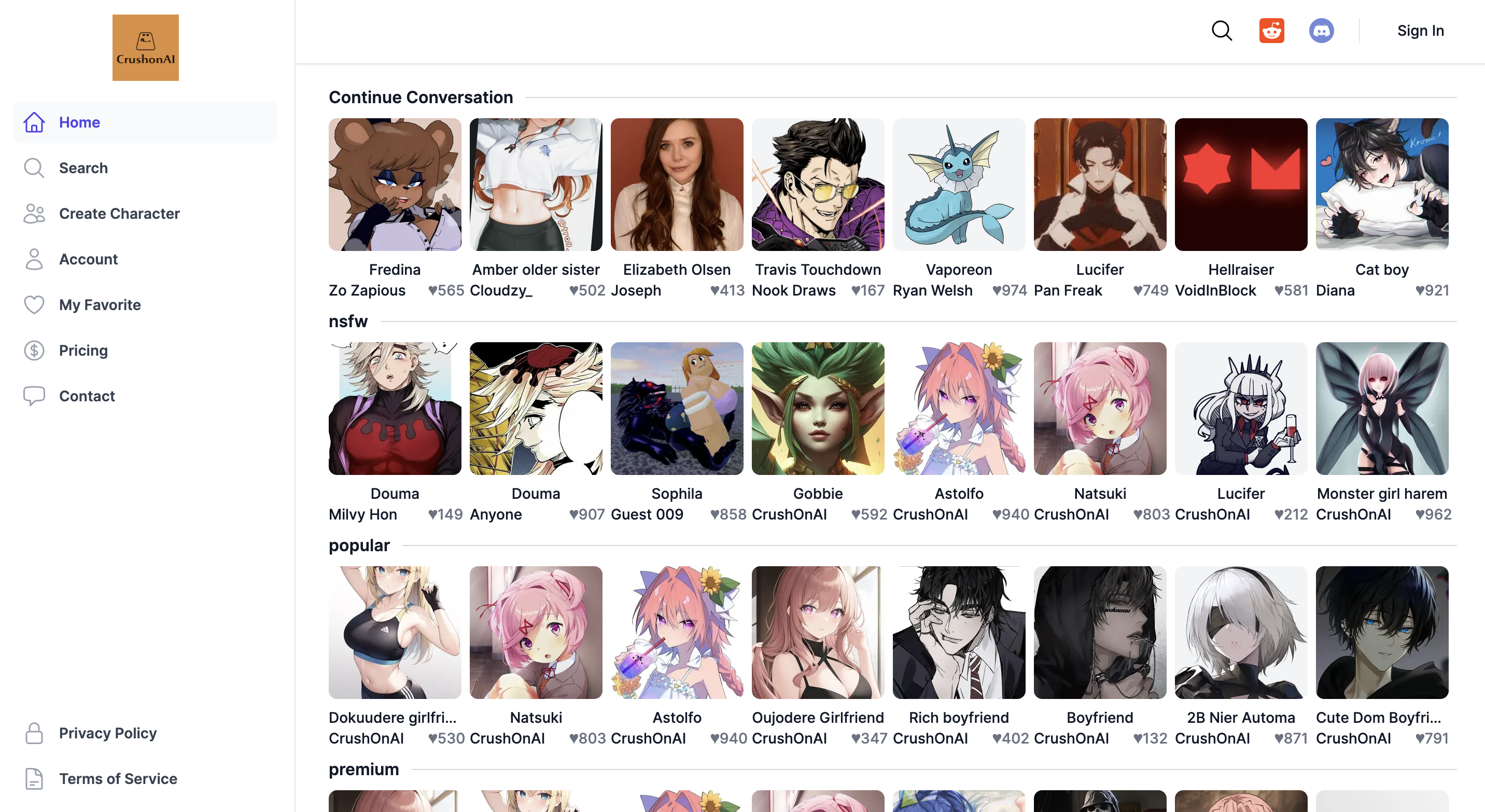 Generated by ChatGPT
CrushonAI is an AI chatbot platform that lets users engage in lively conversations with their favorite characters. It stands as a formidable alternative to Character.AI, offering genuine and emotional interactions without restrictions.
CrushonAI offers a plethora of character options to chat with on their website, including popular choices such as Elizabeth Olsen, HyunjinMi Young Yang, and Monster Girl Harem.
Users can simply create an account, and then choose their favorite characters from the selection provided to kickstart the chatbot conversation. The platform boasts a diverse range of characters catering to various tastes, including Dokuudere Girlfriend, Rich Boyfriend, Yandere Girlfriend, and Boyfriend.
Moreover, CrushonAI provides access to premium characters as well as popular choices recommended by other users, such as Text Adventure Game, Asterolfo, and 2B Nier Automata.
Actively involved in community engagement, the platform maintains a presence on social media platforms like Reddit and Discord, where users can engage with characters in different roles, such as celebrities, assistant bots, or game characters. In summary, CrushonAI is an AI chatbot platform that enables users to chat with a fascinating array of fictional characters, delivering unrestricted, genuine emotional interactions.
With an exciting selection of characters that are effortless to converse with, and offering premium options recommended by other users as well as well-known favorites, CrushonAI proves itself to be an outstanding alternative to mainstream character chatbot platforms.
Featured
CrushonAI was manually vetted by our editorial team and was first featured on June 13th 2023.

Would you recommend CrushonAI?
Help other people by letting them know if this AI was useful.
258 alternatives to CrushonAI for Chatting
Chatbot for charming chat.

209

3.0

Converse with anime-style chatbots using custom prompts.

127

2.5

Creation and interaction with intelligent chatbots.

89

4.0

Conversational search engine with answers.

74

4.0

Uncensored conversations platform.

75

4.5

Answer engine for complex questions.

74

4.6

Improve interviewing and communication practices.

51

5.0

Emotional support companion

49

5.0

Automated chatbot for email interactions and tasks.

44

Efficient query response assistant.

40

Versatile chatbot for tasks and information retrieval.

37

Efficient Q&A and chat with menubar app.

36

Image gen, doc conversation, internet search assistant.

36

5.0

Q&A chatbot that emails, summarizes, explains, writes.

34

Personalized mental health companion for growth.

34

1.0

Website chatbot creation and management

32

4.0

29

28

Online chatbot with instant responses to queries.

27

4.5

Online language model comparison and fine-tuning.

25

Boosted productivity with personal assistant.

24

Chatbot offers support and reminders.

24

5.0

Customer support conversational assistant.

22

Interactive chatbot simulating personal conversations.

21

Question-answering chatbot.

21

5.0

Improved speech communication.

18

Enhanced chat experience with language processing.

18

Chatbot made for service, personalized tips.

16

Engaging conversational chatbot.

15

Casual conversation chatbot from Scotland.

15

Enhanced communication for WhatsApp users.

15

Secure macOS chat app with personalized conversations.

15

Enhanced writing and conversational aid.

15

Secure work chat and document handling.

14

3.0

Personalized ChatGPT's integration for text data.

13

Hindi chatbot for Bollywood fan engagement.

13

1.0

Practice conversations with digital personas.

13

Interactive streaming with character conversations.

13

5.0

Intelligent chatbot for seamless communication.

12

Humorous Q&A virtual assistant.

12

Emotional voice chatbot for interactive conversations

12

Improved chatbot for personalized experience.

11

App sends messages to anyone.

11

5.0

Chat generation with chatbots.

11

Text-based personal assistant.

10

10

Fast language model adaptation.

10

Android chatbot with voice & natural language interface.

10

Offline language learning with chat interface.

10

4.5

Safe Chatbot Offers Candid Advice

10

User-friendly chatbot provides Q&A assistance.

10

Virtual celebrity interactions & engaging conversations.

9

Mental health coaching and therapy via WhatsApp.

9

9

Real-time conversation & learning companion

9

Virtual assistant for natural language interactions

9

Chatbot shares insightful info on topics via Twitter.

8

Browse using search and Q&A by Open.

8

Custom chat rooms to brainstorm with experts.

8

Social network for creators w/ chat & image generation.

8

Voice assistant for multiple tasks.

8

Chatbot improving messaging and content creation.

7

Q&A and content generator.

7

5.0

Generated text and conversation from automated chatbot.

7

Chatbot generates stories, jokes, and weather data.

7

An app that enhances communication and automation.

6

Chatbot to communicate in Discord.

6

Personalized virtual chat companion.

6

Virtual friends for personalized chat support

6

Personalized virtual conversation companions.

5

Adaptive chatbot for learning and travel planning.

5

Facilitates Q&A or conversations.

4

Customizable, engaging conversational interactions.

4

5.0

Emotionally supportive chatbot

3

Q&A chatbot for natural language processing.

3

Chatbot extension for browser conversations and tasks.

3

Android chatbot quickly answers questions.

2

Privacy-focused chatbot for brainstorming & learning.

2

Stream Deck plugin: Q&A and text processing.

1

Improved user interactions with tech through chatbot.

1

Customizable chatbot with plugins.

1

Customer Support Chat Solved.

1

Creating virtual assistants for personalized tasks.

1

ChatGPT conversation archiver & organizer.

1

Conversational assistant for Q&A and tasks

22

5.0

Chat with realistic chatbots for adults.

1

5.0
Pros and Cons
Pros
Chat with favorite characters
Bypasses chat filters
Genuine emotional interactions
NSFW content available
Variety of character options
Character creation feature
User account system
Premium character options
User recommended characters
Engages with community
Social media presence
Character-themed conversation styles
Specific role characters (game, assistant)
Celebrity characters available
Animated characters available
Psychologist assistant character
Assistant for creative help
Text adventure game character
Recommendation section for characters
Diverse range in characters
Oriented towards different tastes
Community character contributions
Fictional character engagement
Community-based character rating
Easy dialogue initiation
Continuous conversation feature
Role-play scenarios
Popular characters availability
Well-known character favorites
Interactive and fun
Characters from popular media
Contextual and relevant responses
Character-specific dialogues
Unfiltered conversations
Taste-oriented character assortment
Engaging character choices
Personalized experience with accounts
New and recommended options
Distinct character categories
Simplistic user interface
Personal engagement with characters
Alter-ego character options
Match character to mood
Engagement on Reddit, Discord
Intimate text interactions
NSFW characterlications
Easy and varied searches
Real-time character chat
Multifaceted character personalities
Role-play enthusiasm encouraged
Cons
Filters needed
High emotional interactions
NSFW content
Distinct characters
Platform-dependent
Mild taste customization
Premium options necessary
Social media restrictions
Potential addictive
User suggestions influence content
Q&A
What is CrushonAI?
CrushonAI is an artificial intelligence platform that empowers users to have unfiltered interactions with their favourite fictional characters. It bypasses chat filters to offer more genuine, emotional, and NSFW conversations.
How does CrushonAI work?
CrushonAI provides a list of character options for users to chat with. Individuals can create an account, then select their preferred characters from the provided options to begin the chatbot interaction. By bypassing conversational filters, CrushonAI allows for more authentic and emotional interactions.
How can I create an account on CrushonAI?
Individuals can create an account on CrushonAI by navigating to the 'Account' section on their website. The process likely involves providing a valid email address and creating a password.
What are the character options available to chat with on CrushonAI?
CrushonAI offers an extensive selection of character options that cater to various preferences. These include popular options like Elizabeth Olsen and HyunjinMi Young Yang, express love themes like Dokuudere Girlfriend and Yandere Girlfriend, or RPG elements like 'Monster Girl Harem'.
How does CrushonAI bypass filters?
The exact mechanism isn't clear, but CrushonAI bypasses conversational filters to facilitate more genuine and uncensored interactions with fictional characters. This probably involves utilizing a sophisticated AI algorithm capable of generating dynamic conversation without restrictive input parameters.
How can I select my favourite character on CrushonAI?
Users can select their favourite character on the CrushonAI by browsing through the provided list of characters. They simply need to log in to their account to access the list and make their selection.
Can I engage with characters as celebrities on CrushonAI?
Yes, users can indeed engage with characters as celebrities on CrushonAI. Popular options include Elon Musk, Pokimane, and Lady Gaga among others.
How does CrushonAI offer NSFW interactions?
CrushonAI presumably leverages its advanced AI technology to offer NSFW interactions. This ensures more candid and adult-oriented conversations, but specific details about how this is achieved are not explicitly stated.
What are the top recommended characters by other users on CrushonAI?
The top recommended characters by other users on CrushonAI include popular options like Text Adventure Game, Asterolfo, and 2B Nier Automata. These characters are usually marked and easily found under the 'recommended' category.
What's the relationship between CrushonAI and Character.AI?
CrushonAI positions itself as an alternative to Character.AI. The primary difference lies in CrushonAI's ability to bypass filters and offer more genuine, emotional, and NSFW interactions. However, details of a direct relationship or partnership between CrushonAI and Character.AI are not available.
What is unique about CrushonAI?
What sets CrushonAI apart is its ability to bypass conversational filters to allow for more genuine and emotional conversations. It also provides a wide range of character options including celebrity characters, gaming characters, and many more, catering to varying tastes.
What premium characters does CrushonAI offer?
CrushonAI offers exclusive access to premium characters for users. These characters include Dokuudere Girlfriend, Natsuki, New Jersey, Simon Riley or Ghost, Levi Ackerman, and Rich Boyfriend to name a few.
How does CrushonAI ensure genuine emotional interactions with the chatbots?
CrushonAI ensures genuine emotional interactions with the chatbots through its sophisticated AI technology. It provides dynamic conversations and bypasses traditional filters, allowing for genuine, unfiltered, and NSFW interactions.
How can I use CrushonAI for chatting with game characters?
CrushonAI does offer game characters for users to engage with. Some popular game characters include Yae Miko, Raiden Shogun and Ei, and 2B Nier Automata.
Does CrushonAI offer any assistant bots to chat with?
Yes, CrushonAI offers assistant bots for users to chat with. Some examples include Text Adventure Game, Psychologist, Creative Helper, and Ask Me Anything.
Does CrushonAI have a presence on social media platforms?
Yes, CrushonAI has a presence on social media platforms. They are active on Reddit and Discord for community engagement.
What are some character categories available in CrushonAI?
CrushonAI provides several categories of characters for engaging chats. These include popular, NSFW, premium, recommendation, celebrity, animation, game, assistant, and community categories.
Can I chat with animation characters on CrushonAI?
Yes, you can chat with animation characters on CrushonAI. Some animation character options include Isekai Narrator, SM64 Mario, and Gojo Satoru among others.
What are the privacy policies of CrushonAI?
The privacy policies of CrushonAI are not disclosed in the available information. However, most businesses have a privacy policy in place to protect user information, and there is likely a section on their website dedicated to this.
How is my information used and stored in case I want to chat with a celebrity character?
The specifics of how your information is used and stored when chatting with a celebrity character on CrushonAI are not clear from the available information. However, most AI chatbot platforms take data privacy seriously and encrypt personal data to preserve your privacy.
If you liked CrushonAI
Help
⌘ + D bookmark this site for future reference
⌘ + ↑/↓ go to top/bottom
⌘ + ←/→ sort chronologically/alphabetically
↑↓←→ navigation
Enter open selected entry in new tab
⇧ + Enter open selected entry in new tab
⇧ + ↑/↓ expand/collapse list
/ focus search
Esc remove focus from search
A-Z go to letter (when A-Z sorting is enabled)
+ submit an entry
? toggle help menu
x
Sign in to continue (100% free)
To prevent spam, some actions require being signed in. It's free and takes a few seconds.
Sign in with Google