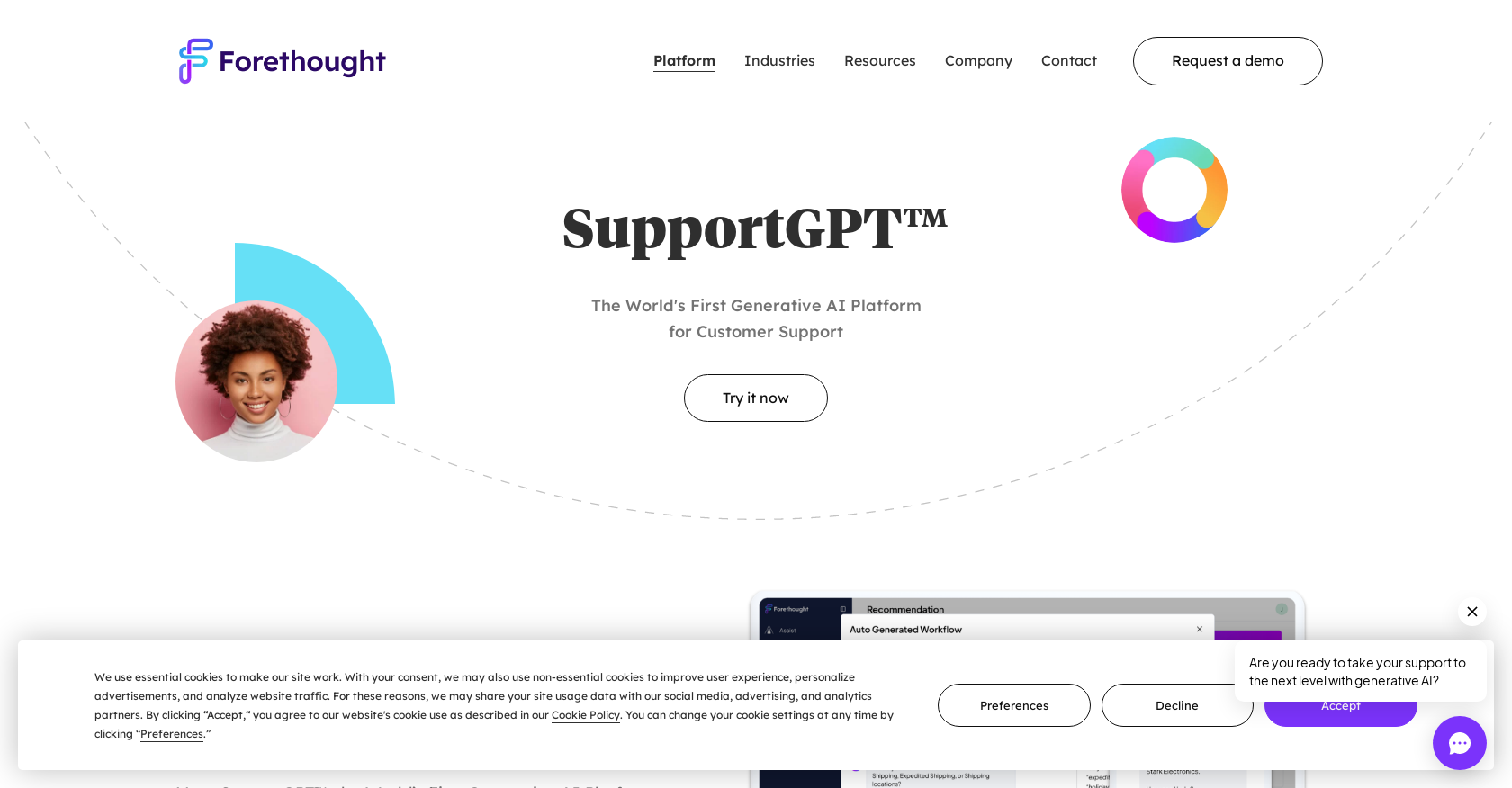 Generated by GPT-3
SupportGPT™ is a generative AI platform for customer support developed by Forethought, which leverages OpenAI's Large Language Models to power human-like, dynamic responses.
The platform fine-tunes the models based on a company's conversation history to automate workflow discovery, identify support coverage gaps, and lower case volume by generating new knowledge articles.
SupportGPT™ provides fully-formed suggested responses to agents, which are based on the context of each ticket and powered by generative AI. This product is ideal for organizations looking to enhance customer support experiences through intelligent automation, efficiency, and accuracy.
SupportGPT™ is fully integrated with a company's conversation history and has tailored workflows for different industries, including e-commerce, SaaS, FinTech, and travel.
Forethought's generative AI platform can generate proactive insights and predict, prioritize and route tickets that can aid different businesses. SupportGPT™ also offers integrations with a range of support platforms such as Salesforce, Zendesk, and Freshdesk, ensuring efficient management of customer support across platforms.
By leveraging the power of generative AI, SupportGPT™ can transform the customer experience by providing empathetic and human-like conversations that adapt to customer context.
Overall, SupportGPT™ is a powerful tool that can help businesses automate customer support in a smart and efficient way, ultimately improving customer satisfaction and loyalty.
Featured
?
32 alternatives to SupportGPT for Customer support
20 Mar 2023

03 Mar 2023

08 Mar 2023

11 Mar 2023

14 Mar 2023

16 Mar 2023

07 Feb 2023

08 Feb 2023

13 Feb 2023

13 Feb 2023

03 Jan 2023

05 Jan 2023

05 Jan 2023

07 Dec 2022

22 Dec 2022

19 Jul 2022

25 Jun 2022

18 Jan 2022

26 Jan 2022

01 Feb 2022

15 Mar 2022

25 Mar 2022

09 Jun 2021

16 Jun 2021

17 Jun 2021

19 Jun 2021

13 Apr 2020

19 Oct 2020

01 Nov 2020

04 Nov 2020

03 Jan 2019

22 May 2019