Edit AI
Improve interviewing and communication practices.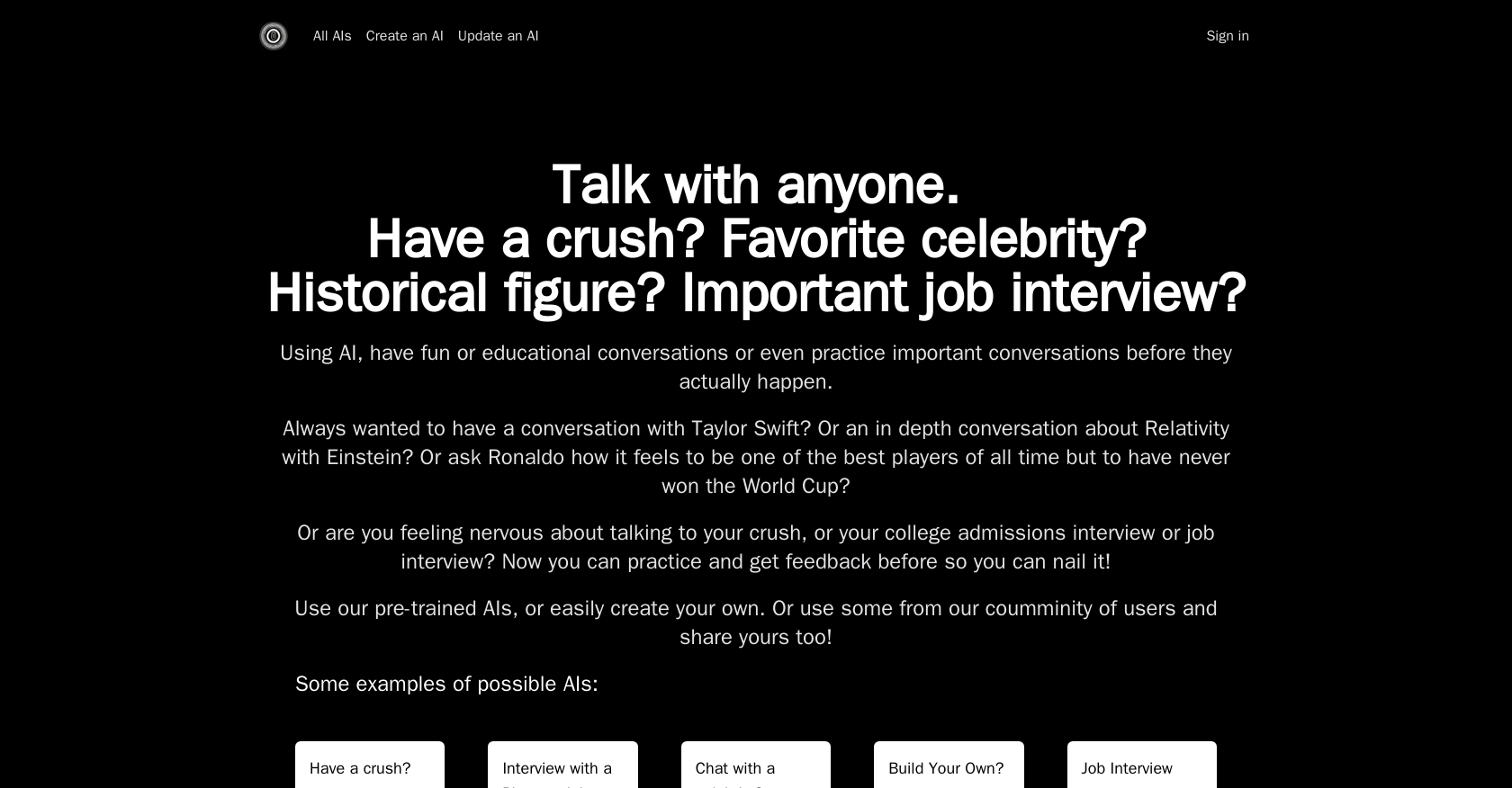 Generated by ChatGPT
PracticeTalking is an AI tool designed for practicing conversations and interviews. Using the AI service, users can engage in fun or educational conversations with pre-trained bots or create and customize their own bots.
The tool offers diverse AI conversation scenarios, such as having a conversation with a celebrity, practicing interviews for job applications, admissions interviews, or initiating a conversation with a new friend.
PracticeTalking AI service aims to help users improve their communication skills and gain confidence when engaging in conversations. It also enables users to practice important conversations with real people before they happen, enabling them to get feedback and improve their performance.
The AI tool is user-friendly, and users can easily access and customize pre-trained bots, create their own AI bots, or leverage bots created by the community's users.
Additionally, the AI tool allows users to manage and see all the AI agents they have created. Overall, PracticeTalking is an excellent tool for individuals who want to improve their communication skills or practice for important conversations and interviews.
By focusing on enhancing practical conversation skills, PracticeTalking offers a unique value proposition that distinguishes it from other general-purpose conversational AI tools.
Featured
Practicetalking was manually vetted by our editorial team and was first featured on May 22nd 2023.

Would you recommend Practicetalking?
Help other people by letting them know if this AI was useful.
253 alternatives to Practicetalking for Chatting
Chatbot for charming chat.

208

3.0

Converse with anime-style chatbots using custom prompts.

127

2.5

Creation and interaction with intelligent chatbots.

89

4.0

Uncensored conversations platform.

75

4.5

Answer engine for complex questions.

74

4.6

Conversational search engine with answers.

70

4.0

Emotional support companion

49

5.0

Automated chatbot for email interactions and tasks.

44

Efficient query response assistant.

40

Versatile chatbot for tasks and information retrieval.

37

Efficient Q&A and chat with menubar app.

36

Q&A chatbot that emails, summarizes, explains, writes.

34

Personalized mental health companion for growth.

34

1.0

Image gen, doc conversation, internet search assistant.

33

5.0

Website chatbot creation and management

32

4.0

29

28

Online chatbot with instant responses to queries.

27

4.5

Online language model comparison and fine-tuning.

25

Boosted productivity with personal assistant.

24

Chatbot offers support and reminders.

24

5.0

Customer support conversational assistant.

22

Interactive chatbot simulating personal conversations.

21

Question-answering chatbot.

21

5.0

Improved speech communication.

18

Enhanced chat experience with language processing.

18

Chatbot made for service, personalized tips.

16

Engaging conversational chatbot.

15

Casual conversation chatbot from Scotland.

15

Enhanced communication for WhatsApp users.

15

Secure macOS chat app with personalized conversations.

15

Enhanced writing and conversational aid.

14

Hindi chatbot for Bollywood fan engagement.

13

1.0

Interactive streaming with character conversations.

13

5.0

Secure work chat and document handling.

13

3.0

Humorous Q&A virtual assistant.

12

Personalized ChatGPT's integration for text data.

12

Practice conversations with digital personas.

12

Intelligent chatbot for seamless communication.

11

Emotional voice chatbot for interactive conversations

11

Chat generation with chatbots.

11

Improved chatbot for personalized experience.

10

App sends messages to anyone.

10

5.0

Android chatbot with voice & natural language interface.

10

Offline language learning with chat interface.

10

4.5

Safe Chatbot Offers Candid Advice

10

Text-based personal assistant.

9

9

Mental health coaching and therapy via WhatsApp.

9

Real-time conversation & learning companion

9

User-friendly chatbot provides Q&A assistance.

9

Chatbot shares insightful info on topics via Twitter.

8

Virtual celebrity interactions & engaging conversations.

8

8

Virtual assistant for natural language interactions

8

Browse using search and Q&A by Open.

7

Custom chat rooms to brainstorm with experts.

7

Social network for creators w/ chat & image generation.

7

Generated text and conversation from automated chatbot.

7

Voice assistant for multiple tasks.

7

Chatbot improving messaging and content creation.

6

Q&A and content generator.

6

5.0

Personalized virtual chat companion.

6

Chatbot generates stories, jokes, and weather data.

6

Virtual friends for personalized chat support

6

An app that enhances communication and automation.

5

Personalized virtual conversation companions.

5

Adaptive chatbot for learning and travel planning.

5

Facilitates Q&A or conversations.

4

Customizable, engaging conversational interactions.

4

5.0

Emotionally supportive chatbot

3

Q&A chatbot for natural language processing.

3

Chatbot extension for browser conversations and tasks.

3

Android chatbot quickly answers questions.

2

Privacy-focused chatbot for brainstorming & learning.

2

Stream Deck plugin: Q&A and text processing.

1

Improved user interactions with tech through chatbot.

1

Customizable chatbot with plugins.

1

Customer Support Chat Solved.

1

Creating virtual assistants for personalized tasks.

1

ChatGPT conversation archiver & organizer.

1

Conversational assistant for Q&A and tasks

3
Pros and Cons
Pros
Pre-trained bots available
Customizable bots
Diverse conversation scenarios
Allows practicing important conversations
Feedback to improve performance
User-friendly interface
Community-created bots
Focus on practical communication skills
Chat with simulated celebrities
Simulates job interviews
Simulates admission interviews
Initiate new friend conversations
Simulates conversations with crushes
Historical figure conversations
Allows conversation trials
Facilitates communication skill improvement
Boosts user confidence
Encourages user creativity
Community sharing of bots
Assistance in overcoming shyness
Practice before real interaction
Cons
No voice recognition
No real-time feedback
No multi-language support
No mobile app
No speech output
Cannot simulate group conversations
No subscription plan variety
No offline mode
No direct integration with HR tools
Q&A
What is PracticeTalking?
PracticeTalking is an AI service designed expressly for practicing conversations and interviews. It provides a platform for users to engage in fun or educational chats with pre-trained bots or customize and create their own AI bots for various conversation scenarios.
How can PracticeTalking help improve my communication skills?
PracticeTalking is designed to help improve your communication skills by providing a space to practice real conversations. You can create different conversation scenarios, receive immediate feedback, and practice again and again until you're comfortable and confident. Over time, this process can help improve your communication and interviewing skills.
What kind of conversations can I practice on PracticeTalking?
With PracticeTalking, you can practice different types of conversations. This includes casual chats like talking with your crush, engaging in depth conversation about complex topics like Relativity, or preparing for professional situations like job or college admissions interviews. You can also engage in fun scenarios, such as chatting with a pirate or your favorite celebrity.
Can I customize my chats on PracticeTalking?
Yes, PracticeTalking allows all users to customize chats. Not only can you engage with pre-trained bots, but you can also create and personalize your own AI bots based on the type of conversation or interview practice you need.
How does PracticeTalking assist in practicing for interviews?
PracticeTalking assists you in practicing for interviews by providing a realistic interactive environment. You can design specific interview scenarios and receive immediate feedback. This AI service can help simulate job interviews, college admissions interviews, and other professional conversations, aiding you in building confidence and improving your responses over time.
What are some examples of AI conversation scenarios on PracticeTalking?
Some examples of AI conversation scenarios on PracticeTalking include practicing a conversation with a crush, engaging in a job interview, chatting with a celebrity, carrying out a conversation with a historical figure like Einstein, and even interviewing to join a pirate crew.
Can I create my own AI bots on PracticeTalking?
Yes, PracticeTalking provides the ability for all users to create their own AI bots. You can design and customize bots according to your specific conversation or interview practice needs.
How can I access the pre-trained bots on PracticeTalking?
Users can access the pre-trained bots on PracticeTalking by signing in. Once logged in, you can freely use the existing AI bots for various conversation scenarios, or even customize them to suit your needs.
Does PracticeTalking offer any pre-trained bots for practicing interviews for job applications?
Yes, PracticeTalking offers pre-trained bots specifically designed for practicing job interviews. You can use these bots as they are or customize them as per your requirements for a more targeted interview practice.
Can I practice conversations with celebrities using PracticeTalking?
Absolutely. PracticeTalking allows you to practice conversations with your favorite celebrity. You can use a pre-trained celebrity bot or create your own custom bot, facilitating an interactive and engaging conversation.
How user-friendly is PracticeTalking?
PracticeTalking has been designed with a user-friendly approach. It allows users to easily access, manage, customize, and create AI bots. The tool provides clear instructions, making it accessible even for users with limited technical skills.
Can I see the AI agents I've created on PracticeTalking?
Yes, on PracticeTalking, you can see and manage all AI agents you've created. Simply sign in to view and control all your created agents.
What makes PracticeTalking unique from other AI conversation tools?
PracticeTalking is unique from many other AI conversation tools due to its distinct focus on improving practical communication and interview skills. Unlike most general-purpose AI conversational tools, it offers a more targeted solution, providing a realistic platform specifically for practicing interview and conversation scenarios. Users also have the flexibility of creating and customizing their own AI bots.
Can I practice conversations that I'm nervous about on PracticeTalking?
Yes, PracticeTalking is designed to be a safe and supportive environment where you can practice conversations you're nervous about. This includes tricky social situations like talking to your crush, to more formal situations like job interviews or admissions interviews. You have the opportunity to practice multiple times until you gain confidence.
Can I get feedback on my communication skills using PracticeTalking?
Yes, PracticeTalking provides immediate feedback on your communication skills during conversations with AI bots. Through this dynamic interaction, you can note improvements, identify areas of weakness, and work on refining your skills with targeted practice.
How can PracticeTalking help me gain confidence in conversations?
PracticeTalking aids in building conversation confidence by allowing repeated practice in a safe and controlled environment. By continually engaging in various conversation scenarios and receiving real-time feedback, you can grow more comfortable with your communication style, learn to manage anxiety, and develop more confidence.
Does PracticeTalking have a community where I can share or use AIs created by other users?
Yes, PracticeTalking does have a community feature where all users can share or access AI bots created by others. Through this community exchange, you can try out diverse chat scenarios and broaden your experience.
Does PracticeTalking offer chat scenarios for practicing admissions interviews?
Indeed, PracticeTalking does offer chat scenarios for practicing admissions interviews. There's even a pre-trained bot specifically for Stanford admissions interview practice. You can also customize or develop your own bots to fit the specific requirements of other admissions interviews.
Can I practice starting a conversation with new friends on PracticeTalking?
Yes, PracticeTalking has conversation scenarios designed to help you practice starting conversations with new friends. This feature can assist users in overcoming shyness and improving their social conversation skills.
What are the future plans for improving PracticeTalking?
While specific future plans for PracticeTalking are not detailed on their website, they mention an ongoing commitment to release new AI agents. This implies continuous growth and improvement of the platform, including the addition of more conversation scenarios developed either by the PracticeTalking team or community.
If you liked Practicetalking
Help
⌘ + D bookmark this site for future reference
⌘ + ↑/↓ go to top/bottom
⌘ + ←/→ sort chronologically/alphabetically
↑↓←→ navigation
Enter open selected entry in new tab
⇧ + Enter open selected entry in new tab
⇧ + ↑/↓ expand/collapse list
/ focus search
Esc remove focus from search
A-Z go to letter (when A-Z sorting is enabled)
+ submit an entry
? toggle help menu
x
Sign in to continue (100% free)
To prevent spam, some actions require being signed in. It's free and takes a few seconds.
Sign in with Google